Of all the years, I have been involved with Crypto, Cointiply has proven to be the Highest Paying Legitimate Faucet Platform, I have ever found. I created my account there, several years ago, while it was still very new and somewhat limited. Late last year, I rediscovered it and have earned over $1k of BitCoin in that short period of time!
I would like to remind everyone that anything worth doing usually requires some type of investment. That investment requires either money, time, or both. Cointiply is no different. With that being said, Cointiply does pay well, for the time invested, once you have learned the site and find the offers that work best or you! IF you are looking for fast and easy money, or unrealistic returns on investment, you are only setting yourself up to be scammed.
I have observed that most of my referrals quickly loose interest in Coitiply, after they have spend just a little time active on the site. That is somewhat understandable, because it is a somewhat sophisticated and complex earning platform. You will not instantly earn HIgh Payouts. It requires some time to build up your level. But, once You have risen several levels, on the Platform, Your earnings can begin to grow quite substantially!!!
In this post I will share a detailed system, that I personally developed, where i have grown to quite handsome returns on the time i invest. This system is a basic guideline, that can be easily modified to fit your personal needs. I hope you find this insightful and encouraging!
 To Begin with, I always open Cointiply in a tab, when ever i turn on my computer. Remember, every coin counts when building your balance, whether in small amounts or large. As soon as i have accessed my account, i make my faucet roll. That can be done once per hour, and you can set an alarm to remind you when it becomes available again.
Cointiply rewards you with a bonus amount for every day you log in and complete at least one task. 1% for each consecutive day, payed on your faucet rolls. That, in itself, may not seem like much, but in fact a 100% bonus match, on each faucet roll, is one of the ways(out of many) to increase your coin balance. I have had the 100% bonus for quite some time now, and it is very nice on all my faucet rolls - most especially on my high rolls! It is very easy, and does not require much effort at all, to log in and make at least one faucet roll each day. It becomes even easier, when you install the Cointiply App on your phone. 
Another Basic Step, that increases your earnings a little bit more, is to participate in the Chat Room Rain Pools. You can easily qualify for each round, without actually posting any lines in chat. In fact, I recommend, once you have become familiar with Cointiply and Chat no longer helps you to learn about the Platform, that you do not wast time posting lines in Chat. Posting, in Chat, does not earn any increases in your Rain Pool percentage! Working, and completing offers does increase your take of the Rain pools!!! The more offers you complete, the higher your share of the Rain!!!
Now, to earning Higher Amounts of Payouts. There are two ways, that you can earn bigger payouts on this Faucet Platform. One is in the form of Downloads and App Installs. The other is from Completing Surveys. I use both, but the vast majority of my earnings have come from Surveys. In both cases, I suggest that you seek the Highest paying offers, from both catagories. For instance, I once completed an offer that involved opening a bank account. The payout was for over 1 million coins(over $100 in BitCoin)! IT required a $50 deposit into the bank account. I did not realize that there would be a $10 monthly fee, for the bank account, but nevertheless - That would still result in earnings, of over $50 above the deposit amount. When i realized that there was a $10 monthly charge, I withdrew the last $10 and closed the bank account. There are many more downloads and Apps available, including many games and some financial apps.
Personally, I have found that Surveys provide consistent opportunities for Higher Earnings. Surveys can be very hard to qualify for, when you first begin. So, it does take some patience and perseverance! With that being said, once you qualify, and complete a couple of surveys, they become easier to qualify for. The more you complete, the more you qualify for. I Highly recommend that you use Theorem Reach as a source of surveys, when you first begin! With Theorem Reach, you often get some type of pay, even if you do not qualify! It will help build your confidence, and coin balance, when you get pay for your time! 
When working, and completing offers, I usually try the available higher paying surveys first! Then, work my way down to lower paying surveys. It has then become a matter of numbers, once you find it easier to qualify. Longer paying surveys tend to take more time, and lower paying surveys less time. After you have become capable of qualifying for larger numbers of surveys, it then becomes even more profitable to seek high paying surveys, from the other survey sources, listed on the offer walls. Some surveys can pay in excess of 50k coins($5.00 of BitCoin) for less than an hour of your time!!! With just a couple of hours time invested in surveys, in addition to the other earning tools, you will begin to see your balance grow more quickly!
As you begin to build your routine, I suggest that you seek and complete the PTC Adds between your other activities! This is another way to maximize your earnings, for the time involved. You can choose each PTC, and go work another tab, while you wait for your view to be qualified. Although the payments are smaller amounts, they require minimum time and effort. Every little bit counts. Especially when you set your account to earn Cointiply's 5% interest!!!
When you maintain a balance of 35k coins($3.50), and active your interest earnings in the settings, you will receive a weekly payout in interest! Cointiply pays 5%(calculated on your daily balance/divided by 365) paid out each Monday. Thus it becomes 5% compounded weekly. This is a powerful return, compared to many other Legitimate sources. There is a 50k coin minimum required for BitCoin withdrawal, so therefore it is wise to build your balance to 85K coins($8.50) before making the 50k withdrawal. That way, you will be drawing interest on your balance, even on the days where you cannot be active on Cointiply!
Lastly, but  certainly not least, is the bonus( or boosts) items you can acquire! You earn Cointiply Points, based on your earnings. You can use those points to purchase Pods. Each pod contains 3 boost items. The boot items can be permanent, or timed. When you have achieved a level high enough, you have 4 slots that can be fitted with permanent items. I currently have 4 permanent items equipped, that provide a 9% bonus on all completed offers! It is possible to build this permanent bonus to 12%!! In addition, there are 8 more slots where you can equip(or activate) your temporary boosts(bonuses)! I have had boosts over 30% at times! These can be very effective in raising your coin balance, in significant amounts over shorter periods of time!!! For instance - When I competed the offer for over 1 million coins, the 30% boost was very attractive and rewarding!
Most important to me, is the fact that you don't have to focus all your time on Cointiply. For instance, I usually have multiple tabs open, where I am working on other projects! Another Hint, at how I generate higher BitCoin earnings each day, is that i also have a tab open to Rollercoin! This post another example. When I come to a certain point on these other projects, I return to my Cointiply tab and work these features, I have shared with you above.
As I briefly mentioned earlier, the Cointiply App is another powerful tool, in building your balance. You can quickly and easily make your hourly faucet roll, as well as qualify for the Rain Pools! In addition, if you have some spare time, you can complete the PTCs and watch video advertising, both of which require very little time. The App is fully functional, so that you can complete surveys, and other offers, if you find yourself in the position with time available. One example would be waiting at the Doctor's office. 
As you become more and more experienced on Cointiply, you can explore other earnings opportunities and adjust this routine to your personal preferences. In the meantime, you will find that the basic information, in this post, will lead you to a quick start in higher earnings - that will help you skip much of the learning curve!
If you have accepted my invitation, or simply have an existing Cointiply account from whatever source, and found the site a little intimidating or difficult to earn from, I suggest that you use this guide to quickly get back on track - with this source of significant Crypto Earnings Platform!!
If this guide is something you can envision yourself following, You have a desire to earn significant amounts of BitCoin(or DOGE), and you do not yet have a Cointiply account - Please accept my invitation and follow this link to set up your free account :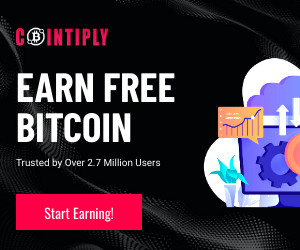 IF you follow this guide, you will achieve much better results, and you will find Cointiply to be more rewarding and satisfying!