Started moving in channel:
Since 3rd Nov 2019 on 4hr chart the price line of 3rd largest cryptocurrency Ripple had started moving in a down channel and on 7th Nov the price action crossed down the Basis of Bollinger bands and kept moving below the Basis in the meanwhile it was continuously hitting the lower bands of Bollinger bands.
At last on 25 Nov a large spike down beyond the lower band support of Bollinger bands hit the channel support which produced a bull bounced and after getting bounced from here the price action crossed up the Basis and also broke out the channel resistance on 27 Nov 2019 and now the Ripple is moving through a price correction period during this period the price action may retest the resistance of channel as support.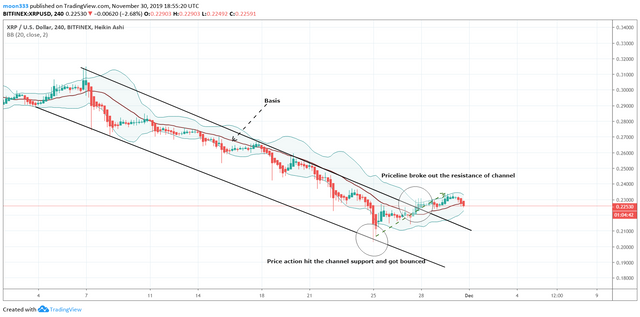 https://www.tradingview.com/x/IwBXqaH1/
The oscillators and indicators:
We have received strong bullish signals upto 12hr chart but if we see on Day chart then it can be seen that the indicators and oscillators are just turning bullish lets have a look.
1st is we see the moving average convergence divergence (MACD) then it was strong bearish since 1st Nov in the meanwhile it has been fluctuating to weak bearish but that was only for a day but now it has turned weak bearish since last 5 days continuously.
The relative strength index is also in oversold zone and Stochastic has given bull cross from oversold zone moreover the price action is getting bounced from the lower bands of Bollinger bands these indications are quite sufficient for confirmation of trend changing from bearish to bullish.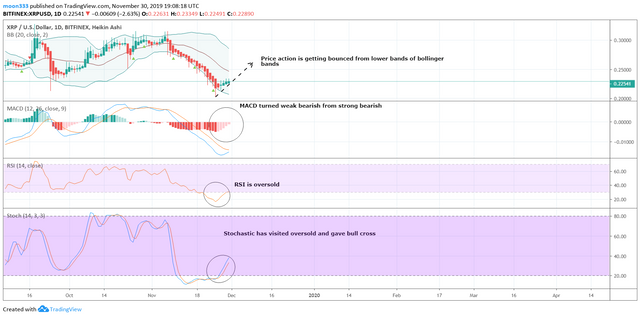 https://www.tradingview.com/x/HcYPXUJF/
The Harmonic Move:
Since 23 Oct 2019 the Ripple has started forming a harmonic bullish Crab pattern lets have a look how perfect pattern it can be as per text book information of bullish Crab.
After X to A (the initial leg) the B leg is retraced Upto 0.45 Fibonacci whereas per text book information of Crab we need the retracement of B leg between 0.382 to 0.618 Fibonacci and if we see the B to C leg then it should be projected between 0.382 to 0.886 Fibonacci projection of A to B leg and on chart there is little bit spike beyond the 0.886 Fibonacci but it can be ignored coz all other legs are driven perfectly as required for Crab.
Now if we see the movement of C to D leg then it should be retraced between 1.27 Fibonacci to 1.618 Fibonacci and on chart the final leg is driven perfect as required and this area from 1.27 to 1.618 Fibonacci is also the potential reversal zone of this bullish Crab pattern and we can take the long position between this area and we can set our sell targets between 0.382 Fibonacci to 0.786 Fibonacci projection of A to D leg, so the buying and sell targets can be as below: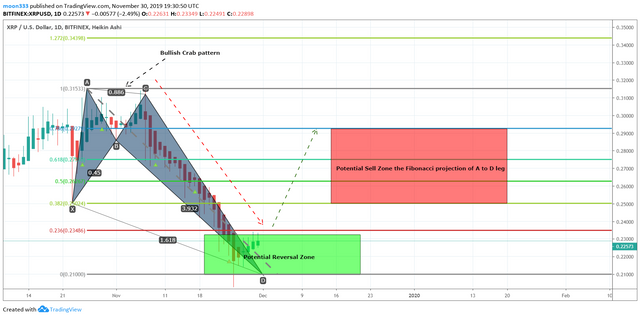 https://www.tradingview.com/x/5OTGKOLP/
Buy between: $0.23249 to $0.20982
Sell between: $0.25012 to $0.29287
So move has potential to give upto 39% profit but if the price action crosses up the 0.786 Fibonacci projection area and complete candle stick closes above that area then it can have more powerful bullish divergence from there and may start more powerful bull rally.
Regards,
Atif Akbar (moon333)