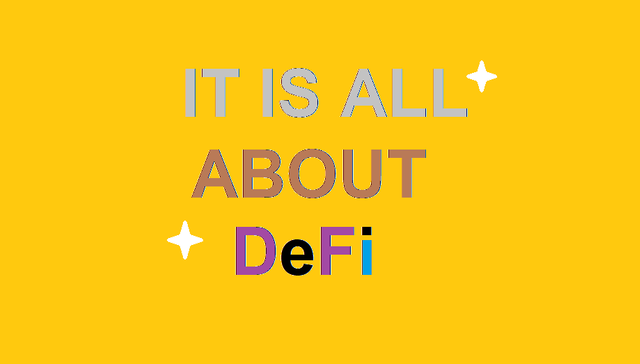 One of the beautiful things about blockchain technology is the opportunities that it provides to the world by allowing people to communicate directly. People can directly send emails, text messages, pictures, and videos to others without the use of a middleman.
Is this article you a going to learn about what is DeFi and how does it work? What are its tokens? And how people can benefit from it?
What is DeFi and how it's work?
DeFi is the abbreviation of the words decentralization finance. This is a blockchain-based form of finance that does not rely on central financial intermediaries such as brokerages and banks to offer traditional financial instruments, and instead utilizes smart contracts on blockchains, the most common being Ethereum.
DeFi platforms allow people to lend or borrow funds from others, speculate on price movements on a range of assets using derivatives, trade cryptocurrencies, insure against risks, and earn interest in savings-like accounts.
For DeFi to work, it needs a decentralized infrastructure to run on. This is where the Ethereum blockchain comes into play. The Ethereum blockchain is a DIY platform for decentralized applications (DApps).
DeFi tokens.
DeFi tokens reside on a blockchain and are a special type of asset or utility. DeFi Tokens can be used for example to receive a US Dollar loan. DeFi tokens have the same seamless transferability and transparency as a cryptocurrency.
The following am going to mention are my top 5 Defi tokens.
Swipe (SXP)

Swipe is a platform that aims to connect the fiat and cryptocurrency worlds. It does this by offering three products. The Swipe Wallet which enabling users to store their assets with an easy to use interface, the Swipe debit card which is a more convenient way for Swipe users that allows them to spend their assets and the native token – SXP which used for transactions inside the network.
Uniswap (UNI)

Uniswap is one of the main exchanges in which DeFi tokens are traded. UNI is the native token of this exchange. 1 Billion UNI have been mined in its inception date and will be allocated over four years. Consequently, UNI holders have various governance perks, which are based on the percentage of the total supply of UNI they own.
Uniswap v3 released on May 5. It will introduce numerous new features, the main ones being; Concentrated liquidity and multiple fee tiers where concentrated liquidity will allow providers to provide liquidity to a select price range of their choosing. In turn, this will allow them to earn the same amount in fees with significantly less capital.
REN (REN)

REN is an open protocol that aims to provide liquidity between separate blockchain platforms. It launched RenVM, its mainnet, in May 2020. The native token, REN, serves to power the nodes which run RenVM.
RenVM is a network of virtual computers that assists decentralized applications in numerous ways. It does this by offering cross-chain lending, collateralization, and exchanges.
Orion Protocol (ORN)
Orion is a protocol that aims to include each centralized & decentralized exchange along with swap pools into one single decentralized platform. It is powered by the native DeFi token, ORN. The protocol has announced Main Net pre-staking, to increase rewards for stakers.
There will be two main forms of staking: which are multi-Asset Staking, which will be done by liquidity provides, at a rate of 1:1 with a chosen asset and simple Staking, which will be done by governance stakers, providing higher annual rewards than what is currently offered in centralized exchanges.
TrustSwap (SWAP)

TrustSwap is a distributed platform, that wants to revolutionize the DeFi sector. It aims to do this by providing various functionalities such as; smart lock, which allows users to lock their ERC-20 coins, smartMint, which allows users to mint their cryptocurrencies and swappable, which allows users to swap non-fungible tokens (NFTs).
Benefits of DeFi.
Through DeFi blockchain, people can benefit from it in different ways. But there are so many benefits of DeFi below am going to mention a few important of them;
• Global access to financial services.
Through DeFi, anyone with access to an internet connection could access financial services. No individuals can be denied service based on who they are, where they are born, or how much money they have.
• Affordable Cross-Border Payments
Decentralized finance has the potential to completely remove these costly intermediaries, allowing remittance services to be much more affordable for the global population.
• Improved Privacy and Security
With DeFi, users have control of their wealth and can transact securely without validation from a central party. In DeFi, financial data is accessible via completely transparent (and easily auditable) public blockchains.
• Censorship-Resistant Transactions
Transactions are immutable and blockchains can't be shut off in a decentralized financial system. Anyone with access can use a decentralized network because they are a decentralized network.
• It is simple to Use
Plug and play apps will allow people to intuitively use decentralized financial services without the complexity of the centralized system. Developers can create and intertwine financial services at a very low cost.
Finale
If it was your first time hearing about DeFi or you already heard but you do not know what is this, at now least you get a picture about DeFi, but if you are interested in DeFi I recommended using other resources to get more information and update.
Please if you have a doubt, advice, opinions, or any other information based on DeFi please leave without commenting below.
Thanks for reading.