More than a year ago I wrote about the Oleksandra Oliynykova and the first ever game that was powered by the IRL performance of an athlete. The game is powered by the OLI token, and is the first and only of its kind as it runs both on the blockchain and in the real world.
Oleksandra Oliynykova is the primary character and the hero of the game, while the people involved in her athletic life are the secondary characters. The players are the OLI token holders, and the game outcomes are based on the real life performance. The players can participate to discussions and can manage the hero's decisions through voting. 
The earned benefits, the tournaments prize money, will be shared by players and characters. The game will have "patriarchs", experienced players that had constructive feedback into the gameplay. I am one of the game Patriarchs and the Community Advocate. As a Patriarch, I will be part of a smaller team that is involved in key game decisions that are not covered by voting or until the voting system is implemented. As a Community Advocate, I will do what I know best and spread the word! 
The focus on development was fruitful, and OIeksandra reached her career-high in August. She reached 464 in the WTA rankings after a series of good tournaments, and I hope to see Sasha in Grand Slams soon! 
The Ljubjana Challenger was the first WTA presence for Sasha, and she went against the odds in the qualifying round. She beat Jani, the top seed, and obtained a glorious entry in the main round. 
Sonmez was a hard nut to crack, but playing an even match against a higher ranked player was encouraging. The story is just in the early stages, and success is yet to come.
The semifinals from Malmo were backed up by a top performance in Slovenia, and more WTA wins will come! It's time for new career highs and top performances on the big stages! Looking forward to meet Sasha and the team, and to see this project reach maturity.
The game moved to Binance Chain, and the $OLI holders are now rewarded with $BUSD. The share from tournament prizes depends on the amount of tokens each individual holds.
I am a strong believer in the project, and more in Oli's skills. She is still so young and has all it takes to be a Top100 WTA player. This is why I constantly add more $OLI tokens in my portfolio, and this is why I see this as a long-term passive income for at least 5-10 years.
It's easy to grow my $OLI holdings, as the token is available on PancakeSwap. I decided to get another batch, and take advantage of the dip, adding 2056 tokens to the current portfolio. I paid with $HAY I farmed this summer, so basically this is free crypto! 
Back in 2021 I had an interview with Sasha, and you could see that the winner mindset is the key to her success! Here are some of the best questions from that interview, and answers that still make sense two years later.
Winning a game when playing bad or losing but having a great match?
Winning the whole match - playing good, bad or ugly. I must say that loss is a part of our job. The world-best players actually win 60-70% of their matches during the season, except maybe top-5. So I can accept loss, but I never say: "It was a good match, I like it". I hate to lose!
Clay, hard or grass?
From two major surfaces now I'd prefer to play on hard, though I grown up on clay.
The tennis player that inspired you?
What inspires me is not what tennis players they are, but what humans they are. So my answer is - Sara Errani. She is the biggest heart person I know in the women tennis. 
* I remembered this answer when Sasha played Sara at Maspalomas, back in August, and I am sure she enjoyed testing her strength against an idol.
Who's better? Nadal, Federer or Djokovic?
All three are great champions & legends. So we can speak about personal preferences only, but this is not better, this is "who of three I like more". My answer is Federer because his game is very aesthetic, his game looks so easy & airy, though you need to work super hard all the life… and you will not be Federer anyway.
Do you support a football team?
No.
Have you ever visited Romania?
Yes, it is actually a very special country for me. I played my first international tournaments in Romania. It was Tennis Europe U12 tournaments, two in a row, and I was 10 years old only debutant. At all it was pretty good start as I even won two matches! Also it was kid's day there, and I hitted a bit vs. Monica Niculescu.
Tournament final and you serve for match! Strong serve or play It safe?
It should be strong… But it is not always strong in the real life. And this is the issue. Players should hold the play which bring them positive results. I and my team work a lot on the beginning of the point, so I would have my hand up from the first shots. But I am live human, so there is a temptation to just put the ball in… and usually it has bad consequences :))).
What's your expectation from Olicrypto – the game?
My greatest expectation is to create a working & efficient mechanism which can be copied by other athletes. In this mechanism all players, including characters like me or my coaches, token holders or patriarchs, should be comfortable, rewarded and entertained.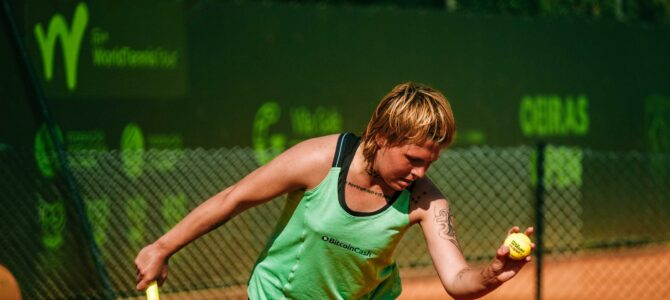 Residual Income:
Play2Earn: Upland / Splinterlands / Doctor Who Worlds Apart
Get Plutus Card - 3% cashback on everything + Perks 
CEXs and DEXs: OKX / Biswap / Binance / Crypto.com / 
The fountains: PipeFlare ZCash,  GlobalHive ZCash & Get.ZEN
Publishing bundle: Publish0x, Hive/Leo,  readcash, LBRY & Presearch