BeanstalkFarms - one of CRE8R DAO clients - is hosting a Poker Tournament on the 5th of March (this Saturday) with a moneybag prize pool of 600,000+ pods! The starting time is 8:30 PM ET / 5:30 PT / 1:30 AM GMT.
You will need a PokerStars account to participate and 100 $BEANS for the entry fee ($ETH works as well). Head over to Bean.Money/Poker to register. Join with your PokerStars account or create a new one that aligns with your Discord name and the protocol your're involved with! Join the Home Games and enter Club ID 4838286
Prize Pool Breakdown: 600,000+ $PODS with 20 places paid from the maximum of 300 participants. The minimum payout will be 7,600 $PODS and 164,000 for the winner of the Beanstalk Poker Tournament. If you refer 5 players your buy-in will be covered, and if you are the person with the most referrals you can win 10,000 PODS. There will be a 50,000 PODS prize to the DAO with most players at the final table.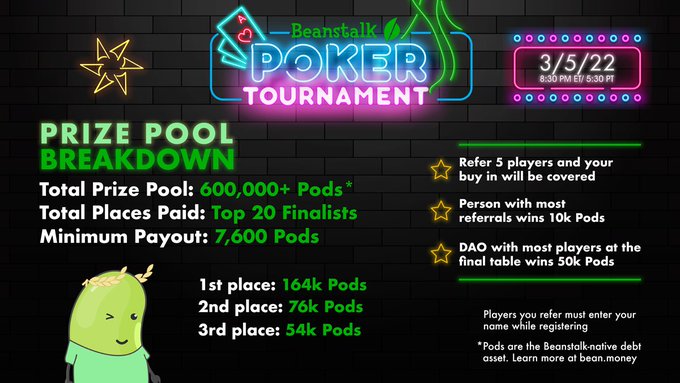 Beanstalk Farms is the place where the Beanstalk Protocol grows beans and money! Beanstalk is defined as a decentralized credit based stablecoin protocol built on Ethereum. The first Beanstalk product is $BEAN, an ERC-20 USD stablecoin with a variety of passive and active opportunities to earn interest. The unique feature of Beanstalk Protocol is the use of credit instead of collateral requirements, which creates price stability.
Pods are the debt asset of Beanstalk. The PODS automatically grow from Sown and never expire. They will ripen and become harvestable (redeemable) for 1 at anytime. Because they are transferable, PODS are non-callable bonds with priority for payment represented as a place in line.
Join the Beanstalk Farms Poker Tournament at  Bean.Money/Poker and fill your piggybank with $BEANS and $PODS. CRE8R DAO can cover the entry fee if you don't have $BEANS or $ETH!
Is you piggybank empty and you want to participate in the Beanstalk Farms Poker Tournament? CRE8R DAO set up a sattelite tournament tonight (11 PM UTC) and the top 3 player will have their entry fee covered. Contact me on any social media for more details or follow the steps below.
You are invited to join CRE8R DAO for Home Games online. If you don't already have it, download the free PokerStars software from www.pokerstars.uk - Open the main poker lobby, then click on the Home Games tab - Click the 'Join a Poker Club' button - Enter the Club ID number: 4832090 then enter the Invitation Code: BRICK2022 Or launch this URL: pokerstars://home-games/invite/4832090/BRICK2022. Once I've approved your membership request, we'll be ready to start playing. Don't worry if you don't make it in the top 3 players... we have POAPs for all the participants!
Links and media: