Hello all, welcome once again to my blog, I will be making a review of how to purchase cryptocurrency with fiat using your atomic wallet in this post, so sit back and enjoy.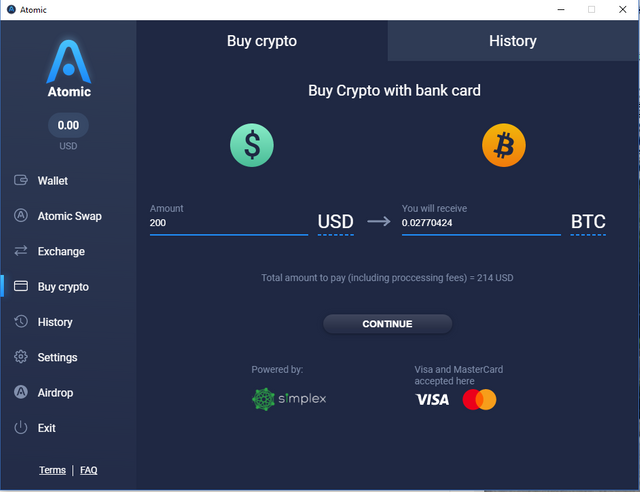 The level to which the cryptocurrency industry have gotten to is so obvious that the technology cannot be stopped any longer, hence it is becoming largely accepted by more people day by day. This is the reason why we are now starting to get more and more projects bombarding the space with each one of them having a particular solution they are offering to mankind. However, cryptocurrency investment is an aspect of the blockchain industry that cannot be underrated as the market capitalization of the crypto market is a good pointer to justify that.
Having said that, we should also be aware that the convenience of purchasing this cryptocurrency assets also goes a long way in determining its rate of adoption by the masses but unfortunately, purchasing cryptocurrencies with fiat has always been a challenge in the industry, hence most platforms are now starting to adopt a means of integrating fiat payment to get rid of the problem.
 
Atomic wallet team too are aware of the hullabaloos cryptocurrency users pass through in purchasing crypto with fiat and as such, they have partnered with simplex which only requires its users to get verified once after which they can continually enjoy the fiat to crypto services without any hassle.
Whenever you purchase crypto inside atomic wallet using fiat, you will get your cryptocurrency delivered into your wallet almost immediately within a maximum of 24 hours time (in the worst case scenario).
Atomic wallet is available for download in both mobile and PC version with a very excellent user interface which is very easy to operate.
Other features of atomic wallet include;
Availability of inbuilt cryptocurrency exchange which allows users to exchange their cryptocurrency into other crypto without having to pass through an external exchange
Ability to control your private keys effectively
Availability of over 300 cryptocurrencies
Convenient and excellent interface which is available both on mobile and PC
Without much exaggeration, its obvious that atomic multi-feature wallet is here to give to everyone a whole new experience of cryptocurrency management, you need to check out this wallet yourself and I am very sure you'll agree with me that the wallet is superb.
Buy Bitcoin
Buy Litecoin
Buy Ethereum
Buy Ripple
Buy Bitcoin Cash
Download your atomic wallet here
Bitcointalk username: dvmmayowa