I think this is a first for me a project creating NFTs around a club in a Wax game now this isn't his first project his old project had to stopped due to outside influences but he has now created this project and I have to say the concept is really cool .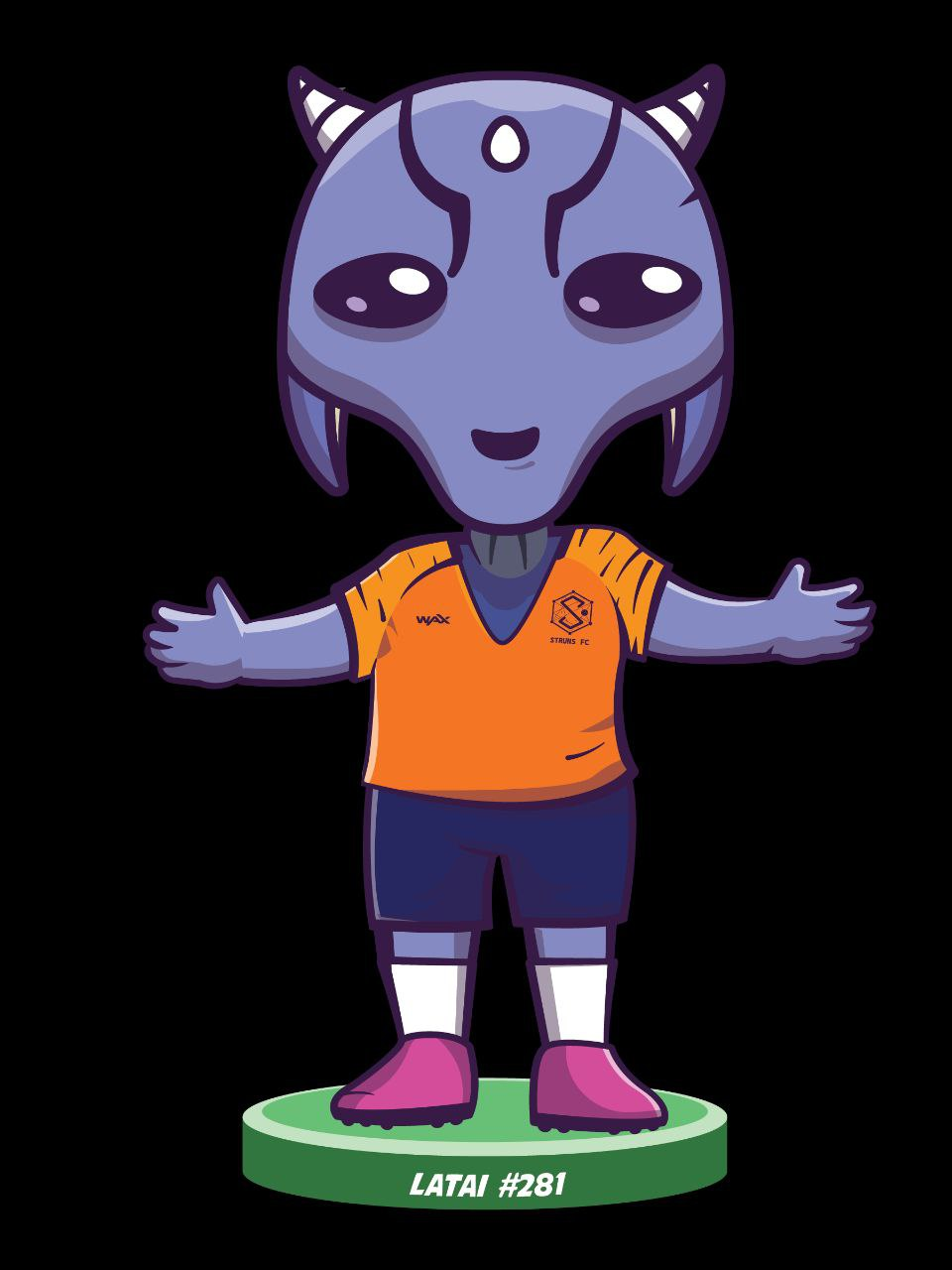 Hey man
Hey
How you today
On the road now, heading home from Decathlon.
I know it lol so . Will you be doing much with the project today?
My project is about me playing a WAX game so yes, already done and will do more of that today 😂 . Aside from play, I will only schedule posts on twitter later today.
How did it come about?
I saw few clubs, from other games (crypto and non-crypto) having a twitter page so I wanted to have a go... I worked in design and marketing (even as a Marketing Director for a sports club for few years) so I wanted to have a go but make it on another level, not just having a logo and a twitter page where I can put some news from time to time, really treat the Cosmos Eleven club like a proper football club.
So the project is based off a P2E game ?
Yes, is a game on WAX called Cosmos Eleven, is a mixture of traditional football manager game with blockchain technology and alien spin off.
This isn't your first project on Wax were you nervous about creating a new one?
Not nervous but defo had some trust issues after that. In the end, I'm playing a game and can only be better for my playing experience.
You have created a whitepaper to explain what will happen in the project can you give us a quick breakdown?
Make a financial audit to see the value of the club and how much revenue can bring monthly then sell it to investors via NFT drop. Then each month the profit will be split between the shareholders, members (supporters who own membership cards) and manager (who runs the club). That is a very quick rundown but here is a copy of the whitepaper if people want to have a read .
https://www.dropbox.com/s/p8uctxujcmt5fys/struns_fc_whitepaper.pdf?dl=0
Has the club been around long?
Since the game launched, I bought in at the first drop and played since. The drop was in November 2021 and the first feature of the game started just few weeks after that. For more than half a year the club didn't had a name, it was only my wallet name. The idea to treat it more and more like a club started in October 2022.
When did you start creating NFTs for the club?
Just about 2 weeks ago, in between season 7 and season 8 and dropped the first one, Season 8 Membership, few days ago.
What was the first NFT you created for the club?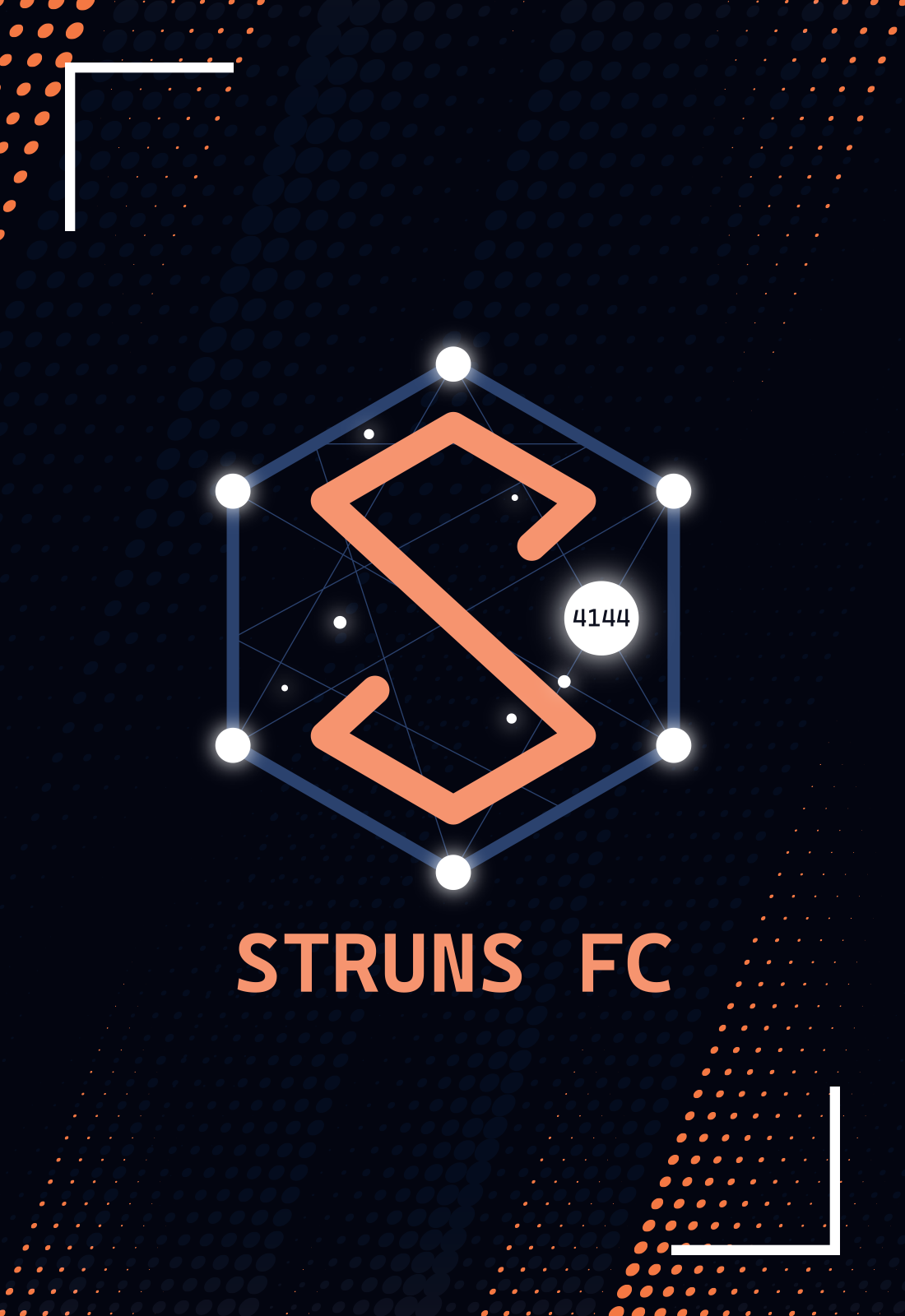 Actually, the first NFT was the club badge with the club info, 1/1 NFT that was only done to highlight it on my Atomic Hub profile 😁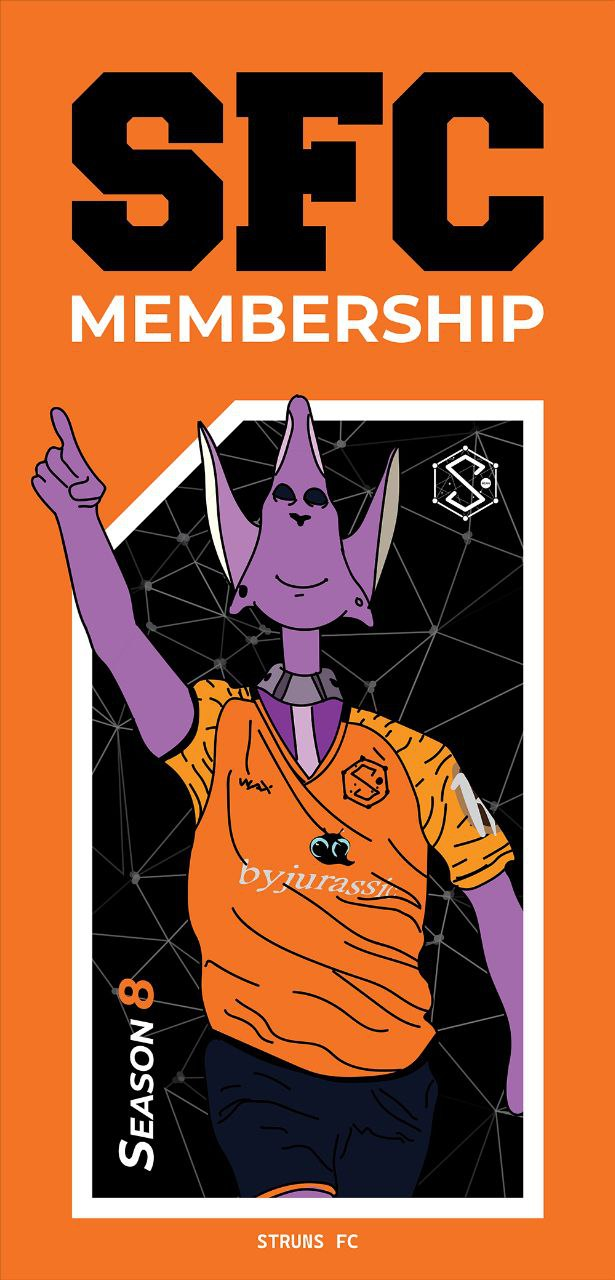 f we talk about first NFT for the public, then Season 8 Membership Card
How did the community react?
The general feeling was good. Lots of encouragements from other Cosmos Eleven users and even from the game admins. I'm sure many also raised an eyebrow thinking of "WTF, this guy lost his damn minds!" 😂
Have you released many NFTs from the project so far?
So far only the ones I mentioned, 3 more to follow as soon as the new season begins. There will be 3 figures, similar to the soccer stars ones.
And how often do you hope to follow up with more?
Each season (about 3 weeks) I will get 2 new figures, one membership, and, maybe more ideas will follow in the next seasons.
Will they be limited mints?
Yes, 100 of each.
Now I have to say compared to your old NFTs these are totally different design how you creating this?
Haha. Well, I'm a designer since 2008 so I can create in many styles, it all depends on how I feel the project should look. For these I use Adobe Illustrator.
How long are they taking to create?
It depends, figures NFTs takes around one and half hour each. Memberships only about 20 minutes.
Do you think there could be collabs in the project with members or even another club?
100%. I was the first club to make it outside the game but few followed and made Instagram profiles. Also, I've talked these days with Broken Dollz and we may do a collaboration on his collection. Anything is on the table and I'm open to ideas.
Is there a dream collab that would fit with the project?
I don't have a "dream collab", I loved Broken Dollz waxtirges so I approached him. When I will see anything that I like and have ideas be sure I will contact the collection representative. BTW, Broken Dollz will be the sleeve sponsor for the next few seasons 😁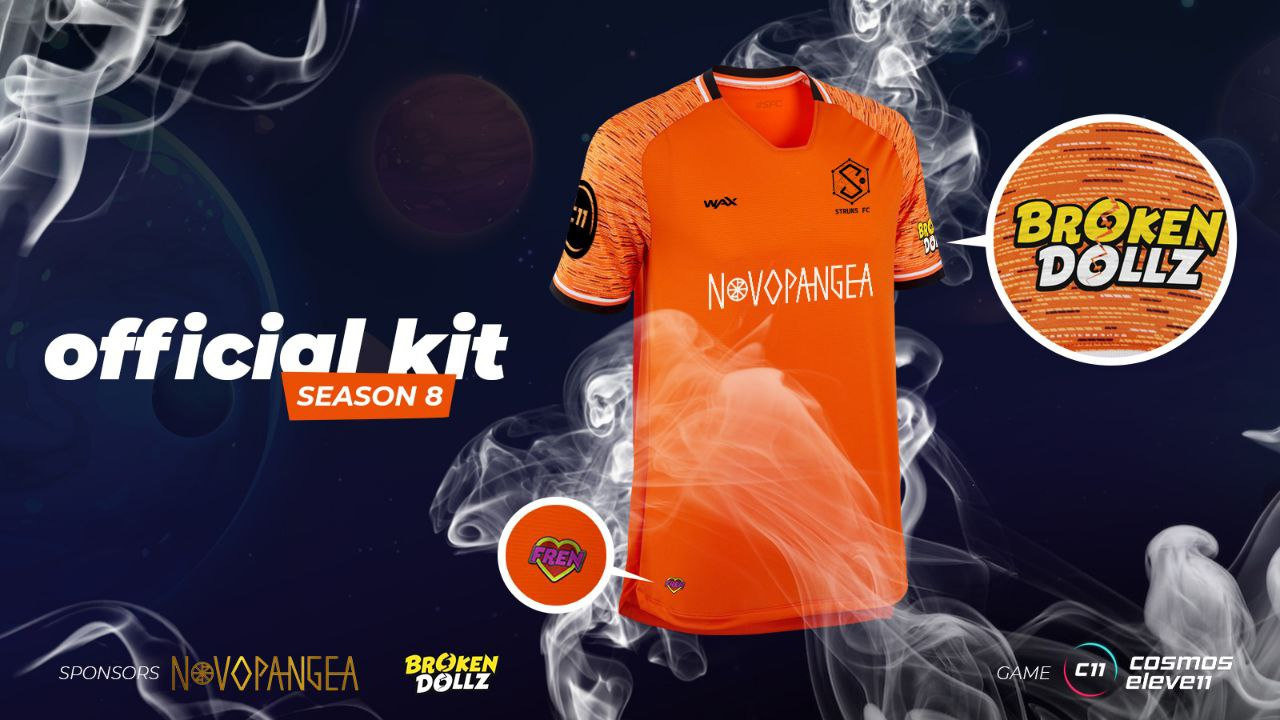 Oh nice. Do you have many sponsors lined up?
This would be the second season since I've started the project and we got 2 sponsors in each season. 1st season it was The Online Inn and Critters, this season is Broken Dollz and Novopangea. I don't plan to have more than 2 sponsors per seasons. I don't want to be diluted.
That makes sense . When does your next season start?
It should be on Monday (13th February) but is not 100%, a lot of new features were implemented during the off-season and admins want to make sure everything works properly. Stadiums just came along in the game and is a big features with a lot of implications, stadiums are more like lands in other games.
Ah so right so there might be a slight delay . where is the best place to keep up with the club?
Right now on twitter, https://twitter.com/strunsfc, and also on the Cosmos Eleven discord as we got a #show-your-club thread there.
Where are the NFTs available to buy?
Drops will happen on Nefty Blocks https://neftyblocks.com/collection/strunsfc4144/drops
Is there anything else you would like to add?
Yes, many complain that gaming on the blockchain sucks... is because they chase the wrong games, chase the click click games for few WAX. Try the games you really like it, make it about the joy, not about the profit.
I think people need to find there own way.
Correct. Sadly, too many find it only when they lost a lot of money or they lost the joy...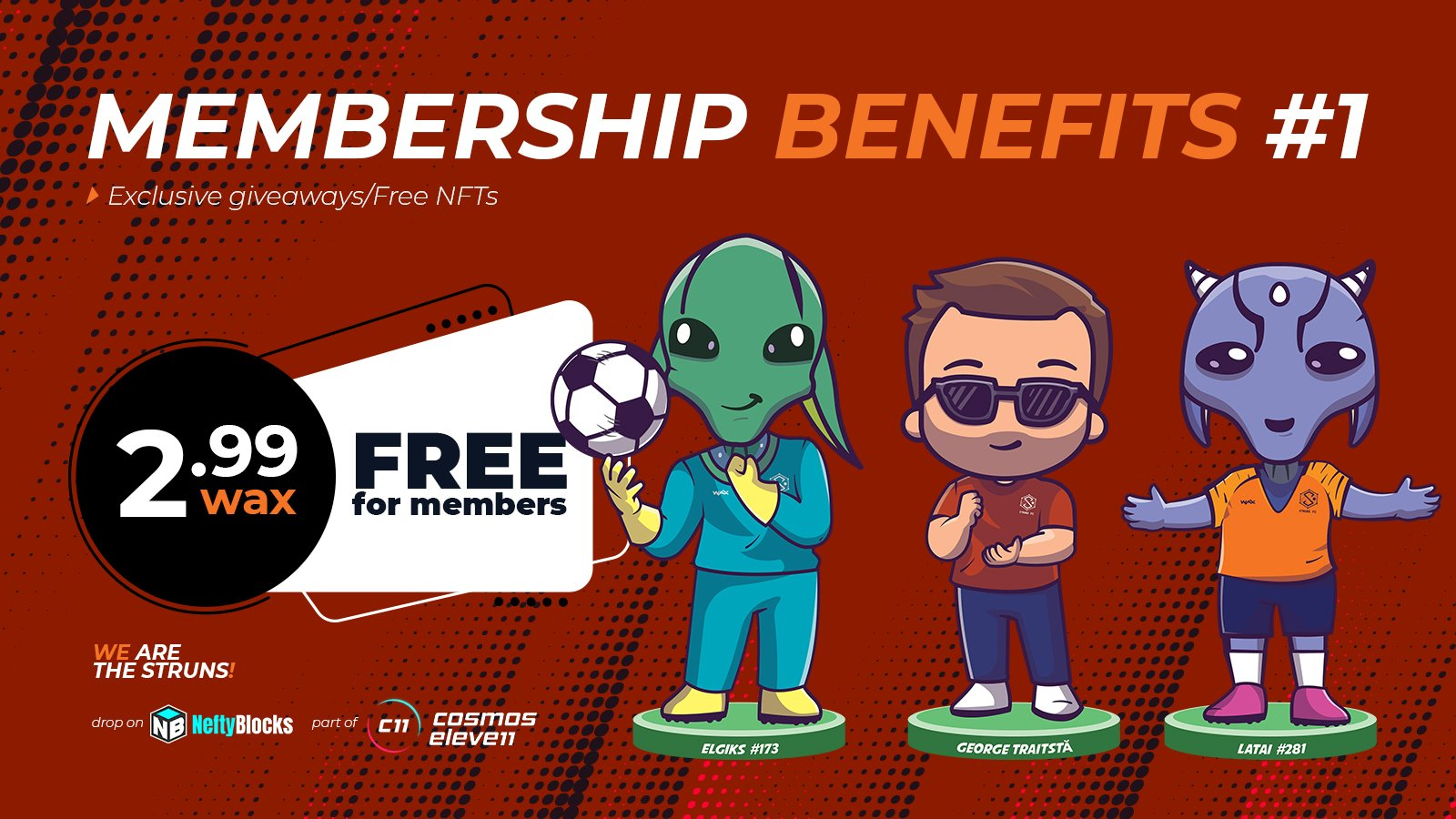 Well hopefully they might look into your project . Thank you for your time to chat about your project.
Always a pleasure oh by the way lets get a giveaway going Il give you 2 of each NFT to giveaway which makes it 6 to giveaway