Right if you don't know about Drawn Company or there most famous employee Karen where have been living so I originally had them on for a Meet the Artist just little over 2months and they have just gone from strength to strength if you missed are first interview check it out here .
https://read.cash/@Crackers/meet-the-artist-drawncompany-80a2687f
We also had him on are YouTube show as well which you can watch here .
Yo
Yo . How's things ?
I am really good thanks, you?
Well up in 5 and half hours for work but other than that all good.
Oh man - you are hardcore!
Ha ha I wouldn't go that far . So it was earlier January last time we talked and you had just launched just a little over 10 weeks and you are flying . It must feel great ?
Yes its a good feeling! We have had a very busy two months. We launched Series 2 which sold out and have done collabs with BlockchainCards and BrokenDolls - It has been chaotic, but worth it and we have just literally today passed 2k followers on twitter!
Well congrats on the 2k followers how many NFTs have you dropped since we last chatted?
Lots! We now have more than 1,670 NFTs on the Wax Blockchain . Which is a colossal amount !!
Of course it is and you even have 2 collabs under your belt with 2 of my favourite artists anymore lined up ?
Yes, we are dong a big project with 8 Bit Slammers which will drop in the Autumn. This is going to be a major release so not just run of a mill two week job.
Oh wow that sounds exciting and your road map looks exciting is the room for are Easter event in there ?
Yes - I have added a disclaimer to the bottom. Its our minimum commitment to the brand. I did not want to be too tied down to a Roadmap however people like to see so we made one. There is loads of room for amends and new stuff to be added.
That's good that you left wiggle room so the really reason we are here is for the next series you have come out next Friday on the 7th of April (Tonight) . What it all about?
Well. She needs no introduction but it is all about our favourite employee Karen. You may remember she featured in an NFT we produced when we were first whitelisted on Atomic Hub. I had the idea to create a series around the character and we arrived at 消し Keshi Karen. I am collaborating with a wicked 3D artist to make our first range of cool NFT Toys. The series includes blends for the rarer versions and even concludes with an opportunity to craft a vIRL which will mailed to everyone who completes the blend journey.
Keshi is a Japanese form of miniature collectable toy - we had them in the UK in the 80s as mini multi-coloured wrestlers (you may have seen them) .
Why do you think Karen is so popular?
I don't know! But everyone loves her - I think it is mostly that the original Drawn Company panel was so so funny! She found a place in peoples hearts, the community have been enthusiastic so the whole 'Karen thing' has just spiralled out of control!
So the whole next series is based on her how will it work will it be packs of individually NFTs?
Drop A consists of 8 NFTs all available in packs of three NFTs @ $2.99 each! They include the both of blendable NFTs but they will be super hard to get and the blend is pretty easy to undertake as you only need all three Drop A Common Colours to blend Emerald Karen. the journey has been designed so peeps get the fun of opening packs and everyone should be able to blend an Epic/Legendary with ease. The vIRL will be tough! But that is how we have approached this - make it easy for people to blend some cool NFTs but the real rare ones will be a challenge! It wont be possible to blend Grail, Ultimate, Super Ultimate of Hyper Uber (vIRL) until after Drop B. we divided into two drops to give early adopters the chance to earn some WAX off the secondary.
I will also note at this point we have already sold 40 Founders Boxes as pre order packs to our beloved fans!
Will there be a limited mint on the packs?
Yes - still doing the maths on that one but will be between 200-500 packs for each drop. Once they have gone they have gone type of thing and I will just add we are also selling a bundle of 4 packs which will be extremely limited and give the buyers significant savings
And the founders box how many are available ?
The Founders Boxes were a Dygycon exclusive drop so we only have what has already been preordered (Minus a couple for promo) The 4 packs are called Pallets
Ah is there any on the second hand market?
Yes but those fellas don't have any value as we stipulated the buyer of the drop gets the two packs - don't worry!
Is there a favourite NFT in the new packs?
I love the Legendary from Drop B but that is a secret for the time being - my favourite common also arrives in Drop as it is a slick black version which looks like Vader. On a photocopier 😆
Ha ha ha so no sneak peaks?
Nope .
When your next event we will see you feature?
We are already planning our method of attack for Dygycon 9 at the end of May and have plans to attend the NFT Circus Easter Event - looking forward to both
And its your second time on the show this week?
Yes and we are really looking forward to it! It was great last time and this time we are more prepared! Which will mean Nifty is not just having to look at the secondary market as we talk. I hope you are ready for a presentation - 'next slide please'.
Oh very nice looking forward to it . Is there anything else you you think people should know or need to know about what's coming in the next few months?
Our next big aspect to the project is the launch of the Drawn Company Community Economics Coin Programme (CECP) - coming in may 2022. Our plan is to reward holders with extra NFTs and offers at a variety of levels from our discord members to the hardest of hardcore collectors. It will also simply our whitelist system. People holding certain coins/tokens will get a variety of benefits. We are even doing one for Influencers . You will have to wait to see which one you get 😉
Oh nice so I suppose we will leave it there and I will see you tonight night always a pleasure.
Looking forward to it!
If your looking for a link to the show tonight check here.
And we also have four of his NFTs to giveaway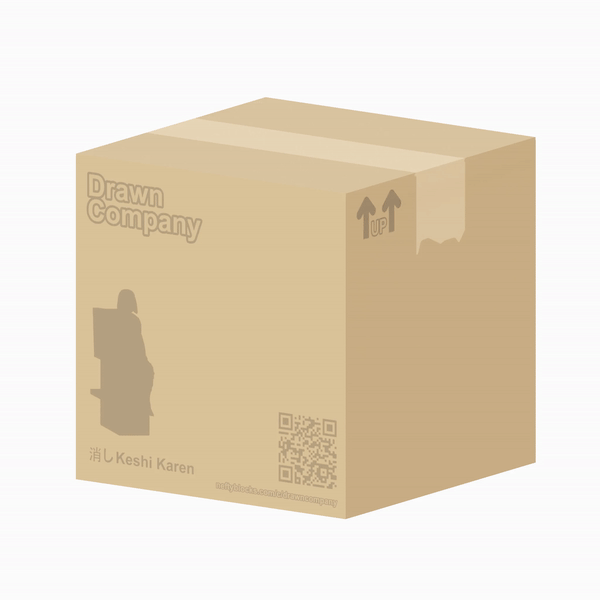 Follow the link below to enter
https://twitter.com/Crackers832/status/1512411883269152773?t=XQqZtQ8SEDztiWFuniCb8g&s=19