Hello guys,
Long time no see, but I have been busy sharpening my crypto knowledge so I can come & give you the best quality content in here (got more time to write with this crypto crash also) !
Anyways, here is a project that seems very promising, to say the least, and this is AdShares ! So, let's dive deep into it, check why this project is special & what it can bring to the cryptospace !
A BIT OF CONTEXT
So, Adshares is a Web3 Protocol created to monetize virtual space in the Metaverse. As quoted by the team itself, "Adshares Adserver platforms allow users to rent space inside Metaverse, blockchain games, NFT exhibitions and websites." Sounds nice, but let's clear everything first !
I guess you have all heard by now of the next big thing called the Metaverse. It is starting now & is expected to be big in the next decade. For those who have lived under a rock, though, here is a bit of context about VR (virtual reality) & the Metaverse.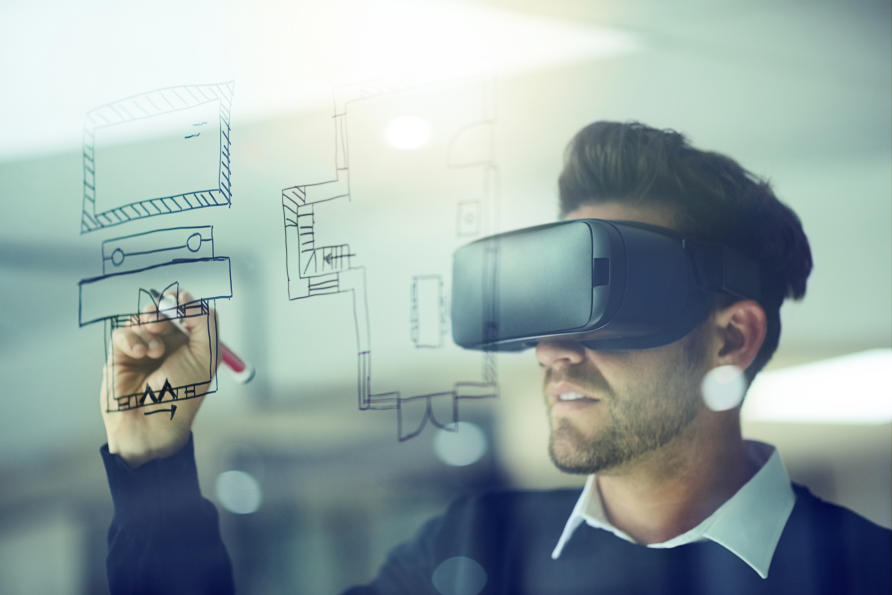 Yep, this is what the future looks like.
WHAT IS VIRTUAL REALITY ?
So, what is Virtual Reality ?
Virtual Reality is a brand new technology allowing users to immerse themselves in any 3D environment. This is made possible by the VR headsets that you see above so that users can be in full control of the virtual reality they are in & explore it. The devices use Big Data & Artificial Intelligence as well as other technologies so that the Virtual Reality is a real as possible. For instance, the cameras utilize blob detection, edge detection, template matching, scale space & so many more cutting edge technologies so that the experience is mind-blowing.
Without going into too much detail, VR uses both software & hardware to make this a reality. The hardware is there for us to enjoy the experience created by the software. Also, the headsets are integrated with magnetometers, accelerators, and gyroscopic sensors so that the interactions inside the virtual world can be monitored in real time. Last but not least, you can also connect to external computer systems to stream the VR experience for instance or to interact with other programs. Quite nice, don't you think ?
Plus, there are so many applications for VR, and here are the main ones :
Gaming : of course, this is no surprise, gaming is the perfect fit for VR and it is already quite developed at this stage. Lots of gamers are familiar with VR, they enjoy it and wish it can develop further.
PTSD/ Autism treatment : PTSD is quite frequent in soldiers or people who have been part of a traumatic experience. And this tool apparently is of great help to heal this condition since it can simulate the environment that causes the condition so that patients can find a way to deal with their issues. It has also been used with people with autism to create a socializing environment & help them develop good behaviors to cope with their anxiety.
Advertising : this is an ideal way to explain the characteristics of a product & give the users a better "feeling" about the product.
Video conferencing : In a time of Zoom meetings & social distancing, this is also a great fit to have a meeting that really looks like one. Lots of companies are working on it & I bet that in the next few years, the vast majority of work meetings will be held that way - at least for these remote meetings !
Education/Training : Also a great fit to better explain complex topics or to help people that have trouble reaching the classroom. We used to have people sending over exams via post for these students who cannot attend class, now we will pass the future exams in VR, that is for sure !  Also, military training uses it heavily to help develop good practices in unusual situations for soldiers.
Basically, lots of potential there. It is not just a tool to live in an imaginary world, it does help people train, adapt & practice skills or fix issues.
Quick word from you : Have you ever tried this yourself ? If so, please leave a comment regarding your experience so that everyone can enjoy what it feels like ! Would be much appreciated !
WHAT IS THE METAVERSE ?
So, here is a quick explanation of what is Virtual Reality. But after all the hype, what is actually the Metaverse ?
Quoting the very words of the team of Adshares, here is the definition of the Metaverse :
"In simple words, a Metaverse is a 3D universe where you live as a digital avatar and experience a virtual world that mimics real-life interactions. Here, you can meet people, play games, work, chat, and whatnot- in a more immersive way using augmented reality. In short, the Metaverse is a 3D marriage of your digital and real lives."
The Metaverse is already the future of gaming. It is already there with the use of NFTs & Play-to-Earn games. And to be fair, the frontiers between the real world & the Metaverse become slimmer day after day... But let's have a closer look at this :
So, basically, all the hype has started a little before Facebook decided to shift from social media to being a Metaverse-focused company. Why is it a big deal ? Will it change the future for the better or the worse & what will be the impact on our lives ? Let's find out.
It all started with in-game purchase, where you use real money to own items in the virtual reality of the game. Lots of games had this feature, and as long as it stays reasonable in price, why not ? If you spend a lot of time gaming, enjoying the narrative & engaging with other gamers as well, it becomes part of your life so why not spend money on it to enhance your experience with it. Just as you would buy a nice bag that you like in the real world and considered it a treat, the same applies for gaming.
But here is the problem. The items that you can buy are not compatible on every platform & there has been many attempts to solve this issue. But then BOOM ! The big concept comes in... NFTs. Simple, there are stored on the blockchain & can be used anywhere anytime. And from NFTs, the Metaverse can easily be built. The ownership is there, immutable, on the blockchain & you can do whatever you want with it. From there, a whole new digital world can be created...
From there, it started to apply to lots of different aspects of our lives. Plus, the pandemic has helped make the shift to the digital world -- Zoom, Microsoft Teams became overnight massively used. Hence the development of the Metaverse.
Let's check the concrete applications of the Metaverse as of today :
Meetings in the Metaverse : As explained earlier, Zoom meeting are nice but they are in 2D, and would be much nicer in 3D. Meta & Microsoft are developing the VR technology so that people can attend meetings in the Metaverse. And they are not the only ones, there has been a lot of advancements in the video conferencing industry to develop these tools for the Metaverse.
Making a living in the Metaverse : The Metaverse is not only used for gaming or enhancing 2D meetings, it has deep links within the economy. And to be honest with you, I  believe this is just the beginning. A game like Axie Infinity has proved that this is possible to make a living by playing the game (maybe more on this game in another post because there is so much to cover). And it is not only for gaming, people are making money designing avatars for the Metaverse for instance. So there are many opportunities for digital artists & designers as well.
Virtual concerts & gatherings : This one is no surprise. If I need to attend a boring meeting in the metaverse, I would love to enjoy a nice concert in it as well. No worries, already possible : in 2019 a Marshmello's live concert was held in Fortnite's virtual concert stage, enabling the players to enjoy the show in real time within the actual game. Last year, Ariana Grande did it as well with millions of fans worldwide. So, there is massive potential, and it is also just the beginning...
Now that we know what VR is & what the Metaverse is, let's dive deep into a very good project from the Metaverse, namely AdShares. And let's find out what AdShares can bring to the Metaverse & why it is such a special project with so much potential.
WHAT CAN ADSHARES BRING TO THE METAVERSE ?
AdShares has been around since 2017, and the team has worked tirelessly to build a highly scalable & innovative web3 protocol to monetize what is being built in the Metaverse. It is smart, easy to use, fast, secure & decentralized. This is a project that will need time to mature, but the team, the idea & the realization will grow along side with the Metaverse, no doubt about that !
Here are the main features that make AdShares such a special project with lots of potential :
Speed : AdShares can process 14M tx/s. Yes, you read that well. The future King of crypto, that's for sure !
High Performance : AdShares can maintain very low transaction fees. You will never use Ethereum ever again, believe me !
Privacy : AdShares runs ads but without using your private data. And this is not a Facebook-like "we won't use the user's data" claim...
Staking : AdShares will make you earn while owing the coins. The best of Proof of Stake !
Middleman Elimination : AdShares allows direct contacts between Advertisers & Publishers. The best of the blockchain !
Cross-chain : AdShares is everywhere. You can trade & stake your wrapped ADS on Ethereum, BSC & Polygon !
Plus, the team has been working so hard since 2017, here are the main accomplishments of the team so far : ADS blockchain, forking the Enterprise Service Chain (ESC), CPA base model implementation, cryptocurrency gateaway implementation, cross-chain implementation, Grant Programs & so much more ! And it does not stop there, there is a clear roadmap on the line for 2021 : New Business Dev Team, Uniswap & 1Inch Listing, New Staking Program & again so much more to come !
It seems promising, but, what does AdShares really bring to the space ? No need to go far, you'll find the answer in the White Paper from AdShares (that I do recommend you read, lots of good stuff there) :
Conceptually, it is very sophisticated. But there is more. Not only the project is good but the growth of the Metaverse will come hand in hand with that of AdShares. The figures from Grayscale's report concerning the Metaverse are just insane :
"The total market cap of the leading Web 3.0 Metaverse crypto networks sits at ~$27.5 billion. This pales in comparison to the ~$900 billion market cap of Facebook, the ~$2 trillion market cap of the gaming sector, and the $14.8 trillion market cap of Web 2.0 companies that could shift to the Metaverse or risk disruption…
The market opportunity for bringing the Metaverse to life may be worth over $1 trillion in annual revenue and may compete with Web 2.0 companies worth ~$15 trillion in market value today. This potential has attracted companies like Facebook to pivot towards the Metaverse, which may serve as a catalyst for other Web 2.0 tech giants and investors to follow."
Last but not least, the team is very active (check their socials), their CTO is currently in Warsaw to explain how the ecosystem works & why this is a big deal. They are efficient, fast & user-oriented : it just takes 5 minutes to set up a campaign in ADS thanks to these guys ! They also attended the DCentral Miami Conference last November proving the audience that they are ready to revolutionize the advertising industry !
LAST WORDS
So, I wanted to explain a bit about VR & the Metaverse because they are new ideas that are coming alive & they help understand why AdShares is such a good project.
I explained why the project has so much potential so I'll just end here with a quick facts that show that this is just the beginning for AdShares :
Market Cap of $50M+ that is expecting to grow

Price of $2,70 that is sooooooooo undervalued

Many partnerships : Harmony, Polygon, Skynet, AdReviex, PublishOx & so many more
AdShares is the future of web3 advertising in the Metaverse! One protocol to monetize them all!
Hope you enjoyed this article & learning more about AdShares, VR & the Metaverse.
See you on the next one guys & take care.
Matthieu