Hello HODLers!
Did you know that there is a social network with more than 200.000 crypto enthusiasts that rewards its users with crypto?
Yes, Torum is a SocialFi ecosystem with a gamified mission system that rewards users daily for their engagement in the platform, paying in XTM, the utility token of Torum ecosystem!
Introduction to Torum – SocialFi Metaverse Pioneer of the Crypto Space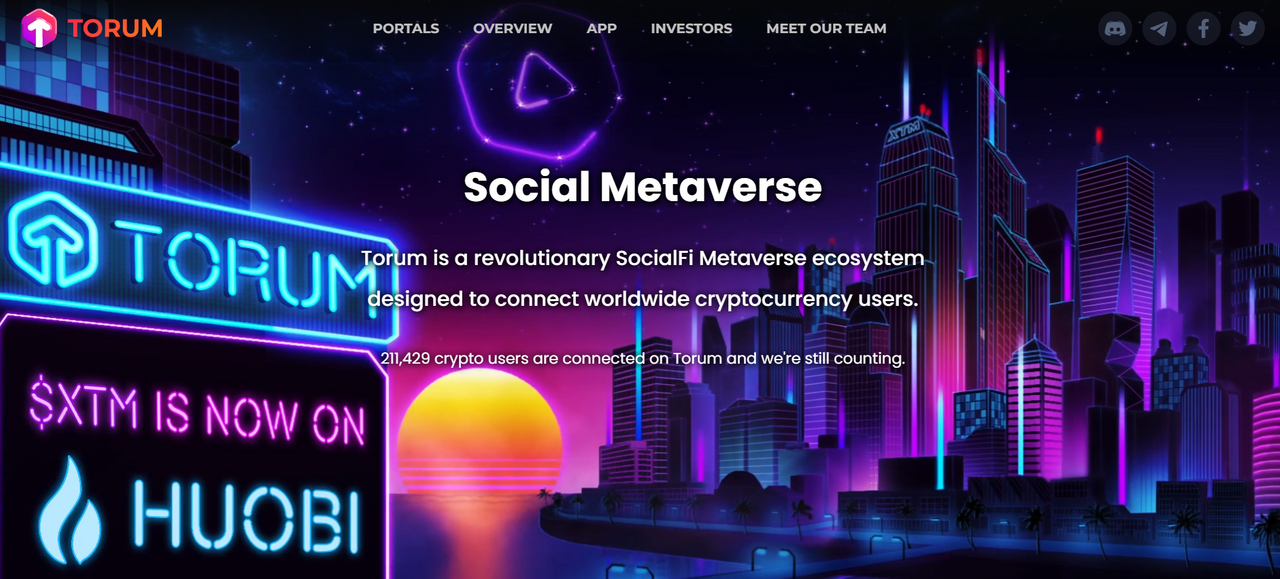 Torum is the world's largest SocialFi (Social + NFT + DeFi + Metaverse) ecosystem that is specially designed for cryptocurrency users and projects.
The Web3.0 ecosystem is built on a social media platform, coupled with a yield farming platform for DeFi players, an NFT marketplace for crypto artists and Avatar NFT for Metaverse enthusiasts.
XTM is the multichain (Ethereum + Binance Smart Chain + HECO Chain) utility token of Torum ecosystem and it's now listed on Kucoin, Huobi, Uniswap and Pancakeswap.
Read Torum Whitepaper to discover XTM token utilities and the potential of the ecosystem (Crypto-social platform + DeFi platform + NFT marketplace + Metaverse + Airdrop section + Smartphone App + News & Data aggregator): https://whitepaper.s3.us-east-2.amazonaws.com/torum-whitepaper-V4.0-EN.pdf
✅#SocialFi Metaverse Pioneer
✅Backed by Huobi & Kucoin
✅Big community of 200,000 users
✅Get rewarded daily in XTM for your social engagement
✅Sign up with my referral link and complete identity verification to earn 7,5 XTM airdrop: https://www.torum.com/?referral_code=makeitreal
Latest news about Torum:
Hi Torum fam,
We are excited to introduce a new support system with greater efficiency and flexibility to better serve the community.
From now on, any support requests must be done through the following channels:
a. Email
b. Telegram
c. Discord Ticketing System (New)
For special cases such as phone or email change and account deletion requests, you are required to request with an email to [email protected] with your Torum-registered email. Please include the following details in the email: "your Torum username" and "the new email address"
Please remember to provide the specifics of your issues as detailed as possible for our support personnel to provide the best support experience and fastest response rate.
For more info: Introducing the New Torum Support System! | by Cova | torum.official | Feb, 2022 | Medium
Together, let's make #SocialFi great today!