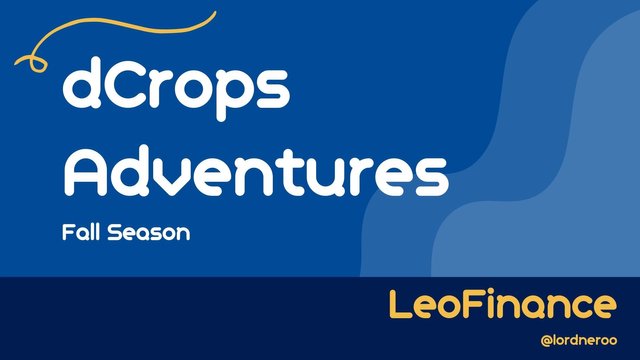 Let's get farming.
If you have been paying attention to my blogging hustle and gibberish here, then you probably already know that I have a thing for dCrops, which is one of the best #play2earn games hosted on the Hive blockchain as far as I'm concerned. The game is simple and enables users to generate crypto income by gathering in-game assets and selling harvested crops for shares.
dCrops is gearing up for a spectacular 2022, with many interesting additions in the works and the sale of Beta packs approaching. NFTs are relatively cheap for the time being, but I expect this to change as more and more people start flocking into the dCrops realm.
In it for the long haul and excited about everything there is to come. My farm keeps producing goodies 24/7 and $HIVE keeps flowing in passively on a daily basis.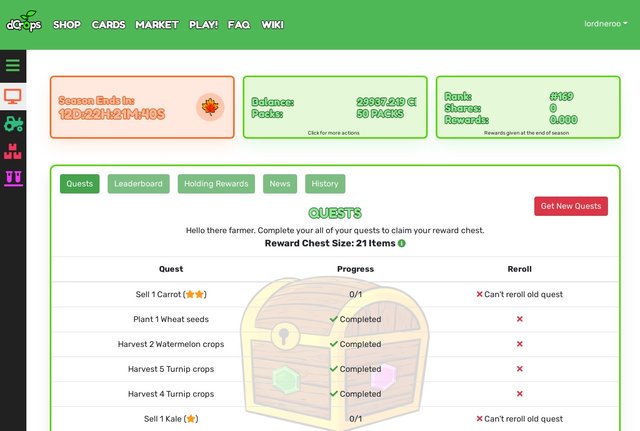 Currently holding 29.9k $CROP earned through harvesting and selling goodies for shares after bagging another 2.5k $CROP last season. My best bet is to keep stacking those CROP tokens for the time being as they add to my daily $HIVE dividends by increasing my CROP Power. I've decided to stick to the plan, and I'm also looking to start using a small percentage of my layer-2 income in order to acquire more $CROP from the market on a daily basis.
As of today, my in-game assets translate into 129.5k CROP Power, which currently brings in 0.286 $HIVE or $0.25 per day. It's not much but it's 100% passive, plus I get to keep all my NFTs and tokens intact. It's also worth mentioning that these figures may increase significantly if the next sale proves to be a success.
No need to mention what happens if people start flocking in here and $HIVE gets the recognition it deserves. There's serious upside potential.
More information about Holding Rewards can be found here.
Let's cut to the chase.
Fall season is here, and this time around I've got some average farmlands sitting idle doing nothing again. To be honest, I could buy up some seeds from the market to fill those empty slots, but I have already invested enough in dCrops NFTs and I'm content with my collection.
Here's a close-up view of my crop factory: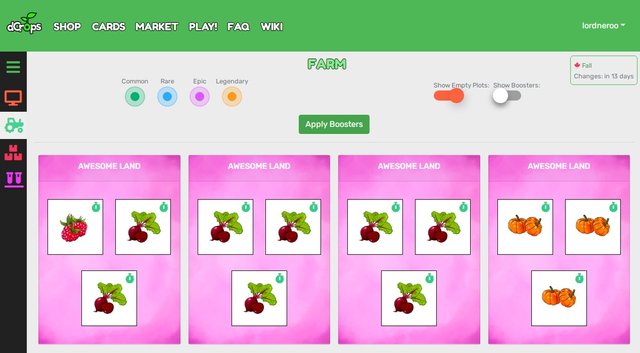 And here's the bigger picture: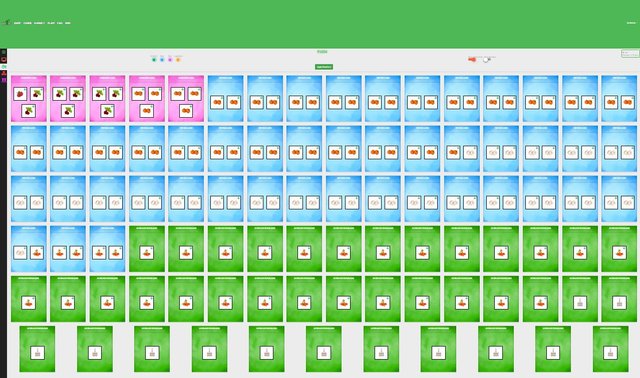 That's a lot of food.
Fall is not my best season to be honest, as I only own 1 Legendary, 8 Epic and 51 Rare fall seeds. I feel tempted to hit the market and buy some Epics this time around, but I've got self control.
Fall season breakdown:
1 Legendary, 8 Epic, 51 Rare and 74 Common seeds combined with some Speed-Gro is my gunpowder for this season. Not great, not terrible. I do hold another 50 unopened Alpha Packs though, which may be hiding some more Legendaries and Epics inside, but those packs account for 100k CROP Power. Furthermore, I may get the chance to hit crazy resale value in the future, depending on a number of factors.
That means those packs will remain unopened until further notice.
Lands:
5 Awesome (Epic)
46 Fertile (Rare)
40 Average (Common)
Seeds (S):
Raspberry (Legendary): 1
Beetroot (Epic): 8
Pumpkin (Rare): 51
Carrot (Common): 32
Garlic (Common): 42
Base selling price (B):
Raspberry: 7
Beetroot: 14
Pumpkin: 24
Carrot: 14
Garlic: 7
Quantity produced (Q):
Raspberry: 4*5 = 20
Beetroot: 5
Pumpkin: 1
Carrot: 1
Garlic: 2
Expected share rewards (E) (minimum):
E = Σ[Si x Bi x Qi], n = 5 =>
E = (1x7x20) + (8x14x5) + (51x24x1) + (32x14x1) + (42x7x2) =>
E = 2,960
It is worth mentioning that this is the mimimum amount; I will bag more shares if I get lucky and harvest some 2-star and 3-star quality crops. It's possible based on the number of seeds I have planted, plus my Beetroot seeds have a +25% chance to produce multiple crops on harvest.
Regardless, this season's loot is going to be much better than the previous one.
Final thoughts.
The play-to-earn realm is expanding at a high pace. It was never easier to earn money from home, and I have a feeling that 2022 is going to be a spectacular year for the space.
The Hive blockchain, backed by a strong community of driven, hard-working, talented individuals, is hands down the best candidate when it comes to hosting such applications effortlessly. The future looks bright.
That sums it all up for now.
---
Join the fun.
Haven't tried dCrops yet? You can sign up using my referral link - it's mandatory! xD
Want to stay tuned with the latest developments? Follow the game's official blog on the Hive blockchain.
Looking for more info? Join the game's official discord server.
---
Never forget!
NFA - DYOR
I'm just a random guy with opinions. This is by no means financial advice. Just my personal thoughts and experiences.
---
Have a good one everyone!
@lordneroo
---
Best Faucets to Earn Crypto with Zero Risk (Affiliate Links):
Best Exchanges to Trade Crypto (Affiliate Links):
Best Platforms to Earn Crypto for your Content (Affiliate Links):
Best Blockchain-Based Play-to-Earn games (Affiliate Links):
Connect with me Here: