There's too much going on here to stay idle.
Khal and co have been working hard behind the scenes for almost 5 months now. Plus BTC has been moving sideways for too long. Plus another round of lockdowns is right around the corner, so central banks are gonna bring out the magic money printer again.
This means more money to flow into the crypto space. I'll take that.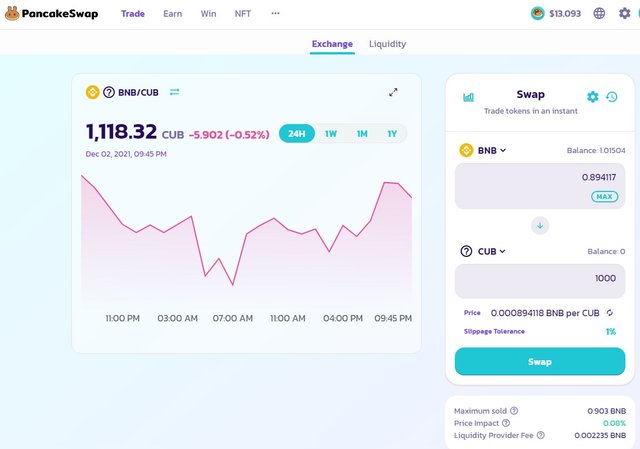 Back to the subject:
The much anticipated launch of the PolyCUB platform is now closer than ever, and with current CUB prices it's undoubtedly a good chance to grab some more and stake it in the CUB Kingdom on CubDeFi.
Truth is I have been living under a rock the past few months, working all day long and missing out on all the awesome developments being made around here. I am now back to business and had to pull out my humble 0.9 BNB ain order to trade it for another 1,000 CUB right away.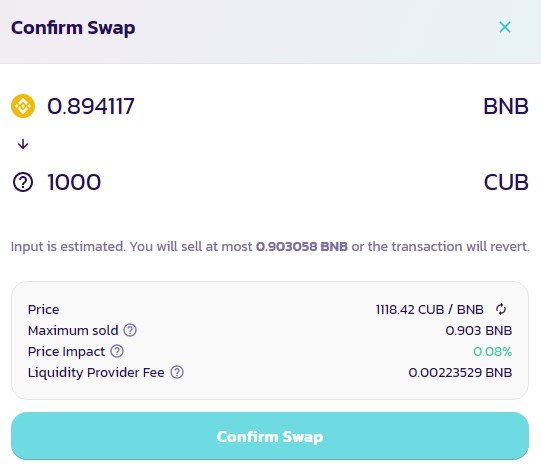 Can't wait to see the APR's offered on PolyCUB during the first days of launch. I suspect this is gonna be yuuuge. I'm gonna do whatever I can to get my hands on more and more tokens to stake over there during the early-day frenzy.
I definitely learned my lesson from back when CubDeFi first launched. Some people were making insane money every day over there. Early bird catches the worm, first come first served and stuff. History will repeat itself again.
I'm also thinking about throwing another 2 BNBs into LEO. That thing is massively undervalued at the moment, and pLEO pools are definitely gonna be juicy af. I wish I had more spare funds to throw in, but then I would wish the exat same thing in that case as well. The hunger for more is real.
I am seriously thinking trading some HIVE for LEO at this point, but then we've got so many HIVE-related airdrops coming up as well! Oh dear, this place is on fire. What am I supposed to do besides FOMO like a maniac?
Anyway, that sums it all up for now. Gotta get back to consuming content; I've missed out on a lot of stuff lately!
---
Never forget!
NFA - DYOR
---
Have a good one everyone!
@lordneroo
---
Best Faucets to Earn Crypto with Zero Risk (Affiliate Links):
Best Exchanges to Trade Crypto (Affiliate Links):
Best Platforms to Earn Crypto for your Content (Affiliate Links):
Best Blockchain-Based Play-to-Earn games (Affiliate Links):
Connect with me Here: