Hey humans,
the last weeks meant a huge life update for me. Since I've entered the crypto-space there was no day that didn't mean learning something new. I've made lots of valuable connections and had conversations with people from all around world. This led me from being a frequent blog poster to spending every spare minute of my day contributing to DAOs. I've caught the wagmi spirit. I'm now a contributoooor!
Starting with DAOs isn't easy
Did you experience DAO onboarding yourself yet? Overwhelming is probably the right word to describe it. Usually It starts with you joining a discord server. It hits you with a couple dozen categories, sometimes hundreds of channels, and thousands of members. You're looking for something like #start-here or #beginners, or maybe #first-steps and start doing as your told. Done - what now? You're clicking links which send you across the internet to a number of different Google spreadsheets, Notion databases & typforms. After a couple of hours spent on the server you've finished loads of bureaucratics - but how can you finally contribute?!
I've ran into Layer3 - a platform trying to change this.
What's Layer3?
Layer3 aims to make it simple for anyone to contribute to DAOs and earn governance token by doing so.
They partner with different DAOs and provide a bounty marketplace with quests to push those forward. Those can be anything from writing blog posts (hello Publish0x community 👋👀), video production, social media promotion, meme creation, coding, shitposting, designing graphics or merch - you can even get paid for getting tattoed:
or skydiving:
Layer3 describes themselves as a global talent network for DAOs. As I love lists, I've tried summarizing Layer3 from different perspectives:
A bounty board
A web3 quest engine
A DAO on-boarding machine
A content factory
An easy way to gain cred
A skill showcase
An open DAO-To Do list
A decentralized marketing agency
A job board
A contribution enabler
An onchain CV builder
Let me know in the comments, if there is anything to add. 🗒️
How does it work?
Layer3 does weekly bounty sprints. Bounties go live every Monday and last until the coming Sunday. Depending on the type of bounty Layer3 pays out straight after expiration on Sunday. Some bounties may need further validation and are paid within the next week.
The process is easy:
🔎 Find a community or DAO you vibe with
👉 Pick a quest
📬 Submit your contribution
🎁 Wait for verification & get paid in governance token!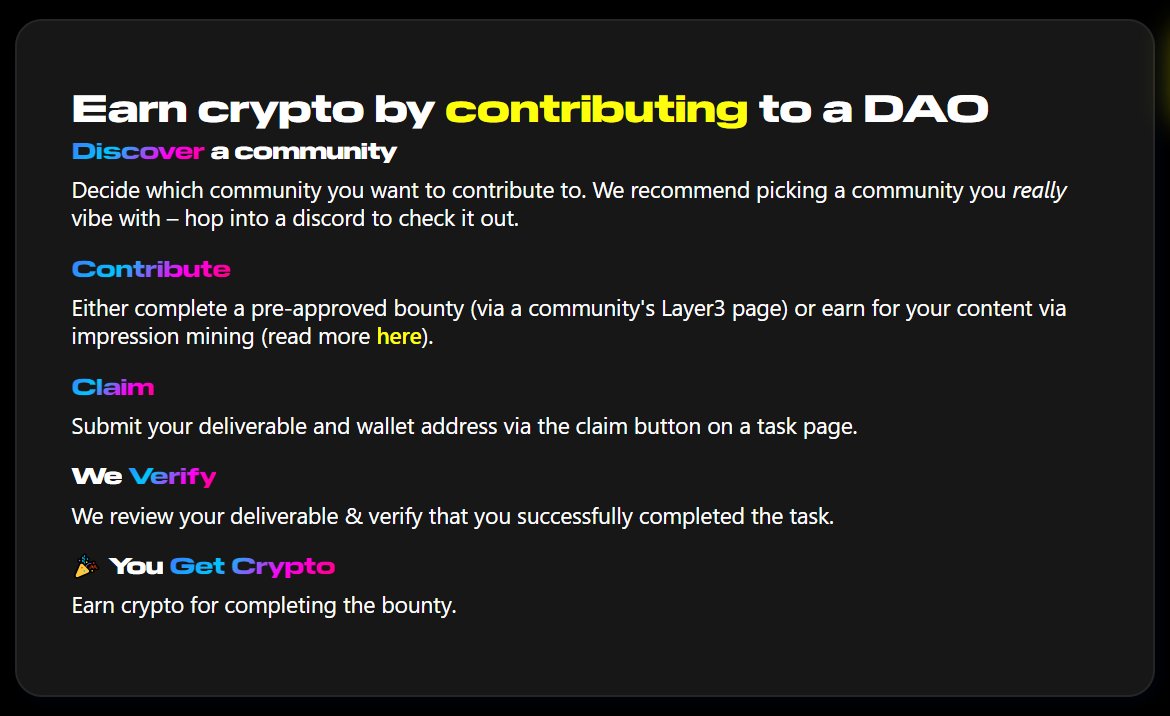 Any open bounties?
Yes, loads!
Notional just launched their bounties on Layer3 this week:
✍️ Publish a blog post about $NOTE tokenomics
🖼️ Design an infographic to compare Notional v1 to v2
🪂 Skydive wearing (homemade) Notional merch
🎥 Create video tutorials to show lending, borrowing or LPing on Notional
I know Publish0x likes Harvest Finance and earning $FARM. This should be reason enough to check out the Layer3 bounties on them:
🎨 Create a Yield Farming vs Margin Trading Meme
🐦 Tweet about your farming journey
👶 Do an ELI5 on $FARM Staking
🎥 Explain Yield Farming on Harvest in a Video
⛏️ Get paid for your Twitter impressions
You can also join their Discord server to stay up to date with new bounty announcements. 📢
Who did they partner with so far?
This sounds too good to be true you say? I can understand that. Luckily enough Layer3 had loads of credible partnerships so far. Here's a quick overview:
OlympusDAO - PoolTogether - Harvest Finance - Rari Capital - Index Coop - The Doge NFT (PleasrDAO) - Bancor - Harmony - ShapeShift - Glass - Decentral Games - Phuture Finance - ALPHR - Global Coin Research
My thoughts on Layer3
Looking at the huge DAO-landscape today I'd say Layer3 is one of the easiest ways to start contributing to DAOs. They offer a big variety of different quests so everyone can find ways to contribute, no matter what your skills are. You can basically get involved on the spot.
The discord server is home to an awesome community, which is full of skilled designers, writers, content creators, devs, and other crazy talented people. I can't wait to see where things go when Layer3 is moving from alpha to their actual v1.
More about Layer3
🔗 Website
🐦 Twitter
✍️ Medium
🤖 Discord