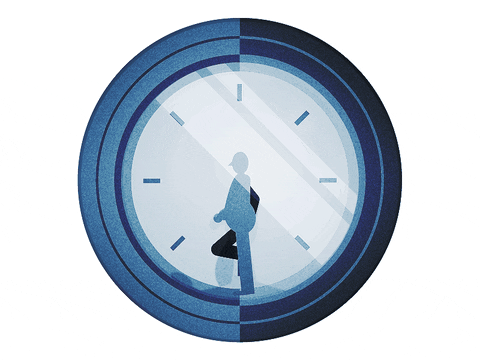 Credits to: GIPHY
As a piece of jewellery, wristwatches are something that most people enjoy by their lonesome, as an expression of its wearer's personality. Bold, chic, utilitarian… These are among the qualities that we rejoice, and some consider it a statement that they've made it in life. For others, it's a testament to the ageless nature of timekeeping itself; that no matter how much technology has evolved, the sight of rotating gears, and oscillating springs brings pleasure to the human eye, more so than pixels on a screen.
Here, we have a timepiece that stands as a symbol of solidarity, and of the united front against a pandemic which has, and continues to cause much grief and anguish around the world. This is a watch that intends to contribute to our ongoing fight against Covid-19 (Coronavirus). It's also a timepiece that has been shaped by craftsmen at a company which I've never heard of before, and one I'm glad to know now.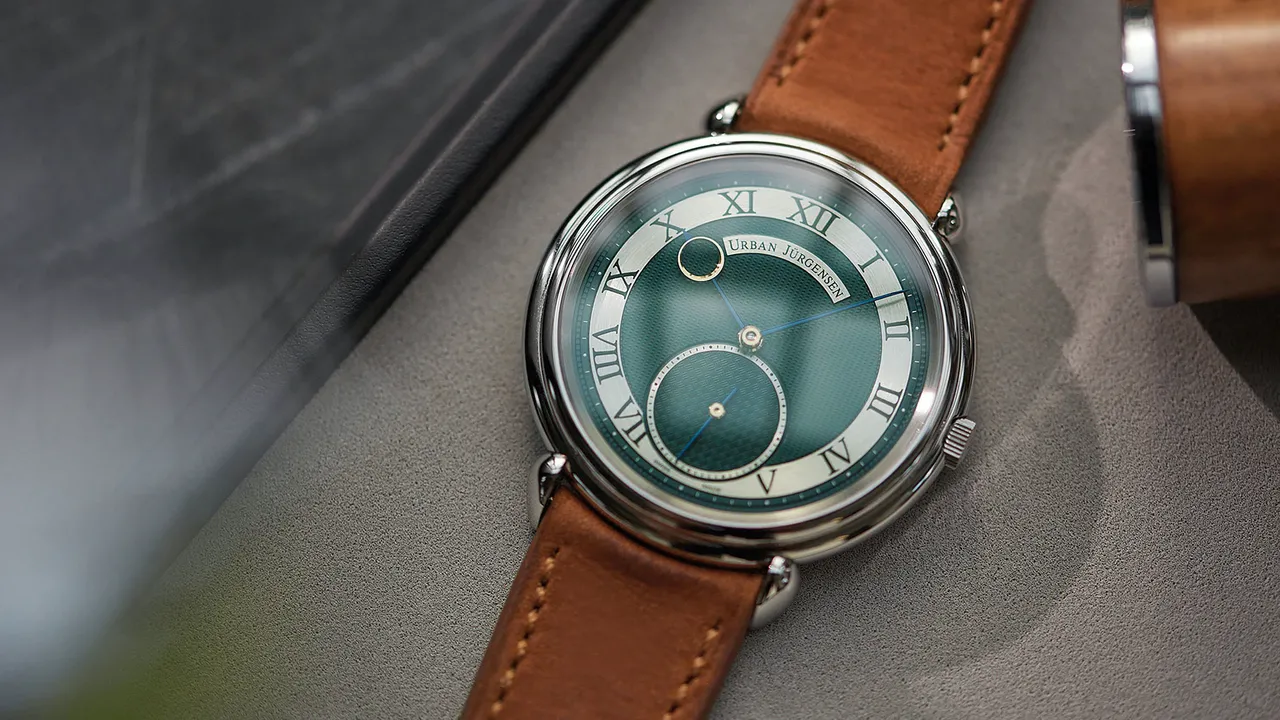 Credits to: Hodinkee - Big 8 "London Edition"
Urban Jürgensen was founded in 1773, and it was a household name which has been credited for bringing the art of timekeeping to Denmark. Just as Silicon Valley became the Mecca for technology and innovation, the late-1700s saw Switzerland's rise as the hot new place for all things horology. Traditional English and French watchmakers had all moved to the slopes of the Swiss alps, lest they avoid losing business.
Jürgensen made their relocation as well, creating the foundations to a Danish-Swiss connection that holds true and strong, even 247 years later. Now, the English have returned to play, with a new timepiece in collaboration with London-based specialties of micro-brands and vintage watches, A Collected Man. The result of their fine-tuning and hard work, was the Urban Jürgensen Big 8 "London Edition", which I'm going to call the LE, and there's not a lot of supply going around for this handsome, timelessly elegant watch.
---
---
Old-School Chivalry.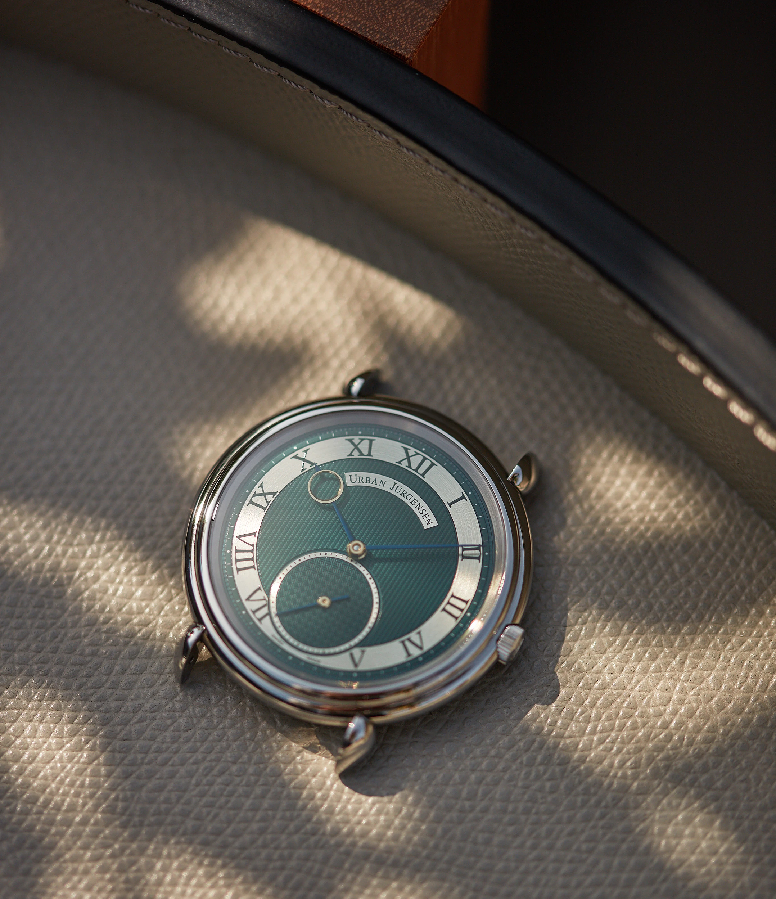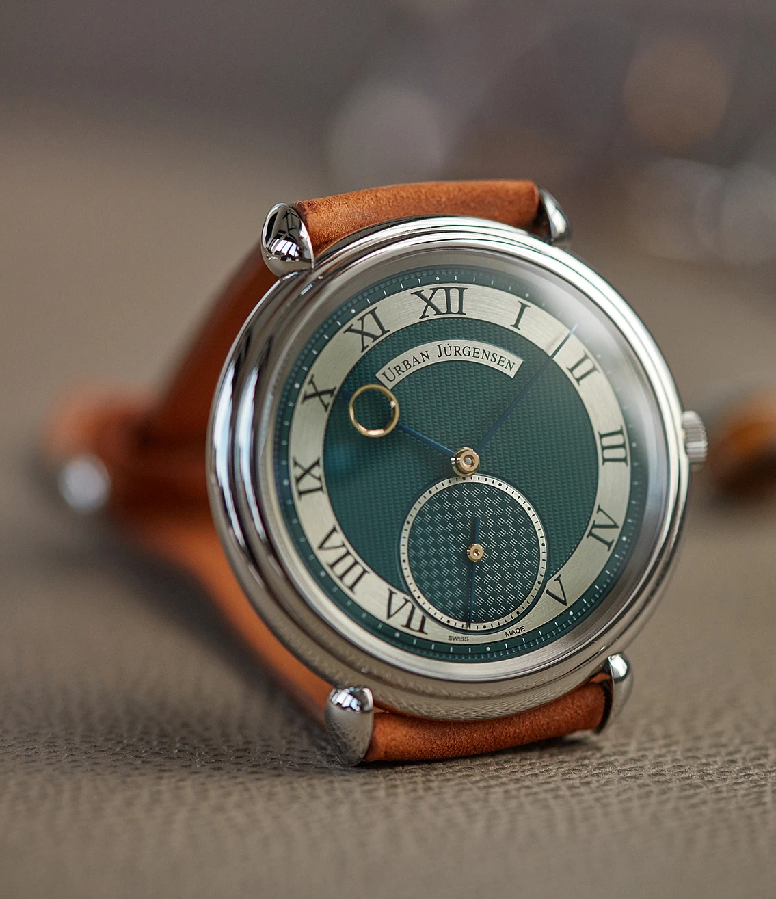 Credits to: A Collected Man
Off the bat, it has a uniquely old-fashioned design language that we don't normally see in today's world of Apple Watches, Casios, Rolexes, or even Patek Philippes. It's quite the stunner, and it'll certainly be a conversation starter for anyone, even with social distancing. Glistening with charm on your wrist, the LE has more traditional inspirations, and it neither tries to push the limits of avant-garde, nor minimalism.
It's a celebration for centuries-old watchmaking, culminating in something that you can wear comfortably every day. It has a polished, stainless-steel case that looks akin to early wristwatches of the 1900s, which were in-turn inspired by pocket-watches. It's very wearable for most people, sitting with 40mm in diameter, and just 10.5mm thick. The LE can complement well with anything in your wardrobe, and while 40mm is far from a classical size, the modern consumer would more likely be attracted to larger watches, anyways.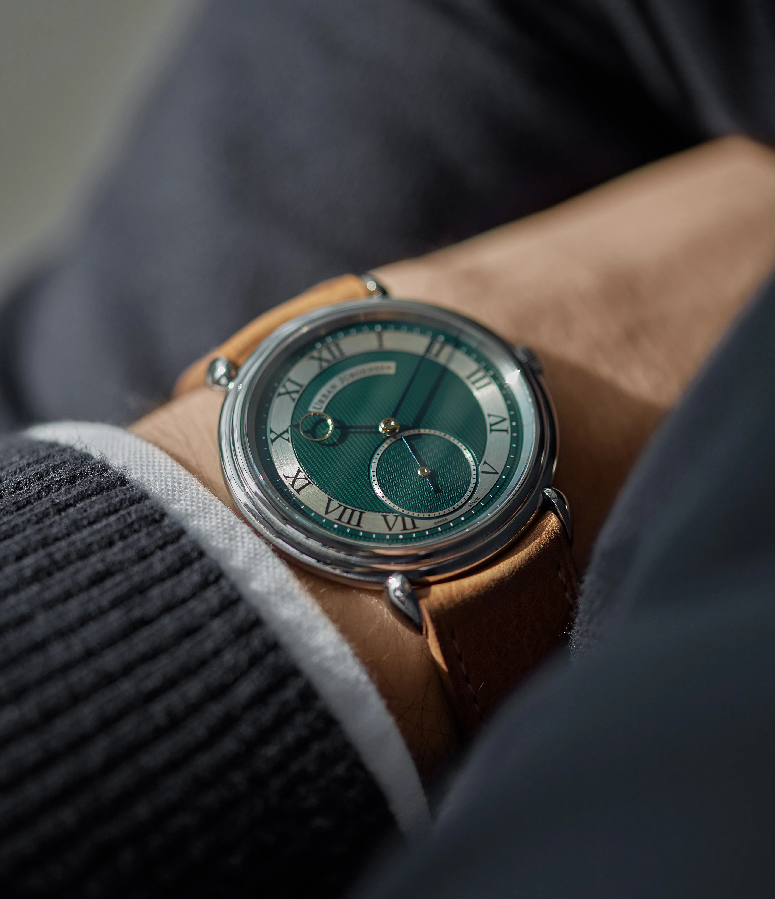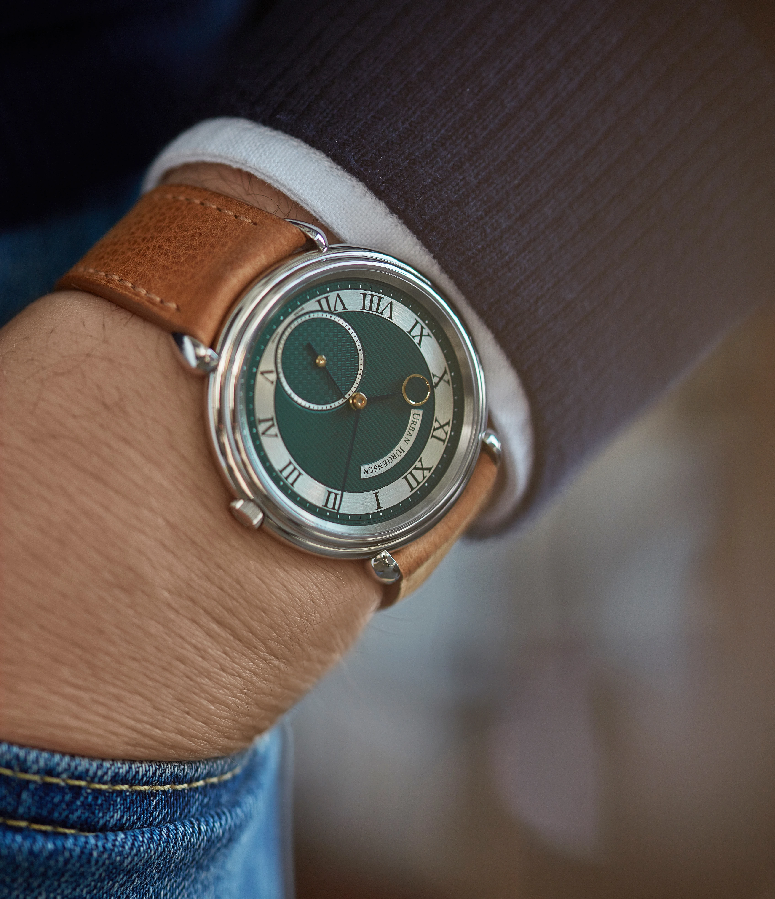 Credits to: A Collected Man
Jürgensen's signature concave-shaped case make an appearance here with an abundance of detail, with its teardrop lugs contributing to the overall pocket-watch-esque design. There are some stepped-ridges around the bezel, that gives the case more substance that it would otherwise. Those lugs that holds the lovely leather strap, as seen in the pictures, are not a single piece along with the case. In fact, they were forged separately, and then soldered onto the case, by hand. The case's shape allows the crown to be slightly recessed, with a water-resistance of 30m, which isn't spectacular, but you're not going swimming with a dress watch, in any case.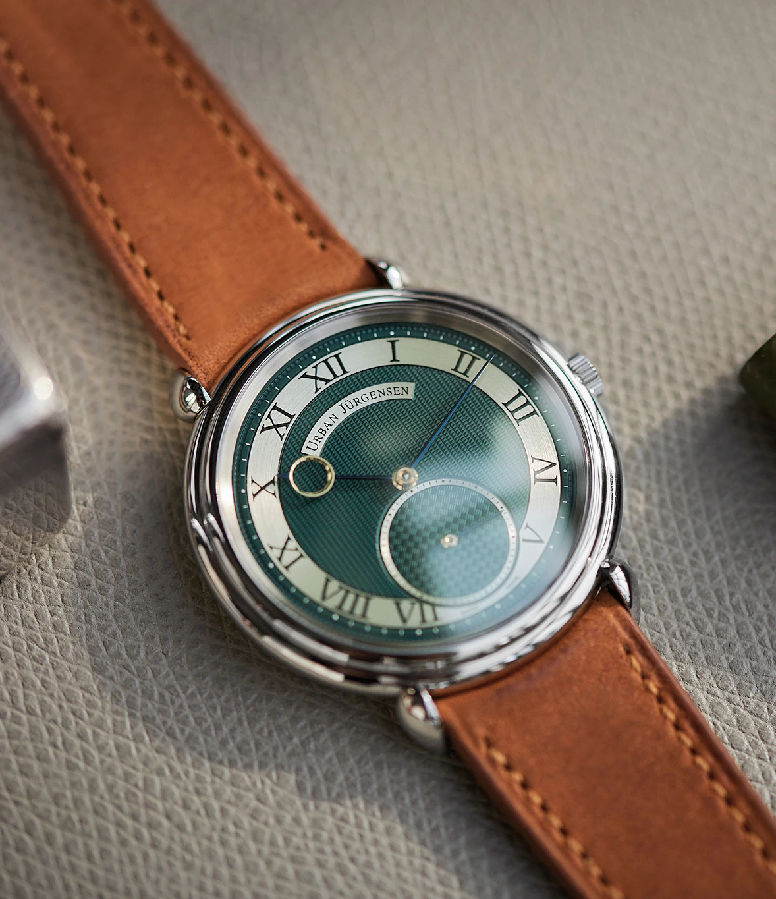 On the subject of dressy, we move onto my personal highlight of the LE, and that's the dial. The design is inspired by the 18th and 19th-century marine chronometers, helping with timekeeping at sea, on the hands of naval officers, and merchant seamen. This dial is made from a solid piece of silver, and finished with a rare treat; a guilloché pattern. This is a traditional finishing technique in horology, which is done with a Rose-Engine, and by turning the material's surface slowly into these small, isometric shapes.
The whole process takes 700 operations, and two whole days to complete for each watch. The amazing part, is that the LE has two different guilloché finishing - a Clous de Paris in the middle, and a Panier for the small-seconds dial below. Few watchmakers employ this time-consuming and painstaking process, but it rewards bounties with its visual appeal. In contrast to mostly flat watch dials, a guilloché finish gives it depth. It'll also give you the chance to play around with how light bounces off the green dial on the LE.
Specifically, this is a British racing green colour, representing the national motorsports livery of the UK. Adorning the LE, it isn't too far amiss from an old Bentley, Jaguar, or Aston Martin. This wonderful colour takes 3 days of PVD treatment to accomplish, and it's worth it. For most, green is an unusual colour for a watch dial, compared to most blacks, whites, and blues. Unlike some green dials that pop and shine with bling, this is a tone that's understated, and it may pair well with whatever you're wearing.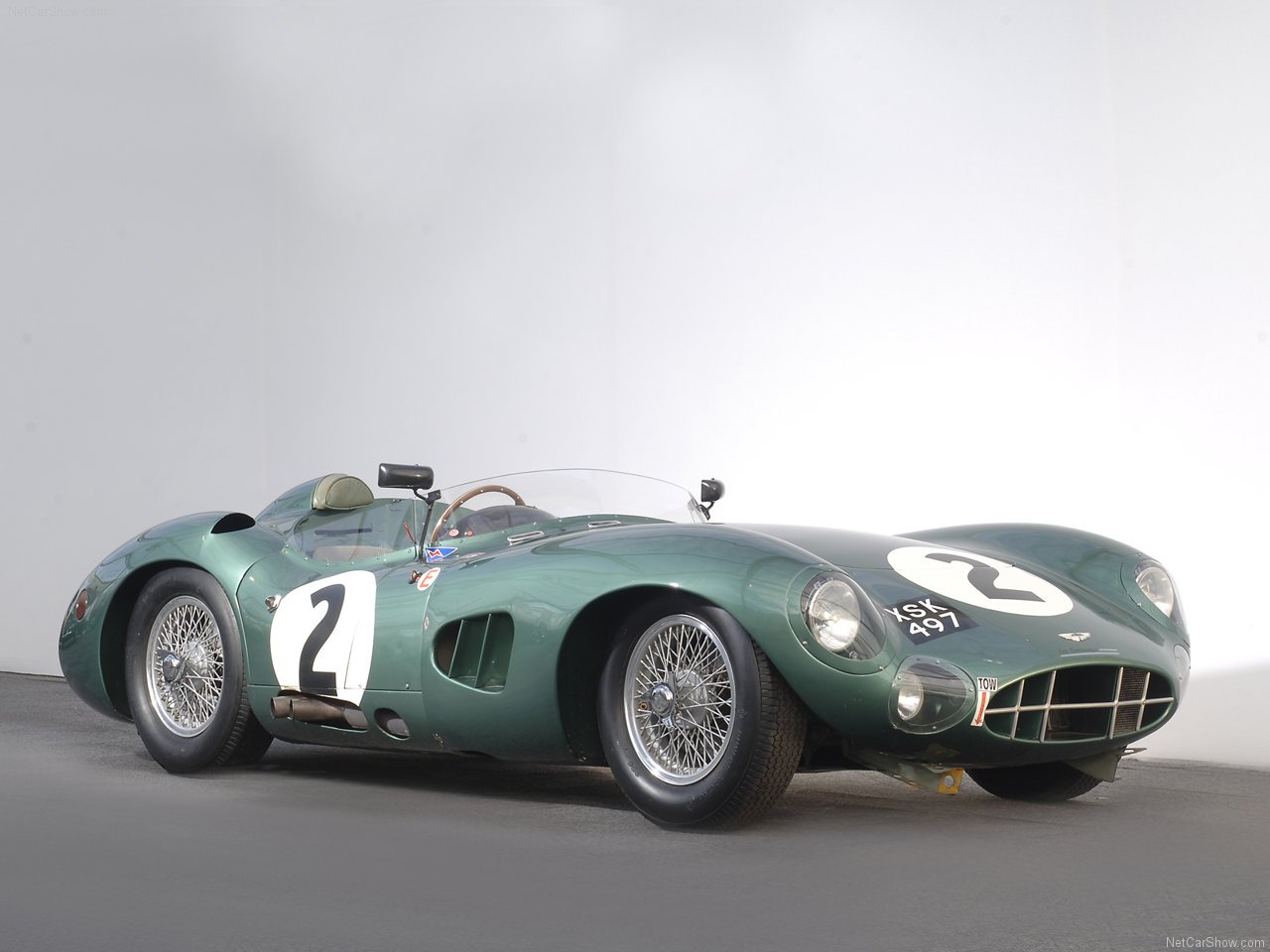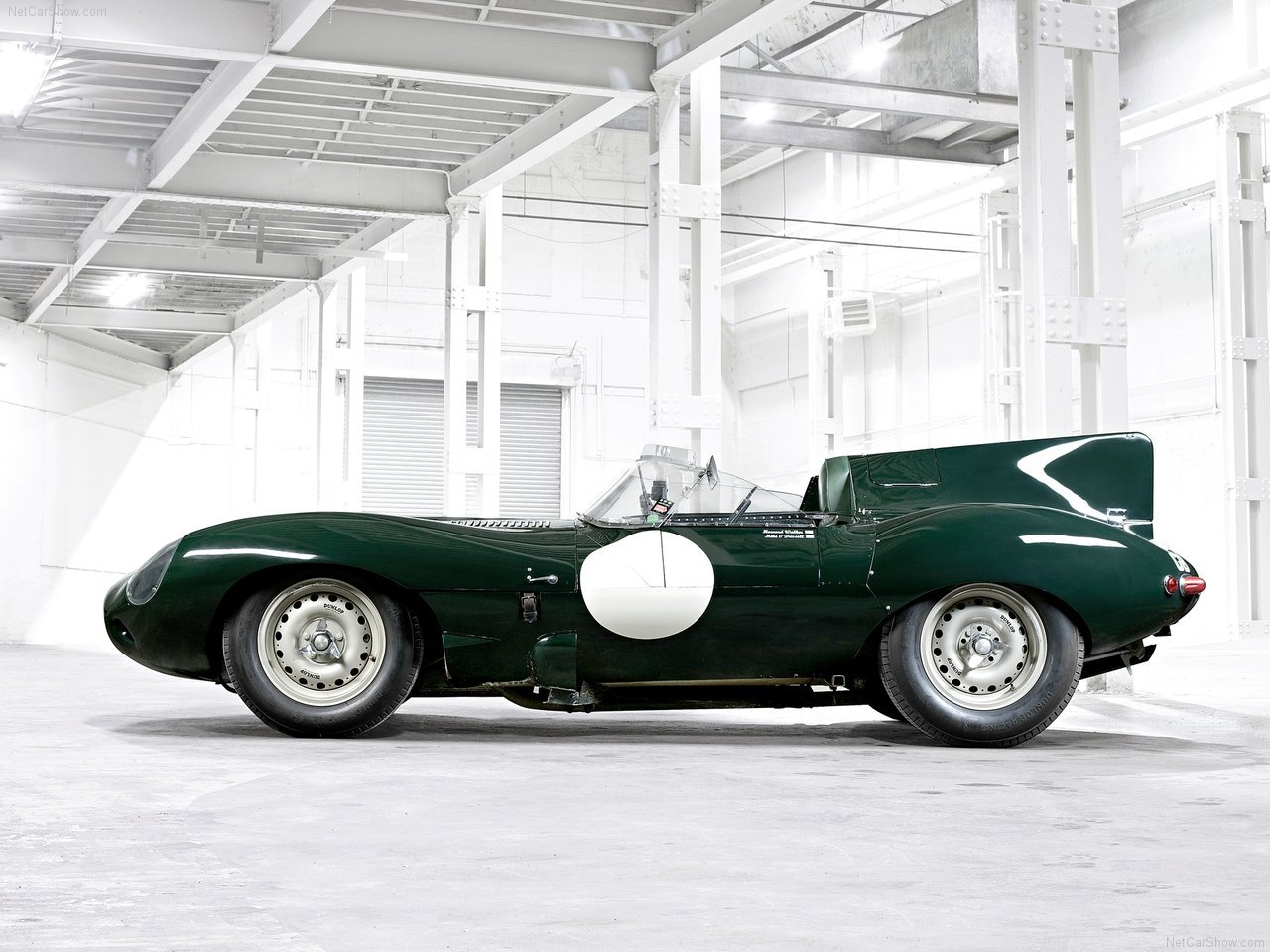 Credits to: Bentley Blower, Aston Martin DBR1 and Jaguar D-Type, in their respective shades of racing green.
Along with the rest of the dial, most things are still unchanged from a regular Big 8. It still keeps the brushed, circular chapter rings for the hour makers and the small-seconds, contrasting well against the green face. The Roman numerals have been given a modern touch-up, appearing rounder. For minimalism's sake, the date window, which usually sits at the 6 o'clock of a Big 8, has been removed entirely. For all its practical use, I personally prefer watches without date windows, as it has more symmetry along the dial, and it adds that much more tidiness.
Jürgensen's Observatoire hands are also worth its own paragraph or two, given how much time and effort that's gone into shaping this slim piece of material. Most watchmakers cheap out on the hands, as they're microscopically small, and you're probably not going to notice anything. But when done right, those small details round-up a watch very well. While you're not getting any precious metals on the case, unlike some other Jürgensens, the hands themselves are made from solid white gold.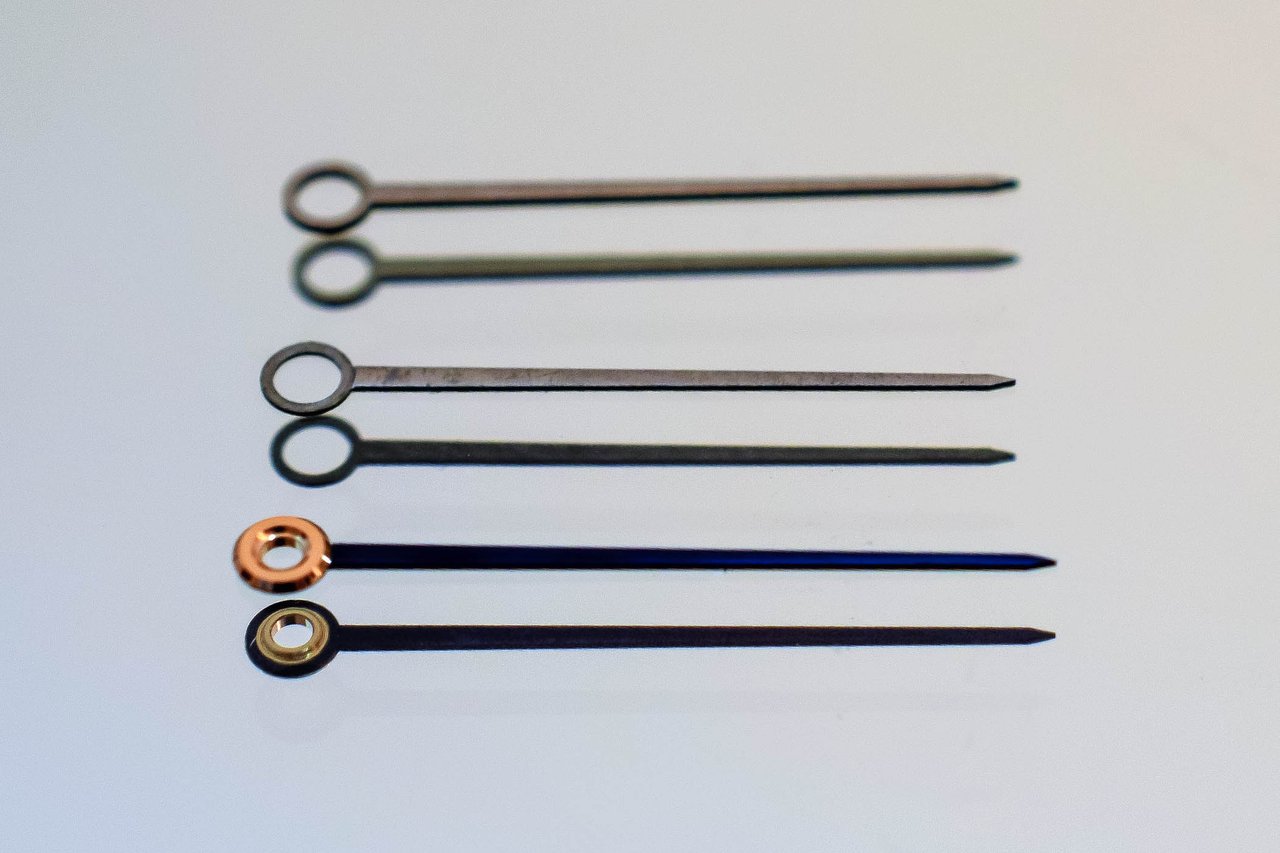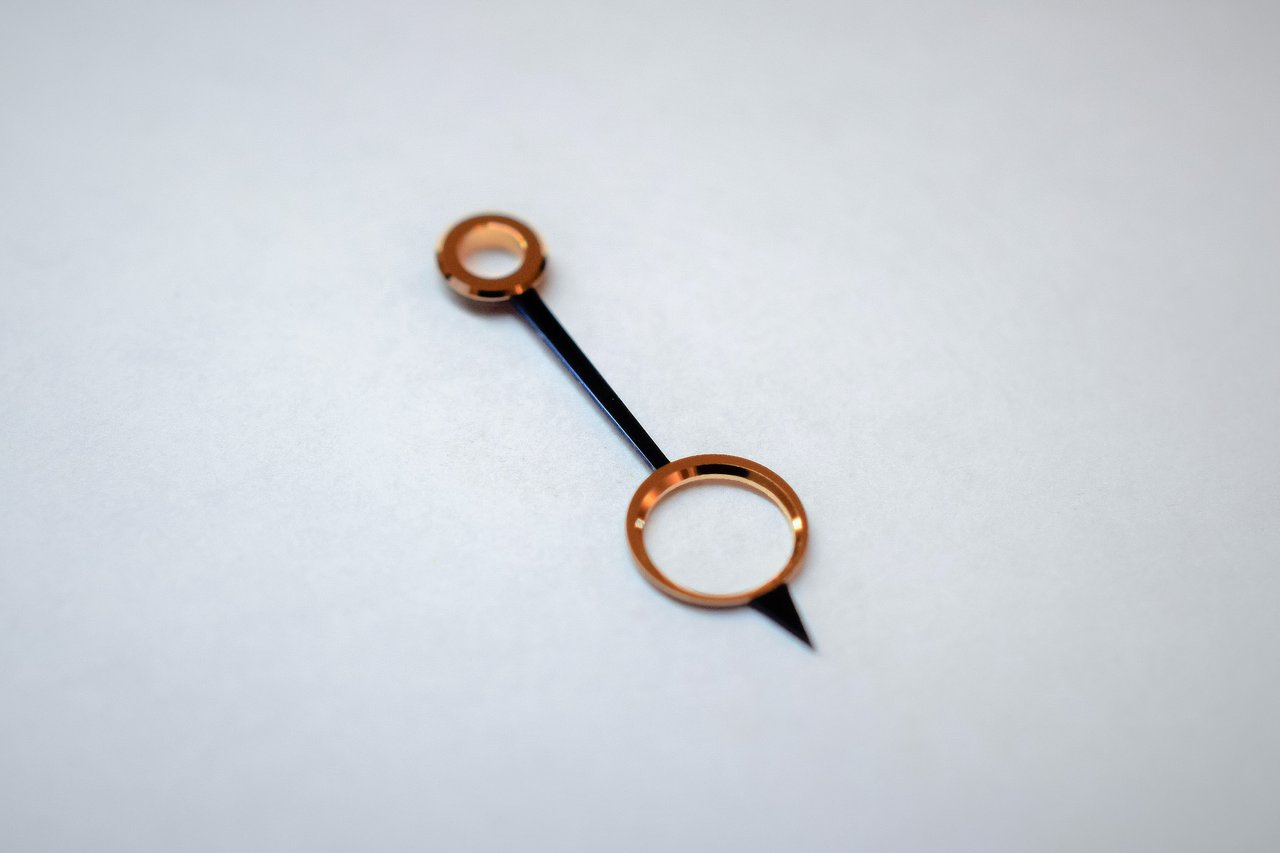 Credits to: Monochrome - Manufactured Hands, Behind The Scenes
Not a cheap material to work with, it's been thermally blued, to show a signature dark navy-blue tint; one that surprisingly looks well with the racing green. The hands were turned on a precision lathe, and then mirror-polished by hand. Even the "eye" of the hour hand has a ring of solid gold, and it's been diamond-polished. The blued hands and that bit of gold adds a bit of warmth to the dial, and it catches the eye in a comforting way. In my opinion, the aesthetic of the dial is the most important aspect of any watch. As a piece that you're going to look at first and foremost as you glance over at your wrist, it needs to look good.
Another important aspect of the watch, is the beating heart - it's movement. Being a small, boutique watchmaker, Jürgensen doesn't have the money to make a fully in-house movement, so it's decided to do the next best thing, which is to import a great one from elsewhere. In this case, the LE is powered by an upgraded movement from Frédéric Piguet, now under ownership of fellow watchmaker, Blancpain.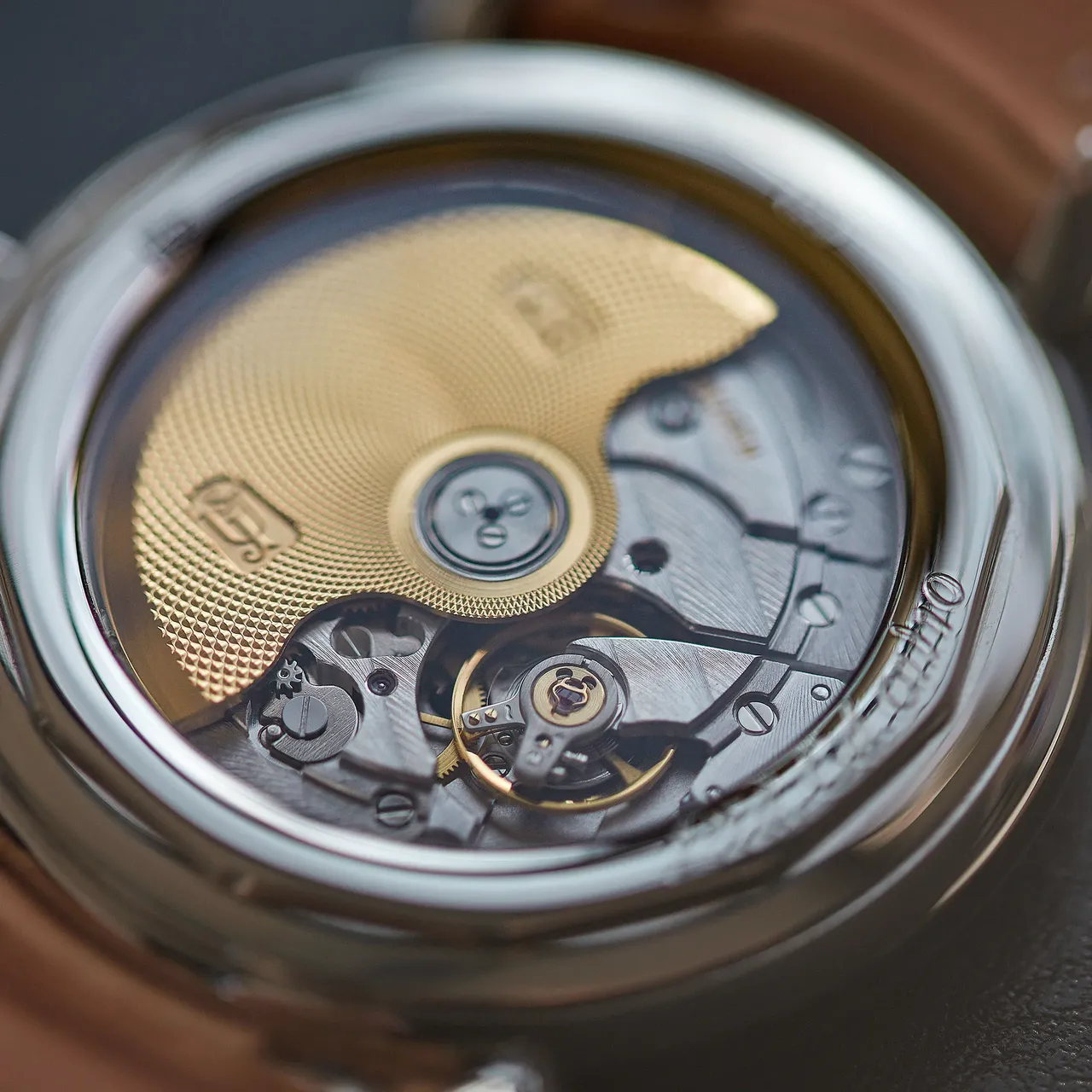 Credits to: Hodinkee - Big 8 "London Edition"
Specifically, this is a mechanical, automatic FP 1160 calibre movement, and just like the dial, it has been finished to perfection, allowing you to enjoy it with full visual pleasures from the clear case-back. As an automatic, it has a centre-rotor to help with winding the watch through motion. Compared to its contemporary rivals, this movement has twin-barrels to store the "charge", albeit it has a 48-hour power reserve. That is mediocre, although that might be explained by its more sprightly 4Hz frequency, allowing the hands to sweep smoothly without any hiccups.
The 21k gold rotor has been complemented with the same guilloché finish, with the Jürgensen crest proudly on display. The rest of the movement underneath has received a similar amount of attention, with polished bevels on the plates and bridges. There's even Geneva striping, a technique achieved by machining small lines, or indented stripes along the plates, as a way to catch dust and particles, while also adding some flair. For me, the only thing missing here that would make this movement an even better bombshell for the eyes, are some blued screws. Otherwise, it's just perfect to look at, and if someone asks you why you're into mechanical watches, just show them this.
---
---
Worthy Of A Good Cause.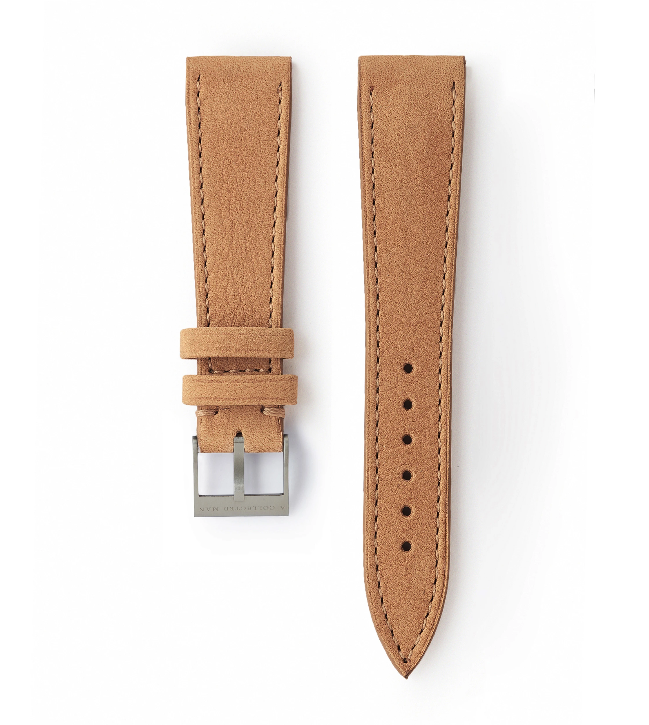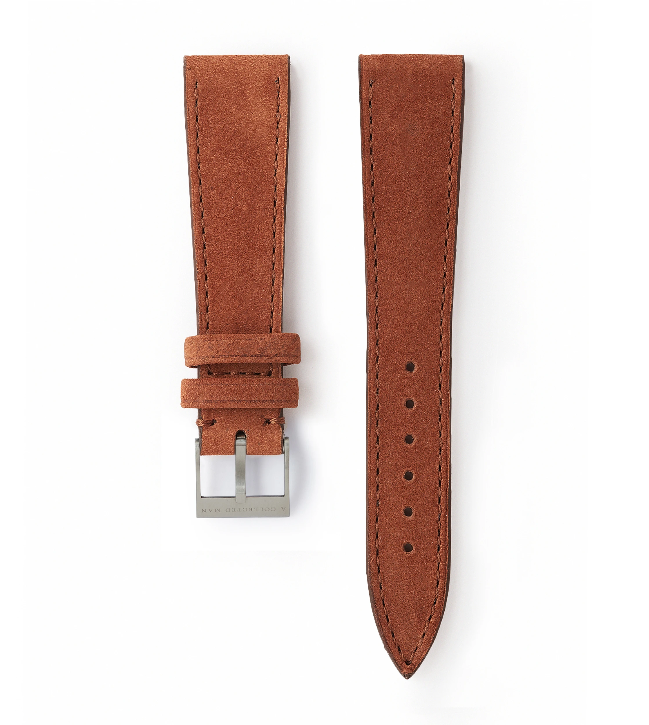 Credits to: Carcassonne and Bordeux pre-included straps.
Overall, this watch is a magnificent piece of mechanical beauty, and it manages to keep some modern touches, but with a lovingly classical design. All this comes at a cost however, with a price-tag of £13,500. To be fair, for the amount of craftsmanship that's been put into creating this watch, I do think it's worth it, even compared to a Patek Philippe Calatrava, or A. Lange & Söhne Saxonia.
It's limited to only 10 pieces, so you better hurry if you're looking to get one, and each watch comes with two different shades of brown, Nubuck leather strap. The best part of all, and something to help swallow the expense, is that you're doing a great deed in return. All of the profits from this watch will go to the Wellcome Trust's Covid-Zero Research Fund, which will help to prevent, detect, and respond to the ongoing outbreaks of Coronavirus.

Credits to: Wellcome Covid-Zero Fund
It is always heart-warming to read stories of industries coming together in unity to help fight Covid-19; with their resolute heart, and stoic stance to utilise innovations in helping the global community cope with a dangerous pandemic that attacks all walks of life. From carmakers using 3D printers to engineer ventilators and face-shields, and fashion houses sewing gowns and masks.
Watchmaking doesn't have the scale compared to the automotive or fashion industries. Yet, over the course of centuries, it has prevailed against wars, malnourishments, and plagues. Again, the masters of horology are doing their best to return some of the high margins on modern timepieces, and to donate that for Covid-19 prevention and research, as every penny counts. Let's hope, that this spirit which bonds us together, will keep us safe in the dark days ahead, and will help us to emerge ever stronger.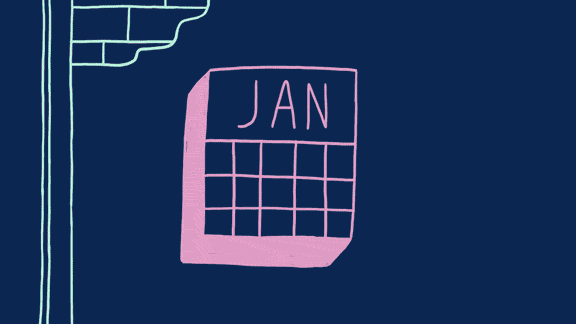 Credits to: GIPHY
---
---
Thanks for reading! For more updates on my blogs, or the more minute things in life, feel free to follow me on Twitter, LinkedIn, and Medium, and maybe give a shout there as well!
While you're at it, follow along ZackNorman97 for more, coming soon :-)