My Hive Stats: Meeting my projected Goal for week.
For past few days Hive price is keep fluctuating and I converted my all HBD to Hive and increase my Hive holding as thinking that is the least price in which I can get Hive as any price of Hive less then $1. My accumulation of Hive is still in progress and my current HP stands at 7278 Hive power.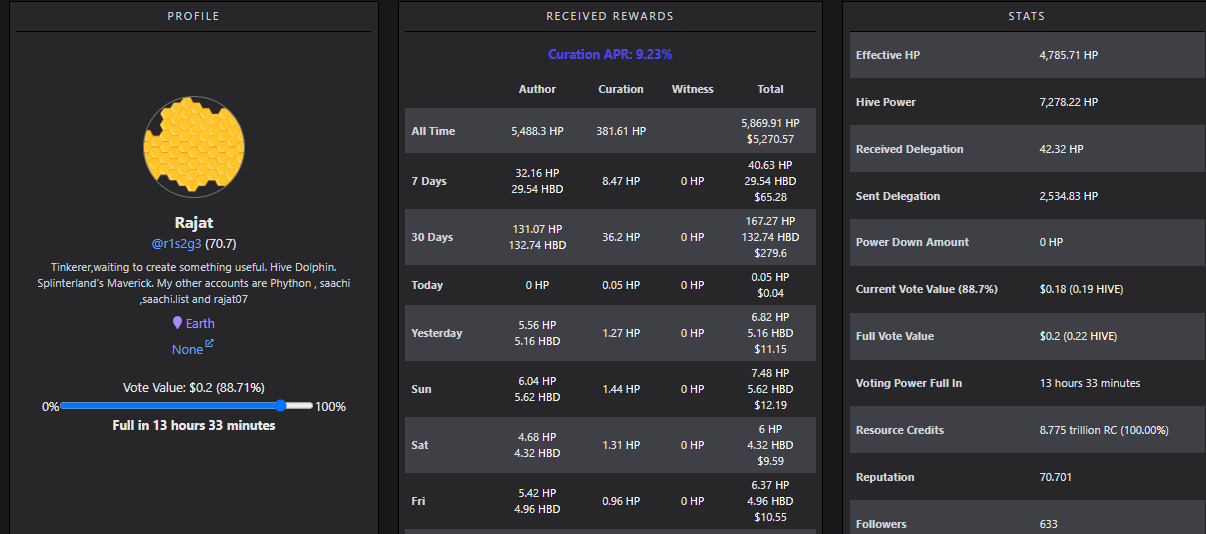 Source
As far as I see in for year end projection of this growth, it look I am able to meet 11000 HP at the end of the year and I am targeting to reach at 12000 HP and I am sure when the year end I might be ending with more Hive power then 12000 if my few of projection go correct.
As far as go my curation rewards , my curation APR is go above is 9% and I think it is nice APR if we add another 2.8% staking APR of the Hive and overall I added more then 8 HP as curation rewards.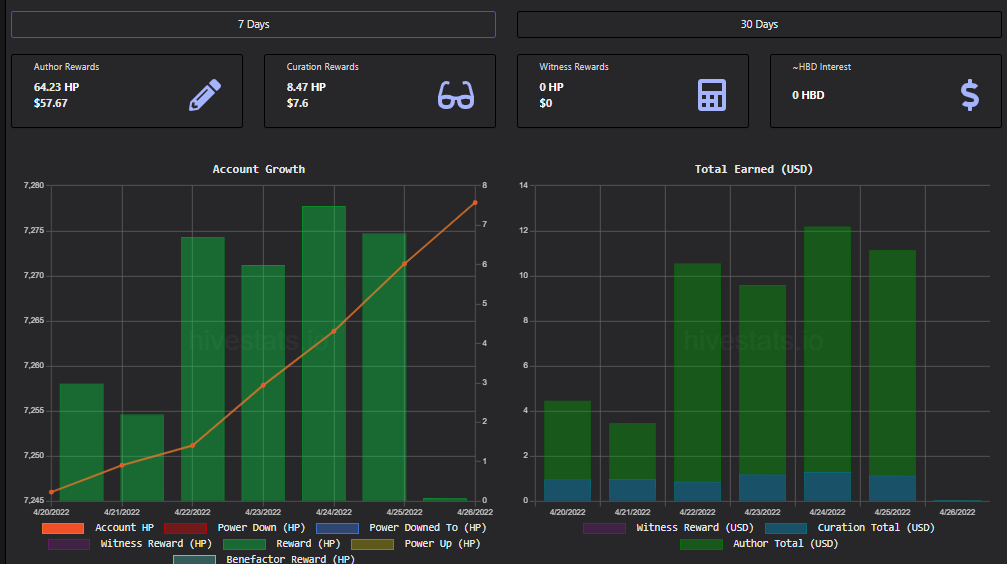 Source
As far as my author HP goes , I am able to add some 64 HP equivalent in my Hive power and I guess this is going to be a biggest contributor or substantial contributor in adding HP for meeting my Hive power goals.
Looking forward for new source of passive income.
I started getting some nice chunk of income from Splinterland's rental but overall playing rewards are not as much as exciting in which I can bank on but in reality all these kind of streams are income get keep adding and help me to push towards my goal. Look like I forget to mention Risingstargame that is currently paying me most for the least effort and I wish I can get 2-3 games like Risingstar.
Let powerup up and move towards the next goal .
I will powerup today 30 Hive and work towards the reaching 7413 Hive for the next week target. Since HPUD going be part of current week and I already have some reserve, so I see that I will meet the next week goal easily.
Please free to upvote, comment and reblog
Posted Using LeoFinance Beta