Floki: From Meme to Utility and Partnership with World Table Tennis Championship.
Floki started as a meme coin, named after Elon Musk Shiba Inu pet dog (Do not confuse it Shiba Inu cryptocurrency, actually it is the name of the Japanese dog breed, i.e also appear in mascot of the DogeCoin). Once, after getting popularity as a meme coin, Floki started its focus on becoming a utility coin and they are now projecting them as "The People's Cryptocurrency". They have already created their ecosystem and trying to reach the masses with their various offerings and doing partnerships with others to spread the Floki more.

Source
Floki Ecosystem.
Floki already has multiple offerings in its ecosystem. They have Play2Earn game named Valhalla and to play this game one needs to connect to the Goerli Testnet. They also have Flockfi as their multichain Defi Platform in which they highlight that tokens and NFT can be securely locked and this platform currently locks assets worth 20 million USD supporting 13 blockchains that include ETH, BSC, Polygon, Fantom, AVAX, Optimism, KCC, OKXChain, Arbitrum, Cronos, etc. They have their NFT collection as Flokitars available in opensea. Interestingly they have opened up their Merchandise store also, this looks like a smart business move by the team. They also created the "University of Floki" but I think it is in concept only and mentioned in their whitepaper but nothing concrete on site that shows that it is functioning.
Floki at a glance.
Floki token is available in Ethereum as well as Binance Smart chain, so it is multi-chain token. Floki total supply is 10,000,000,000,000 or Ten Trillion. I see a nice volume of Floki traded in Exchanges. Also to support the development of Floki, a 3% tax is imposed on buying and selling of Floki that is collected by Floki Treasury. With an overall current market cap of 352 million, Floki currently is at rank 110 in market cap.
Floki partnership with World Table Tennis
Below I the screenshot of the tweet by Floki team.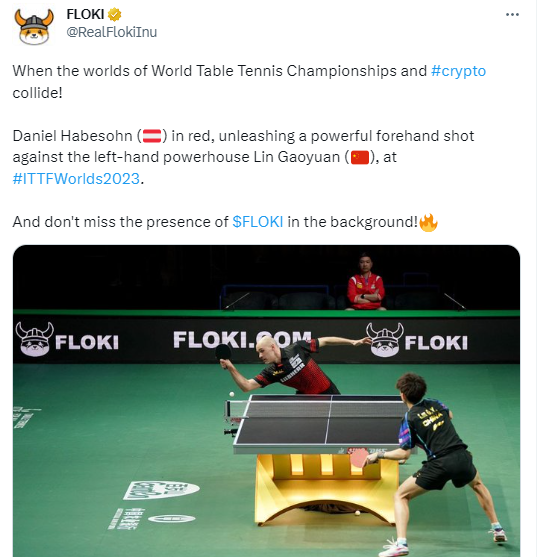 Source
This partnership is actually interesting as it gives Floki the world stage to advertise itself. Table tennis is a popular game and has a viewership of more than 900 million so definitely this will help in spreading and raising the interest of users towards Floki.
There is a surge in the trade volume of Floki in the month of May, maybe this match has some share in it.
Availablity in Exchanges
Floki is available in Dex as well as Cex and below list the Dex and Cex for Floki.
OKX: https://www.okx.com/trade-spot/floki-usdt Gate.io: https://www.gate.io/trade/floki_usdt Huobi: https://www.huobi.com/en-us/exchange/floki_usdt/ Bybit: https://www.bybit.com/en-US/trade/spot/FLOKI/USDT MEXC: https://www.mexc.com/exchange/FLOKI_USDT LBANK: https://www.lbank.info/exchange/floki/usdt Poloniex: https://poloniex.com/exchange/USDT_FLOKI) Binance Bitvavo
My views on Floki.
I am always a little skeptical of the projects where team is unknown and a high token supply (10 Trillion token supply). But if we see the volume of Floki and recently in the month of May Floki got listed in "Binance" and "Bitvavo", it really shows its popularity and community support. Overall Floki looks like an interesting token to ride on but I will not bet too much on it.
Posted Using LeoFinance Alpha