My Hive Stats: Inching close towards 5000 Hive mark.
I can really say that I am very bad in bookkeeping and track my progress on monthly basis and I am hardly analyzing my progress in the Hive chain.
But recent price spike of Hive and my inching closing towards the 5000 mark really made me interested in checking my Hive stats to track my progress if I will be able to make 5000 club this month or year.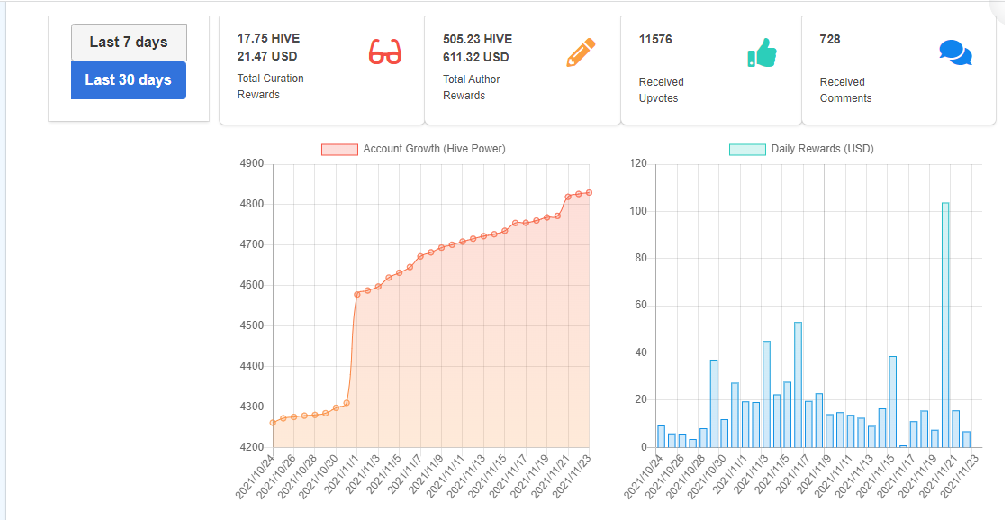 Source
Though growth on my Hive power increase considerably in my account but I am run out of swap.hive on my account.
Most of the Hive is generated in my account is come with trading in Hive-Engine and I purchase significant amount of SPS with it. With SPS tanked and Hive rose in price my Hive value in SPS is almost slashed to half and I have SPS sitting on wallet waiting for its price rice.
Risingstar game is giving me decent amount of starbits and currently I am using all my Starbits for card and card packs purchase in the game. Though this measure increased my Rising Star ranking considerably but I am not seeing Rising star game earning to contribute in my Hive goals in near future.
Splinterlands is another earning mechanism for me in the Hive but till now I saved my earnings in DEC only instead of bringing the amount in Hive. This good DEC amount helped me to earn nice amount of Vouchers (470 in number) but I decided to go for 1000 CHAOS pack in Splinterlands and ended up selling my DEC in the game to fund my packs.
With Hive price rise my trading in Hive-Engine gone negative and "PlaytoEarn" earnings are getting used fully for upgrading/enhancing my game assets and I do not see that they are going to add any Hive in my account.
Since I am deciding to withold my Splinterland earning till SPS drop is over, Building my RS card base also might require to re invest me in the cards for next 3-4 month and other game I play Hashkings generate very little amount of Hive for me weekly and I am deciding again to reinvest its earning in the game back.
So I am back to posting rewards to increase my Hive power and looking at stats it look like I have some nice run in previous month and hoping that I get same love in next coming days too.
Let see, how this month will end for me as well as this year because not many days are left in this year.
Posted Using LeoFinance Beta