I think most of the users here are already aware of the BRO. BRO initial offering was done at 2 Hive per BRO that is now increased to 4 Hive per BRO. Does it still make sense to buy BRO at 4 Hive?

Before I deep dive into it , I will like to clear that max. supply of BRO is now 76401.489 only. (5000000 BRO were minted but 423298.51059967 were burned now, you can verify it by checking richlist as there owner is "null" account )
It is further noted that 19900 BRO is in brofund wallet and they might be used for promotional purpose or might be sold later.
So BRO that is actually offered in market is 76401.489-19900 =56501.489
Currently at time of writing this post I see 18324 BRO are for sale ,each for 4 swap.hive. In my calculation I am taking their value as 4 Hive.
Now I took look at brofund wallets+ Game account and created below table.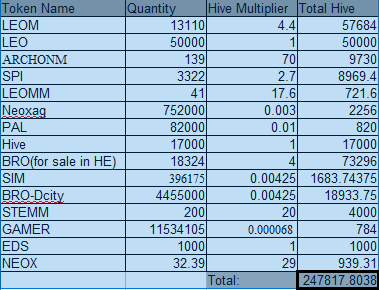 So I come into equivalent Hive value of brofund wallet as 247817.
So calculating the value of 1 BRO, it come out as 247817/56501.489 =4.386 Hive
So look like buying BRO for 4 Hive each is still a profitable deal as real value of BRO look close to 4.4 Hive each.
Assumptions:
Everything in brofund wallet is representation of BRO in circulation, none of the funds are personal belonging.
Alt accounts of BRO like brofund-ag,brofund-pal and brofund-leo (or may be others) holding are not taken into consideration.
Lesser known tokens or balances that look like less than $10 is not considered.
Hive power , Leo power are not exact in calculation. They are rounded to nearest 1000 at floor value.
I tried to take balanced value of asset based on buy/sell activity.
PS: You are always advised for DYOR before buying/selling.
Feel free to interact with me/reading more of my articles at: https://leofinance.io/@r1s2g3