Today I am celebrating a new milestone on Hive blockchain and I am feeling so hyped.
What's that?
After 2 months of hardcore accumulation, I finally surpassed 500 staked POB Tokens in my Hive Wallet

About POB
Proofofbrain (https://www.proofofbrain.io) is a blogging platform built upon Hive blockchain and users earn POB tokens as rewards for their content.
POB is a token issued on Hive blockchain and everyone is eligible to earn some as long as you use https://www.proofofbrain.io to share your content or just add #proofofbrain as one of your Hive post topics
---
How much for a POB?
Here is the question I am sure most of you are wondering about. How can I sell my POB and how much are they worth?
POB token is a token issued on Hive so you can only trade it against Hive on Hive-Engine or TribalDEX
POB is currently trading for 1.16 Hive ($0.70) each and if you take a look at the chart bellow you're gonna see that POB token is pumping hard for over a month now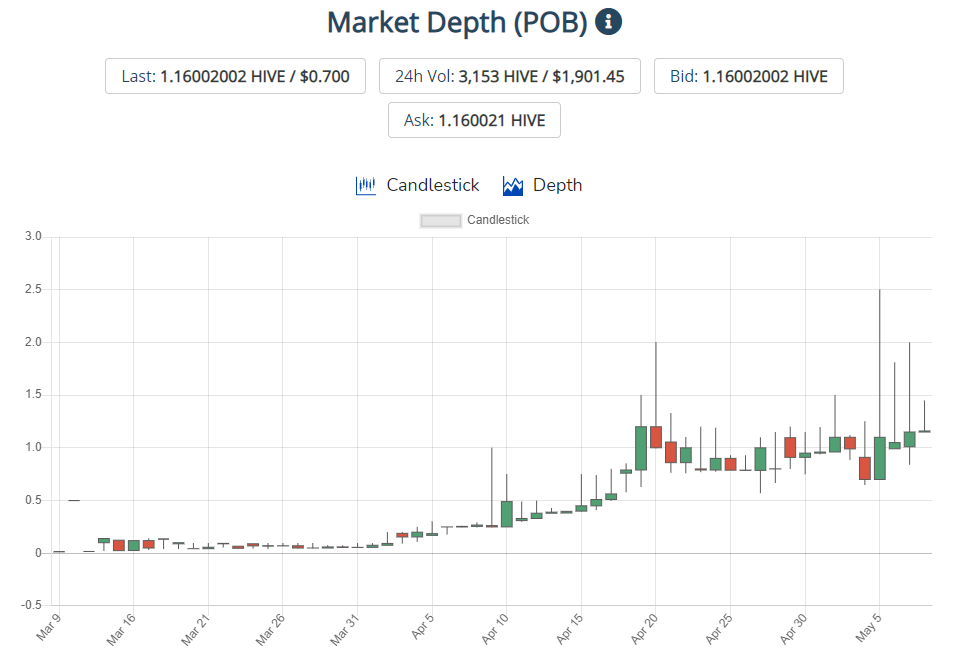 Why the pump you may ask?
Well, due to it's super low circulation and token mechanics. You see, the only way for a POB token to enter circulation is either by posting or curating on https://www.proofofbrain.io.
Quite unique, right? No one controls the total supply! Oh, and there's also the halving every 4 years ;)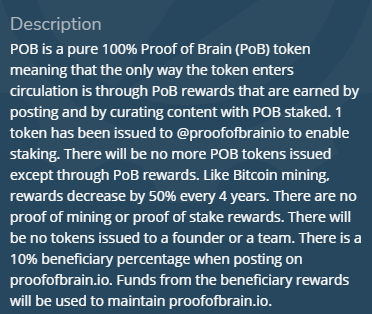 Only 21 Million POB Tokens will ever exist and only 460,000 of them are out there right now so it's now or never if you want to get your hands on some.
Mine them by posting,curating and engaging on https://www.proofofbrain.io or buy your stake at Hive-Engine or TribalDEX and hodl it tight.
My next milestone is 1000 POB Tokens before September 2021. Can I make it? I guess we'll find out...
---
Thank you all for your support
As a full-time online hustler, supporting my content allows me to keep doing what I love.
Much love to everyone and always have fun.
@Knowhow92
Earn Crypto For Your Content (Affiliate Links)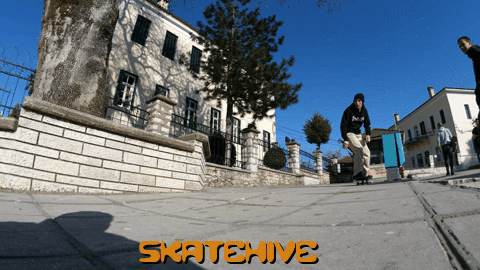 Find me Here
🏡 Hive: https://www.peakd.com/@knowhow92
🏡 Torum : https://www.torum.com/u/knowhow92
📹 Youtube : https://www.youtube.com/channel/UCJTNnvAHca8jcxaBpWn-bzA
📱 Twitter : https://twitter.com/theocharis_ch
☀️ Lbry : https://lbry.tv/@knowhow92:d
📷 Instagram : https://www.instagram.com/haris_housos/
☕️ Ko-fi : https://ko-fi.com/knowhow92