Introduction - Why Bother Tokenizing Assets in the First Place?
Tokenization of assets is one such concept that includes tokenization of securities (for example stocks and bonds), commodities (such as gold), and other non-financial assets (such as real estate). The term tokenization can be defined as a process of digitizing any asset (physical asset or even an existing digital asset) with the help of a Distributed Ledger Technology (DLT) (also known as Blockchain technology) and issuing a token as proof of ownership of that asset.
[Agrawal, H. 5 Best Tokenized Stock Platforms – Guide for Beginners In 2022. (Accessed April 28, 2022)].
The method behind the creation and issuance of tokenized securities is simplistic in nature and is adequately depicted in the following diagram: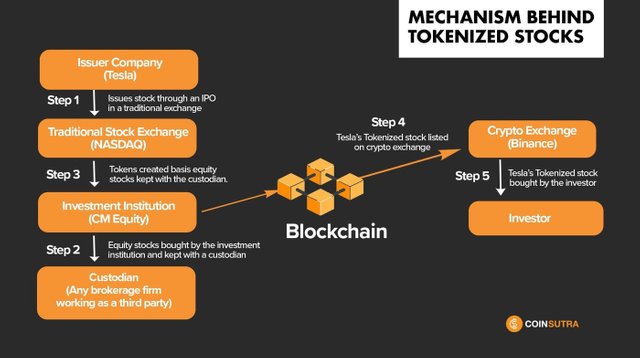 Photo Source
Now to answer the above posed question as to why tokenize in the first place, significant benefits flow to the user of these tokenized assets:
Improved liquidity of the asset. A wider population can access the tokenized form of an asset. Thus it is more beneficial for shares that have low liquidity.
Real-time clearing settlement. In other words, the transfer of a token takes substantially less time than the transfer of an equity share.
Faster transaction time
The transaction is cost-efficient.
Fractional ownership is possible. A user can purchase a fraction of a traditional equity share in a tokenized form.
Some crypto exchanges like Binance do not charge any trading fees for tokenized stocks
Like equity shareholders, token holders get dividends declared on a particular share in most cases. Always check terms and conditions related to a tokenized stock to confirm this point.
Tokenized stocks can be traded 24/7 as the crypto market is open all the time, unlike stock exchanges which are closed at specific times and days. However, to keep prices in line with the traditional stock exchanges, some crypto exchanges keep the trading hours of these tokenized stock in line with those traditional stock exchanges.
[Id].
Portal Partnering with HighCircleX to Tokenize Stocks of Pre-IPO Companies announced April 25, 2022
This collaboration between Portal (a decentralized protocol) and HighCircleX (an asset marketplace), by building on top of the Bitcoin blockchain, seeks to make investments in private equities easier. Furthermore, HighCircleX is specifically addressing the lack of liquidity and uncertainty of value problems plaguing traditional assets finance.
According to the announcement, HCX will create and manage a limited liability company (LLC) for the investments. While the investors will not own the shares of the LLC, they will own tokens that 'represent ownership' of the LLC. Such tokens can be traded on the HCX marketplace. Furthermore, the funds gained by the LLC will be used to purchase a pre-IPO investment. The pre-IPO companies that can be tokenized and traded include SpaceX, Epic Games, Klarna, Automation Anywhere and Cross River Bank.
[Reguerra, E. DeFi partnership aims to tokenize shares of pre-IPO companies. (Accessed April 28, 2022)].
According to Portal's executive chairman, Chandra Duggirala, the partnership will attempt to bring more utility to Bitcoin. Duggirala stated: "Portal is bringing real-world use cases to Bitcoin. Eventually, we will see the tokenization of many more financial assets onto the Bitcoin blockchain." [Id]. "Furthermore, while the assets are distinct from BTC, Duggirala explained that simplifying the interface for traditional assets marks the 'beginning of combining the Bitcoin ecosystem with mainstream finance." [Carson, C. The DeFi alliance aims to tokenize pre-IPO company shares. (Accessed April 28, 2022)].
Final Thoughts
Partnerships in the nature of the one above described take important first steps toward crypto's adoption as they provide the impetus for the merger of a cryptocurrency blockchain with the mainstream world of finance. And any steps forward in this direction must be viewed as a positive for the cryptoverse on a macro level.
AUTHOR'S NOTE: This article was originally published on Leo Finance as well as the front page of several other tribes on the Hive blockchain.