It all started with a rumor.
In the world of Bitcoin and cryptocurrency, this is a common occurrence. A rumor that appears on Twitter can snowball into an avalanche within hours.
This is even more likely when the rumor is started by Brian Armstrong who is none other than the founder and CEO of Coinbase. Here is the tweet posted yesterday by Brian Armstrong:
"We're hearing rumors that the SEC would like to get rid of crypto staking in the U.S. for retail customers. I hope that's not the case as I believe it would be a terrible path for the U.S. if that was allowed to happen. Staking is a really important innovation in crypto. It allows users to participate directly in running open crypto networks. Staking brings many positive improvements to the space, including scalability, increased security, and reduced carbon footprints."
The rumor was later confirmed when it was learned that the next victim of the SEC was the exchange platform Kraken. This can be seen as a sort of vendetta by the SEC and its chairman Gary Gensler, who must still be angry at himself for having been so blind in the FTX case.
From now on, Gary Gensler sees undeclared financial securities everywhere. The SEC has just forced Kraken to close its staking offers to "protect" investors who did not ask for anything. The most surprising thing here is that Gary Gensler is far from being unanimous within the SEC since Commissioner Hester Peirce explained that she strongly disagrees with this decision:
"Today, the SEC shut down Kraken's staking program and counted it as a win for investors. I disagree and therefore dissent.

Kraken operated a service through which its customers could offer their tokens up for staking. The customers earned returns, and the company earned a fee. The Commission argues that this staking program should have been registered with the SEC as a securities offering. Whether one agrees with that analysis or not, the more fundamental question is whether SEC registration would have been possible."
You can read Hester Peirce's statement in detail here: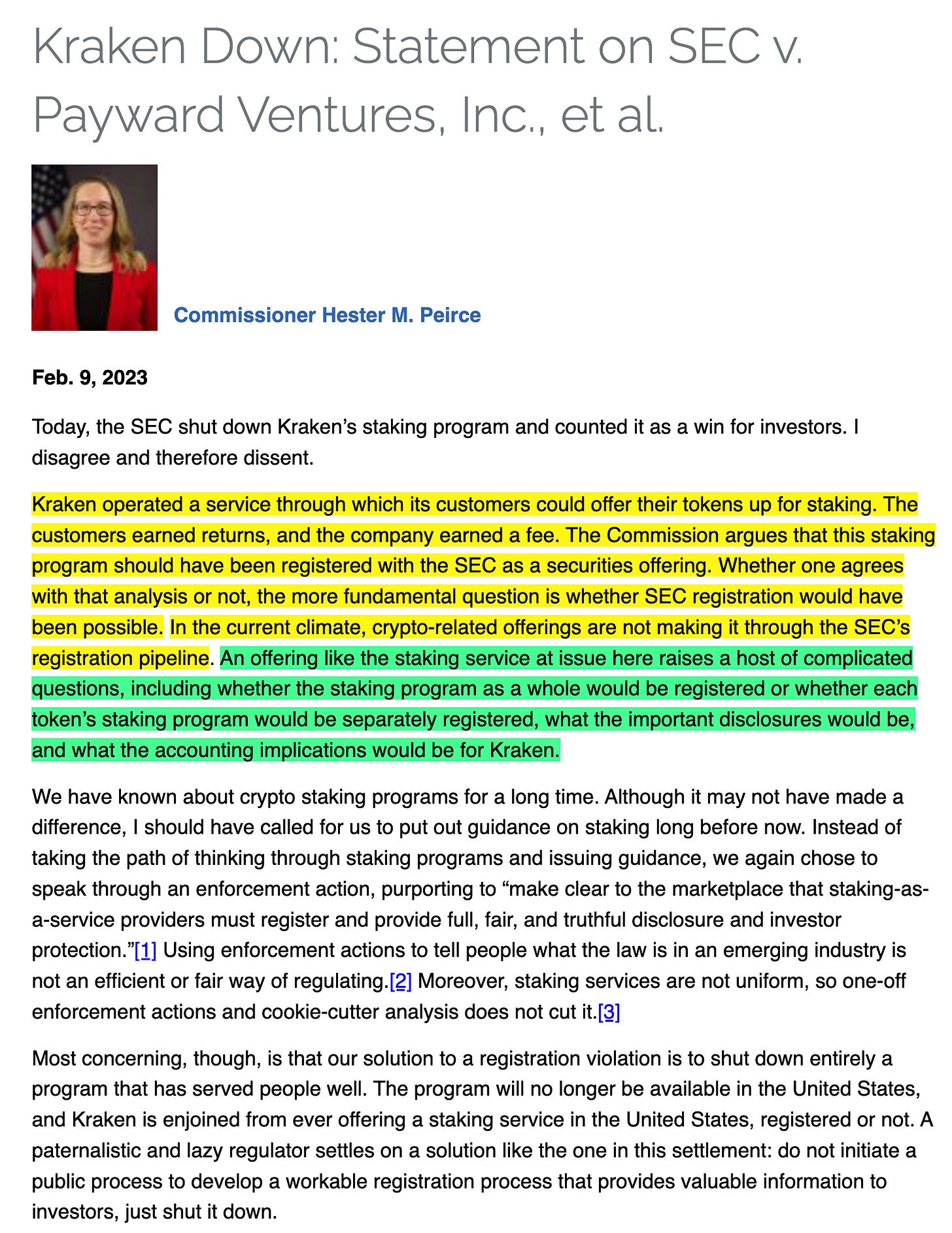 For Hester Peirce, it is clear that Gary Gensler acted too quickly, as there are still too many unanswered questions:
"An offering like the staking service at issue here raises a host of complicated questions, including whether the staking program as a whole would be registered or whether each token's staking program would be separately registered, what the important disclosures would be, and what the accounting implications would be for Kraken."
As a Bitcoiner, I'm not going to cry over these decisions, but I find that they will cause problems by pushing platforms out of the US where it will be easier to scam American investors who won't stop just because Gary Geinsler decided to. A more intelligent option would have been to define a clear and precise framework or to work together at the global level for regulation in this field.
The problem is that the subject is so complex and the interests of the various parties so divergent that it is impossible to agree on a large-scale regulation of cryptocurrencies.
From Bitcoin's point of view, there is no staking. So there is no reason a priori that Bitcoin should be impacted when the SEC goes after Altcoins. And yet, the price of Bitcoin is falling like the rest of the cryptocurrency market. The price of Bitcoin has fallen back below $22K to $21.6K as of this writing. Therefore, a retest of the $20K resistance is possible in the next few days.
"Golden Cross Vs. Death Cross: The Battle of the Bitcoin Crosses Has Begun. What's Next for Bitcoin Price? $25K or $20K?"
And this is even more so if investors continue to make a major mistake that confuses them in their perception of Bitcoin. I've talked about this many times before, but it's essential to understand that Bitcoin != Crypto.
The SEC is attacking Altcoins by seeing financial securities everywhere, but even Gary Gensler can't argue with the fact that Bitcoin is a property in his eyes. A property that will not suffer the same attacks from the SEC. So Bitcoin is not concerned here.
If investors understood this, they would see that it is time to stop taking risks with Sh*tcoins and focus on Bitcoin. If you're looking for a Stablecoin where the risk of censorship and confiscation doesn't exist, it's not the USDC or USDT you should be looking at, but Bitcoin.
Investors still have a long way to go to understand that Bitcoin is the best Stablecoin.
"Here Is Why Bitcoin Is the Best Stablecoin."
But as investors watch Altcoins collapse one by one, they will eventually see through it and realize that Bitcoin is here to stay. Bitcoin is the king of digital currency and will remain so because its monetary attributes are unmatched. Bitcoin is the maximum of what is possible in P2P money. There is no second best.
As such, Bitcoin will not be replaced but will evolve over time and with the user needs that are sure to emerge as the mass adoption of Bitcoin continues.
For the rest, no worries with these SEC attacks, Bitcoin always emerges stronger from attacks on the cryptocurrency market. This allows more people to see why Bitcoin is the solution to focus on.
Stay strong, Stay Bitcoin HODLers.
---
Don't take for granted the word of Bitcoiners who tell you that Bitcoin is an incredible monetary revolution, but verify it for yourself by developing the knowledge to build your truth about Bitcoin.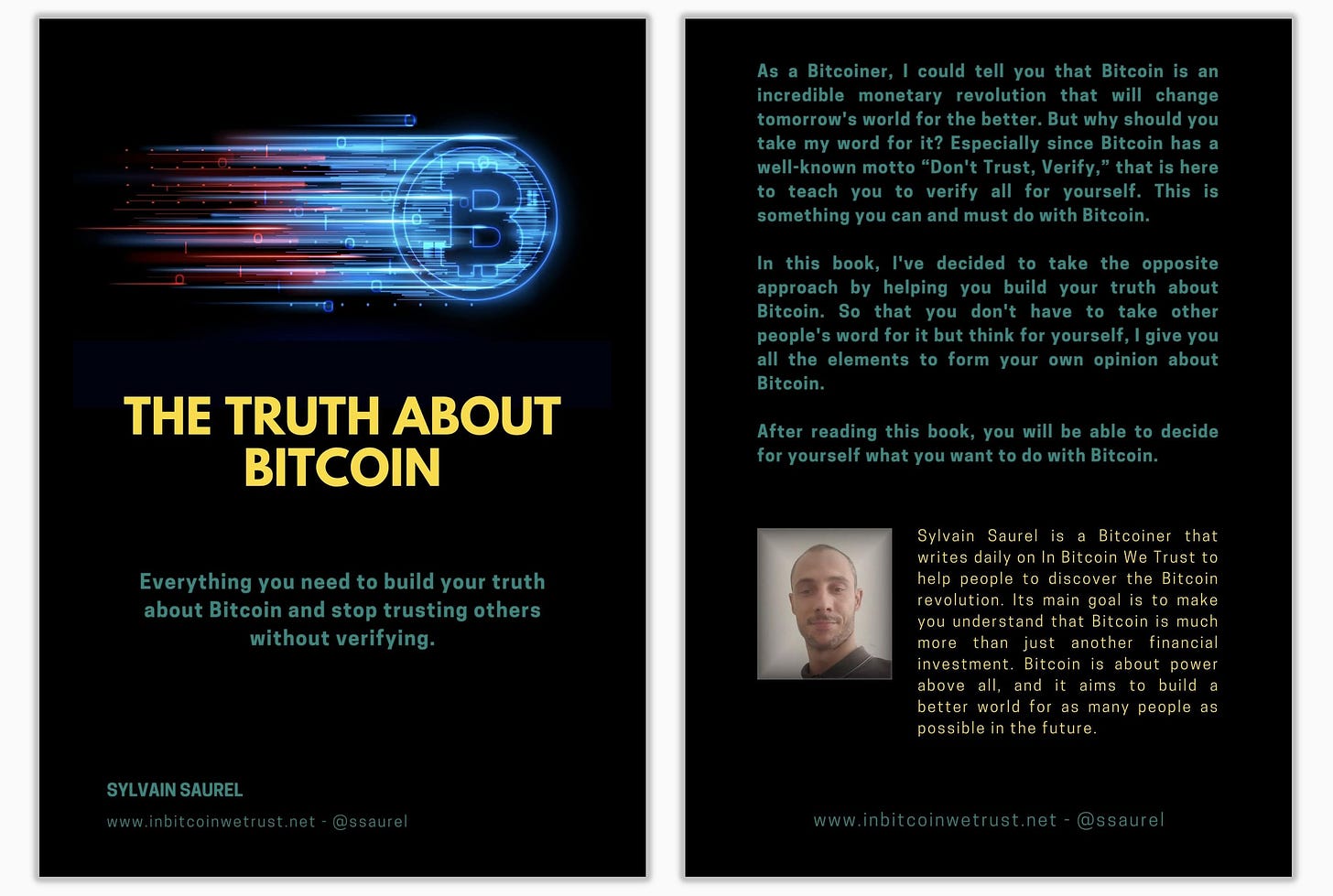 That's what I suggest you do in the book "The Truth About Bitcoin: Everything you need to build your truth about Bitcoin and stop trusting others without verifying."
The book is available on various platforms: