Bitcoiners, including myself, have been telling you for years that you have Bitcoin on one side, and cryptocurrencies on the other. So Bitcoin has nothing to do with the cryptocurrency industry.
Bitcoin != Crypto
For those who might not understand the meaning of the logical operator !=, it means that Bitcoin is different from Crypto. This is more clear.
Of course, when I say this, people always tell me that I am protecting my interests since I am a Bitcoin HODLer. I would seek to evangelize as many people as possible to drive up the price of Bitcoin and then profit from it. The famous "Greater Fool Theory" that Bill Gates keeps talking about when asked about Bitcoin and cryptocurrencies.
If there is a fool here, it is Bill Gates who thought in the mid-90s that the Internet was "just a passing fad." He thinks the same thing about Bitcoin... That's how hard it is for Bill Gates to understand what's going on with the Bitcoin revolution.
Ultimately, even if you buy Bitcoin, it won't make any difference to me, because I don't intend to sell my Bitcoin. I have no interest in trading hard money for weak money as I explain here:
"You Miss the Point With Bitcoin If You Ask the Question "What Will You Do When Bitcoin Price Reaches $1M?"
Those who say they are waiting for a certain price of Bitcoin in US dollars before selling have understood nothing about the why of Bitcoin. And unfortunately, there are many of them!
Let's hope this will eventually change over the years as the flaws in the current system open the eyes of more people.
In the meantime, the powerful people at the head of the current monetary and financial system are doing everything to protect this unfair system that benefits them at the expense of the many. If you had any doubts about this, the coordinated attacks of the different American authorities for several weeks against the cryptocurrency industry prove it to you.
"SEC Attacks Altcoins and Bitcoin Price Falls … It's Time to Open Your Eyes to This Essential Truth"
Obviously, at the head of the attackers, we find the SEC led by Gary Gensler.
Gary Gensler seems to seek securities by everything since the FTX fiasco. A fiasco he should have seen coming, he who supposedly wants to protect American investors so much. But maybe his proximity to Sam Bankman-Fried prevented him from seeing it clearly, or he did nothing to avoid the FTX fiasco just to protect SBF ...
That being said, many are now wondering if Gary Gensler will be able to hold his own as head of the SEC. In an attempt to do so, Gary Gensler is now attacking everyone in the cryptocurrency industry. Rather than listening to those who warned him in the past about FTX, Gary Gensler prefers to attack US-based and much more transparent players like Kraken or Coinbase.
We can feel that Gary is trying to make amends with the Biden administration to save his job.
In this context, many investors who still confuse Bitcoin with cryptocurrencies are starting to fear the worst for Bitcoin. This has been felt on several occasions in the price of Bitcoin. This could even cause the price of Bitcoin to fall a bit in the short term since the price of Bitcoin in the spot market is driven by human psychology and emotions.
Since the majority of investors in this market don't understand the why of Bitcoin, it is ultimately quite logical to see them panic by constantly applying the same losing pattern: Buy High, Sell Lower. Managing emotions during FOMO and FUD episodes is the key, but many struggle to understand this unfortunately for them.
Getting back to Gary Gensler, an article in New York Magazine just came out that shows that even the SEC chairman makes a clear distinction between Bitcoin and cryptocurrencies.
I urge you to read the article for yourself of course, but here is this passage where Gary Gensler is forced to acknowledge that Bitcoin is different:
"Everything other than Bitcoin falls under SEC's jurisdiction. You can find a website, you can find a group of entrepreneurs, they might set up their legal entities in a tax haven offshore, they might have a foundation, they might lawyer it up to try to arbitrage and make it hard jurisdictionally or so forth.

They might drop their tokens overseas at first and contend or pretend that it's going to take six months before they come back to the U.S. But at the core, these tokens are securities because there's a group in the middle and the public is anticipating profits based on that group."
This has the merit of being clear and gives you insights into what awaits the cryptocurrency industry in the future. The SEC thinks it can apply current regulations to cryptocurrencies that are securities according to Gary Gensler. On the other hand, as I told you before, Bitcoin will not be worried by the SEC because it cannot be.
Bitcoin is different. No pre-mining for the founder. Everyone has the same opportunities with Bitcoin. No one owns Bitcoin. Bitcoin belongs to everyone. No founder is trying to sell you something. Bitcoin is fundamentally different, and if you're looking for an authority to regulate Bitcoin, look to the CFTC (Commodity Futures Trading Commission).
Bitcoin is not a security in the eyes of the SEC and is a commodity in the eyes of the CFTC. Rostin Behnam, the chairman of the CFTC, has already called for Bitcoin to be placed under CFTC regulation on numerous occasions. Of course, nothing has yet been decided in this sense from Washington.
The question is: why?
Probably because by defining a clear regulation for Bitcoin that would be placed under the control of the CFTC, the Biden administration is afraid that this will induce an incredible flood of investments in Bitcoin from institutional investors who are just waiting for this: more clarity before taking action.
We'll see how this evolves in the months and years to come, but if you've made the move to Bitcoin, the key thing to remember is that Bitcoin is different and the FUD around the regulation of the cryptocurrency industry shouldn't worry you too much.
It will have an impact on the price of Bitcoin in the short term, but in the long term, it will even be beneficial to Bitcoin as I explained earlier. This is in line with the idea I developed in my book "The Truth About Bitcoin" that buying Bitcoin is saving, and buying Altcoins is gambling: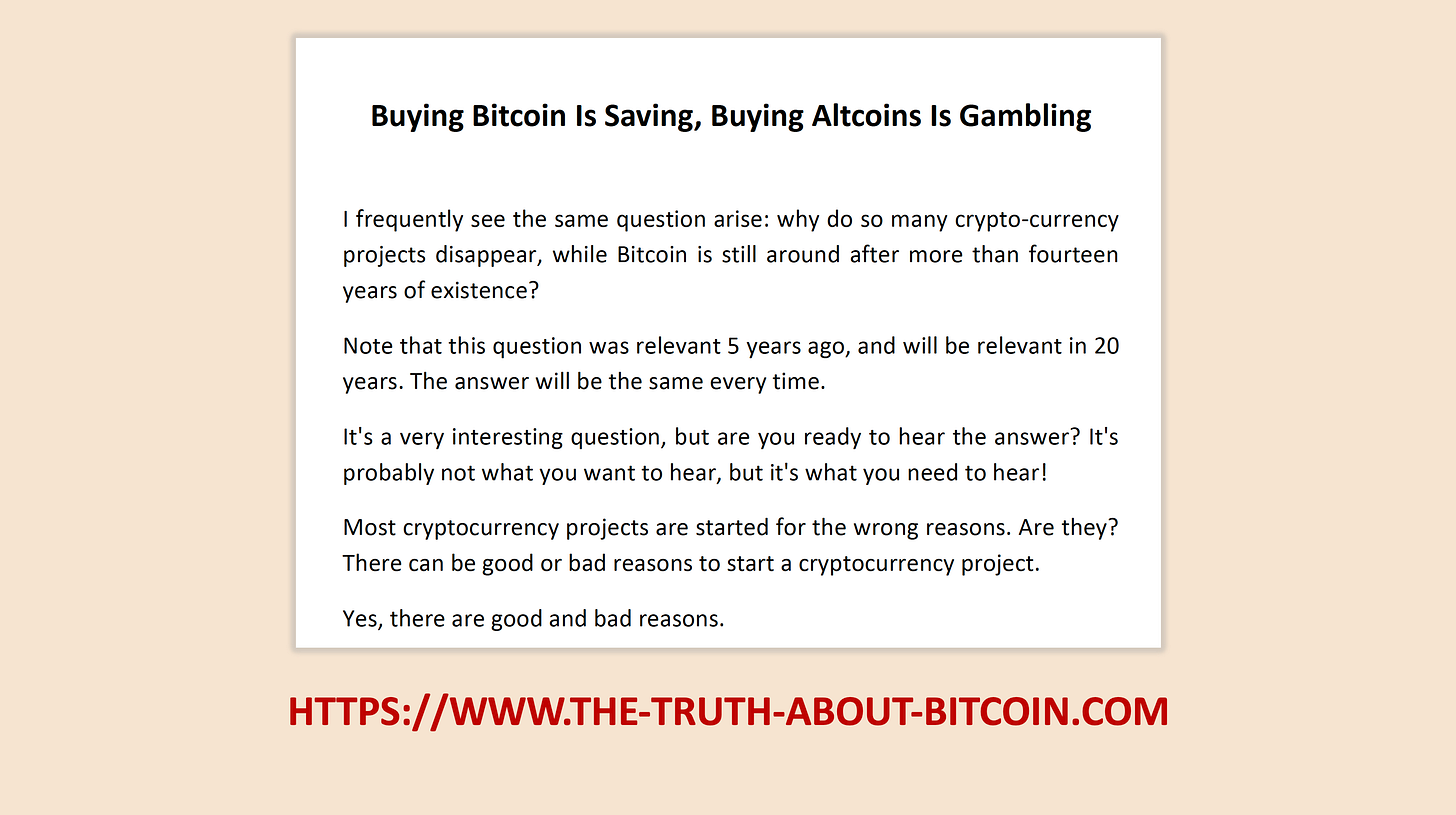 Stay strong, Stay Bitcoin HODLers.
---
Tick Tock … Tick Tock
You only have a few hours left to take advantage of the current rates of the In Bitcoin We Trust Newsletter premium package. Starting March 1, 2023, the newsletter rates will evolve. Those who are already subscribing to the premium offer (monthly or yearly) will continue to benefit from the old rate of $6.99/month or $70/year.
For those who will join the adventure from March 1st, 2023, the premium offer will be $9.99/month or $99.99/year.
So if you were planning to switch to the premium offer of In Bitcoin We Trust Newsletter to access all paid content (+ my first book "2020: The Year When Everything Changed for Bitcoin") and support my work, you are probably better off doing so before March 1, 2023.
The "Founding Member" offer will also evolve from $140/year to $160/year as of March 1, 2023. As a Founding Member, you will get a free copy of my book "The Truth About Bitcoin" as planned, as well as a free copy of all my future books about Bitcoin.
Current "Founding Members" of the In Bitcoin We Trust Newsletter will of course continue to enjoy the current rate of $140/month.
If you want to take action, this is the place to do it: See the Plans for In Bitcoin We Trust Newsletter