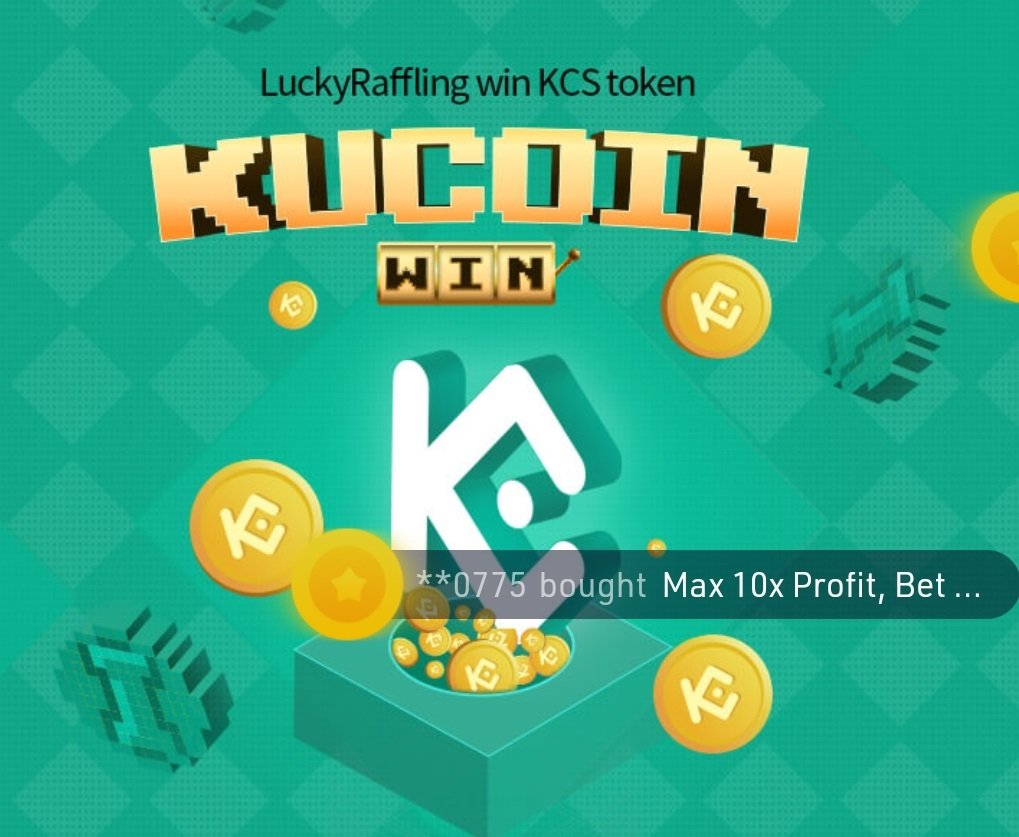 Kucoin is currently one of my preferred exchanges, with a nice spread of tokens that aren't listed on Binance, however, at the moment it has the clear downside (for me) of not listing the two blogging platforms that I use daily.
What I have noticed about the Eastern based exchanges is the way that much of the financial side of things appear to have a gamified style. There are trading contests, giveaways, red packets. This contrasts quite heavily with the Western style of exchanges, which tend to be more staid and formal affairs... I'm not really sure what I prefer, but I do have a slight preference for the boring!
That said, I'm not averse to trying out some of the contests and competitions... but always in a tactical manner where I'm just aiming to eke out smaller realisable gains instead of gunning hard in an all or nothing approach.
So, it was not a huge surprise when Kucoin unveiled a raffle system that was based around a lottery system for their exchange token, KCS.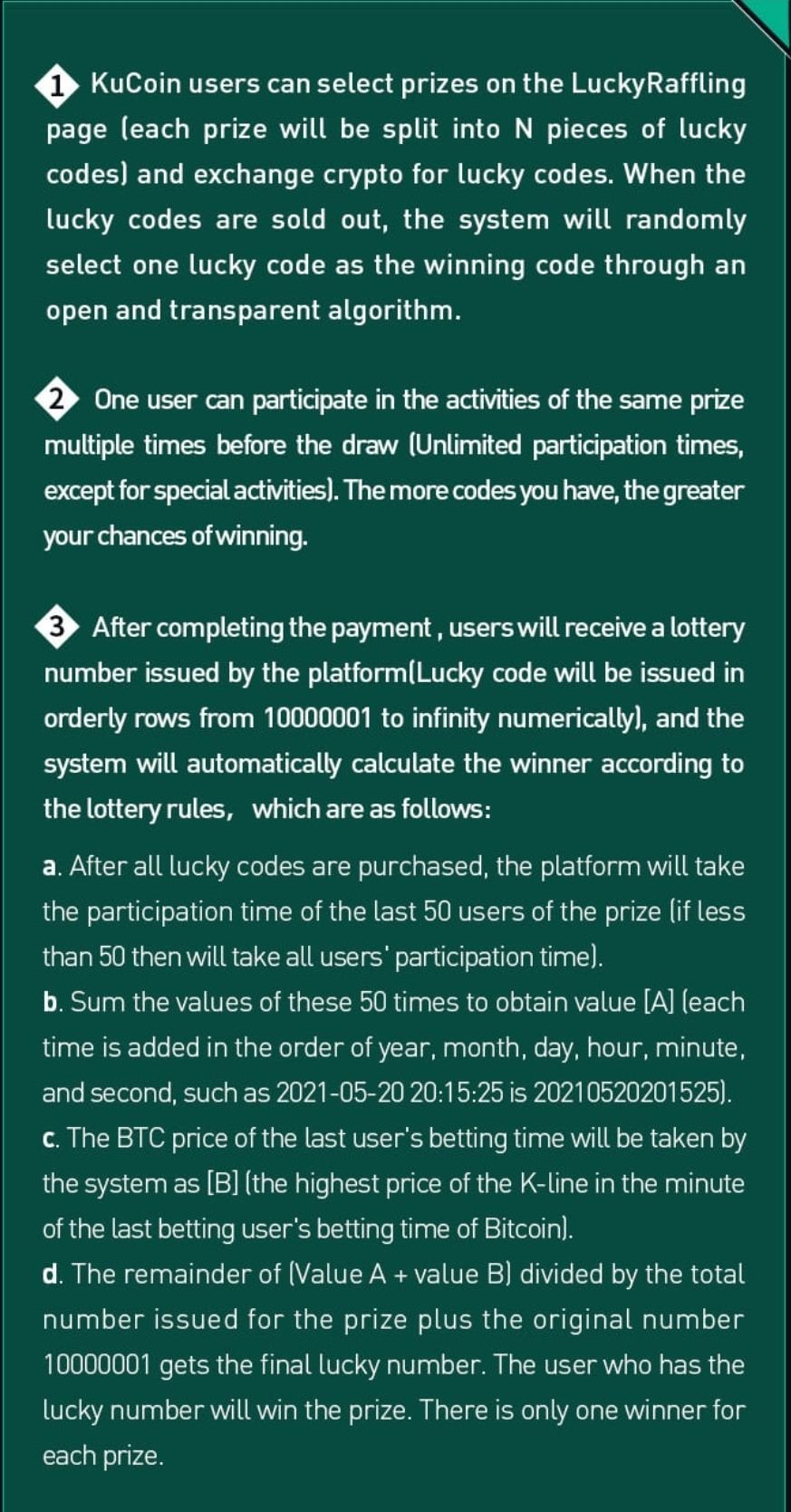 Kucoin Win is a little sub-product of the already very busy user interface of the exchange. It is basically an ongoing lottery pool, where players can pay for tickets in a small (2-20 total tickets) lottery pool in an attempt to win the kitty. The game also serves as a minor sink for KCS, as there are more tickets than the kitty pays out (only by a little bit).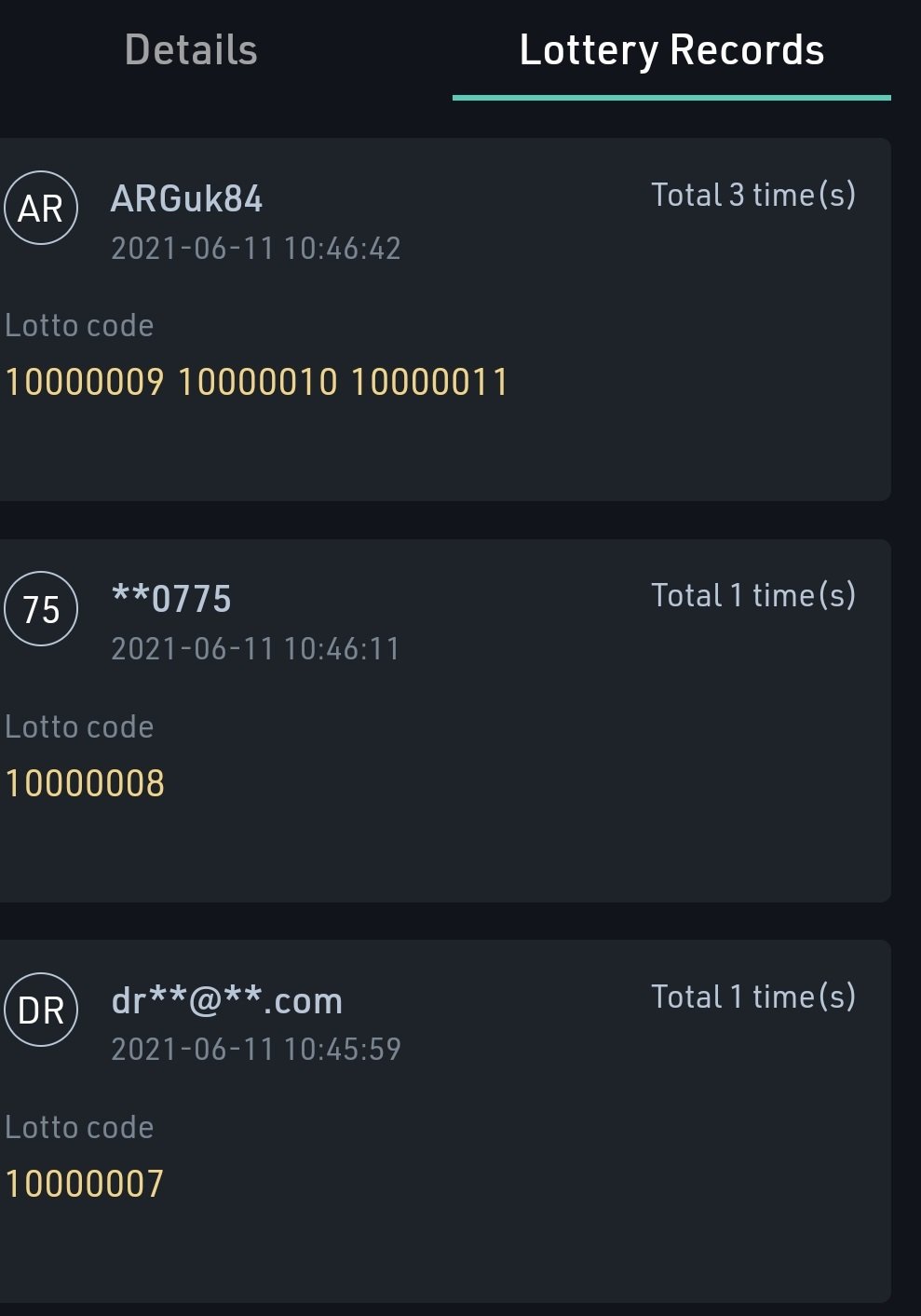 So, I decided to give the Win product a bit of a run... seeing as Kucoin had mentioned that it would be a possible way to distribute some future airdrops/listings. After all, it is best to try out these things when you aren't running against time for a token drop that you really want... I have to say that some of their first-come-first-serve staking lockdrops have been really difficult to get into, as the max allocation gets hit up within the first few seconds... meanwhile, I have found that the subscription formats have been better.
But it appears that the exchange is going to toy around with lottery formats as well...
So, in this particular example, 11 tickets were being sold at 1 KCS each... with the jackpot of 10 KCS going to one ticket in the pool. This means that 1 KCS will be burnt in an incoming token burn I presume to reduce the circulating supply without the exchange needing to purchase them back. It is an neat idea, but I do wonder if it really makes that much of an impact... or if it is a sign of desperation to get more sinks in play! Hopefully not...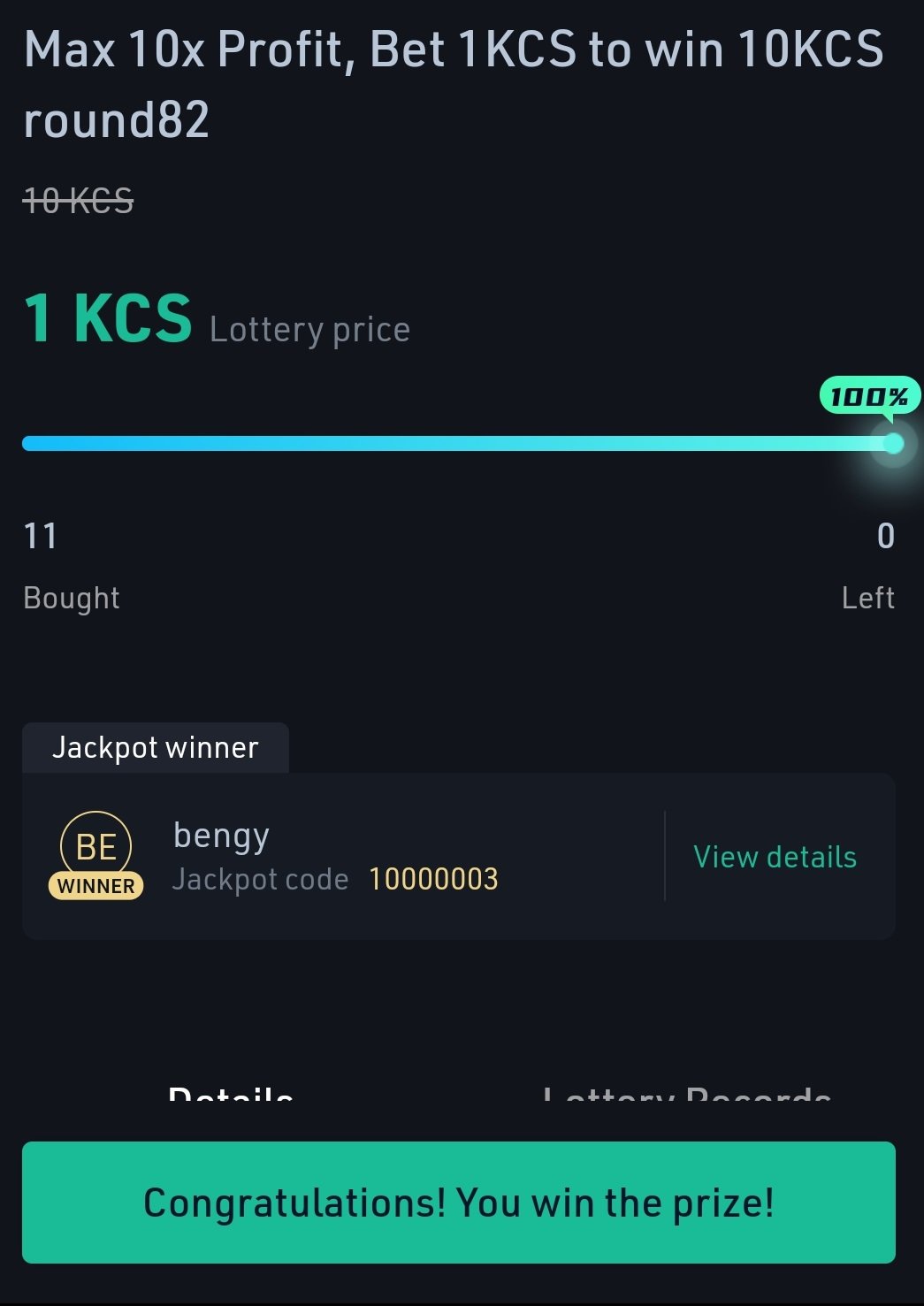 So, just to walk myself through the process in order to be well informed for the coming lottery drops, I bought one ticket... to see how the process flowed through. Actually, it was quite easy... akin to just purchasing a token, you have the KCS in the relevant account... select the number of tickets that you want to purchase in the pool and click the purchase button.
... oh and apparently beginner's luck really is a thing! However, I wasn't enticed to play any more... I was there to test the flow in case I needed to do the lottery for real at some point in time... I'm not going to be enticed by the possibility to gamble away crypto!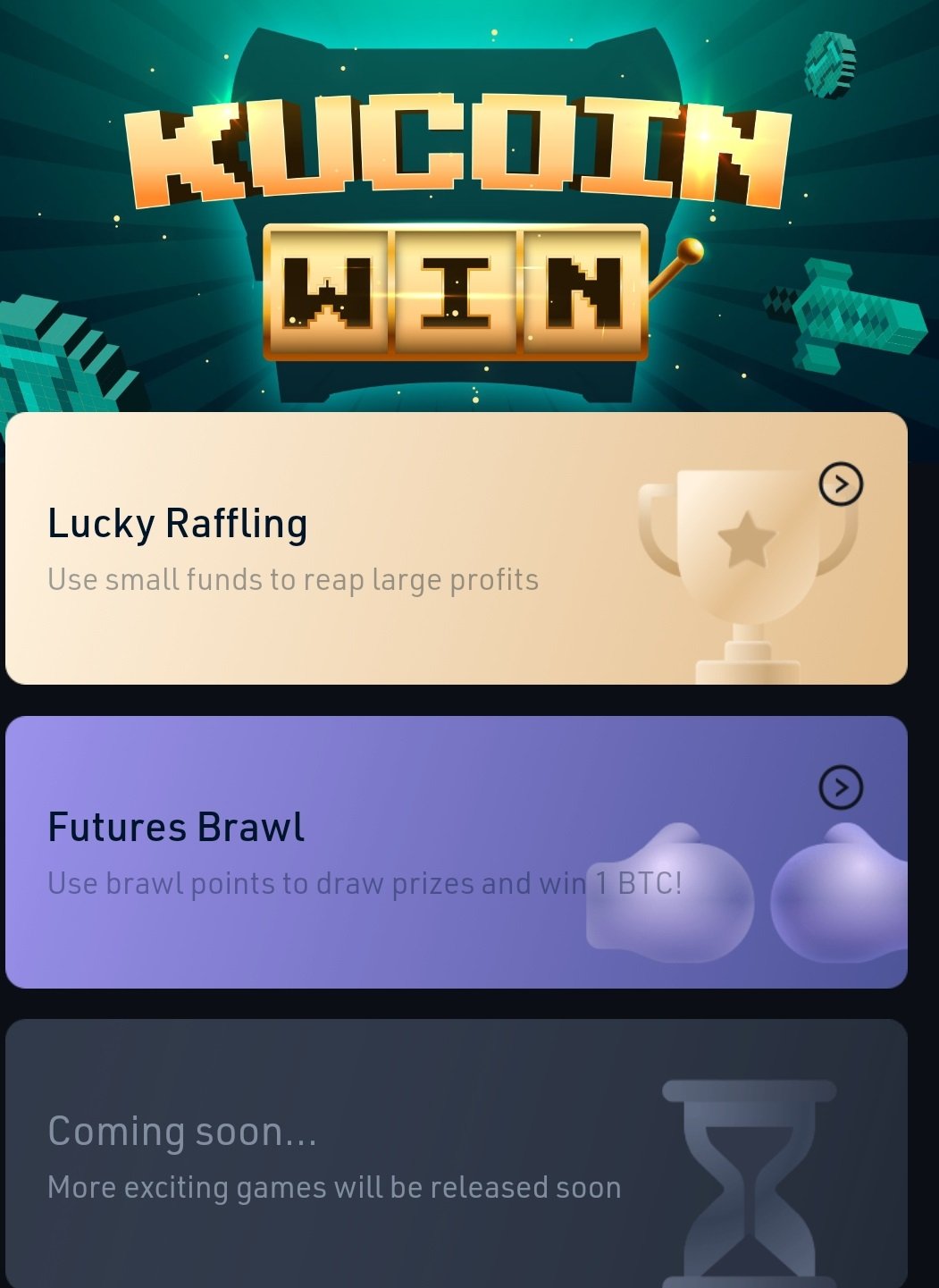 So, at the moment, there is only the raffle pools that are available on the Win product... despite my stupid luck, I really do question the wisdom of having a casino/luck game on the same app as an exchange/trade floor. Sure, it is probably great for the casino/exchange... but it appears to me to be a bit predatory.
As for a format for future token distributions... I heartily dislike the idea of the all-or-nothing format of a lottery, I much prefer the weighted subscription models. I hope this particular idea dies off quickly and quietly...
Handy Crypto Tools
Ledger Nano S/X: Keep your crypto safe and offline with the leading hardware wallet provider. Not your keys, not your crypto!
Binance: My first choice of centralised exchange, featuring a wide variety of crypto and savings products.
Kucoin: My second choice in exchanges, many tokens listed here that you can't get on Binance!
MXC: Listings of lots of interesting tokens that are usually only available on DEXs. Avoid high gas prices!
Coinbase: If you need a regulated and safe environment to trade, this is the first exchange for most newcomers!
Crypto.com: Mixed feelings, but they have the BEST looking VISA debit card in existence! Seriously, it is beautiful!
CoinList: Access to early investor and crowdsale of vetted and reserached projects.
Cointracking: Automated or manual tracking of crypto for accounting and taxation reports.