Sandbox project is seen as the leading metaverse platform where anyone can create their own "verse" and design it with other people. Having Snoop Dogg, Adidas and more than 165 companies on it, Sandbox hypes anyone who dives into the metaverse.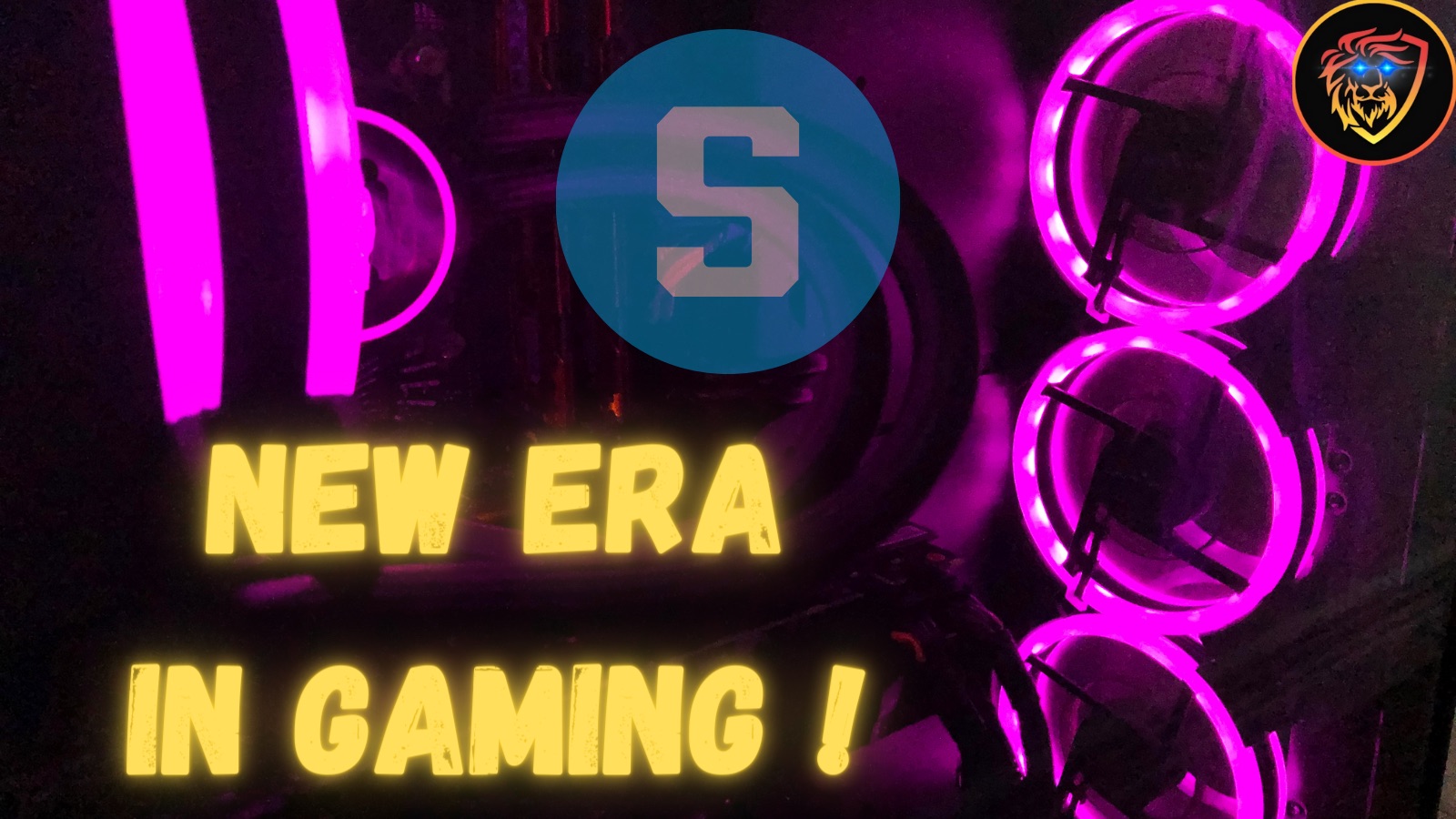 Sandbox deployed a bridge to Polygon Network for its LAND, land sales and land staking in the future! The reason why the project migrated these operations to Polygon Layer 2 is, of course, about the blockchain operability and transaction fees on Ethereum Layer 1.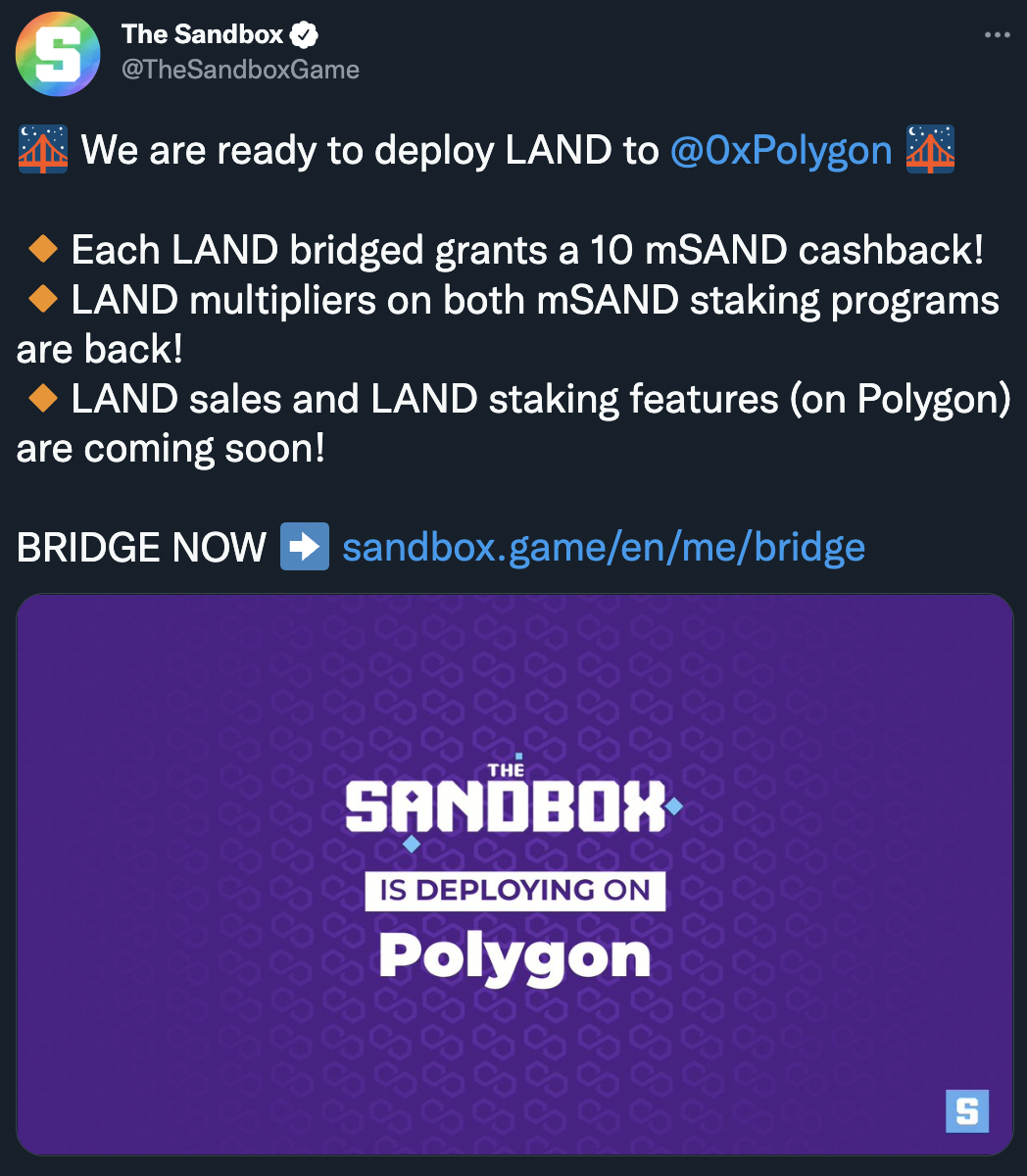 If I had a chance to migrate one of the projects in entire crypto ecosystem, I would choose Sandbox to operate on Hive. IF you witnessed the early days of the projects and its growth in time, I'm sure it is impossible no to be impressed with it.
Sandbox is the future; the future of metaverse concept; the future of metaverse narrative for green market... Honestly, I believe that Polygon is lucky to host Land operations on it.
Sandbox Opened a New Era
No doubt that the Layer 1 operations of many veteran projects are not efficient for transactions of 2 - 3 popular games.
At that point, Polygon is the smart boy in the club that has become the Layer 2 of Ethereum by locking the assets on Ethereum Mainchain and initiating its twin on Layer 2 with the Proof of Stake mechanism 🌉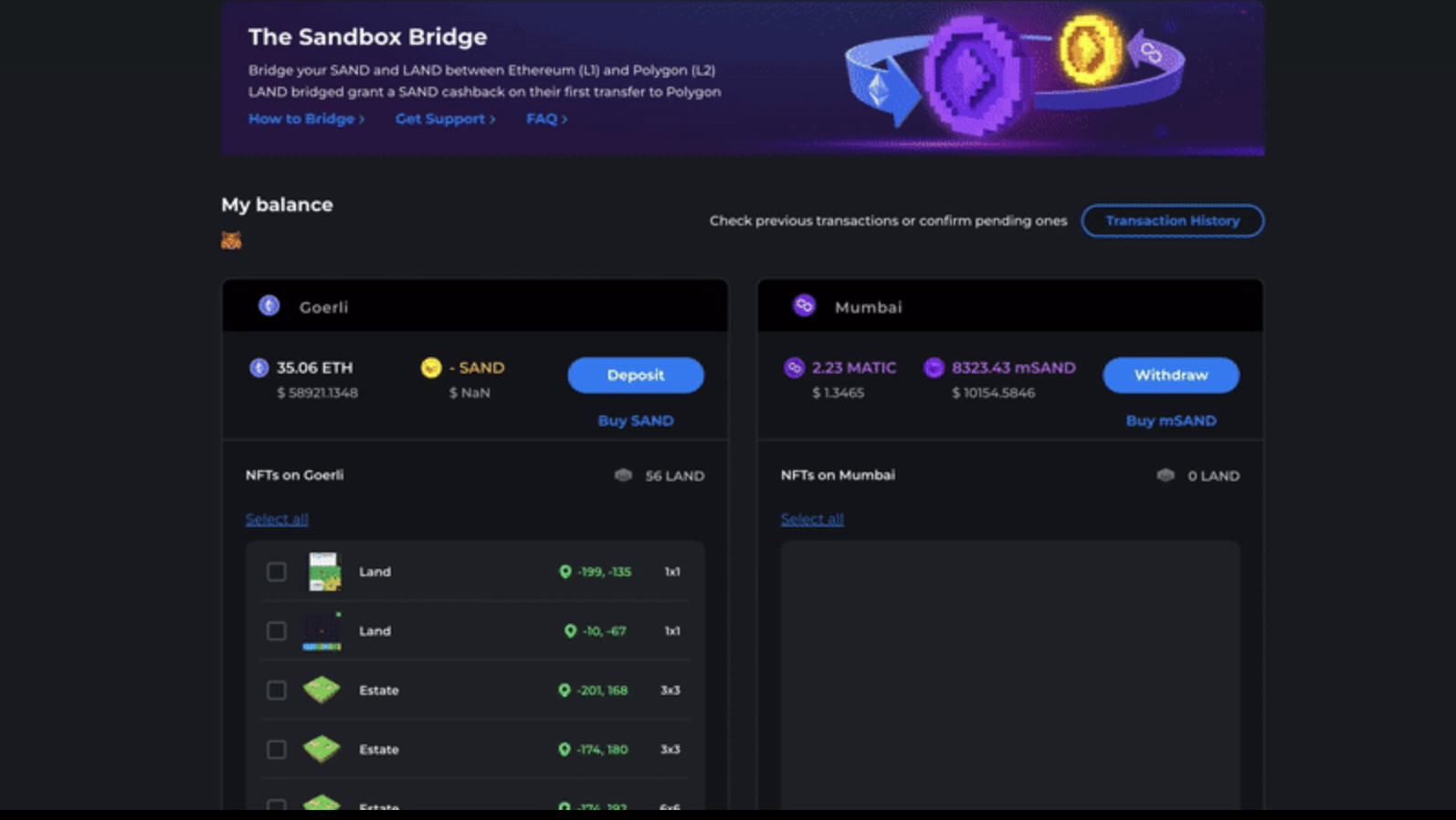 However, there will be several benefits for Sandbox as well:
For instance:
> As part of the deployment feature, SAND users will be able to benefit from a LAND multiplier based on the staking.
As coinquara mentioned, the games may create bridges for specific operations such as staking on Polygon, Hive, or WAX in the future. Via multiple bridges to the main network, they plan to stay on the safe side by staying on Ethereum but some transactions will not be on the main network.
Side Chain, Bridge(s) or Brother Chain?
It may sound weird but I also expect some brother/sister chains (like uncle chain that finds the block after the miner).
The Side Chain:
* These side chains will be on the same blockchain with their own validators; utility token -> Avalanche SideChains
The Bridges:
* I expect them to be on majorly Polygon until it cannot handle this burden.
Staking, Marketplace, Lending etc. of most popular projects on Polygon.
Brother/Sister Chain:
I think Hive will be in this category with WAX, EOS and Telos.
These chains will be hosting millions of transactions (like Splinterlands transactions that Hive blockchain hosts flawlessly 😎), the limited number of community NFTS (less in number as it also necessitates cheaper and faster blockchain), Lands, account creation tokens etc. will be on e.g. Ethereum.
Hive 🤜🤛 Ethereum
Hive for operations, Ethereum for branding.
(New Hive users, Millions of Hive Staked for RCs or RCs delegated to gaming projects...)

Putting Futuristic View Aside, Bridges Gonna Bridge
I believe the bull-run will be full of news stating that X project bridged their assets on Polygon.
Ronin Bridge may not be favored by Axie Infinity and Polygon or Immutable X can be the next stop for the project IF the team wants to re-build it from the ashes.
So far I do not see any serious rival for Polygon in terms of bridging. Arbitrum and Optimism have long way to go. On the other hand, Loopering is only based on trading with its limited functionality. The only rival that may steal some customers from Polygon can be Immutable X if the project can go viral a bit more.
I'm welcoming a new era for blockchain gaming. Let's see which project will be next 😉