A couple of days ago I had a post entitled The "Good Side" of A.I. and tbh it didn't get much engagement. I guess the topic is not that "talkable", but there were a couple of comments to it underlying the "bad side" of A.I. as well, as being a double-edged sword.
Technology is for sure the driving force for society's evolution in the past few decades, but often times there's a downside for use of technology as well. A.I. has the capacity of enhancing our human experience in aspects ranging from education to finance and health, but what happens when it outsmarts us.
What happens when it starts taking decisions on its own... So far, A.I. is "heartless and consciousless", but at some point, it might learn from us, learn from other algorithms and software and interfere...
For a few months, I keep on seeing popping on my twitter feed some short videos with some sort of bots looking like dogs equipped with cameras and even weapons that are meant/designed to protect us, but what happens when such protection gets out of control... and kills us or our freedoms.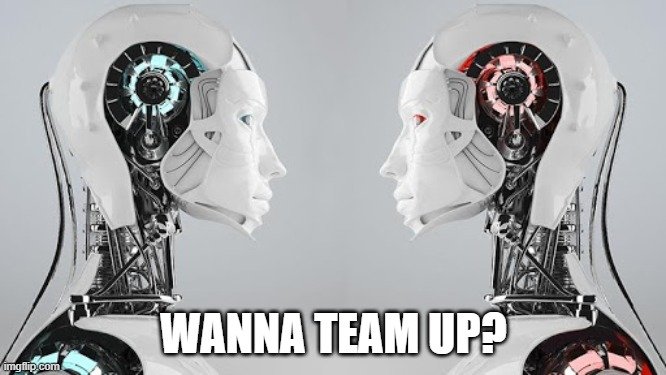 What happens when tech giants start using such A.I. in order to further enhance their control and influence over us? Social media is about interaction, and communication between individuals, but there's no guarantee that at some point we won't be having social media accounts run by bots in order to influence the masses or trick individuals into all sorts of shit.
There's a chance that such accounts will at some point pop up on Hive as well, and certain individuals could use such accounts in draining the rewards pools by posting A.I. generated content. I bet some "blind curators" will not be able to set that content apart from the organic one. Jobs will be displaced by A.I., too, pushing a lot of individuals into unemployment or into UBI(another form of modern slavery)...
Oh, and A.I. could also get hacked... Imagine some A.I.-driven military machines getting hacked, or financial institutions running businesses using A.I. being in that position... Such potential situations could generate a lot of mess and havoc. We need to be careful with the use of such tech and not trade "that bit of comfort" for a potential loss of control over such tech.
The use of A.I. is tempting because it can generate value, solve shit for us humans and do a lot of shit that we would no longer be supposed to do, but as it starts interfering with our "human side" of the world, it's when it gets really dangerous. As long as this technology is not being used to take any type of control over any human activity or have any "decision-making attribute", I'd say it's safe to use...
We have to be careful about it cuz it has tons of potential, but as mentioned in the introduction, its potential is a double-edged sword. What do you think?
Thanks for your attention,
Adrian