Blockchain is one of the most interesting technology trends today. It has been being applied to all industries from education, health, technology, goods ...
Among technology projects, Brave Browser is the blockchain browser that is currently having the fastest user development. With 10.4 million active users currently and possibly Brave coming into the top 10 most popular browsers.
What is Brave Browser?
Brave Browser is a  web browser free  open source developed by the company  Brave Software Inc. . is based on the Chromium web browser core with deep customization to ensure security with blocking data collection, user behavior, blocking annoying ads and increasing browsing speed for users. Famous on the net, called the ad blocking browser.
As of 2019, Brave supports both computers and phones with  Windows, macOS, Linux, Android, and iOS operating systems .
Currently, Brave is  offering a free program of 5 USD  when you install and use Brave. BAT is a coin issued by Brave himself, currently standing at 32 in the global statistics table and costing about $ 0.17 / BAT at the time of writing. 
Outstanding features of Brave Browser
Speed
Unlike Chrome,  Brave by default blocks ads  and disables third party user tracking. This allows Brave to load webpages significantly faster than Chrome. Brave has 8 times faster browsing  speed than  Chrome and Safari.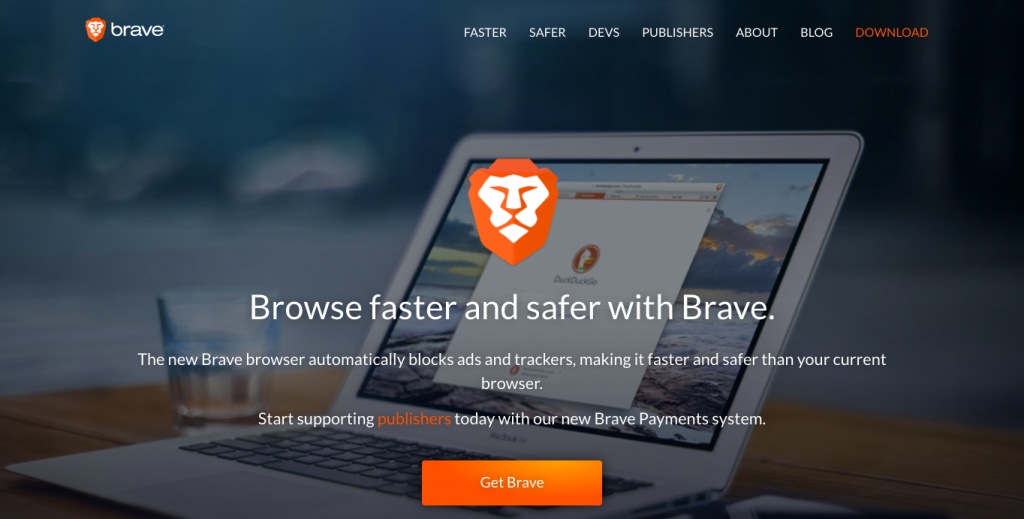 Block ads
Brave has an ad blocking feature that  automatically  protects devices from malware and tracking by advertisers. 
Specifically, users are  suggested to have  appropriate ads because Brave does follow up with local data. If an ad is unrelated to the user, it will be removed. As a result, users receive relevant ads based on this model and  no third parties  participate in this process.
Ability to install Extension
Brave currently supports  all of the  Chrome extensions . Several extensions are available in Brave such as third-party password managers -  1Password ,  Bitwarden ,  Dashlane  and  LastPass  , as well as others that display PDFs in the browser and save content to Pocket for reading. after.
Privacy
Big advertisers like Google and Facebook  use 3rd party Cookies  to track your browser, in order to bring ads accordingly. For Brave, the browser will  block third-party cookies , limiting the data that Facebook, Google and other advertisers can use to study your browsing habits.
In addition, Brave  stores all your  browsing data on your computer, meaning you can delete it at any time. At the same time, Brave supports the Tor browser to post the security and privacy of users when browsing the web.
Review Brave Browser
In early 2018, they had only 1 million users. Last year was 5.5 million. That is an increase of 450% per year. And to date, by the end of 2019 there were 10.4 million users. It is true that the number says it all. Brave Browser deserves a trusted browser.
It will be faster than other web browsers.
You will save time. It takes time to load ads. Now you don't have them anymore.
You will focus on the target more by just looking at what you are looking for. No need to see annoying mustache ads.
Information will be truly private and confidential.
Unlike other browsers, Brave pays you to use the Brave browser and also allows you to make money from Brave if you own a website or YouTube channel.
All of these advantages provide the best value and experience for internet users.
Make money with Brave Browser
STEP 1: INSTALL BRAVE BROWSER
To get started, you download the browser BRAVE  in here  and install.
After installation, to receive 15 BAT ~ 5 USD, open Brave browser => Setting right corner (3 dashes) => Brave Rewards.

Click "  Yes, I'm in " to open the wallet. Choose ON to enable monetization on Brave and get $ 5. ( Note :  $ 5 will be added to your wallet after 30 days you operate on Brave  - this is a small amount, you can earn 200 times more when reading this article of yours )
STEP 2: ESTABLISHING A PUBLISHING ACCOUNT AT BRAVE
Brave offers you a way to make money by publishing content and receiving money if you own a blog / website / Youtube channel. To make money by publishing content, you sign up for a Publisher account at:  https://publishers.basicattentiontoken.org/
Enter your email and press " Create account " to get started:
Enter the confirmation email, then enter your personal information. 
Notice you want to turn on 2-step security (2FA)? If you want you to press Set Up 2FA, then click Skip for now. You will then be redirected to the Dashboard page of the Brave Publisher Program (the management interface for Brave's content publisher).
STEP 3: ADD WEBSITE TO BRAVE PUBLISHER PROGRAM
At Dashboard => Add Chanel in the right corner to add website / blog / Youtube channel. Here, I will guide you to choose a website. 
Enter the website domain name => Continue
You will be asked to verify your website / blog with Brave. If your website is WordPress, you install the Brave Payment Verification plugin.   Copy the code provided in the red box below, then paste it into the plugin.
Open the installed Plugin and navigate to  Settings >> Brave Payments Verification. Copy the code above and paste it into the Verification Code box  . Then save. 
Return to  Brave Publisher  => Verify page. Immediately after that, you will receive an email notifying the successful website verification.
So you've successfully added the website to the Brave content publisher program. Later, when someone uses the Brave browser and accesses your website, you will receive a BAT token.


STEP 5: SET UP THE PAYMENT WITHDRAWAL THROUGH UPHOLD 
Next, you need to set up a payment so that when Brave pays you a bonus, you will withdraw money. You need to register for an UpHold account (this is a service that helps convert cryptocurrencies into cash and withdraw them to the bank) at:  https://uphold.com/signup
Fill in the registration information and then follow its next steps, this section is quite simple so I do not guide much, you do it yourself.
UpHold will ask you to verify a member so that you can withdraw money as well as require 2-step security via the Authy app. You need to download the Authy app to receive a verification code each time you log into UpHold. After registering and verifying membership, your Uphold account will have the admin interface as below:
You return to Brave Publisher's Dashboard => Connect to Uphold
Click Authorize
shortly after, the connection status will indicate Connected . Click the  Change button to install the currency you will convert from the BAT coin to. I will give priority to USD.
STEP 6: REDUCE COIN FROM UPHOLD AND WITHDRAW TO USD
Once you have USD or BAT token, you can withdraw to UpHold wallet. The money in UpHold wallet you can use to transact through 4 types of cards: BTC card / Euro card / USD card / XAU card.
You can withdraw money or convert to other coins like BTC, XRP ... Then from BTC, XRP, ETH ... you can transfer to Remitano. If you do not have a Remitano account, you can register here: https://remitano.com/ . One of the most prestigious bitcoin exchanges today.  
Summary:  With the current growth and benefits for internet users, Brave browser is definitely a breakthrough and will be in the top 10 browsers of 2020. This is the browser that saves you a lot of time. more time and also a good money-making opportunity for you in 2020. 
Good luck.