The statue Kol. Sungkono at Tugu Pahlawan Surabaya
The battle of 10 November 1945 was a historic milestone which cannot forget form history of independence struggle of Indonesian people. In this battle involved many elements of society, one of them was Sungkono. A young man former member of Pembela Tanah Air (PETA)- Defender of Homeland force and person who ever involved in incident of uprising of seven ships in 1930 (1). Sungkono joined with Badan Keamanan Rakyat (BKR) – People's Security Agency and in 4th September 1945 he was appointed became Comander of BKR for Surabaya and appointed as Colonel which has responsibility for safety and defense of city.(2)/p>

Placard which consisted a brief story about struggling Kol. Sungkono, which placed below the statue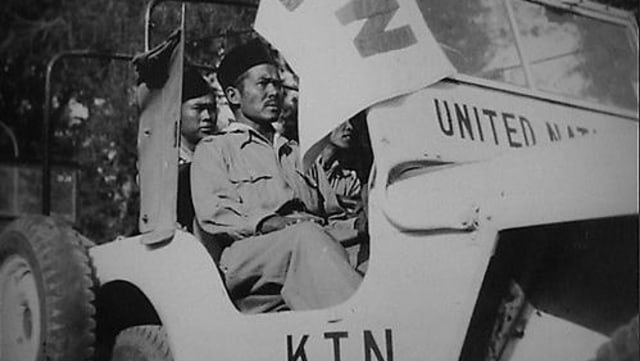 Colonel Sungkono. (Photo : Dok. gahetna.nl)
Preparation of Surabaya City Defence
After he was appointed became of BKR commander of Surabaya, Kolonel Sungkono divide his troops to 6 sectors :
Kaliasin sector
Baliwerti sector
Tembaan sector
Sambongan sector
Gembongan sector
Peneleh sector .
Each sectors consisted as two Company tropos (more less 200 men), beside of the main duty to maintain security and defence of city, Colonel Sungkono also lead task to disarmament of Japanese troops in Surabaya. The incident of disarmarment was indicated with shootout between BKR with Japanese troops at headquarters Kaigun in 2 october 1945 and then this commander of Kaigun accepted to give Japanese troops weapons to youth partisan of Surabaya. In 15 October 1945 BKR headquarters was established at Pregolan street, Surabaya, this place was used to gather of all of Indonesian partisans from Surabaya and East Java.
Since the British army landed in Surabaya on September 25, 1945, many events occurred between BKR, Surabaya youth against British troops. Starting from the events of the incident of Captain Huijer and the killing of Brigadier General Mallaby in Surabaya, it triggered the emergence of an ultimatum for Indonesian fighters to surrender their weapons to the UK, no later than 6 am on 10 November 1945.
On 9 November 1945, the BKR headquarters was crowded with fighters and youth. On that occasion Colonel Sungkono gave a speech in front of a crowd of people at the BKR headquarters.
"Ladies and Gentlemen, I want to defend the city of Surabaya ... Surabaya cannot be released from this danger," said Sungkono in his short speech, as quoted from Surabaya 1945: Sacred Land. ; but I will defend the city myself, " He said.(3)

Military indentity card belong Col. Sungkono, signed by Liutenant Gen. Soedirman.
Falling Down of Surabaya
After surviving for 21 days maintaining the city of Surabaya, the strength of the British army could not be dammed by the BKR and the youth of the Republic of Indonesia, and Colonel Sungkono was forced to withdraw to the city of Mojokerto. At that time his position had been raised to be the Commander of the Narotama Division and based in Mojokerto. and then be appointed as the Brawijaya Division Commander or the first Comander of Military Regional Brawijaya. (4)(hpx)
1. Irkhul Luklui, Avara, e-journal pendidikan sejarah volume 6, 2 Juli 2018
2. Ibid.
3. Mengenang Sungkono, Pahlawan Pertempuran Surabaya yang Terlupakan, Kumparan.com, 10 Nopember 2018
4. Berbasis di Mojokerto untuk Rebut Surabaya, radarmojokerto.jawapos.com, 27 September 2017