This month was quite busy for our team, thus we are extremely excited to share the results of our teamwork!
Node version updates
There were two of them, so let's start with the one that was conducted earlier.
Our team has successfully updated our BNB Smart Chain (formerly Binance Smart Chain) shared and dedicated nodes to the latest version of v1.1.8, ensuring that our users are getting the best product node provider market can offer to them. We continue to support and maintain the stability of our BSC-related products so dApp developers and enterprises can still get 100% availability and their projects are up and running.
Another huge step for GetBlock is updating our Huobi ECO Chain (HECO) nodes to Geth v.1.2.2, ensuring that access to this public blockchain for developers remains stable. The needs of dApp developers working with different networks are enlarging every day, so one of the top priorities of GetBlock's team is to overseer the vast amount of our supported networks, carefully implementing emerging updates to react to our client's needs at a lightning speed: we are succeeding in it as for now.
An important milestone
During this month our data analysts spotted the increased activity over GetBlock's Polygon shared and dedicated nodes. The numbers tell us that different 40 decentralized applications have addressed our company to provide access to the Polygon (MATIC) network using different types of our nodes - and that is an undoubtedly remarkable number. According to it, we can confidently say that our team has the trust of a serious number of Web3 developers because of the quality of our product, reasonable pricing that we offer, and support that GetBlock provides at every step of using our nodes.
We might also point out that the natural growth of developers using Polygon's API daily has drastically increased from 50 in Q1 2021 to 900 in Q2 2022! The reasons are quite clear: multiple access methods (JSON-RPC and WebSockets), 100% uptime suitable for both R&D and Polygon-centric businesses, and the fact that GetBlock's Polygon nodes can easily handle the serious workload.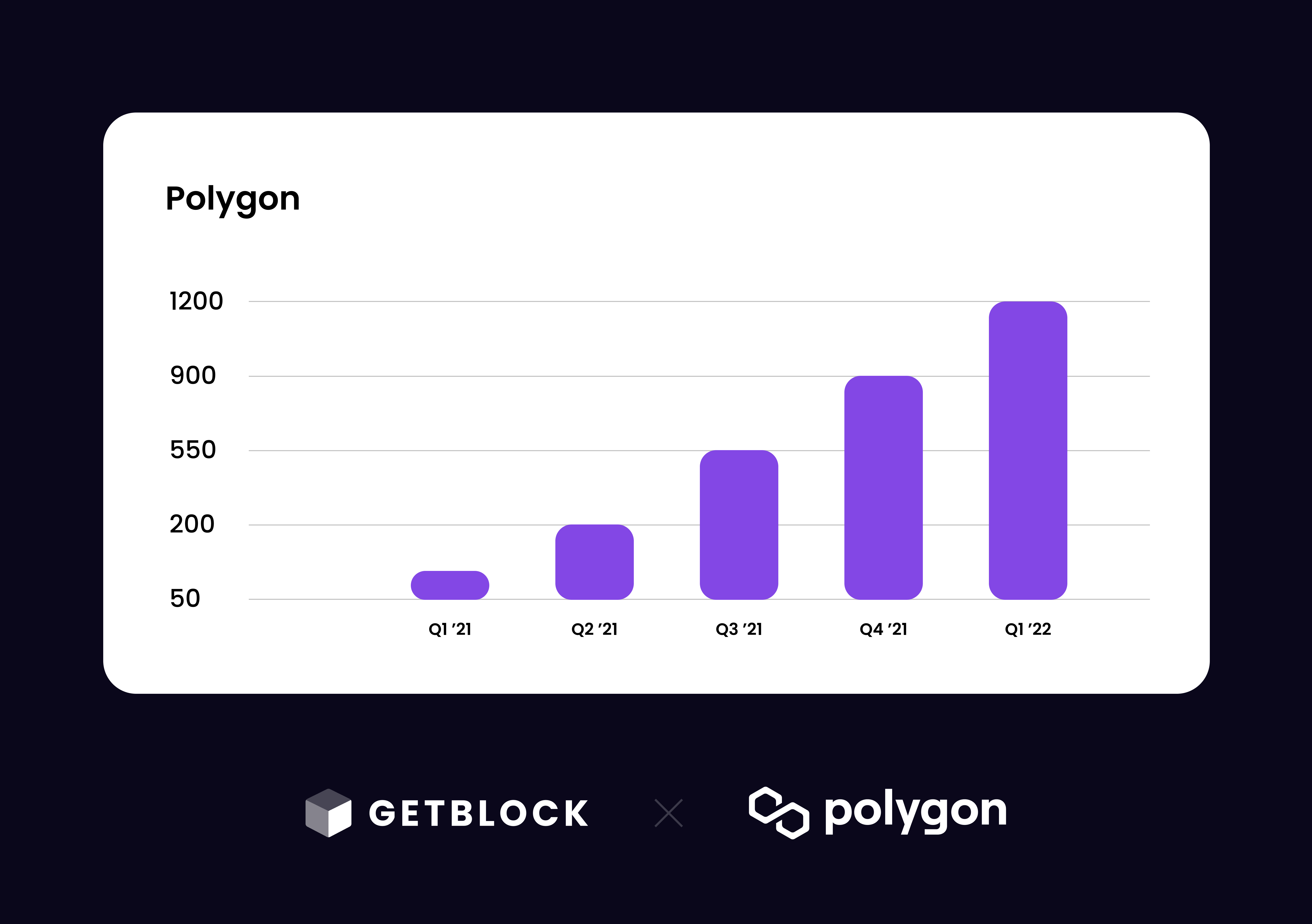 To sum up, this trust is fair-earned, as there is no bigger concern for us than the comfort and the vast number of services provided to our clients.
Polygon holds the third place in smart contracts networks competition by the number of active protocols with 180 different dApps, so if you are considering joining them as a developer or as an enterprise - please, feel free to contact us through our website to get access to our shared and dedicated Polygon nodes.
Solana Network comes to GetBlock
After serious work conducted by our developer, we could proudly announce: from mid-February GetBlock is supporting Solana (SOL) shared and dedicated nodes. The latest v1.8.16 version of Solana's software, fast and cost-efficient connection alongside with 99.99% availability is what you can get if you are eager to join the Solana dApps developers family with a little help of GetBlock - and do not forget about one month free for our Solana's 3 months dedicated nodes package.
Starting its testnet only in 2020, Solana already dragged tremendous attention - the history of successful fundraisings and its token increased by more than 100x provest that. Speaking about dApps built on that blockchain, we already see 45 different protocols, which have NFT-marketplaces, on-chain games, and different DeFi projects. Due to its Proof-of-History (POH) consensus, which represents the top tech solution for blockchain scalability dilemma, we can surely say that the number of enterprises and developers intending to build their dApp on Solana will only increase in the future, so GetBlock is more than happy to offer them the power of Solana blockchain with 70,000 TPS alongside with attentive customer support and constant updates of our products.
Other goals fulfilled
Alongside Solana, nodes of Terra (LUNA), Avalanche (AVAX), and Fantom (FTM) were added to our platform, and small hindsight for our users - we will highlight the details in our blog, so subscribe to our Twitter not to miss any important updates regarding it. Furthermore, according to the marketing strategy, we are enlarging our partnerships, but as for now we can't tell you more, so again, follow our social media not to miss anything. As for the last, do not forget that we will host an AMA session with Exscudo on March 9th and the best questions will split the 200 $USDT prize pool. Details are here, so stay with us and be the first to read about new thrilling updates of GetBlock!


Originally published at https://getblock.io.
Twitter: https://twitter.com/getblockio
Discord: https://discord.com/invite/T2hbgqfEnv
Reddit: https://www.reddit.com/r/getblockio/
YouTube: https://www.youtube.com/c/GetBlock
LinkedIn: https://www.linkedin.com/company/getblock/
Medium: https://medium.com/getblock