Not playing splinterlands? Make sure to use my referral link. Thanks
This is a HIVE cross post.
Hi, and welcome to my first blog post about this neat game i found out about back in August called #Splinterlands!
It reminded me of a card game i used to play when i was in high school (way back in time 😃) all Magic: The Gathering. Played it for like 5 minutes, and i am totally hooked ever since.
Anyways, that is not what you came here for when you saw the name of this post, so here we go!
As most of you veteran players out there know, is that if you want to get to higher divisions in you need more power in order to get there. For the newer players, a brief explanation:

To get that power up you will need more or more powerful cards. And to get them you either need to play the game and open reward chest or you can buy or rent them. And to do that you will need the used in-game currency named DEC (Dark Energy Crystals). Now i will explain how i transfer my hard earned cash into this beloved DEC to rent and buy cards (or keep them for the SPS Airdrop) to reach the higher Tiers.
What you will need:
Coinbase account or a credit card (this can be used to skip the first step)
An account on either Binance or bittrex
The HIVE keychain plugin for your browser
First: Cash to Crypto
First you will need a platform to exchange you cash to crypto. (This step is for the people who don't have or use a credit-card). The platform of my choice to do this is Coinbase. Why, because you can buy crypto here through iDeal (a payment solution used in the Netherlands, and completed within 5 minutes, instead of days like a SEPA transfer) or with PayPal. And because Binance cancelled direct iDeal payments 😢.
On Coinbase i normally purchase Stellar Lumen (XLM), because Stellar has a very small transfer fee, and is incredibly fast for transferring assets. If you follow the directions on Coinbase for purchasing crypto, you should be good to go.
Second: Stellar Lumen swap to Hive
After you have obtained some Stellar Lumen, it is time to get some Hive. This because Hive can be directly swapped in Splinterlands for DEC. Hive can be bought on several exchanges like Binance or Bittrex. (Referral links are down below, in case you don't have an account on one of these exchanges).
Once you have send you Stellar Lumen to one of the exchanges, you there need to trade them for Bitcoin (BTC) and with that BTC you can get some HIVE.
Third: Hive on exchange to Hive wallet
As you will remember, when you signed up for Splinterlands, you needed to set a username. Well, this user name is also your wallet address for the Hive coins. So this is what we will do now, send the HIVE from the exchange to the HIVE wallet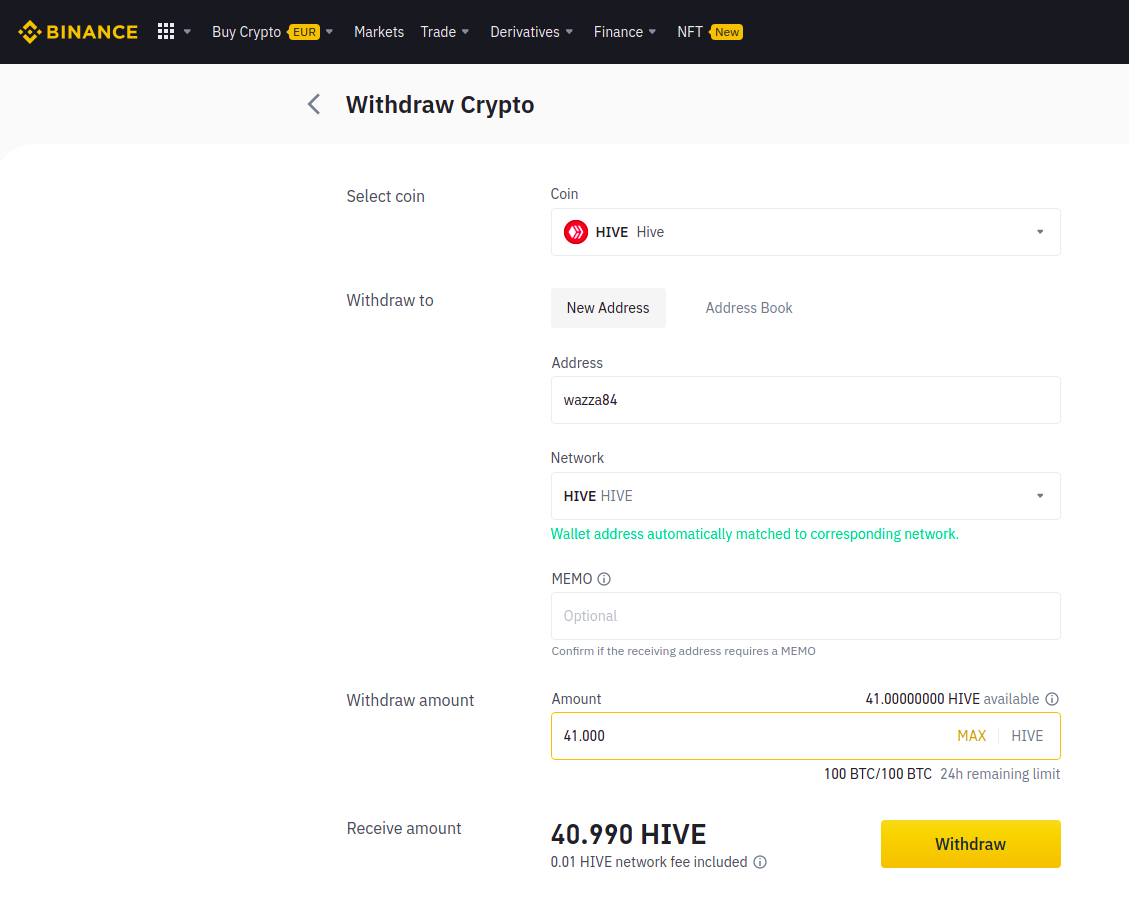 Go to the withdraw section of your preferred exchange and fill in your Splinterlands username without the @ in the address block (a memo is not needed, so confirm any warnings that you have not filled it). Accept the transaction and wait for you hive to be transferred to your hive wallet. This will take around 2 minutes, and can be checked in your HIVE wallet. The url, if you have no idea, will be wallet.hive.blog/@user_name/transfers
Fourth and final: Hive to DEC
Onco you have received your Hive in your wallet, you can easily swap these inside splinterlands. Once you login you can find this swap button under the + sign next to your DEC amount. This will open the swap wizard.

Here you can swap your desired amount of HIVE for DEC. Fill in the amount of HIVE you wish to swap and then click on the BUY DEC button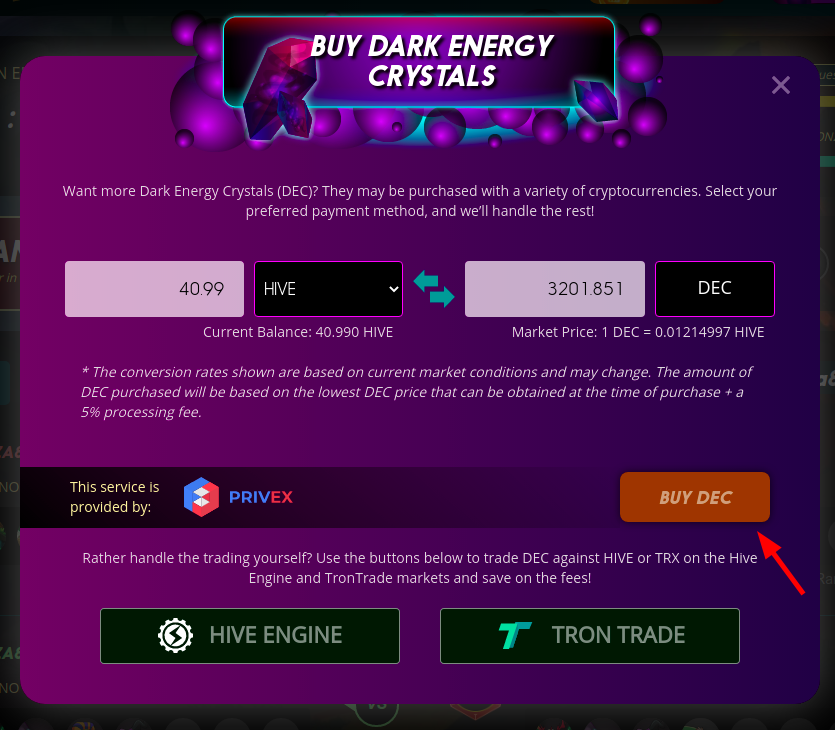 This will trigger the HIVE keychain popup in which you must confirm your transaction.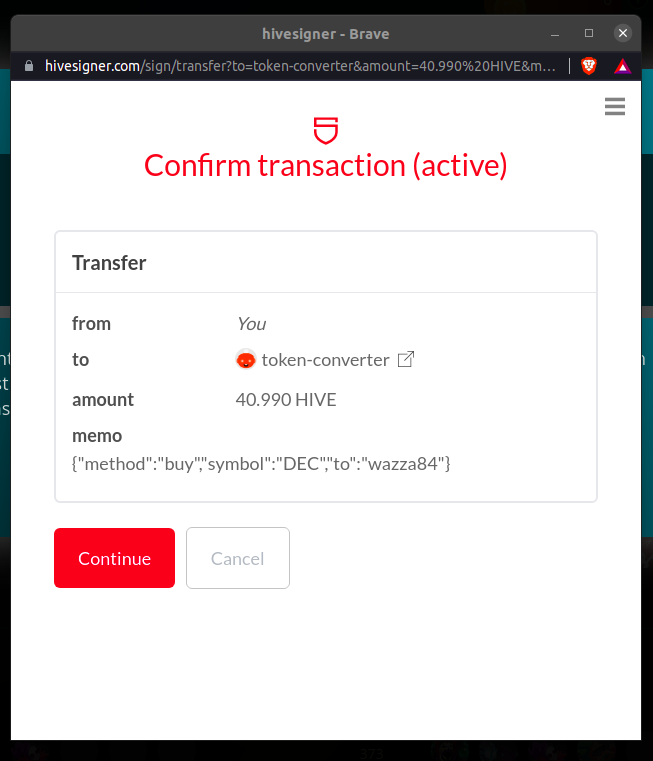 Once the transaction is confirmed, and this will take mere seconds, the DEC will be added to your account.

Now you can get the cards you wanted to up your game, or rent more cards to level up!
If you made it this far, i hope you have enjoyed the read, and that it was of any help for you. For now, enjoy your game of #Splinterlands and perhaps we will meet on the battlefield some day!
Referral links