Velocity G is already the second game of the studio, which is trying to break through the genre of racing games. Unlike the first Turbo Sprint title, the current creation is much more ambitious. From a simple 2D environment, the creators have moved to full 3D. Despite a significant jump in graphics, they are still being carried away by simpler processing, which also has its indisputable advantages. But racing games are not just about graphics, so the authors had the opportunity to do much more important things for the best experience.

However, the graphic page is interesting despite the simple processing, thanks to the visual style that the authors decided to release. For the needs of the game it is fully sufficient and moreover, it can run almost everything smoothly and without restrictions. The authors did not make a big head even with possible graphics settings, which you simply can not find in the game. It's quite unusual at the moment, but for smaller games it's understandable. As I pointed out above, however, the graphics are not essential for indie game and especially futuristic races. What matters is the content and, of course, the gameplay, which I probably expected more than I had.
Velocity G is not in the least trying to come up with anything that would push this genre of games forward in any way. The whole principle of fun is to ride on high speed anti-gravity flying machines and, moreover, in closed tunnels. Such a description would be useful for a really large number of titles already released, which, of course, does not fortune anything. Despite what I have seen in the Steame store, I still hoped that the creators could surprise me with something. And they succeeded. While downloading the game, I moved down the store page a little bit and found that, despite all apparently unoriginal elements, at least a hint of something unusual, and the story. It means that there are no plot and knotted relationships behind the races, but the creators set the game in a particular year for a particular championship. In fact, Velocity G is a competition in gravity races in 2086.

When I first started, I decided to play on the keyboard. Although it is clear that the driver is more appropriate in this case, at least I have tested how this method of control is. Unfortunately, I realized very quickly that when I was playing the keyboard I would not have to try to get at least third place, but rather to get to the finish at all. The sensitivity is really crazy, so even the slightest keystroke meant a crazy deviation of the vehicle from its original track. So I immediately switched to a regular gamepad, which made playing almost easy. Although I felt a little scattered gameplay with him, but with a little practice I can handle it so I could get into medal positions.

The game contains only an offline campaign, so competing with a friend over the network is not possible at all. You will have to do with the mentioned campaign, fast game and multiplayer, in which you can challenge the three of your friends. Of course, it's just a split-screen multiplayer, but it's very welcome. This way of measuring forces is increasingly ignored by developers. Unfortunately, that's all, but at the amount the creators ask for the game, it would be naive to expect more content.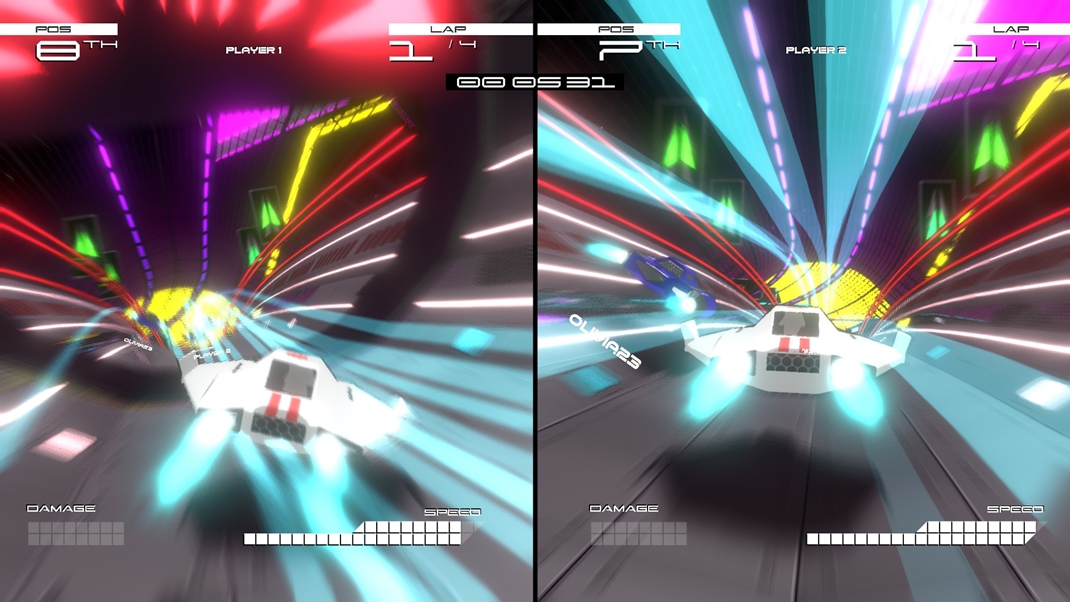 If you wanted to complete your campaign 100 percent, that is to pass all races to the first place, it would certainly take you more than ten hours. Plus-minus some hour according to your skill. The campaign system is just as simple and basically taken from other games. It is divided into eight levels, with each new level you get a new and better ship. With each level there are also new tracks, or new areas in which you will race.

Gradually, the difficulty increases, not only in the form of faster artificial intelligence, but also the design of the tracks. You are more often surprised by the various pitfalls and obstacles that you have to avoid while driving fast. Just at a constant higher speed you will have to fight the accuracy of your movements, as less and more fine-tuned controls will become more apparent. Of course, the game is not just about simple multi-laps. The authors also prepared slalom, in which you have to hit the gates or drag strip, in which you have to achieve the highest speed and make the least mistakes. For each medal position you earn points that have a direct impact on the unlocking of other levels, and thus new ships. However, money for which you can buy vehicle-specific improvements is also very important. Driving, maximum speed and, of course, acceleration can be improved.

Velocity G is a completely standard futuristic race that uses in every aspect what we have seen in several games. Driving on floating machines, in a tunnel and with the possibility of collecting various temporary power-ups or weapons is nothing original and only recycles already established standards. Fortunately, flat gameplay can at least partially save new circuits with every higher level. On the other hand, for the price you get a game that will bring you dozens of challenges for about ten hours, which is not bad at all.