It is remarkable how many common features can have two such incredibly different games. One is a huge hit from a famous studio and a big publisher. The second one is a small and especially unobtrusive indie title from one person. Still, they are very similar in many ways. So if you were impressed by the recent Sekiro: Shadows Die Twice from From Software, because of its difficulty and many boss fights, you might have come up with this game, even though you haven't heard about it yet.

Mechstermination Force is a new work by a Swedish developer named Bertil Hörberg, who is no newcomer. Gunman Clive already has a series on his account, which I strongly recommend if you haven't played it yet. In some ways, this new western action is also based on these simple western events, but there is much more inspiration and despite the game trying to build its own identity, which it is doing, it still leaks clear inspirations from just a few games. near and distant past.

And why the Sekiro? A challenging action where you have to face one challenging boss after another, and learn the best attack tactics to overcome them. This is how we can simply summarize both of these games. Just one also offers a good portion of the story, a piece of the game world and shinobi in the lead role. The Mechstermination Force goes from the opposite end, trying to make everything as simple as possible. Story? An army of huge mosses attacked Earth. They are a threat to humanity, so it is not even time to learn more. You have to run into action and destroy the first enemy. It is followed by more and more and ...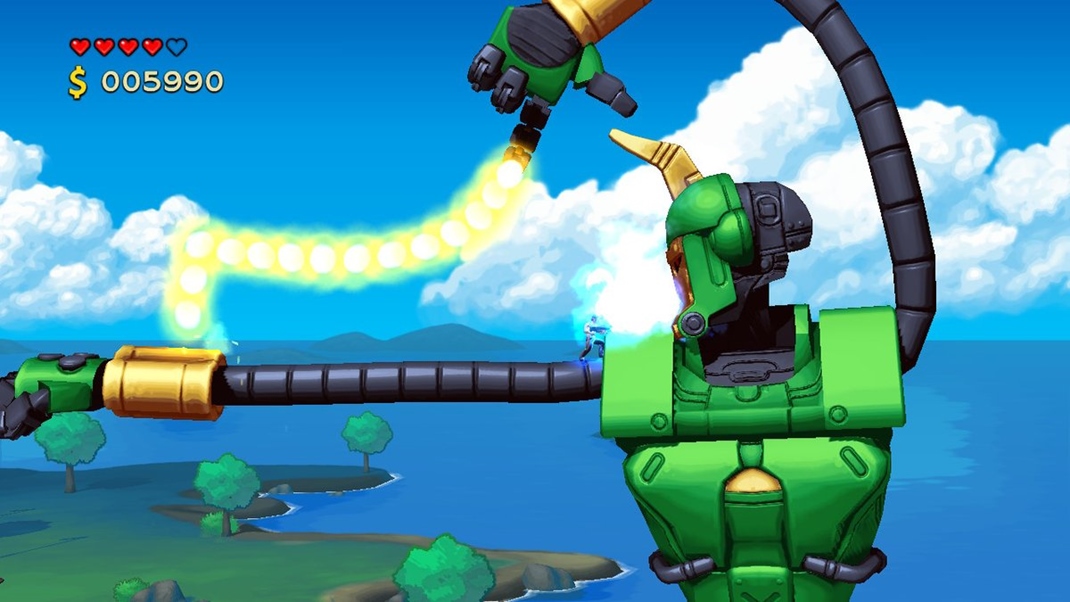 Really the game is not too late with sauces around. Between the individual battles you return to your base, where there are a few characters who will swap a few words with you if they sell you better weapons, but these are really just a moment's stops. Your task is to go to the next fight as soon as possible. Alternatively, if you don't feel like it (in other words: you need to grind money to buy better weapons for a stronger enemy), you can go back to the previous ones to help a little better gear.

Before playing the Mechstermination Force, you have to realize one crucial fact. Although the game is part of the genre box of 2D platform actions, it differs from the traditional ones by the fact that this is one big boss rush. Just like Furi and other boss rush games, there are no traditional levels where you would go from some point A to point B. Here is chopped one boss after another, from the simplest (rather training) to the final. Everyone is demanding in a different way, everyone will check you in a different way and there are 14 in total. Going through the game can take you about 5 hours, but it depends on how you are doing.

Later, when you're in the game, you can go through it in an hour. But the condition will be better weapons and better skills. During the game you will learn some useful options, such as jumping or climbing metal surfaces. In addition, you can improve your health for the collected money in two ways. You can buy temporary hearts for little money, but they only last one try. Or you invest significantly more for a lasting increase in life. And then there are a variety of weapon upgrades that you can buy and give you more chances of survival. They bring with them various effects. For example, the beam may bounce off some surfaces, you may have branched projectiles and so on. You can switch between them at any time to get the effect you need.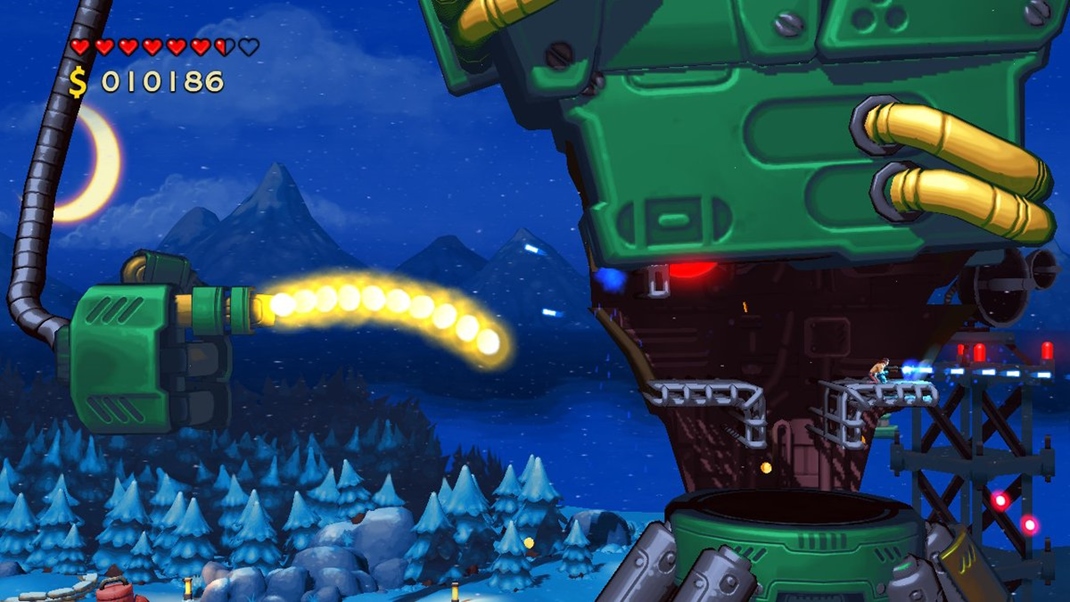 Each battle here consists of several phases. You are fighting against huge machines, so it is only logical that they will gradually change their form. As they change form, they reveal, but at the same time, prevent other vulnerabilities that you need to focus on. You must also take into account that enemies are not passive, but actively attacking you with a huge number of weapons. The design of the enemies themselves is very good and everyone will really check you out and give you a hard time. The arenas in which you are fighting them are often changing, so you have to count on that. It's hard to pick the best boss, as everyone really has something to wear. However, the hat down in front of the last design will take you through real hell.

Graphically, the game is also not bad, but you have to take into account the fact that it is still only a smaller independent project. And while the visual style itself is not to be discarded, the variability in the graphics of individual environments, where a lower budget is likely to be reflected, is worse. But as far as running the game on Switch, the game holds 60 fps at Full HD on TV and 720p in handheld mode. The sound is also a bit more unimpressive than the game deserves, which is a bit of a shame.

Do you like the challenge and do not interfere with the fact that the game lacks the standard levels, but it sprinkles on you one boss after another? Have you enjoyed a classic Constra, Metal Slug or a successful Cuphead? If you answered yes to these questions, the Mechstermination Force has a great chance to reach you. The game is also very helpful if you have someone else to answer both questions positively. It offers a catchy local cooperation for two players, when it is a bit easier, but on the other hand, the action on the picture is even more confusing. The game does not contain serious mistakes, rather only various minor flaws, but despite them is still very decent and for the few hours will entertain and torment.