Castlevania is back. Of course, an extremely cheap subtitle, but Bloodstained: Ritual of the Night captures the best. The gust of the past is a symphony of the night for a series of Gothic horror films that attracts animation and bites with sharp teeth into the throat. He sucks until he has enough and you exhausted do not fall away. Action platformers with subtle hints of unobtrusive RPG elements and significant non-linearity do not grow on trees. I mean the average ones, but let's not look at them. So: Castlevania is dead, welcome Bloodstained.

Bloodstained: Ritual of the Night is the spiritual successor of Castlevanie. It is not just an end in itself, but Koji Igarashi (Castlevanii from Symphony of the Night) participated in his work. Although it has been five years since we saw the last Castlevanie, it still has enough fans. Why Konami won't reach for one of his most successful brands again, will remain a secret. Now we don't mind. After the positively received and pixel-art Bloodstained: Curse of the Moon we have seen a sequel that will also appeal to opponents of crazy retro freaks.

The story is not an important part of the game and its presentation is not a juggling gem of gameplay. But here it is, my B's parameters and a more serious plot doesn't necessarily have to be a step next to it (Lord of Shadows is proof of that). Two-dimensional adventure prides itself on a pathetic quest for saving the world. In the past, in a strange experiment, two children managed to implant demonic crystals. The main protagonist, Miriam, is one of the children and wakes up after ten years to a world that has once managed to get rid of the hellish forces, but they are here again. Gebel, the second child of the two, will speak into the story as well, but there are no surprising moments that you wouldn't be able to predict.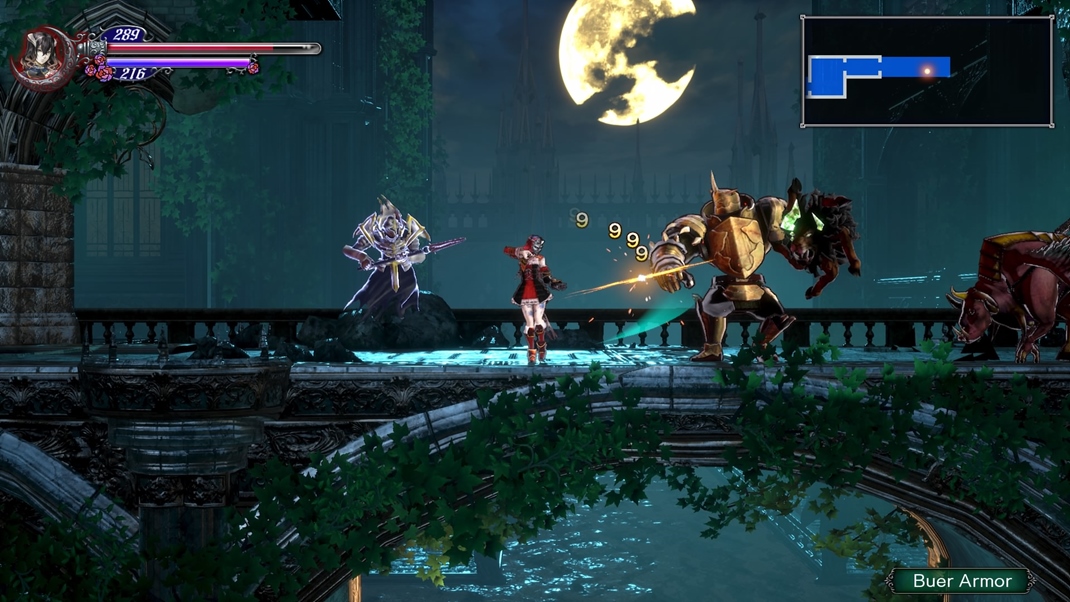 The plot is narrated through dialogues that take place in a traditional way: the two characters on the sides of the screen speak a few of their words, very pathetic, and after a few exchanges they go on. Without catching you or taking something from it. Occasionally, I found myself not even aware of the dialogues and the skip button became a redemption. And this can end the negative murmur, as the traditional model of metroidism comes on the scene. This time with great gameplay that promises hours and hours of fun.

The basic idea of ​​Bloodstained is ridiculously simple: Miriam runs, jumps, robes, mows, shoots and everything we do in metroidvania games. And it's fun, addictive, captivating, with new and new elements that you gradually unlock for the collected crystals, open new locations, or grind on respecting enemies to improve your skill and collect resources. What is important is diversity, which proves to be a fundamental and differentiating element that distinguishes Ritual of the Night from competition. Everything is just as demanding, although deaths will not be avoided and you will die many times after the sweating of the sweats, which will return you to the last saved position. However, do not expect any rogue-like madness, the exitus penalty does not irritate a player's stamina other than returning to a save point and losing his experience and items since saving.

The game basically takes place in the mysterious castle and its surroundings, but there is no monotonous environment. Just because you can find everything from spooky dungeons, underground caves, religious shrines, steampunk libraries, underground alchemical laboratories, to lava or ice caves or sand areas. Everything is on one huge map that you have to discover. You can't get to some places right away, even though you can see that the road leads through that door, but first you need to get the skills you need and gradually open the various shortcuts. Backtracking is not a necessary break, and even respecting opponents do not degrade fun. In addition, they are specific to each environment and very bizarre. Their number goes over a hundred and describing them is unnecessary to impossible.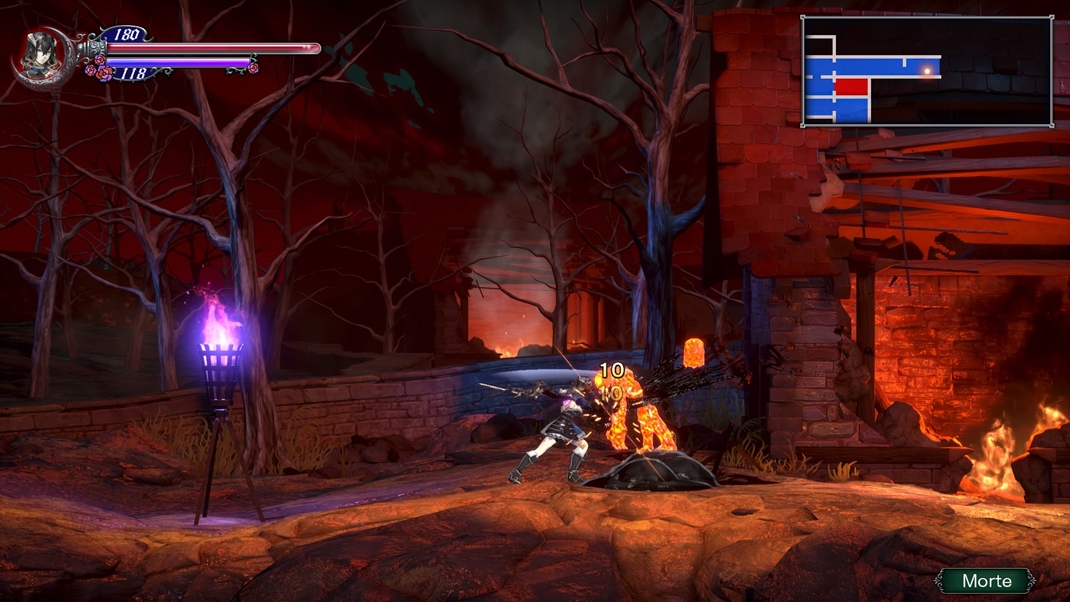 RPG elements are also represented here. With the demons destroyed - and indeed it is sometimes a really bloody massacre, blood spurts streaming - you gain experience, level up and as you move up a level you will improve statistics, health and mana. Nothing overworked, but motivating enough. In addition, there are weapons with different characteristics and different uses. It is nice that a two-handed sword gives enormous damage, but with daggers Miriam is more agile and faster. A simple principle changes the way you play and it is up to the player to apply. You can also refresh your approaching enemy stereotyping with a new approach. You get a new weapon (swords, daggers, maces, sticks, whips, guns) that is really good, but with the use of it can turn into unusable scrap in your hands. The challenge of thunder.

To make matters worse, special attention deserves magic crystals, which you may be getting too often, sometimes it is difficult to choose. They are divided into offensive, manipulative, passive, and you can recruit comrades to help you with some enemies. The combination of just activated crystal fragments redefines your fighting style, and incorrect combinations that are incompatible with how you play make it unnecessarily difficult for you to play. Exploring and opening up new options will take time, but again it's more fun than groping over the right configuration.

Now nice to the kitchen, there is a kitchen, here apron and we are going to cook. The Bloodstained must not miss something unusual Japanese and in this case it is cooking. Not only does the food increase your selected attributes, so it's not just fun, but getting raw materials and, ultimately, cooking itself seems to be substituting for mapping bonus items. You do not have to pay attention to it, but it would be a shame to forget this element. The content you find in your virtual cookbook is rich enough not to slip into repetitive guttering. Later, you will search for specific enemies to provide you with ingredients for the recipes. This is another nudge to make your game more enjoyable, enjoyable, and not just fly over.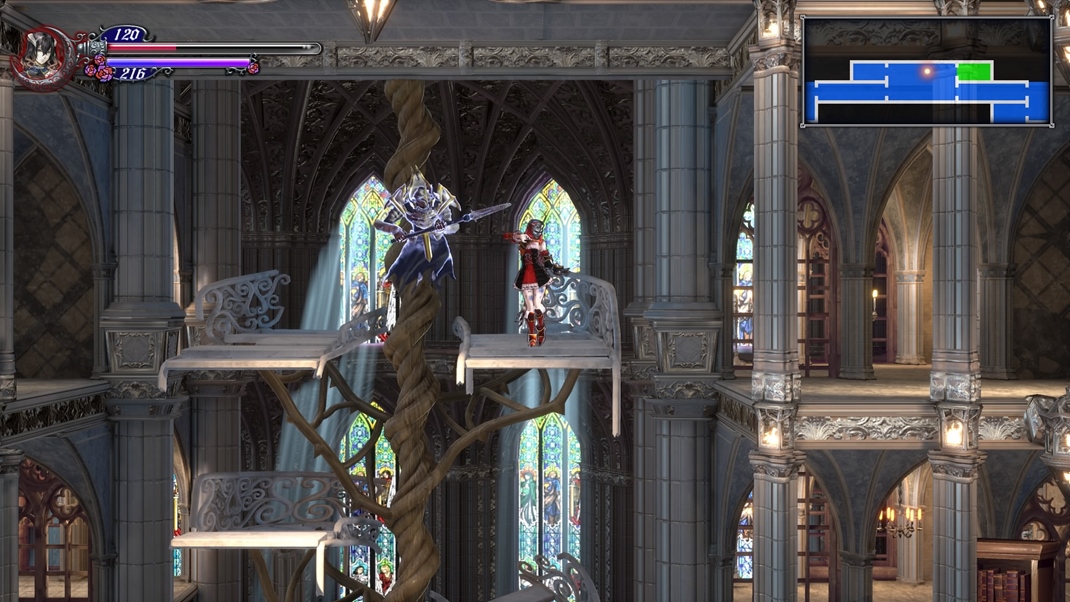 As you can see in the pictures, the processing of each screen is amazingly detailed, specific to each environment, constantly changing and offering a variety of moods. Bloodstained doesn't offer as much splendor as Trine and the more recent Ori or Unravel titles, but still has enough space for beautiful scenery without a bit of a pixel-art stereotype. Motion animations traditionally do not have so many frames, are not so sophisticated, running is unrealistically accelerated, but it all belongs to the color gameplay and atmosphere. English dubbing is immensely artificial, but there is also Japanese, to which you definitely switch the game. Music is thematic for every environment and unobtrusively completes the atmosphere of a slightly Gothic horror.

Bloodstained: Ritual of the Night is a game that gets easily into your blood, you understand what it is about, but managing it takes hours and hours of walking through the labyrinths. The constantly new environments, enemies, weapons, abilities and general news that developers dispense throughout the game, create one of the best metroidvings of games. Everything works as it should, discovering new roads and uncovering the entire map attracts you to a daily ritual where you spend an honest hour with the game and regret not a minute. Atmosphere and gameplay are perfectly ground so that you can immerse yourself in the bloody massacre at any time and enjoy at first glance a shallow but in fact elaborate arcade. Gaming nirvana at a crazy pace and with good old gameplay.