YFI is one of the best-performing coins in the market at the moment, with the proposed tokenomics changes serving as a catalyst for the rally.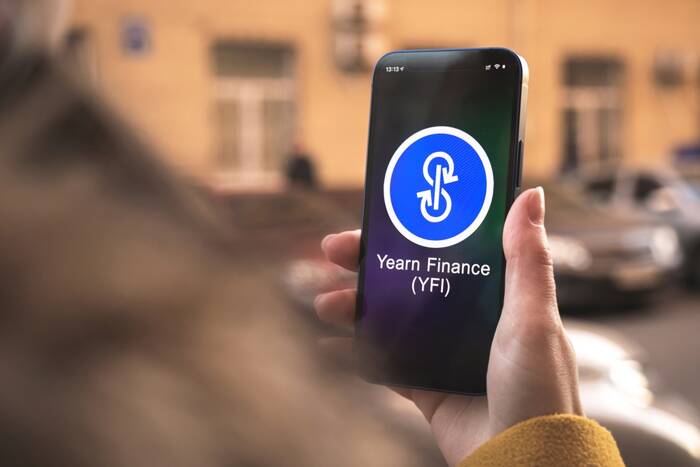 The broader cryptocurrency market is slowly recovering from the bearish trend that has affected it in recent weeks. Bitcoin is trading above the $48k level again after dropping towards $45k yesterday.
Yearn.Finance's Team Wants to Change the Tokenomics
Yearn.Finance is one of the best-performing cryptocurrencies in the market at the moment. The coin has added more than 10% to its value over the past week, despite the broader market underperforming during that period.
Formerly known as iEarn, Yearn.Finance is an aggregator service for decentralized finance investors. The platform uses automation to allow investors to maximize profits from yield farming. The primary goal of the Yearn.Finance team is to ensure that the DeFi services are available to investors who are not technically inclined
The team proposed a change to the project's tokenomics. According to the proposed changes, a portion of the YFI tokens would be purchased from the open market using Yearn's Treasury. The repurchased tokens would be distributed as rewards to YFI holders who are actively involved in the community's governance.
The team intends to introduce four different methods to reward holders for locking up their tokens. Furthermore, the proposal seeks to grant Yearn Developers the ability to roll out the features accordingly. Finally, the proposal aims to introduce a restriction on Yearn Governance. As such, only YFI tokens staked in phase 1 or locked in phase 2 would be eligible to be used for voting.
YFI Rallies Following Tokenomics Proposal
The value of YFI has been increasing since the proposal for the changes in tokenomics was introduced. Over the past 24 hours, YFI's value has increased by more than 4%, and the token is now trading above $36k per coin.
The changes in tokenomics would favor the YFI token holders as they would earn more rewards for staking and locking their coins. They would also gain rewards for actively participating in community governance.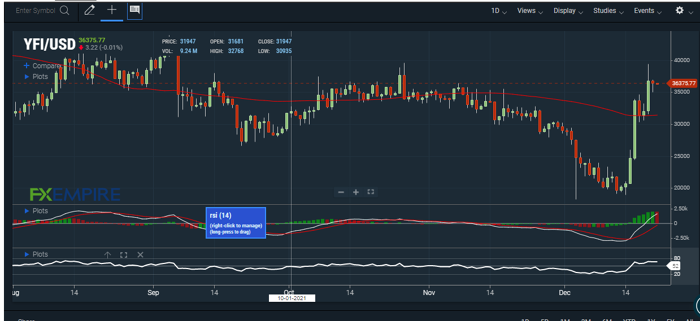 YFI's RSI could soon enter the overbought region. Source: FXEMPIRE
YFI's technical indicators show that the token is currently performing excellently. YFI is trading above its 100-day simple moving average at $31,407. The MACD line is above the neutral zone, indicating a strong bullish trend from the cryptocurrency. Furthermore, the RSI of 67 shows that YFI could soon enter the overbought region.
If the current market momentum is maintained, YFI could soon top the $40k psychological level over the coming hours.