The anonymous BSC wallet split the transaction to buy the tokens, initially acquiring just 218,000 FLOKI coins.
Shiba Inu (SHIB) and Floki Inu had have stolen the show in the last few weeks due to its growing popularity as meme coins across the cryptocurrency sphere. Now, eyes are on the FLOKI token, which had seen some interesting moves aside from recent Elon Musk's tweet that boosted its prices to pocket gains over 20%.
Today, according to BSCScan, an anonymous Binance Smart Chain (BSC) whale seemed to be interested in Floki coin after purchasing around $3.5 million worth of the token. As of press time, the wallet contains over 12 billion FLOKI total. The transactions were split into small ones with a small-time slot of just 24 hours in between.
Interest Towards The Meme Coin Increases
The anonymous wallet initially bought around 218,000 FLOKI coins, but then it added 10.5 million FLOKIs. But, of course, the transactional activity didn't stop, and moves were bigger, with the buying volume increasing to eight billion FLOKIs. The maneuver comes in the midst of the price testing the $0.00028, according to the latest quote provided by Poloniex.
Metrics from CoinMarketCap also BSCScan that its market cap stands at around $2.64 billion, with a 24-hours volume of over $179 million. The self-reported circulating supply of FLOKI is around 9,413.53 billion FLOKI, data showed.
Will FLOKI Resume The Bullish Bias?
Although the price had retraced since the all-time highs hit recently at $0.00040, the price exchanges hands near the 50-period simple moving average, which lies at $0.00024. That said, such a level could provide buying demand for FLOKI to skyrocket further and eventually keep forming new higher highs and higher lows.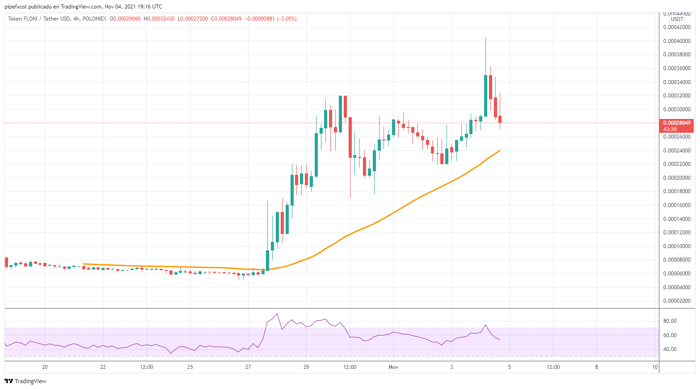 However, if the 50 SMA gives up in favor of the sellers, doors will open for further declines that allow a lower leg to reach the $0.00016 level. Still, if the price picks up momentum and breaks above the highs of October around $0.00032, FLOKI is poised to retest the all-time highs and pave the way to skyrocket further.
Overall, FLOKI is stronger than the "Dogecoin killer" in terms of price, but its market cap remains lower than Shiba Inu, putting it at a lower place in the ranking of cryptos globally.
Of course, the trend could change, given the astonishing popularity that SHIB had gained in a few months recently, so that effect could be witnessed in the same way by FLOKI if more endorsers appear on the scene.