Ethereum, Polygon and, Decentraland are ERC-20 based tokens to watch out for this year.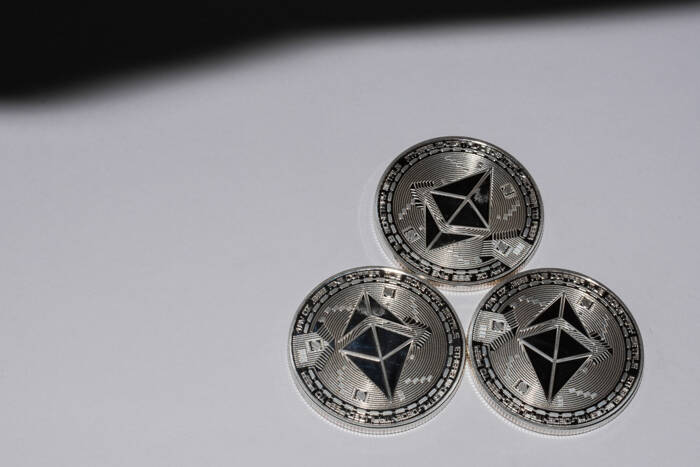 2021 was undoubtedly the year the crypto industry matured. It saw the launch of new coins and exchanges as the sector recorded more investors than in previous years. Above all, it was the year we witnessed crypto adoption en masse.
While Bitcoin was the focal point of the market throughout 2021, hitting an ATH of $69k in November, altcoins' dominance also recorded some level of substantial gains.
Surprisingly, many Ethereum-based coins, such as ETH, outperformed BTC in the market, causing its dominance to decline from over 70% to the current level of less than 40%.
What is Ethereum Blockchain
Ethereum is a decentralized blockchain with smart contract functionality created in 2015 by Vitalik Buterin and two other programmers. Bitcoin has been positioned as a digital currency and a store of value, on the other hand, the Ethereum blockchain is a platform for hosting decentralized applications. 
This puts it in the nucleus of Web 3. According to the state of dApps, there are almost 3000 decentralized applications on Ethereum. 
Although the crypto market is in a terrible bear phase currently, indicators suggest that altcoins, most especially Ethereum-based cryptos, will produce strong returns for investors this year amid a bull run. 
Here, we bring you the top 3 Ethereum-based coins to watch out for in 2022:
Ethereum (ETH)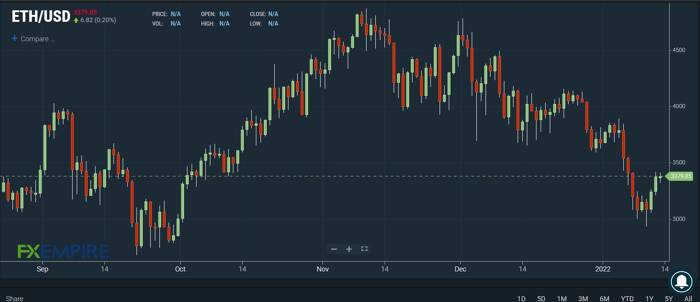 Source: FXEMPIRE
We can't talk about Ethereum-based coins without discussing the world's second-largest cryptocurrency by market capitalization, Ether. ETH had good growth in 2021, gaining more than 500%. It began 2021 at $733 before soaring to an A.T.H. of $4.8k in November. As earlier mentioned, its growth outpaced Bitcoin throughout all the quarters of last year.
Although it currently trades below $3,500, the major altcoin still has room for growth. Ether has a greater relationship with DeFi and the metaverse than other coins, which will ultimately help boost its price in 2022. 
The chain's highly-anticipated ETH 2.0 will also play a massive role in the crypto's value. Though the date of the implementation remains unknown, the upgrade will make the chain more scalable, less energy-intensive, and have reduced gas fees.
If this goes as anticipated, it would give room for more projects to be built on the network thereby boosting its price performance for the year. The asset is currently trading for $3,376 and has a market cap of over $400 billion.
Polygon (MATIC)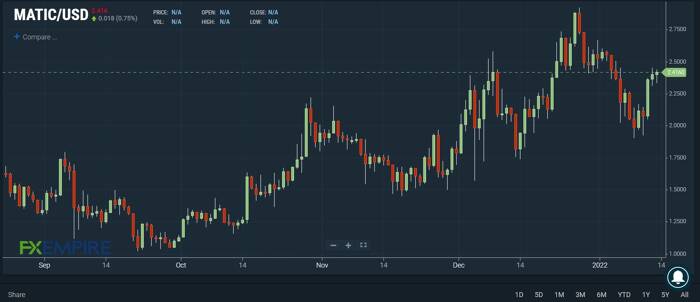 Source: FXEMPIRE
Co-founded by India's crypto billionaires Sandeep Nailwal, Jaynti Kanani, and Anurag Arjun, MATIC is the native currency of the Ethereum Layer2 scaling solution Polygon. It is a multi-chain ecosystem integrated into Ethereum to solve high gas fees and make the blockchain interoperable with other networks.
MATIC was amongst the top-performing cryptocurrencies of 2021, posting gains of more than 11,026% in one year. The crypto was valued at 2 cents at the beginning of the year, and in less than six months, surpassed $2, thanks to its increased activity on the network.
As of press time, Polygon is trading for $2.40 and it is the 14th largest crypto asset by market cap with a valuation of over $15 billion.
Decentraland (MANA)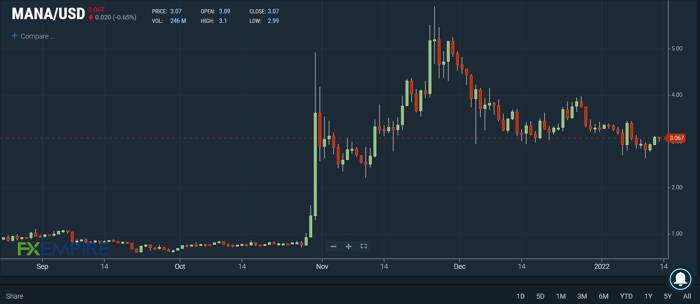 Source: FXEMPIRE
What makes Ethereum a superb network is the diversity of platforms running on its ecosystem. One of the best performing tokens on it is MANA, the native token of a virtual reality platform, Decentraland.
On the platform, users are able to buy virtual lands where they can build, navigate and monetize. The platform was created by Ariel Meilich and Esteban Ordino and launched in 2019 after an ICO in 2017. It became open to the public in 2020.
Decentraland has two tokens, LAND, a non-fungible token, and MANA, an ERC-20 Token. Users can use MANA to buy wearables, avatars, names, etc., on the platform. 
MANA was one of the best-performing assets of last year, with over a 2000% increase in value. Given the renewed interest in NFT and metaverse-related projects, it doesn't look like the growth will stop. It is currently valued at $3.09 and has a market cap of over $4 billion.
Uniswap (UNI)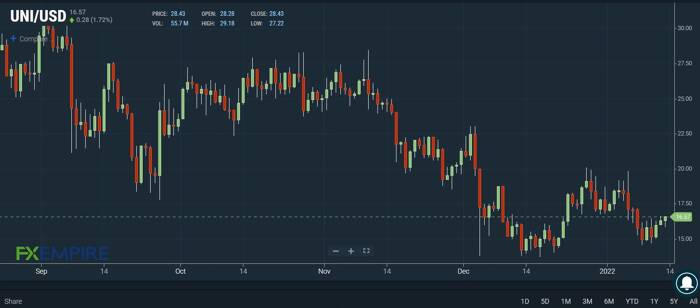 Source: FXEMPIRE
Uniswap is a decentralized exchange on Ethereum where users can swap ERC-20 tokens. It uses an automated market maker to enable crypto swapping without an order book. 
In this model, the liquidity providers deposit their tokens into smart contracts. The liquidity pool automatically determines the price quote allowing the providers to earn 0.3% of trading fees. 
Hayden Adams founded the protocol in 2018, and it has grown to become one of the biggest DeFi platforms. UNI is the governance Token and was introduced through an airdrop in September 2020. Token holders are the decision-makers on the platform and vote through their tokens. 
At the start of 2021, UNI was worth less than $5, but by December, it was $17. This growth pattern only goes to show its long-term value. Even though it has dropped recently and currently trades at around $16, it's still one of the top 25 Cryptocurrencies. It has a market cap of over $10 billion. 
Chainlink (LINK)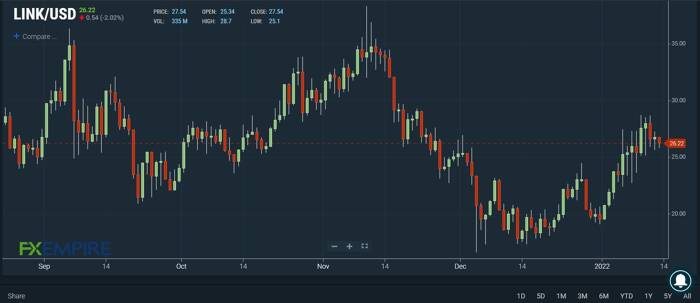 Source: FXEMPIRE
Chainlink is an oracle network created by Sergey Nazarov in 2017 to improve Ethereum smart contracts by integrating real-world data into online systems. Simply put, Chainlink is an Oracle data provider that uses LINK as its native currency.
The use of smart contracts is one thing that drives up the value of LINK. The more smart contracts are used, the higher the value of LINK. Although it is currently consolidating between $44 and $48, The crypto's value has doubled from a year ago, hitting an A.T.H. of $51.17 attained in May. Its market cap is currently around $12 billion.
This is why you Should pay Attention to These Assets
All these Cryptocurrencies reflect the best functionalities of Ethereum. These include its smart contract, decentralized finance, and its metaverse capabilities. 
Chainlink is integral to Ethereum and is further expanding to other blockchains. This will only increase the value of LINK. On its own, Uniswap has already established itself as a top dog in DeFi. But it's also expanding and recently deployed its v3 on Polygon. 
For Decentraland, the growing interest in metaverse will positively influence its token value. Judging by the use cases of these coins, we expect a huge return on investments for them this year.
Although 2022 started with the market correcting, the crypto industry still has much potential. The pandemic and increased regulations may swing the prices of these Ethereum-based coins, so invest wisely and only invest what you can afford to lose.