Dogecoin whales have moved more than a billion coins over the past 24 hours, but it wasn't enough to push DOGE's price higher.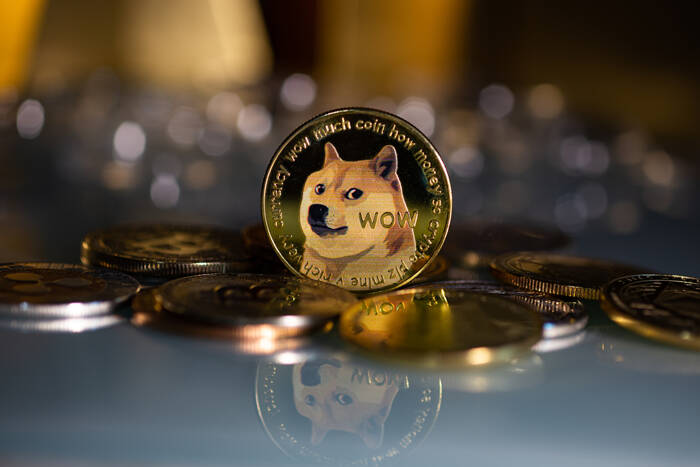 Brokerage platform Robinhood reportedly holds 32% of the total Dogecoin supply. The broker facilitated millions of dollars worth of DOGE transactions over the past 24 hours as some whales moved their coins.
Dogecoin Whales Move Over 1 Billion Coins
The recent data compiled by DogeWhaleAlert shows that Dogecoin whales have moved more than 1 billion of the coins in the last 24 hours. DogeWhaleAlert is a Twitter account dedicated to tracking Dogecoin whale transactions.
The account posted up to 15 transactions that carried a total of one billion DOGE coins over the past 24 hours. The transaction amount differed, but all of them were above four million DOGE coins since the Twitter handle only reports transactions that are above that amount.
The whales moved a total of $176,757,691 worth of Dogecoin over the past 24 hours. Brokerage platform Robinhood was reportedly used in most of the whale transactions over the past 24 hours.
Large whale transactions on the Dogecoin network are not new. On January 3, DogeWhaleAlert revealed that several whales transferred up to 90.3 million Dogecoin (over $15.5 million) to an anonymous wallet.
On December 16, the Dogecoin network also reported large whale transactions after Elon Musk announced that Tesla would accept Dogecoin payments for merch.
DOGE's Price is Down by Less Than 1%
Robinhood is one of the top platforms for Dogecoin holders as it holds more than 30% of all DOGE coins. On November 22, Christine Brown, Chief Operating Officer at Robinhood Crypto, revealed that the company is currently working on a Dogecoin wallet.
Over a million users have signed up for Robinhood's Dogecoin wallet, but there is no set date for its launch.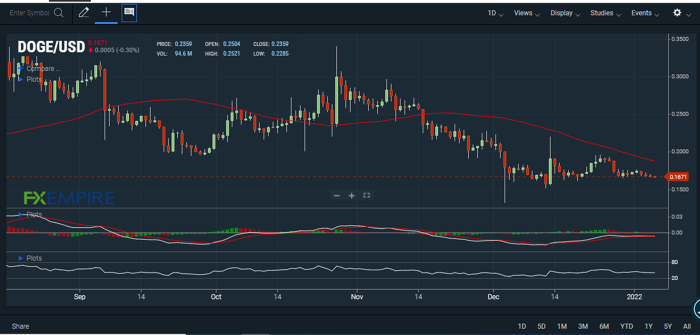 DOGE's RSI is heading to the oversold region. Source: FXEMPIRE
Despite the recent whale movement, DOGE is currently underperforming. DOGE is trading below its 50-day moving average price of $0.1906. The cryptocurrency's MACD line has been below the neutral zone since November, showing an extended bearish performance. Furthermore, the RSI of 39 shows that DOGE could soon enter the oversold territory.