Bitcoin loses $10K in a week lasting downtrend since hitting a new all-time-high at $69000. Strong US Dollar was one of the main reasons why BTC was in the red for a week, the US Dollar index is already up 0.61%, and keeps above 95.
The US Dollar has been in an uptrend since January 2021, although this had less to none effect on Bitcoin's price. However, thorough 2021 Bitcoin trading was something large cap investors wanted to legalize and more and more banks started to offer BTC futures trading to their investors. This is when Bitcoin was no longer tied to the "to the moon" motto as these investors' decisions are mainly based on the global macroeconomic and the US economic data and the decisions made by the SEC.
The SEC seemed to have a harsh mood on Bitcoin this November. The first strike by the SEC was the denial of Van Eck's Bitcoin spot-ETF, do not mix it up with Bitcoin futures-ETFs which were approved. Disrupting the anonymity of the cryptocurrency market is the main course the SEC wants on the table. Regulator wants to regulate, that was obvious and the denial of Van Eck's ETF application was predicted by many analysts.
On November 12 Bitcoin seemed to change the heading and go upwards, however on November 15 the uptrend was blocked by a resistance at $65800 after the US President Joe Biden signed a $1-trillion infrastructure bill. The bill is another step towards regulating cryptocurrencies, obliging all businesses and brokers to report about all transactions more than $10,000 to be reported to the IRS.
With all these mid November events Bitcoin bulls seem to lose power and take Bitcoin to new highs. Nearing Bitcoin futures settlement empowers bears to pull Bitcoin lower to support levels near $58200.
Bitcoin chart analysis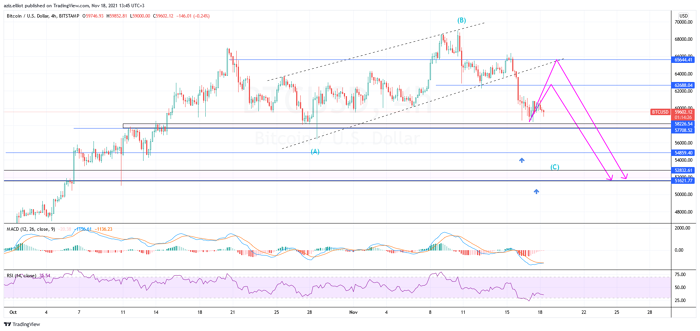 The 4-Hour Bitcoin chart looks very bullish, MACD and RSI indicators signal an upcoming short-term trend reversal. However, this reversal will firstly be interfered by a strong resistance at $62700. If Bitcoin does close above $62700 to continue the bull run it must close above a critical distribution zone at $65600 and $66100.
The daily BTC chart shows that more steeper correction is to be expected. Bitcoin after a retest of its new ATH at $69000 closed below April's dynamic resistance. Price action of October 27, 2021 until the $69K was squishy, every impulse was followed by a strong correction. Hence, the uptrend of October 28 most likely was an expanded B-wave of Elliot's Wave theory. If that is the case, then according to the rules, Bitcoin must complete another leg down to complete the C-wave and the correction.
The C-wave is most likely to be completed at levels near $52800 and $51600, where Bitcoin will reach the previous impulse's resistance to test it as support and will retest the dynamic support of July 21, 2021. This retest will also reset MACD and RSI indicators to buy signalling areas.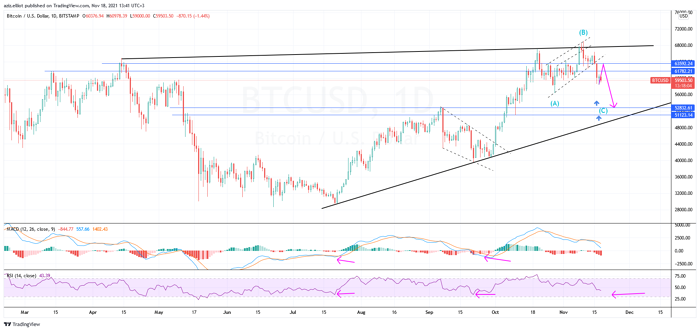 I still believe that Bitcoin should retest levels above the month's open based on Bitcoin's monthly return chart and assuming that futures traders must take the price above the month's open prior to settlement to gain profit.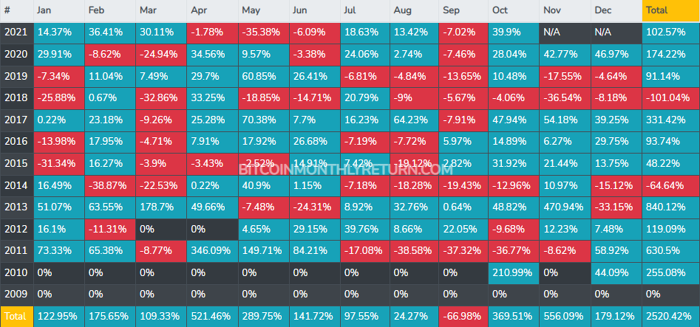 Historically November was Bitcoin's common green month based on returns, let's see if this November keeps the tradition.