I guess all of you have already heard about shitcoins. But what does it mean exactly? According to Investopedia:
The term shitcoin refers to a cryptocurrency with little to no value or a digital currency that has no immediate, discernible purpose. The word is a pejorative term often used to describe altcoins or cryptocurrencies that were developed after bitcoins became popular.
Therefore, all the altcoins could be shitcoins. Although that's what some maximalists think, it is not precise enough for most of us. Let's dig a bit further. Tone Vays, a derivatives trader, has set up a shitcoin list which sounds a bit provocative since it includes some of the top 10 coins in market cap: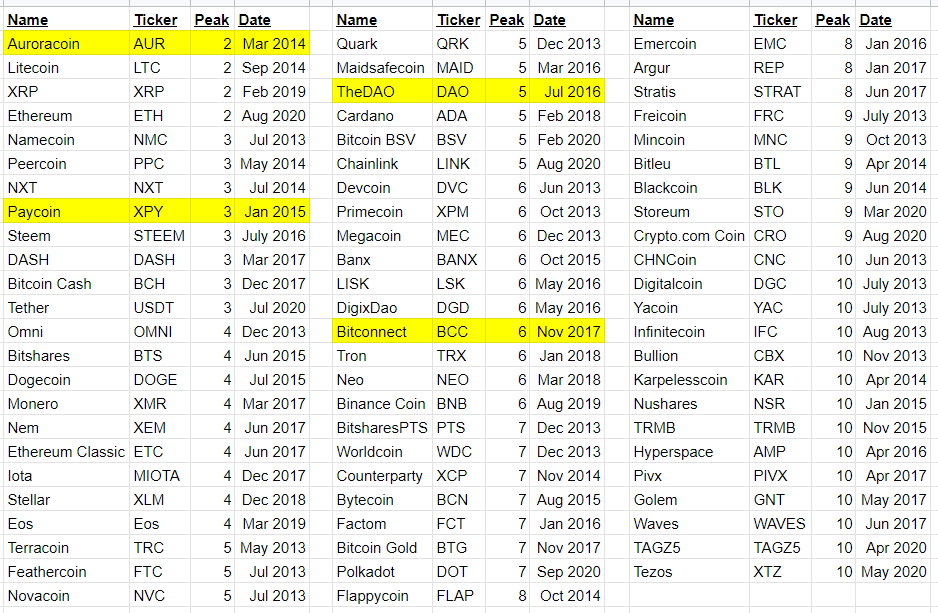 The ones highlighted in yellow were part of Ponzi schemes and crypto scams: Auroracoin, Paycoin, TheDAO, and Bitconnect. These ones look obvious. However, as you can see, this list also includes Ether, Cardano, Chainlink, Polkadot, Tezos, BNB... Well, in that case, most of us own shitcoins.
So we need to come back to the definition to sort out the real shitcoins: "cryptocurrency with little to no value or a digital currency that has no immediate, discernible purpose".
Let's take some good examples:
Ether: although gas fees are incredibly high currently, the purpose looks pretty obvious - Dapps and DeFi; how can we keep it in the shitcoins?
Cardano, Polkadot, Tezos: they are all smart contract competitors of Ether - if they manage to build a similar system, they will not be shitcoins
BNB: it is one of the most complete systems today, with the Visa card, the Binance Smart Chain, all the new DeFi projects on it... Not a shitcoin
Chainlink: this oracle is more and more useful to prevent hacks of DeFi protocols or exchanges. Huge potential - click here for more info
Dash and Monero: some of the best privacy coins - how can they be considered as shitcoins? 
CRO: a complete system like BNB, but less successful - their Visa card is working pretty well, so there is a purpose - click here for more info
EOS and Tron: ok, maybe these ones are shitcoins, that's what I can read on forums, but according to some reports EOS blockchain is great...
In summary, most of these so-called shitcoins have a discernible purpose, so they cannot be considered as shitcoins...
Ok, well, but how to sort out the shitcoins from your portfolio in that case? No easy way, it depends on what you want to do with those coins: if you quickly want to get some dollars, just put a stop loss vs USD that you increase progressively if your coin continues to grow; if you think a coin is a good investment for the future, just hodl it and hope for the best, like you would do for a company stock. I do not think you should be disturbed by the fact that there are so many coins. It is like all the company stocks that you have on the stock exchanges. At the end of the day, what matters is how much you can earn with each of them: the stock dividends have simply been replaced by the coin staking rewards - or farming yields when you use DeFi...
Please click on this link if you have not registered on Binance yet - it will allow you to earn 10% on the trading fees - I share half of my commissions.