Here are most of the incredible sponsors and partners that will make DYGYCON II a huge success next Saturday, March 13th.
Learn them. Know them. Love them. You'll be seeing more of them in the coming weeks, months and years.
If you have not yet registered for the DYGYCON event on March 13th from 10am-1pm EST - DO IT NOW AT THIS LINK!!!
DYGYCON is powered by GAMERJIBE SOCIAL. Consider them for your next event, and tell them DYGYCON sent you.
---
Gala Games has been making huge worldwide waves in the play-to-earn industry, establishing themselves as a powerful force of not just blockchain gaming, but mainstream own-your-experience gaming as well. Gala has broken world records for their massive sales of NFT property for their upcoming MMORPG, Mirandus, and they have huge plans to revolutionize games as we know them, giving power back to the players in ways that many of us never thought possible.
Splinterlands is proud to call Gala Games one of our best #PlaytoEarnPals, and you can look forward to seeing them at DYGYCON. Knowing Gala, they'll probably even offer some awesome SWAG or NFT prizes! Sign up to play Townstar at THIS LINK!
---
Marketsquare is new homepage for the decentralized web. You have probably seen their professional videos on Twitter or other social media, which explain concepts in the blockchain and NFT space in fun and compelling original ways. Marketsquare is a branch of the ARK ecosystem, will be launching their beta marketplace at some point in Q1 of this year! Make sure to follow their progress and sign up for their email list HERE.
Stop by the Marketsquare booth at DYGYCON to chat with one of the great people behind the project, who will be happy to answer any and all of your questions.
---
Not only is Brave the official browser of Splinterlands, but they are perhaps the most successful company to date in terms of attracting mainstream attention to blockchain projects. Their easy-to-use, customizable and rewarding browser has been downloaded some 20 million times, and their Basic Attention Token has a daily volume of nearly $1 billion.
Splinterlands has partnered with Brave for advertising, and it was recently announced that Brave will be injecting $5000 in prize money for new tournaments over the next two months on Splinterlands for those who hold $BAT in their linked Ethereum wallets. You can also look forward to an upcoming exclusive physical NFT collaboration from Brave and Splinterlands that will be available in the Brave SWAG Store.
The DYGYCON experience powered by Gamerjibe Social is incredibly smooth on the Brave Browser, and you'll have a chance to rub elbows with some of the personal forces behind this awesome company at the March event!
---
With 64.8 billion plots of virtual land, Superworld is one of the largest digital real-estate platforms in the world. They will offer unique opportunities to not only own digital representations of land in the real world, but to curate and create within your land. With innovative systems of staking and revenue sharing, Superworld is a great way to get in the forefront of digital real estate.
Check out Superworld's informative APP HERE, and look forward to catching the creators of this platform at the March DYGYCON event, where we're thrilled to have them as a sponsor!
---
BFF is one of Splinterlands original partners. Their connections and insights in the world of blockchain development and startups have helped Splinterlands to become the steadily growing force in the industry that it remains today. Check out THEIR WEBSITE, or give them a shout at the March DYGYCON event, where they will have a sponsor booth.
---
You can look forward to some incredible things from this NFT collectible company that first brought you The Horrors on WAX several months ago. The primary sale of these awesome collectibles sold out in just minutes, and they are currently trading on the secondary WAX markets for much greater prices. With their awesome gory black-and-white art style, these masters of horror will surely keep delivering incredible things to the NFT world.
At DYGYCON, you can look forward to the announcement of a collaboration between Splinterlands and UltraRare that will give you an opportunity to get your hands on exclusive new collectibles! Additionally, attendees of the event will receive promo NFTs, and one lucky guest will win an incredible 1/1 collectible. You'll have to be present at March 13th DYGYCON to hear it first or to win!
---
Enoki Finance is gamifying DeFi and yield farming by using the symbolic life-cycle of enoki mushrooms. Check out their website and read more about their club at their Medium Blog.
---
DCity is a no-nonsense game of city-building and organization built on the HIVE blockchain, the same blockchain that powers Splinterlands. By crafting and curating your D(ecentralized) City, you're able to earn regular rewards and interact with other platforms and Dapps on the blockchain in really interesting ways. Use your HIVE account to log into DCITY.IO today and see for yourself what a blockchain city is capable of.
At the last DYGYCON, a completed DCity all set up and ready to start earning rewards was auctioned off to the highest bidder in our Auction House. At the March event, we will be offering yet another of these awesome cities, which has all the work done for you. You'll just have to stop in from time to time and make some effort to keep the riff-raff out. ;)
Check out this incredible HIVE Dapp at DCITY.IO
---
NFThub is a directory, knowledge base, education center, and social network that is focused on streamlining the daily lives of anyone passionate about the NFT ecosystem and contributing to the mass adoption of NFTs. This website is an excellent resource for NFT info, and its co-founder, BrucetheGoose, has been a supportive friend of DYGYCON since the earliest days!

Check them out at nfthub.xyz.
---
Womplay gives gamers an opportunity to earn Wombucks (EOS) for playing any of the dozens of games from their catalog. There are web and mobile-based games from several different genres, with multiple ways for even the least tech savvy gamers to earn from playing.
---
Anyone who has been involved with anything play-to-earn over the past few years has heard by now of the Sandbox. With huge partnerships with companies like Atari, The Smurfs, Roller Coaster Tycoon and more, their voxel-based virtual space will be an epic adventure of privately owned play-to-earn games, all united into one huge Sandbox in which one can get lost all day long.
There is a lot of info available about the Sandbox. Feel free to dive in at their BLOG.
Splinterlands owns land in the Sandbox, and players can look forward to an upcoming Sandbox/Splinterlands play-to-earn experience in that world. In the meantime, we're happy to host the awesome folks at the Sandbox as sponsors of DYGYCON!
Visit SANDBOX.GAME today and start exploring the endless possibilities of the Sandbox.
---
The Blockchain Game Alliance is an organization committed to promoting blockchain within the game industry.
Their goal is to spread awareness about blockchain technologies and encourage adoption by highlighting their potential to foster new ways to create, publish, play, and build strong communities around games.   The BGA also provides an open forum for individuals and companies to share knowledge and collaborate, create common standards, establish best practices, and network.   I couldn't have said it better myself, so the above words were taken from the BLOCKCHAIN GAME ALLIANCE website. We're excited to have this network of blockchain games join us at DYGYCON as a sponsor!
---
CryptoMonKEYS is a collection of NFTs built on the WAX blockchain that is designed to educate the world about blockchain technology while also providing some great collectibles with secondary trade value. These awesome trading cards are community driven, and their sales support various charities. All DYGYCON guests who fill out the form in the SWAG Booth will receive a complimentary CryptoMonKEYS trading card!
---
The 'Stache is one of our favorite crypto influencers. Focusing on NFTs and blockchain gaming, Cryptostache streams live regularly on Theta.TV and plays Splinterlands frequently. He was one of our hosts for the Great Gala Gala on New Year's eve last year, and we always look for ways to involve Stache in our projects! He'll be hanging out at DYGYCON and maybe even live streaming the event on his Theta channel. Who knows... If you ask him really nicely, maybe he'll throw in a specially minted 'Stache WAX NFT for DYGYCON guests through the SWAG booth.
---
Blockchain Cards always knows what's happening in the world of NFTs and blockchain collectibles, and their releases are ahead of the game. With a background in not only blockchain, but physical collectibles, Blockchain Cards has powerful insights into the minds of collectors.
With the recent release of NFT Fortune Cookies on WAX, Blockchain Cards is thinking outside the pack by offering a unique membership program that offers regular drops of NFT collectibles. To get in on the Cookies, check out THIS DROP PAGE. To get in on the community and conversation, join the Telegram Community!
---
This platform for NFT art on the HIVE marketplace is growing rapidly as a solution for serious crypto artists facing crippling network fees when attempting to mint on some of the better known Ethereum marketplaces. NFT SHowroom is also the official NFT art platform of DYGYCON, being used by Splinterlands to mint official DYGYCON art and badges, including our 1/1 sketches and the Beat a Pro badges for the Splinterlands Challenge Booth.
Shop for art today, or fill out an application to be accepted as a whitelisted artist at NFTSHOWROOM.COM
---
If you've never caught one of Digitspin Crypto's videos, you don't know what you're missing. Not only does Dino always wear awesome hats and have a fantastic catchy theme song, but he is also a brilliant analyst of crypto news. Coming specifically from the Electroneum community, DIGITSPIN has a great following, an awesome and informative website, and an sweet Splinterlands guild called The Furious Chickens (named of course for the famed Furious Chicken 0 mana card).
At the last DYGYCON, Digitspin was one of our star guests, becoming the owner of one of our 1/1 exclusive Splinterlands sketch art pieces. Watch for Dino to be live streaming the March event through his YOUTUBE Channel and say hi to him when you run into him at DYGYCON. Hopefully the DYGYCON hats are stylish enough! ;)
---
We hooked up with Euclid and Oakes at the recent Gala Games event in the Gamerjibe space, which we helped organize. They were running around, live-streaming and like us, enjoying the crap out of the whole thing. We're thrilled to announce that CryptoEuclid and MysticalOakes will be joining us at DYGYCON for some similar shenanigans, live streaming the event from their YOUTUBE Channel.
Visit Euclid and Oakes, check out the Euclid and Oakes podcast, follow @CryptoEuclid and @MysticalOakes on Twitter, or join them on Telegram. These delightful and fun-loving people can be found all over the crypto space, and like us at DYGYCON, the thing they love most is meeting and connecting with new friends!
---
We have a ton of great supporters, partners and sponsors at DYGYCON, but there's always room for more! After all, it's a digital expo center, and that means that it can easily get bigger!
If you're interested in becoming a sponsor or purchasing a booth for the March 13th DYGYCON event, hurry and let us know. There's still time, but it's running out quickly!

---
Email Carrie (pictured below), our main organizer at

[email protected]

to learn more about opportunities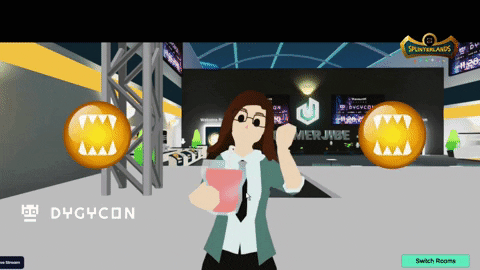 SALES TEAM - Initial Application
See you at DYGYCON on March 13th!