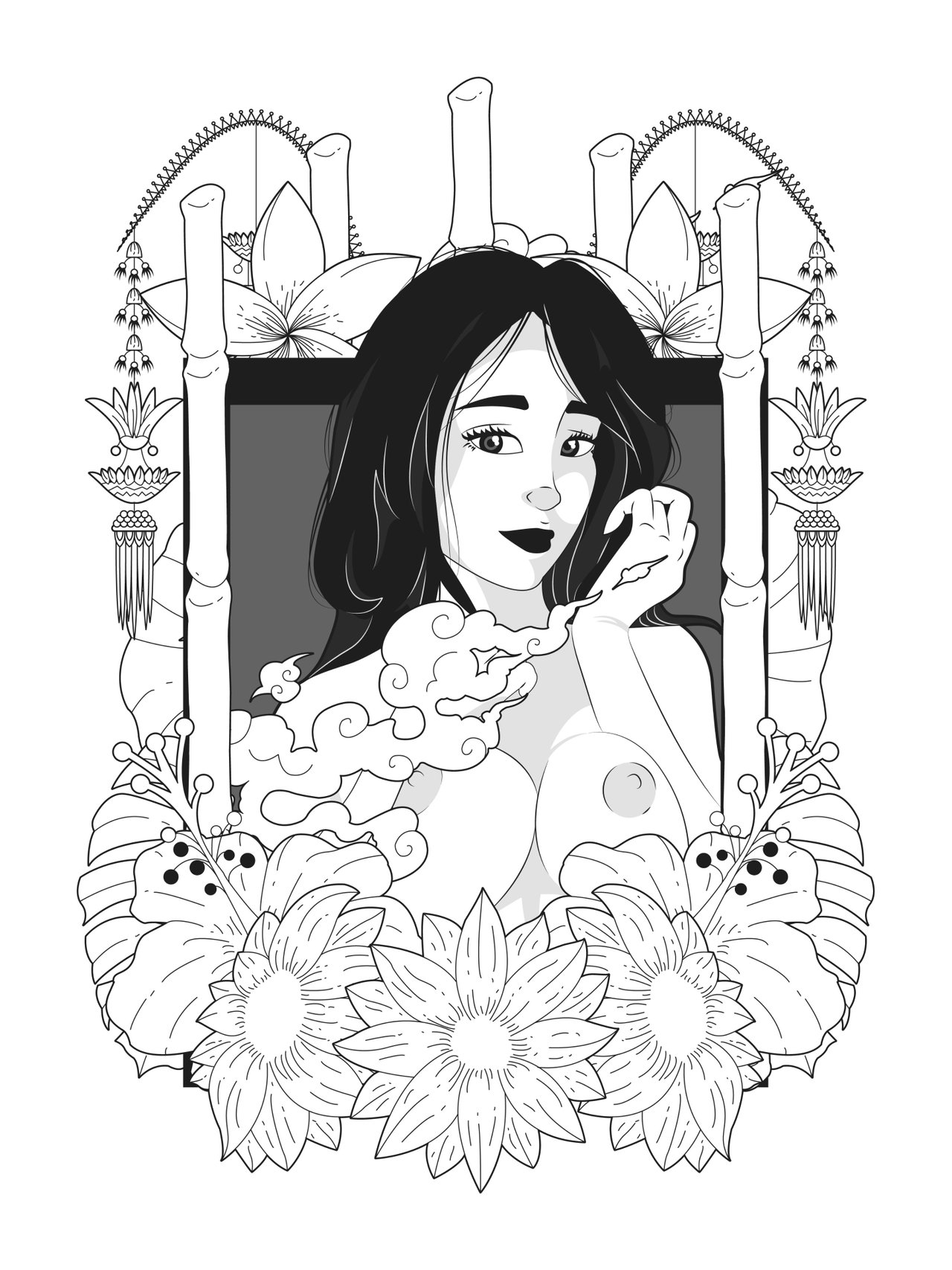 SARI WULAN
In Indonesia, there is a well-known magical practice called "pengasihan" or if it is translated in English, it becomes the word "compassion". According to the stories of people who claim to have performed and are users of these magical practices, pengasihan is used to lure a person to have feeling for the user. And the mantra "Sari Wulan" is one of many popular pengasihan mantras.
According to the stories of people who have used pengasihan, there is one thing that I think is one of the characteristics of the pengasihan process because it is mentioned so often in their stories; placement of the target photo in a place full of offerings and other magical things. That's what I want to describe in today's illustration, but with a slightly different meaning.
This illustration depicts a photo of a person among the flowers and offerings which I describe in the form of a Balinese umbul - umbul. The photo of a naked woman in this illustration is a symbol of something new that hasn't been installed or in other words, plain. The relationship with the choice of title chosen is, this illustration wants to suggest a prayer, in order to attract good things in new things. I mean "new thing" as new year. So, I mean the photo of the naked woman in this illustration to be a symbol of the new year. In other words, this illustration wants to illustrate the pengasihan practice that I mentioned earlier used with the new year as the target. It sounds absurd, but I can't force where the inspiration for drawing comes from, and this time, the inspiration comes from people's stories about the practice of compassion with meaning that comes from myself. Hopefully this is understandable.
And one more thing, I actually tried to make my drawing as an NFT, but it turned out that I didn't have enough ETH to pay the gas fee for minting. So, because some people have advised me to make images of my work available as prints that can be purchased, I try to do it at the link below. Hopefully all of you will take the time to visit these links and provide input to me so that I can improve my works and the way I sell. And of course feel free to make a purchase on one of the links that I provide to support me further in my work. And hopefully one day I will have enough ETH to make NFTs a reality. Thank you very much. I love you all. :D
The links are:
All right, enough words from me, I hope this work can be enjoyed.
Stay safe, and cheers!
Tools :
A4 HVS paper
2B pencil
Gel pen
Canon PowerShot SX430 IS
Adobe Photoshop
Adobe Illustrator