Vandal is back with another song for the ages, literally. Born into Generation X, he finds himself in the middle of the ongoing conflict between the Millennials & Boomers, and through the release of "OK Boomer" he attempts to bridge the gap.
For the cover art Vandal teams up with his mother, a Boomer, to make a collaborative statement that only a Gen Xer can. It's not the first time he's collaborated with his mother, but this particular occasion unites them in a shared love of art and technology, where both their generations overlap in the realm of Blockchain.
The song is produced by Vandal's longtime partner in music, DJ Lethal Skillz and features an excerpt from Keiser Report, making a fitting introduction for "OK Boomer". Be sure to use the hashtag #OKBoomer when sharing!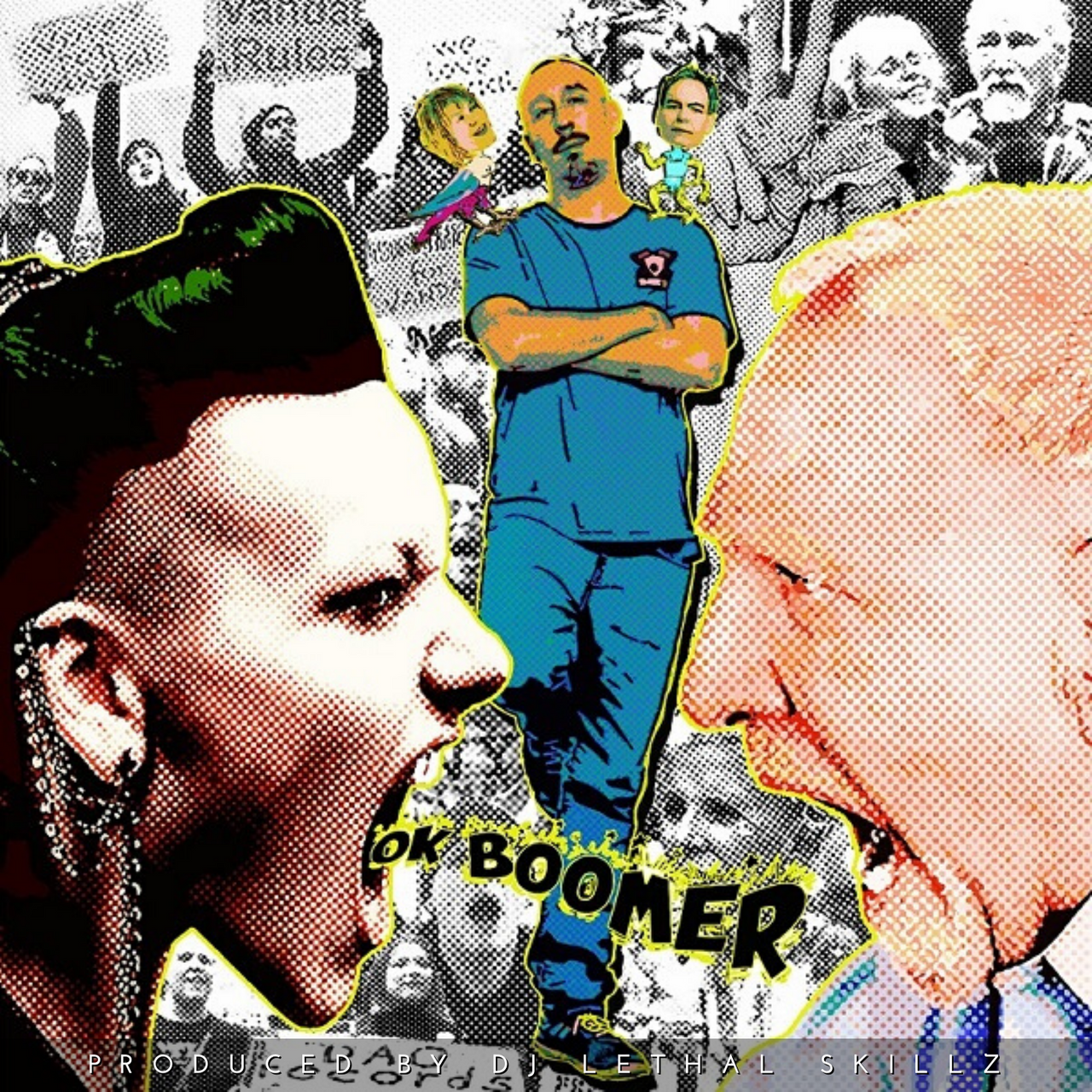 OK Boomer – Lyrics
Verse 1
OK boomer I think you might be outta touch / out of style but dare I say outta luck / carry hope in your briefcase to document it / That power suit's a lie so stop pretending / I'm not offended nor do I want attention / your the last generation to cop a pension / OK boomer maybe I forgot to mention / that your designs for the world are finally ending
Caught up in the middle I can see what's next / It's my burden – I live in generation x / At the dawning of the digital age I arrived on the scene at this pivotal stage
I drew lines on the page with a ruler / bumping slick rick before I first hit the budah / Kids these days think I'm the old schooler / still fronting while they feud with the boomers
Chorus
Verse 2
Ok Millennial let me break it down for you / in this thing called rap, we broke the ground for you / But who broke the ground for us? / 70's NY Streets dangerous see you were born as a product of big tech / Has all that data taught you how to think yet? / Yeah i know you got your own set of problems / you are not alone, together we can solve them
Caught up in the middle I can see what's next / It's my burden – I live in generation x / At the dawning of the digital age I arrived on the scene at this pivotal stage
I hear em pleading can't we just get along / so let me build the bridge and fill the gap up in a song / here's Something that I should have done sooner / before it started trending like "Ok Boomer"
Chorus
STREAM NOW
https://open.spotify.com/album/5rV2d7oOEnGb5uBfiTcVlu?utm_source=embed_v2&go=1&play=1&nd=1