Good day to all. Hope all of you are better than ever keep blogging happily. God bless you all.
Here, I am going to review a all in one multimedia app Name "Stremio".
Stremio is a new name in the online media streaming world. It lets you easily view and organize your favorite movies, TV series, and TV channels. By using Stremio, you will be able to watch your subscribed YouTube channels, simultaneously watch live 300 TV channels worldwide and even buy or rent media from official sources such as: Netflix, Amazon, and Google Play. Additional features include Real Time Torrent Streaming and Powerful Search Capability. And it has an eye-catching user interface, simple and lightweight that won't slow down your system.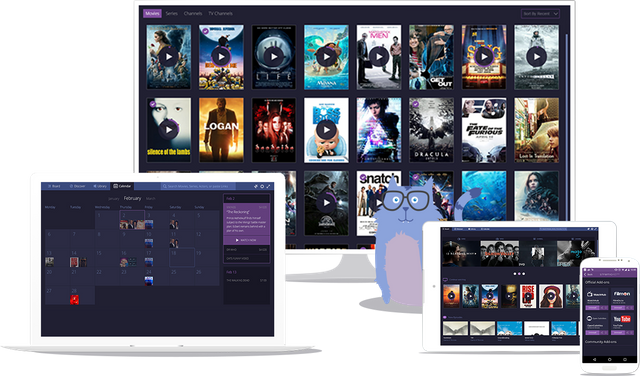 Image Source
No matter what device you use, Stremio software is built for all of your devices, which means it's a cross-platform software. And this is why this software is one of the best media streaming apps. Today we will see a complete review of this software.
At a glance the features of Stremio software:
The Stremio software has many features, and all its features are discussed below.
A. New content easily available:
You can easily enjoy all kinds of new movies, TV shows and live TV channels with the Stremio software. Here you will filter content by different content categories, genres, ratings, upload time (new or old), etc. You can also easily find by searching name. As a result, you will find new content easily with Stremio software.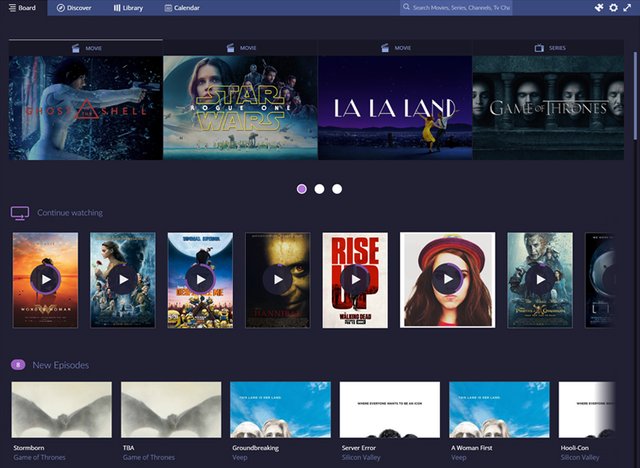 Source
B. All video content on the same screen:
Occasionally, if you do not watch a full movie, series or video, there is no reason to worry. With this software you can watch again from there. You will also receive notifications when new episodes of the TV series you watch are available. And according to your viewing habits, it will show the content of media you like most.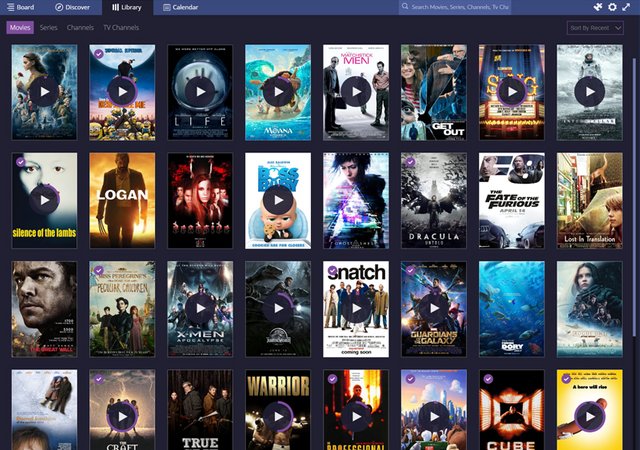 Source
C. Organizing the Video Library:
You can easily add titles to the media libraries of Stremio software in one click, and there are various filter types to easily find your favorite content, such as: type, name, upload time (new or old), etc.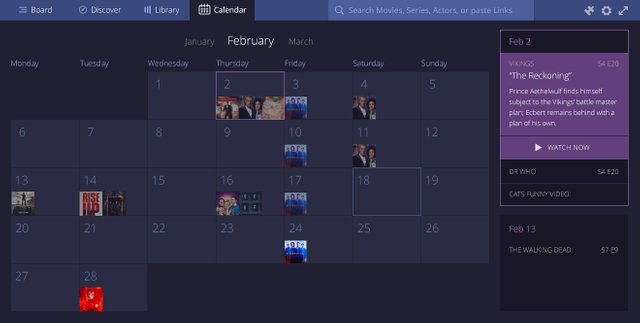 Source
D. Track All Media:
You can add all media and series data to your library through Calendar view. Also, Stremio software can export calendars so you can easily understand when you miss a new episode and watch those episodes.
E. Enjoy media content on the big screen:
With one click you will be able to share your device's screen with the cast feature on the big screen, such as: Cast from the phone or tablet to the TV screen and enjoy the media on the big screen.
F. View video content from different sources:
You can enjoy video content from a variety of sources by installing official community add-ons from Stremio software such as YouTube, Netflix, Amazon and iTunes, etc. - all features in one software suite.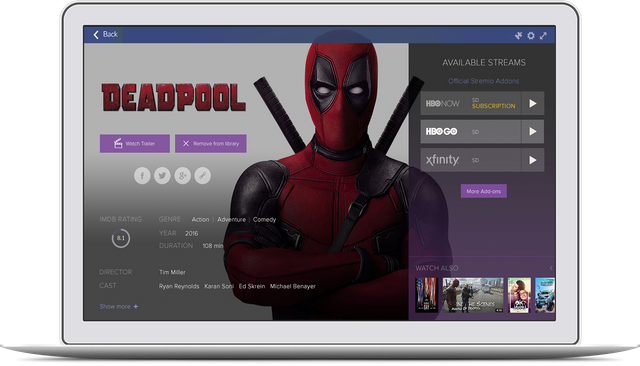 Image Source
Stremio installation method on Windows and Mac:
Installing Stremio on Windows and Mac is as easy as installing all other software. First download the installation package from the official site (.exe for Windows and .dmg for Mac). Hopefully the installation package has been downloaded from the Stremio web site Now run the Simply Installation package and follow the on-screen instructions.
How to install it on Linux
Installing on Linux is a bit different than installing Stremio on Windows and Mac. In this case you will find the format of the installation package as another type, such as: deb or tar tarz. And you can install Stremio for all distributions you run, but your system must be 64 bits. Download the appropriate installation package for your Linux distribution (eg Ubuntu, Debian, Fedora, etc.). Hopefully the installation package has been downloaded, now run the simple installation package and follow the on-screen instructions.
How to install it on Android and iOS:
First discussing about the process of installing Stremio on Android operating system, go to Play Store from your Android phone and type Stremio in the search bar and install the Stremio app like other apps.
Now go to the App Store on iOS and type Stremio in the search bar and install the Stremio app like other apps.
Stremio's Add-ons:
The most striking feature of Stremio software is that it supports official and unofficial add-ons. You can view free content from online by installing official and unofficial add-ons to your liking. I will discuss this discussion in two parts, official and non-official categories, first discussing about official add-ons and then discuss about official add-ons.
A. Official add-ons
The biggest advantage of official add-ons is that it can be used freely and no have any virus. Also the official add-ons are very easy to download and install. Let's see some official add-ons:
OpenSubtitles - With OpenSubtitles you can enjoy free content with subtitles from anywhere in the world.

WatchHub - WatchHub add-ons allow you to stream various channels for free such as: HBO.

YouTube - YouTube is the world's largest video sharing platform. You can watch everything on YouTube and it's completely free.
B. Unofficial add ons:
Along with the official add-ons, there are many unofficial add-ons available. That you can use for free. But before using it like an official, you must check whether it has virus or not. Let's see some Add-ons:
Juan Carlos (The Original) - Juan Carlos is a torrent website, and they have created add-ons for the software. And with the help of this add-on you can stream live movie and TV shows from torrent without the hassle of downloading.

Popcorn Time - Popcorn Time is one of the top Service to provide free streaming services. This Popcorn Time Add-ons for Stremio allows you to easily enjoy its content.
How to use Stremio:
Stremio software is very easy to use, anyone can use this software without any prior experience. I know you can use this software, but I will show you how you can use the software easily. The details of this are discussed below.
Step 1:
Hopefully you have already installed the Stremio software. Now open the software. When you open the Stremio software you will notice a login page. Now you can create a new account, connect with facebook or access the software in guest mode if you wish.
Step 2:
Finish logging and 90% of your work for streaming media from Stremio software is completed.
Now you can easily stream content by searching your favorite media or following the media genre.
My Opinion:
Everything that Stremio has is good, thats mean there is no bad side of it. The lightweight interface that will not slow down your system, its user interface is excellent in all way that will give you a premium fill, and specially its special features - you can install many add-ons to this software. I love the Stremio software for all these capabilities, hope you like it too.
Thanks for stopping by. Stay tuned for more updates.