In today's daily market updates, we are going to look at what happened in the fixed income, money market, commodities and U.S. equity markets yesterday (i.e. 12 Jul 2022).
Today's market report is available for download at:

Your Daily Market Updates Website
Investment Disclaimer:
I am not a registered investment, legal, or tax adviser or a broker/dealer, and all opinions expressed by me are from my research for educational purposes only.

Past performance presented here is not an indicator of future performance.

This post expresses my own opinion about the financial market. It is not an offer to buy or sell, or a solicitation of any offer to buy or sell any security mentioned in this post.
Fixed Income and Money Market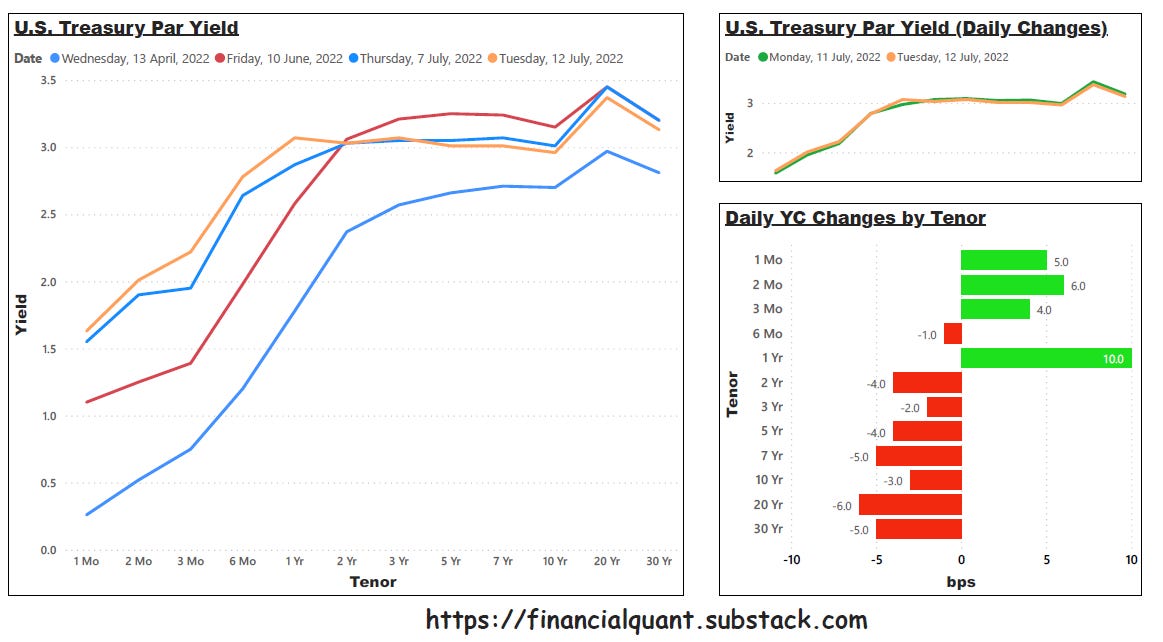 U.S. Treasury par yield curve continues to flatten with short-term rates rising and long-term rates falling as the market is waiting for the release of June's core inflation figures today. The market is expecting inflation numbers to be higher in June, but as crude oil and natural gas prices cool off, and with the recent decline of Personal Consumption Expenditures (PCE), June's inflation may be the peak. We shall see how the result turns out later.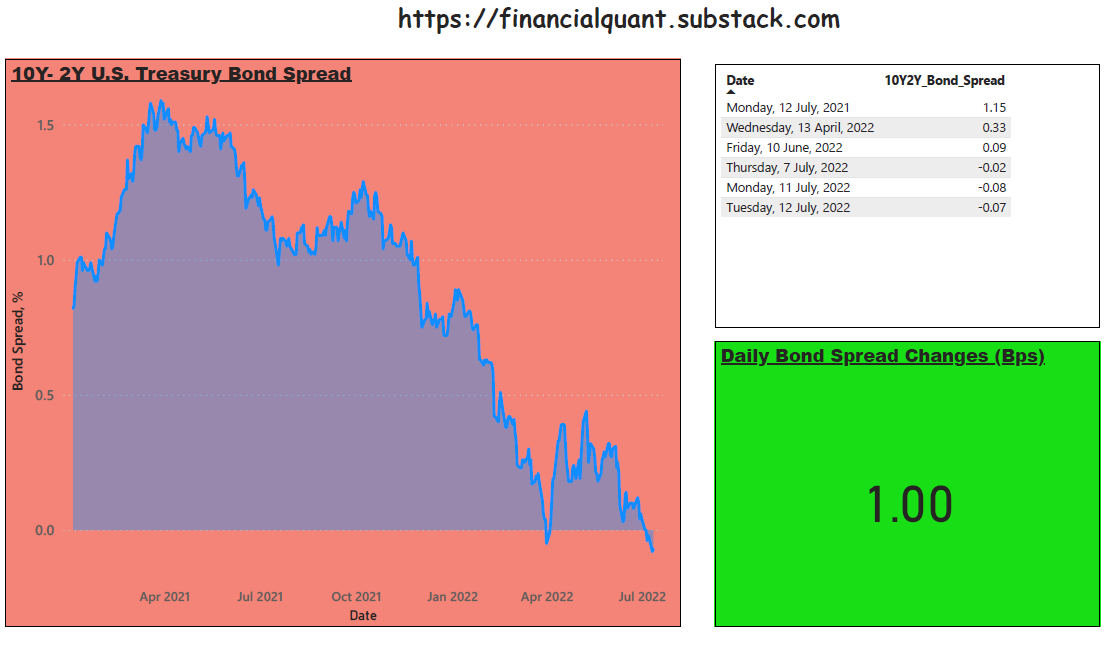 Benchmark 10-year - 2-year bond spread (calculated as 10-year par rate minus 2-year par rate) rose slightly by 1bps for the first time following 5 consecutive days of decline. The yield curve remains inverted, and an inverted yield curve has been conventionally treated as a predictor of recession.
(1 basis point, bp = 0.01%)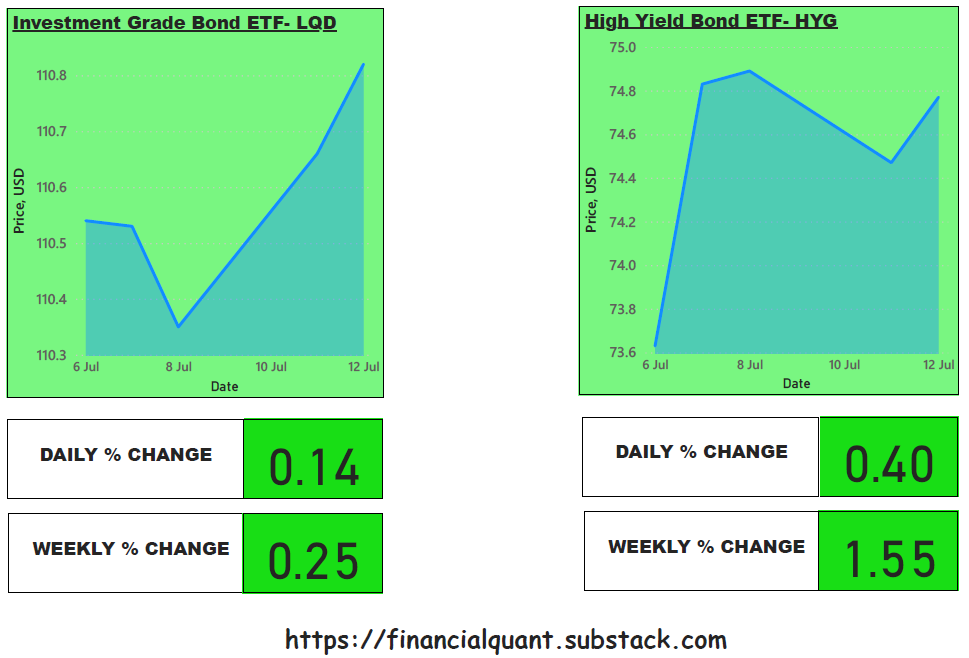 Bond markets had a good day yesterday, with investment-grade bond ETF making a 0.14% gain while high-yield bond ETF rising by 0.40% as the yield curve continues to flatten.
Commodities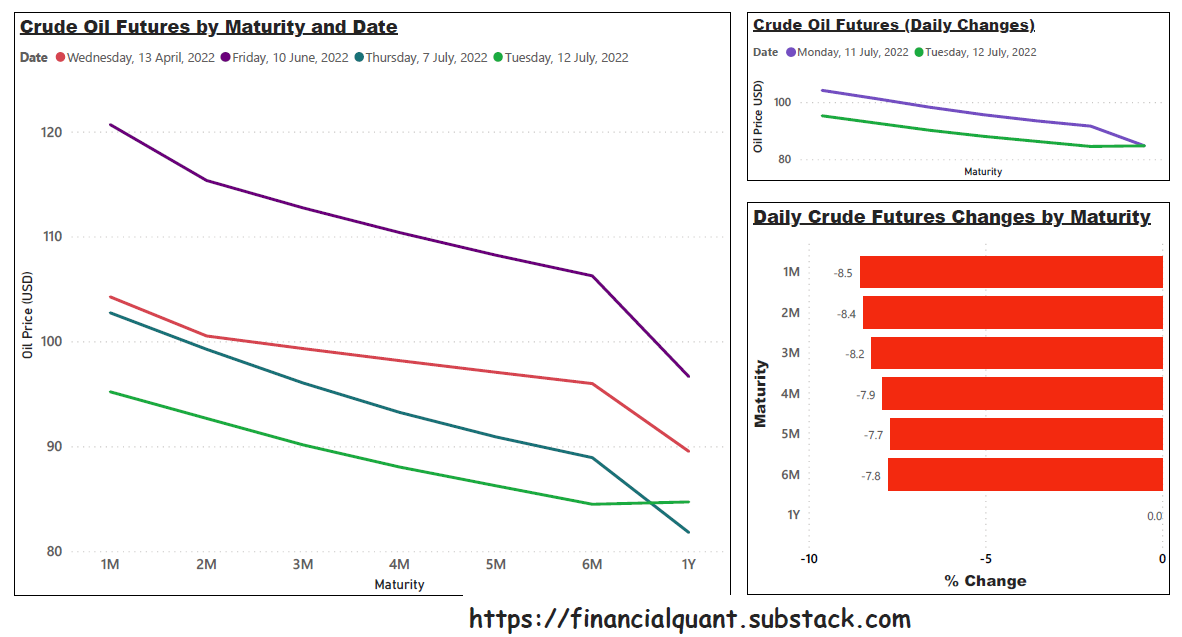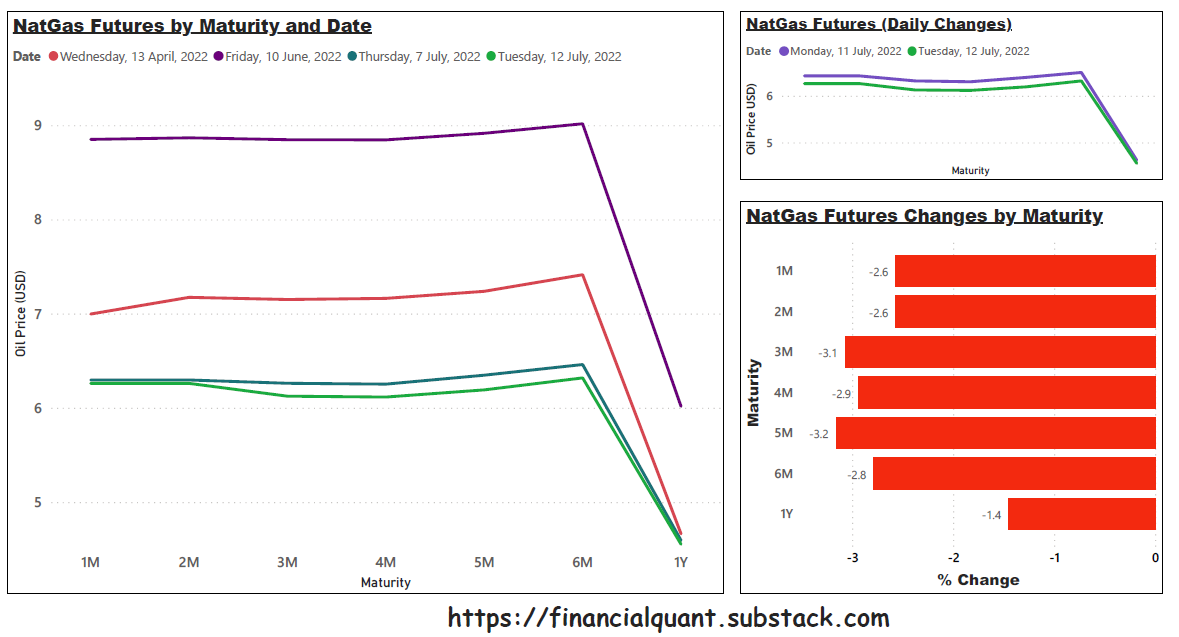 Both crude oil and natural gas futures dropped sharply yesterday, with 1-month crude oil futures dropping 8.5% while 1-month natural gas futures dropping by 2.6%. This came after the news report that China has locked down Xi'an after the discovery of a few new Omicron subvariant cases, which sparked fears of a second lockdown in China's financial hub, Shanghai.

In addition, the U.S. dollar was in parity with Euro for the first time in 20 years. As the U.S. dollar is used as the primary currency in global commodities trading, a stronger greenback would undoubtedly create pressures on the demand side amid an economic recession.
Equities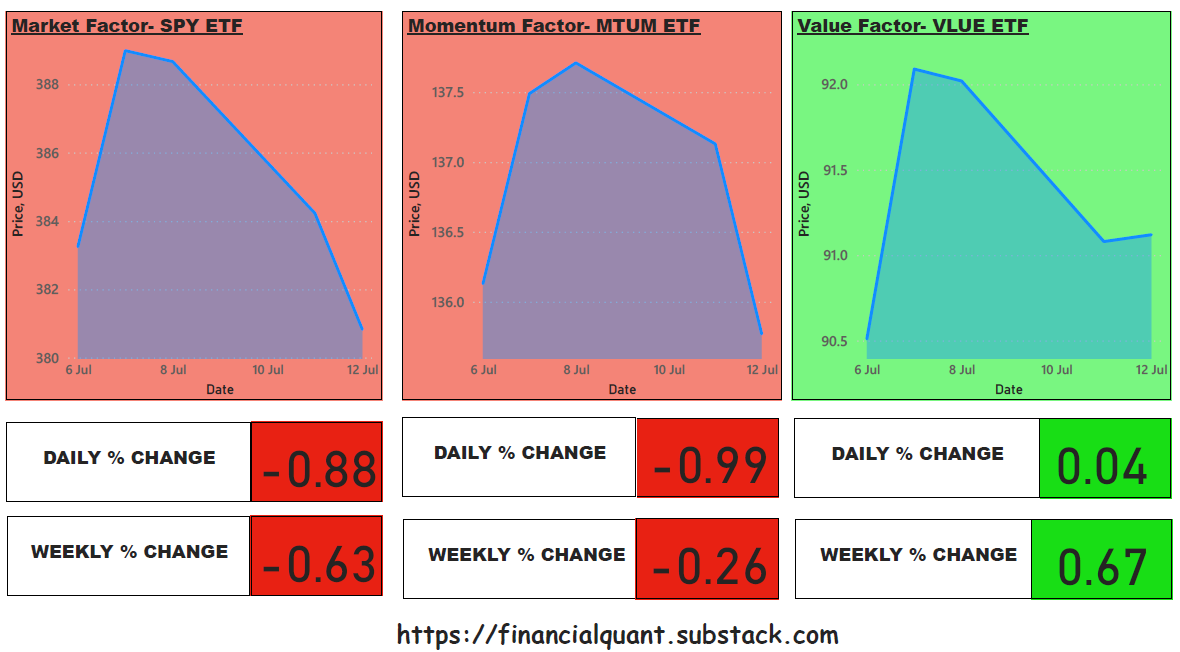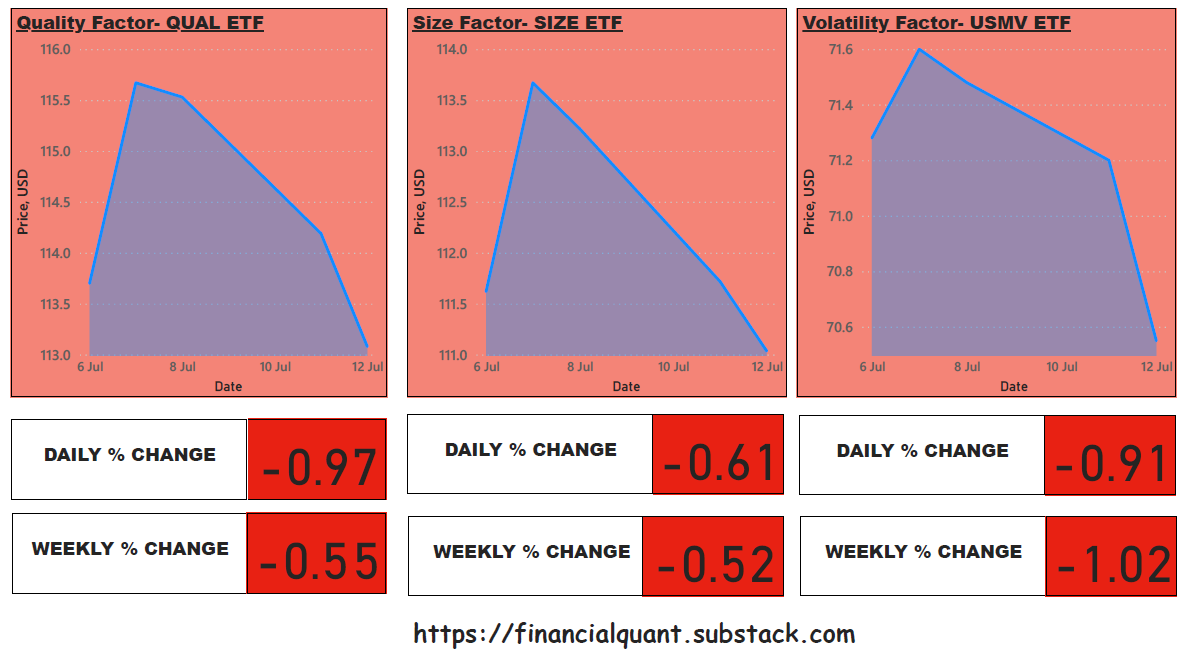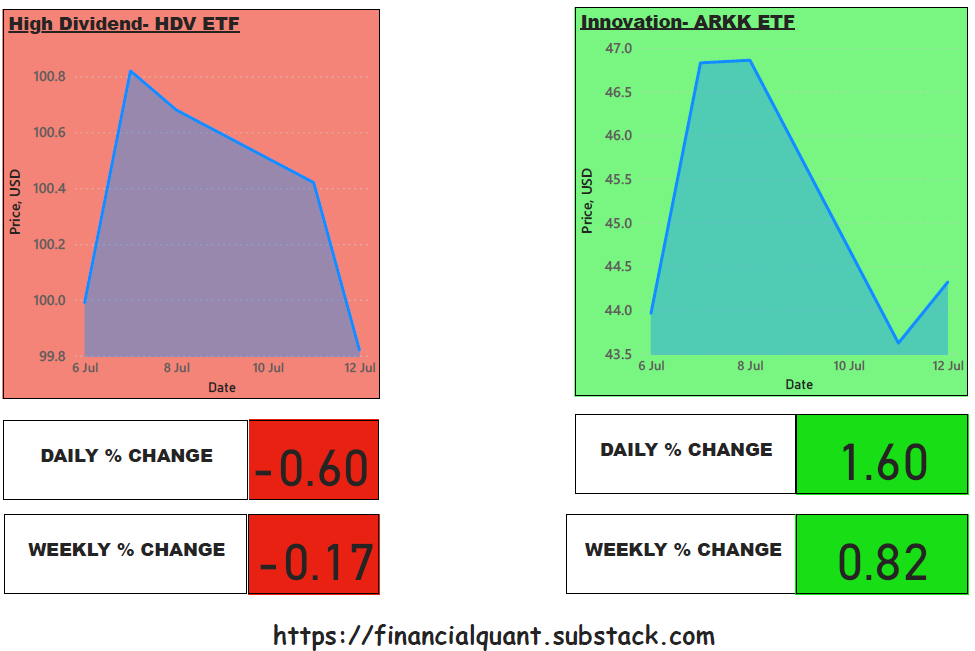 S&P 500 ETF has been falling consecutively for 2 days straight and is now trading at a level that is 0.17% lower than its last week's price. Both value factors (represented by iShares MSCI USA Value Factor ETF) and innovation factors (represented by ARK Innovation ETF) made gains yesterday while other factor ETFs were losing.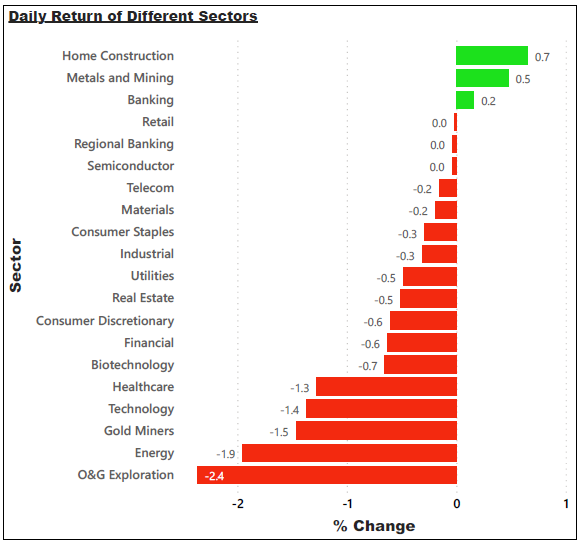 Energy stocks that previously enjoyed a bull run while the rest of the markets suffer have been hampered by falling commodities prices as the market is expecting a near-term economic recession.
Crypto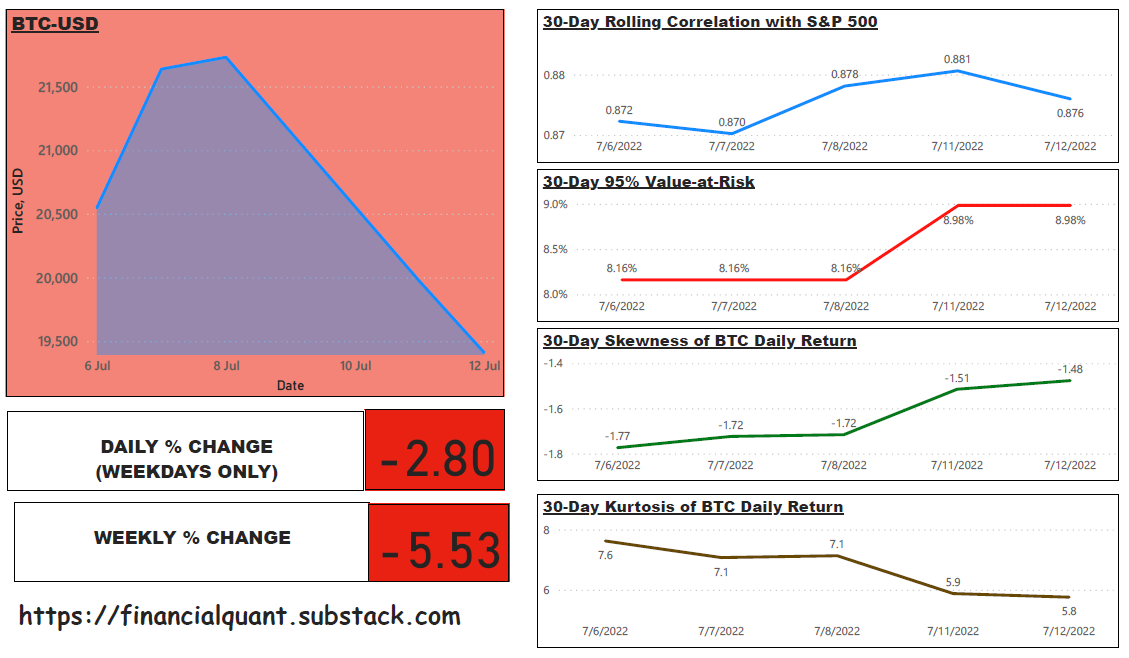 According to Investopedia, Value-at-Risk is defined as:
A  statistic that quantifies the extent of possible financial losses within a firm, portfolio, or position over a specific time frame. This metric is most commonly used by investment and commercial banks to determine the extent and probabilities of potential losses in their institutional portfolios.
Although Bitcoin's large drawdown risk decreased slightly based on observed historical data, with a decreasing negative skew (i.e. lesser probability of making losses than gains) and a lower kurtosis number (i.e. lower risk of large draw-down), its large drawdown risk remained significant.
Based on the 30-day 95% historical Value-at-Risk (VaR) profile of Bitcoin above, Bitcoin's downside risk has also been increasing as of 11 July 2022.
As Three Arrows Capital (3AC) founders went missing after failing to repay the 600M loan to Voyager Digital, its liquidators have successfully secured a subpoena from Federal Bankruptcy Judge to both hedge fund co-founders, Su Zhu and Kyle Davis, forcing them to attend court proceedings.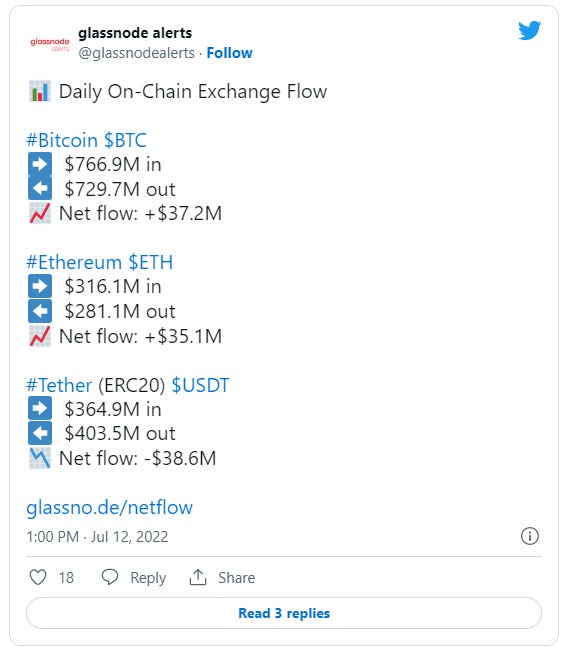 According to GlassNode, Bitcoin's sell-off still not yet fully subsides, with more Bitcoin moving into the exchanges than its dollar value which is moving out of them. On the other hand, there are also more stable coins (USDT) moving out of the exchanges than its dollar value which is moving in. This suggests that market participants are holding more stable coins while selling out more of their crypto assets as the crypto market gets volatile.
That's what you need to know for today's market updates. Please like, share and follow.
Reference: