Falling Wedge Breakout Propels Bitcoin Price Above Key Resistance at $9.2K;
Bitcoin Transaction Fees Decline as Network Congestion Eases;
Brave Browser Launches Encrypted Video Calls Before Zoom;
Grayscale Is Now Buying 1.5 Times the Amount of Bitcoin Being Mined;
Coinbase Acquires a New Tool For Buyers of 'USD 100M of Bitcoin';
🗞 Daily Crypto Calendar, May, 28th 💰
Welcome to the Daily Crypto News: A complete Press Review, Coin Calendar and Trading Analysis. Enjoy!
Within the past few hours Bitcoin (BTC) price managed to press through the $9,200 resistance level to $9,281. While the 2.58% gain may not be much to talk about, the move above the key resistance level is a step forward and the initial move to $9,180 closed the CME gap from last weekend.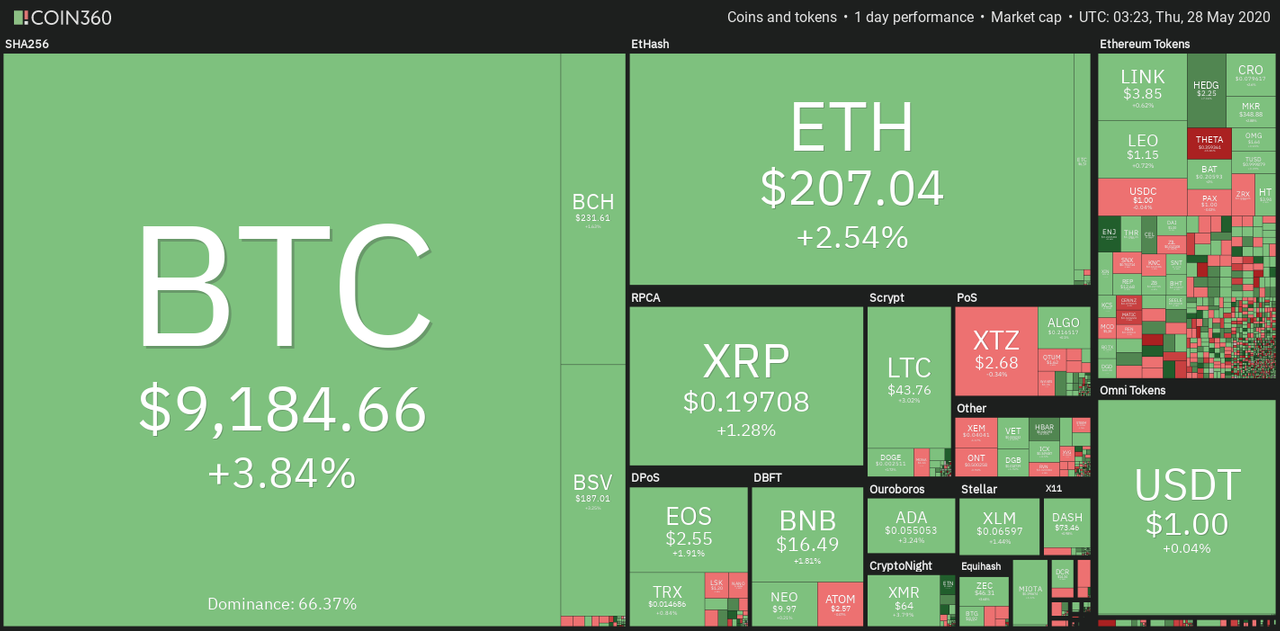 Since dropping to $8,640 on May 25, Bitcoin price has gained 7% and this occurred as the S&P 500 and Dow both rallied higher this week.
On Wednesday both indexes broke above their 200-day moving average, nearly reclaiming all of the losses caused by the coronavirus-driven correction that started in March.
The sharp rallies in both markets also led analysts to suggest that the Dow is now "on track for its best week since the week ended April 8."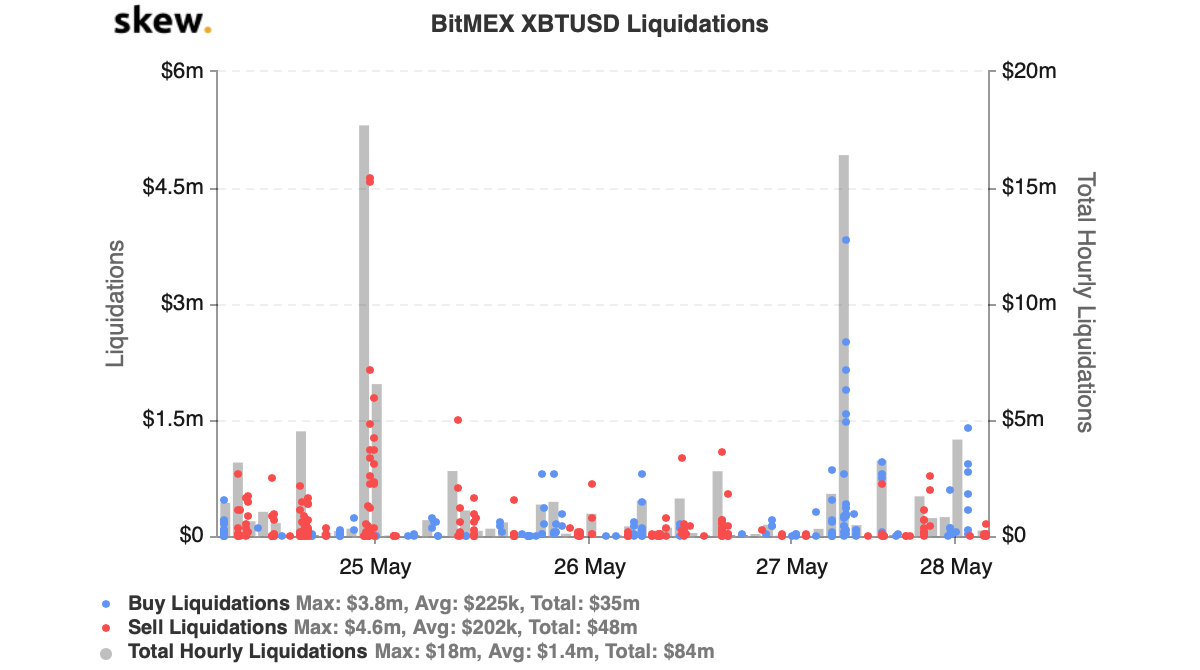 After facing a heavy load of transactions earlier this month, bitcoin's (BTC) network has returned to a more normal level, recent developments suggest.
The total amount of fees paid to miners was 80 BTC as of Tuesday, down from its 11-month high of 201 BTC on May 21, according to the data provided by the blockchain intelligence firm Glassnode. It was at 57 BTC on May 3.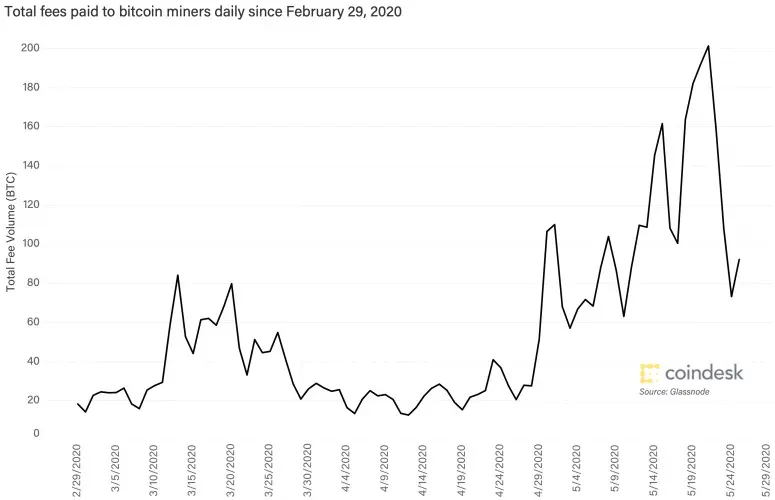 The percentage of miner revenue from fees has also pulled back to 9.4% from the 28-month high of 21% registered on May 20.
"The fall back in transaction fees are related to a normalized transaction activity and recent mining difficulty adjustment, which occurs around every two weeks," said Wayne Chen, CEO of Interlapse Technologies and founder of virtual currency platform Coincurve.
Brave, the privacy-centric cryptocurrency-powered web browser has launched in-browser video calls featuring end-to-end encryption.
The encrypted video service, dubbed 'Brave Together' can be used to make unlimited encrypted video calls featuring two participants. All Brave users can access the feature, with no account sign-ups needed.
Brave revealed that video conferencing supporting more than two participants is currently being tested on Brave Nightly — the development version of the browser.
Brave adoption grows
Co-founded by Javascript creator and former Mozilla CEO Brendan Eich, Brave pays its users Basic Attention Token (BAT) for viewing ads. It has made steady gains in adoption over recent months. The firm's marketing head Des Martin tweeted that the platform surpassed one million new users during March alone.
Despite the strong uptake, Brave CEO Brendan Eich recently remarked that only a small percentage of its users take full advantage of the browser's privacy features. As of this writing, more than 662,000 content creators have signed up to Brave's publisher program. 53% of Brave publishers operate on Youtube.
Crypto fund manager Grayscale Investments is accumulating Bitcoin at a rate equivalent to 150% of the new coins created by miners since the May 11 block reward halving.
According to data published by independent crypto researcher Kevin Rooke, Grayscale has added 18,910 BTC to its Bitcoin Investment Trust since the halving, while only 12,337 Bitcoins have been mined since May 11.
Binance CEO Changpeng Zhao reposted the chart, commenting: "There isn't enough new supply to go around, even for just one guy".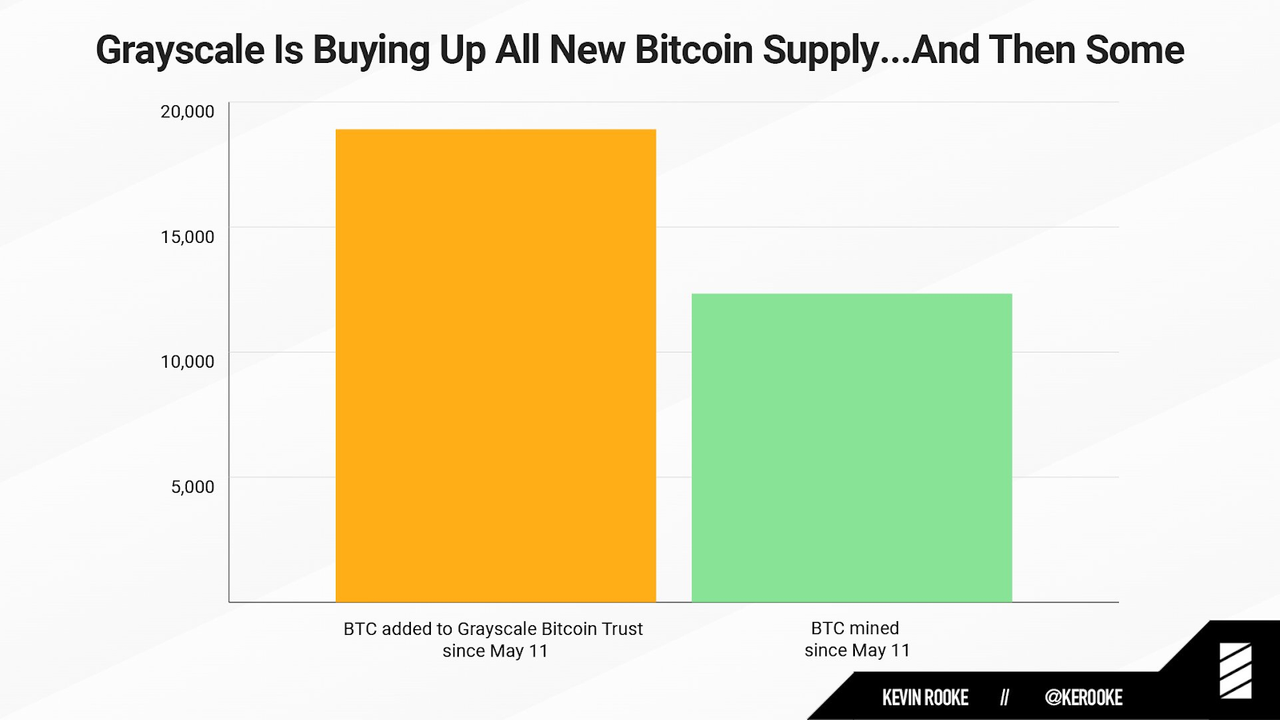 In an attempt to attract more institutional traders, major crypto exchange Coinbase agreed to acquire another major player in the crypto industry, Tagomi, a New York-based crypto brokerage.
Terms of the acquisition, that is pending regulatory approval, weren't disclosed. Tagomi was launched 18 months ago and was backed by Peter Thiel, Co-founder of PayPal. NXC, the South Korean operator of the Bitstamp and Korbit crypto exchanges, also invested in the brokerage.
"The acquisition will bolster our offerings for advanced traders and the most sophisticated crypto investors," Coinbase said, adding that they've seen "a swell in demand from institutional investors over the past year."
🗞 Daily Crypto News, May, 28th💰
"SINOVATE Infinity Nodes (SIN) One-Click Node setUP Cold Hosting is ready for release on May 28, Thursday."
"... We plan to reduce the circulating supply by removing the ◎11,365,067 supply from the market within the next 30 days."
We're having an AMA Komodo Platform Team on 28/05, 16:00 UTC.
Team updates at 3:30 PM UTC/ 11:30 AM EDT: Engineering, Node network, Product/UX, Helpdesk, Legal, BD, Marketing, CEO Closing thoughts, AMA.
Join Blockstack's Co-founder & CEO, Muneeb Ali as he gives an overview of the on-going Stacks 2.0 public testnet.
"Upcoming Thursday May 28th, the brand new #IOHK #Cardano Product Team's Monthly Development Update will be held."
Last Updates
➡️ Publish0x
➡️ UpTrennd
➡️ Hive
➡️ Twitter
➡️ Facebook
➡️ Be paid daily to browse with Brave Internet Browser