Welcome to the Daily Crypto News: A complete News Review, Coin Calendar and Analysis. Enjoy!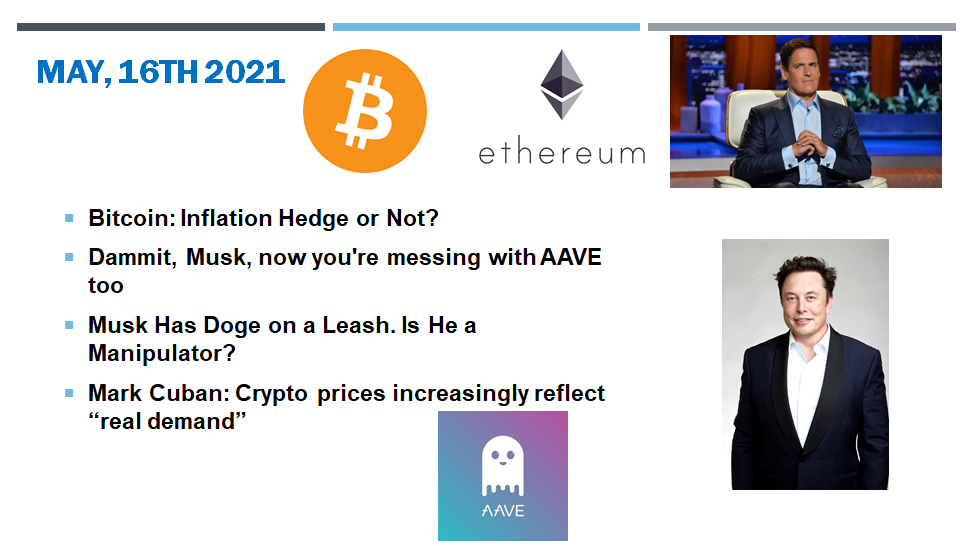 An alarming inflation report saw people sell of Bitcoin
This came as a challenge to Bitcoin's reputation as a store of value
It's an article of faith among Bitcoin believers that the currency is a store of value—a safe haven that will be worth something in good times and bad. That faith got tested, however, when an alarming U.S. inflation report on Monday led nervous investors to sell off assets of all sorts, including Bitcoin.
In theory, this shouldn't have happened. One of Bitcoin's big appeals is that it has a finite supply. Unlike central banks, which keep printing more and more money ("Fed go brrrr," as they say), only 21 million Bitcoins will ever be minted. This means Bitcoin should be a natural hedge against inflation, one that investors embrace in response to reports like the one we got this week.
"This might be a case of 'buy the rumor, sell the news'," says Alex Tapscott, an executive at the alternative investment fund Ninepoint Ventures, and the author of a popular book on blockchain.
Tapscott notes that the price of Bitcoin has already swelled enormously during the last six months as central banks continue to print money, and that expectations for its performance have been sky high. In light of this, he thinks that Monday's sell-off, when Bitcoin dipped around 5%, was insignificant and that the long-term outlook for the currency is extremely bullish.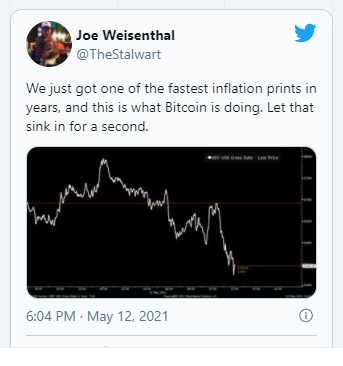 AAVE Idea
First off, here's a chart of tweet volume for AAVE this week, charted against the price of the DeFi asset.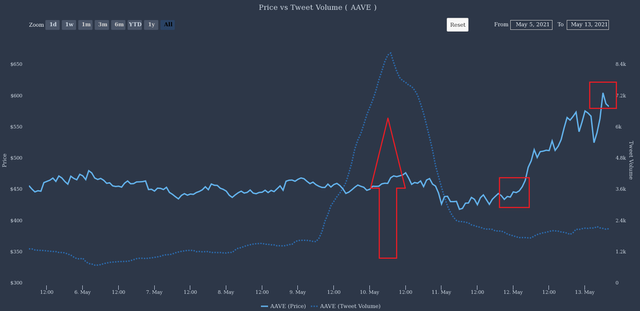 Tweets are obviously public information, but what are the chances that most retail participants in the crypto markets are able to absorb this outlier and analyze its meaning? The VORTECS™ Score can, however — it's untouched by human hands, and since one of the components is based on the entire Twitter universe (most algos are only fed a subsection of the full firehose) it is essentially omnipotent when it comes to tweet data.
So what's going on here? An AAVE Army arising to pump the token? Some kind of amazing news that only affected the price 24 hours later?
Well here's the kicker for all those conspiracy theorists out there: this is pure coincidence. Plain and simple.
On Saturday Night Live this week, which was hosted by the Doge fanboy, he participated in a sketch featuring the acronym 'AAVE', which appears to have resulted in a large volume of tweets concerning "African-American Vernacular English" over the next couple of days.
As it happens, AAVE (the crypto asset) did indeed soar following the uptick in Twitter volume for the term AAVE (an acronym).
But some might wonder whether all that signaling amounts to market manipulation. Musk has a track record of recklessness here, having paid a $20 million fine to the U.S. Securities and Exchange Commission in 2018 over misleading tweets about Tesla stock. But whether out of bounds or not, Musk's adventures through crypto-land cast important light on how token markets work – and on larger questions of market influence in the social media age.
Here's the recent tape: On the evening of May 13, the Tesla and SpaceX CEO tweeted that he was "Working with DOGE devs to improve system transaction efficiency." The price of the dogecoin cryptocurrency immediately jumped 14% and has continued legging up. It continued weeks of dogecoin mentions by Musk, which helped the coin skyrocket – despite the fact that it was literally started as a joke and has no meaningfully differentiating technological features.
In a Twitter thread today, billionaire investor Mark Cuban weighed in on the current state and the future of blockchain technology and investment, ultimately concluding that while there are real obstacles to adoption asset prices are increasingly reflective of real "utility" and "demand," and that the day will eventually come when crypto is "mature to the point we wondered how we ever lived with out."
Cuban posted the 10-Tweet thread this morning, noting that as the asset class matures prices for cryptocurrencies often are now a byproduct of current use, as opposed to speculative eventual utility.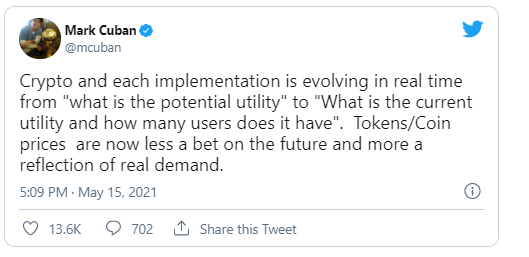 "Having more TPS and lower gas fees is not enough," he wrote, likely referring to often grandiose claims from various layer-one chains with little activity, "There must be a CURRENT network effect and significant user growth. This is a challenge for most L1s and L2s because w few exceptions, marketing in the crypto universe is beyond awful."
Cuban has been especially bullish in his comments on cryptocurrencies as of late, most notably reiterating his support for BTC and Dogecoin as payment options following disparaging remarks from fellow billionaire Elon Musk that may well have crashed markets:
🗞 Daily Crypto Calendar, May, 16th💰
"DASH Reduction Countdown... Estimated time to reduce: 2021-05-16"
"Shield 2FA is launching on BSC Mainnet. Get ready for First 2FA on blockchain"
"EB Research Partnership and Elongate are hosting a Charity Party on Sunday 16th 12PM ET on Twitch"
"0x_nodes is a cross chain protocol that allows synthetic asset movements between blockchains enabling broader yield aggregation strategies"
"The public Liberty testnet is planned for tomorrow! Join testnet! Avoid scurvy."


➡️ Leofinance
➡️ Youtube
➡️ LBRY
➡️ Twitter
➡️ Publish0x
➡️ Den.Social
➡️ Torum
➡️Minds
➡️ Spotify
➡️ Be paid daily to browse with Brave Internet Browser
➡️ Invest and Trade on Binance and get a % of fees back