Stocks' Carnage Drags Bitcoin Down to $9K;
Ethereum Transaction Fee Mystery Just Got More Mysterious;
Cardano's IOHK and Global Blockchain Business Council Join Hyperledger;
Indian Government Again Proposes Blanket Ban on Cryptocurrencies;
Quadriga Was a Ponzi Scheme, Ontario Securities Regulator Says;
🗞 Daily Crypto Calendar, June, 12th 💰
Welcome to the Daily Crypto News: A complete Press Review, Coin Calendar and Trading Analysis. Enjoy!
Markets are taking the U.S. Federal Reserve's less-than-optimistic economic forecasts quite hard, and that's leading crypto traders to hit the sell button.
Bitcoin (BTC) was trading around $9,258 as of 20:00 UTC (4 p.m. ET), slipping 6.4% over the previous 24 hours.
At 00:00 UTC on Thursday (8:00 p.m. Wednesday ET), bitcoin was changing hands around $9,890 on exchanges like Coinbase. By 06:00 (2 a.m. ET), its price began to decline, dipping to as low as $9,049. The price is now well below the 50-day and 10-day moving averages, a bearish technical indicator.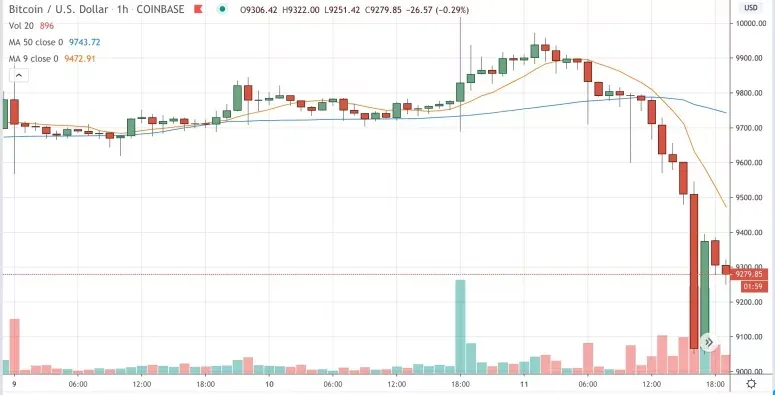 Traders are being confronted with a sea of red across almost all assets Thursday. Fed Chair Jerome Powell's speech on the economy didn't inspire any optimism about the next few quarters. "The virus and the forceful measures taken to control its spread have induced a sharp decline in economic activity and a surge in job losses," Powell said in remarks Wednesday.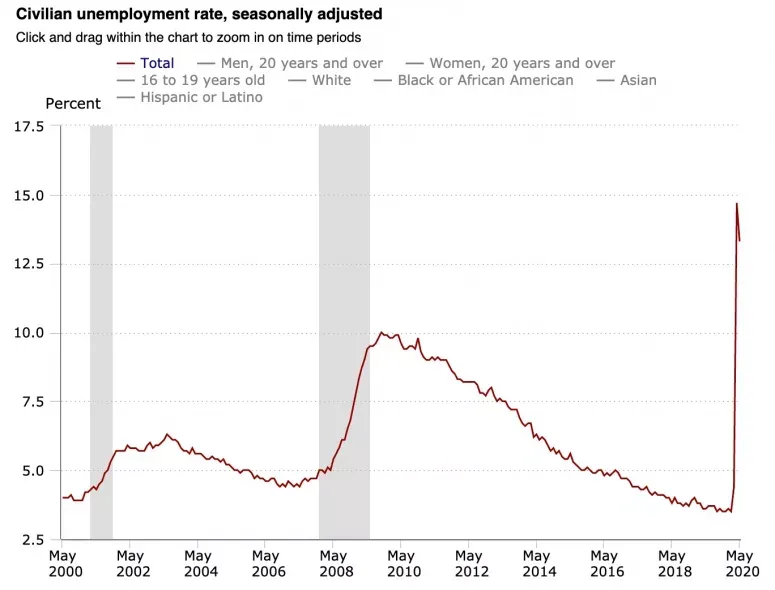 Yet another abnormal ether transaction occurred on the Ethereum (ETH) blockchain for the third time. Now, someone transferred ETH 3,221 (USD 762,990) with a somewhat lower transaction fee of ETH 2,310 (USD 544,028).
The transaction occurred on the block 10247265, on June 11, 12:14 PM UTC time. Similar transactions with abnormally high fees (more than USD 2.5 million each) also happened yesterday (June 11th) and the day before yesterday (June 10th). This time, the transaction was not sent from the same address and originated from a wallet that had the "MiningPoolHub: Old Address 7" tag. It was mined by the f2pool, who said they are investigating the transaction and are in communication with the sender.
https://pbs.twimg.com/media/EaSP0sIWAAQ6ENR?format=jpg&name=900x900
Eight new members have joined Hyperledger, including several firms targeting tokenization initiatives.
Hyperledger is a consortium of firms working on open-source enterprise solutions using distributed ledger technologies (DLT). Launched in December 2015 by the Linux Foundation, the project has since received contributions from IBM, Intel, and other leading tech firms exploring blockchain applications.
Blockchain veterans among the new members, include IOHK, the company behind Cardano (ADA), IOV Labs — formerly RIF Labs — and crypto-friendly payments platform Public Mint.
When Shoshana Zuboff returns my call 15 minutes late, it's because her previous call with an organization in Israel dropped halfway through and it took them a while to reconnect. Such is the peril of functioning in quarantine, even as tech companies exert more power than ever.
Rather than having time over the summer to reflect and plan her next book as she intended, Zuboff has been very busy with people wanting to speak with her and do virtual events. It's part of the reason that for the last four months we've been trying to schedule a call, only to have the date repeatedly pushed back.
Birds are chirping in the background as we speak over the phone, part of the ambience of Zuboff's home in the country. She says she's lucky to be there, given the challenges her friends face balancing COVID-19 and living in cities. The birds beat the dystopian jingle of ice cream trucks as they rove New York City, looking for customers amid a pandemic.
"Pandemic life just takes so much time," she says. "Between figuring out how to get groceries and everything else, it is just so painstaking."
That's the key finding of an Ontario Securities Commission (OSC) report made public Thursday.
OSC, one of Canada's provincial securities regulators, said the now-defunct cryptocurrency exchange, which went into bankruptcy a few months after founder and CEO Gerald Cotten was reported to have died in India, "was an old-fashioned fraud wrapped in modern technology."
The report, dated April 2020 but released publicly on Thursday, took aim at Cotten's practices, including allegations that he traded against his own customers, set up fake accounts on other exchanges to trade using his customers' funds and failed to maintain records. These allegations have been made in the past by Ernst and Young (EY), a court-appointed auditor tasked with recovering customer funds following the exchange's February 2019 collapse.
The company has recovered about C$46 million to date.
"The evidence shows that Cotten regularly moved clients' crypto assets off the Quadriga platform and into accounts he had opened on other crypto asset trading platforms. At one point, Cotten told a Quadriga contractor that a certain wallet address was a Quadriga cold storage address, when it was really a deposit address for Cotten's account at another crypto asset trading platform."*
🗞 Daily Crypto News, June, 12th💰

NWC and Kucoin joined forces in a first of its kind event where you will be able to take profit without cost, stake NWC and earn 60% APR.
"Binance.US will list Augur (REP). Trading for REP/USD and REP/BUSD trading pairs will open on Friday, June 12 at 6am PST / 9am EST. "
ESOS airdropped to top 300 POLL owners based on November 2018 snapshot.
"Deposits start 11am PDT on June 11th and trading at 7am PDT on June 12th for VLX/BTC and VLX/USDT pairs."
"We're hosting an AMA with Qtum (QTUM) this Friday, June 12th at 10AM EST. Join us on Telegram."
Last Updates


➡️ Publish0x
➡️ UpTrennd
➡️ Minds
➡️ Hive
➡️ Twitter
➡️ Facebook
➡️ Be paid daily to browse with Brave Internet Browser