Welcome to the Daily Crypto News: A complete News Review, Coin Calendar and Analysis. Enjoy!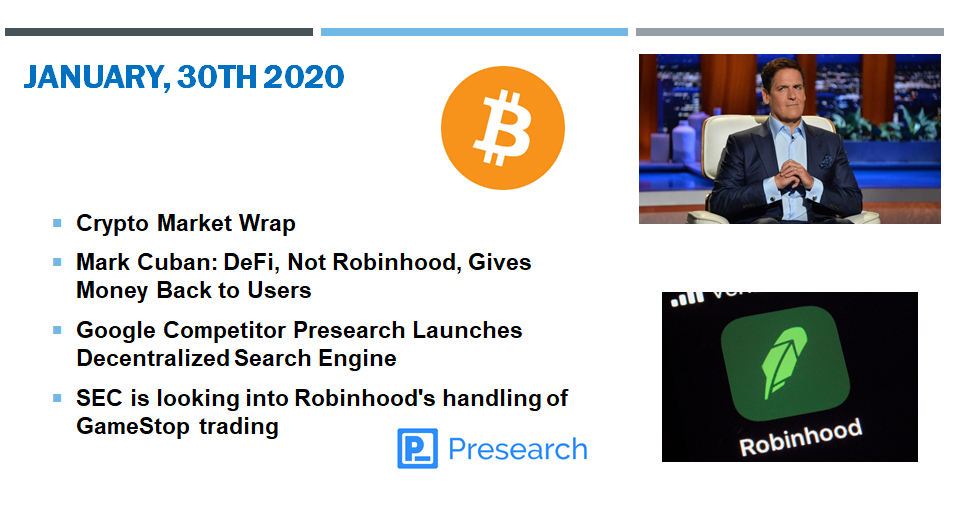 Analysts believe Elon Musk's shout-out to crypto pushed bitcoin's price upwards at a time when decentralized exchanges are experiencing record amounts of trading volume on the Ethereum network. Excessive fees could damp that, however.
Bitcoin (BTC) trading around $34,616 as of 21:00 UTC (4 p.m. ET). Climbing 5.9% over the previous 24 hours.
Bitcoin's 24-hour range: $31,984-$38,566 (CoinDesk 20)
BTC well above the 10-hour and 50-hour moving averages on the hourly chart, a bullish signal for market technicians.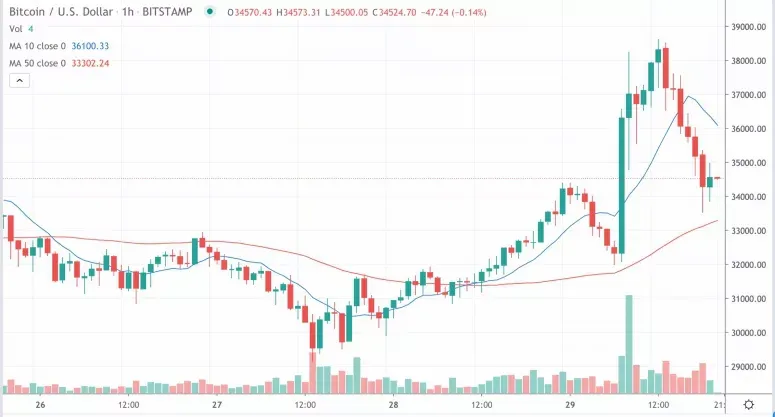 Indeed, total liquidations across the entire crypto market over the past 24 hours was the highest in three months, at over $850 million on the short side, according to aggregator Bybt. Liquidations are the crypto equivalent of a margin call: When a leverage trader's position moves against price, it is bought or sold automatically to begin to wipe out any potential liability.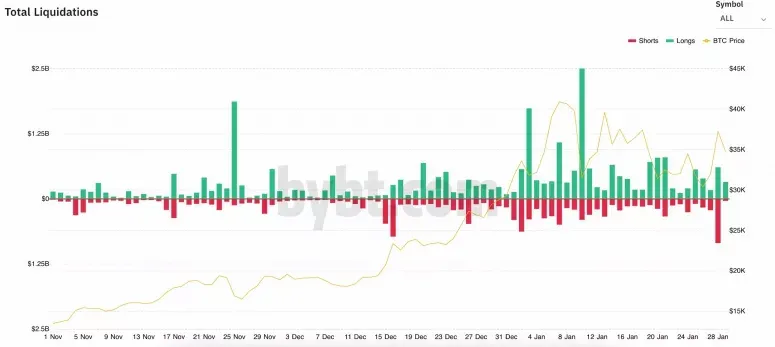 Some good news for brokerages: Crypto spot volumes perked up Friday, to $8.7 billion as of press time, the second-highest level over the past month, according to the eight USD/BTC exchanges the CoinDesk 20 tracks.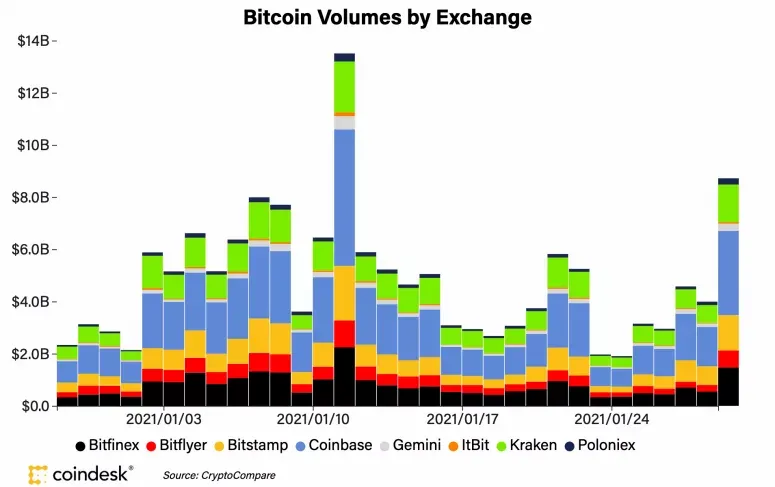 Funding rates for long leverage are jumping to a level not seen since bitcoin's record high Jan. 8, when the price hit $41,962, according to CoinDesk 20 data. It's a sign traders are emboldened by the short liquidations to fuel up some long trades right now.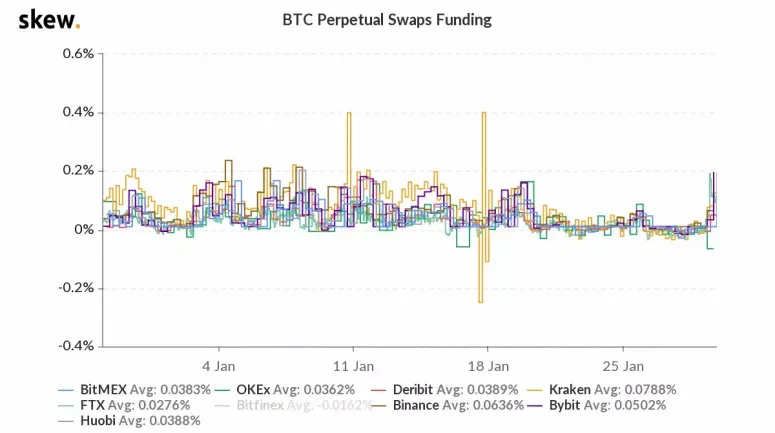 DEX volumes hit $50 billion in January monthly volume
In first place is long-standing bellwether Uniswap, with $23.3 billion for January so far, almost half of the total volume. Uniswap is followed by $10 billion by its smart contract fork rival SushipSwap and then $5.8 billion for stablecoin-focused exchange Curve. "I trade a lot on DEXs. They have deeper liquidity and less slippage than traditional exchanges," noted Michael Gord, chief executive of trading firm Global Digital Assets.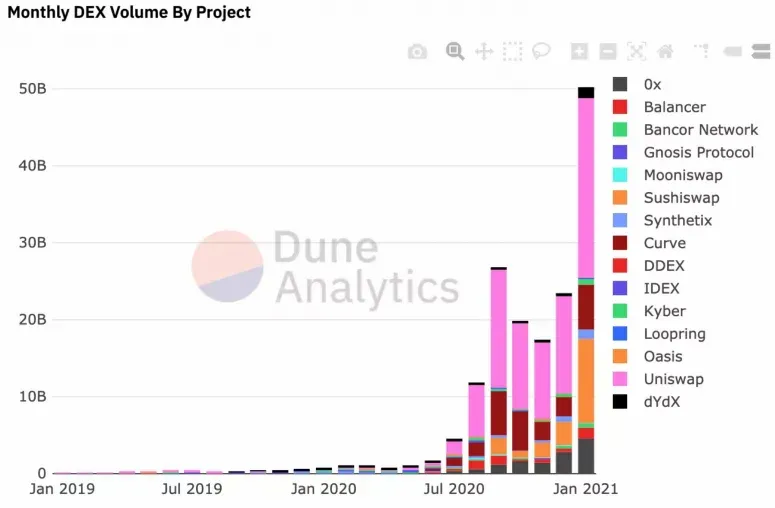 Mark Cuban is a billionaire investor.
He pointed out that Robinhood is making money off of fees from short selling.
By contrast, in DeFi protocols, that money would be expected to be distributed to users.
Billionaire investor Mark Cuban is increasingly wading into the crypto sphere. The Dallas Mavericks owner has been selling nonfungible tokens (NFTs), referencing his Coinbase holdings, and now he's talking up the benefits of decentralized finance.
In a tweet thread on the GameStop (ticker: GME) buying spree via stock trading app Robinhood, Cuban made the case for decentralized finance, the suite of blockchain-based applications that remove some intermediaries from the process of lending and trading, by pointing out that Robinhood's business model takes fees that in DeFi would otherwise go to the user.
Presearch is a privacy-centric search engine that is going live.
Users are rewarded with PRE tokens.
The blockchain-based search engine is designed to protect user IP addresses, device info, browsers, and location data.
Blockchain-based startup Presearch has released a decentralized search engine to help provide a more private alternative to Google. Taking a play out of privacy-centric web browser Brave's book, it also rewards its users with it native crypto token, PRE.
The Ethereum-based project uses searches powered by independent nodes to help protect the identity of the people who make queries for data. Moreover, it puts a dent in the monopolistic power of Google to organize and rank results.
The project's origin story begins in 2011, when Colin Pape's ShopCity.com had its content buried by Google's algorithm. The company filed a complaint with the US Federal Trade Commission that the results were due to Google's algorithm preferring its own, competing products over ShopCity's.
The U.S. securities watchdog is looking into the affair of Robinhood and the Redditors.
At least in so many words. The Securities and Exchange Commission made a joint statement on Friday expressing concern over the "extreme price volatility of certain stocks' trading prices over the past several days."
Though the commission didn't use the words "GameStop," "Robinhood," or "Reddit," it's obvious that what the commission is talking about is the recent chaos surrounding the three. It's already attracted major regulatory pressure. The SEC did, however, specify:
"The Commission will closely review actions taken by regulated entities that may disadvantage investors or otherwise unduly inhibit their ability to trade certain securities."
At the same time, many point to r/WallStreetBets, the Reddit group united in buying and holding Gamestop, as an example of classic market manipulation or other securities law violations in a new media venue. Marc Powers, formerly of the SEC's enforcement office and currently an adjunct professor on blockchain regulation at Florida International University, defended this view, but put forward alternatives to classic enforcement:
"Another way of approaching this issue, rather than going after individuals, is to issue a 21(a) report as a way of providing guidance to the marketplace and these generally newer investors as to the SEC's view on market manipulation and other laws that may have been applicable to the situation, similar to what the SEC did with the issuance of the DAO report involving ICO in July 2017."
🗞 Daily Crypto Calendar, January, 30th💰
"Verthash will be going live on the main net at block 1500000! The estimated time of fork is January 30th, 2021."
"Check out the new Nimiq OASIS Public Beta that will be released in January!"
Join Omur Cataltepe and Sahin Ali Bayar for Stacks Turkey Public Townhall on January 30, 2021 | 18:00 GMT.
"Multichain Testnet next week. - BNB - BTC - ETH - LTC - BCH | Expect issues. Bring chaos. $RUNE"
"SparkPoint Wallet 6.0: Refreshed UI/UX + Usability and Security Improvements"
Axie Infinity (AXS), Maker (MKR), Theta Network (THETA)
"CommunityGaming.io is partnering with MakerDAO and Theta Network to host 3 esports tournaments starting on January 30th."
➡️ Youtube
➡️ Twitter
➡️ Hive
➡️ Publish0x
➡️ UpTrennd
➡️ Read.cash
➡️ LBRY
➡️ Spotify
➡️ Be paid daily to browse with Brave Internet Browser
➡️ A secure and easy wallet to use: Atomic Wallet
➡️ Invest and Trade on Binance and get a % of fees back
➡️ Check out my video on Unstoppable Domains and get 10$ off a 40$ domain purchase
➡️ Get 25$ free by ordering a free Visa Card on Crypto.com using this link or using this code qs4ha45pvh