Welcome to the Daily Crypto News: A complete News Review, Coin Calendar and Analysis. Enjoy!
Bitcoin scored yet another all-time high figure in January, apart from its record-high price of $41,940. Data from on-chain analytics firm Glassnode shows the network saw the highest ever number of active users in the past month, more than at any other point in history.
As Bitcoin is wholly decentralized, the activity on its network can be calculated by certain metrics—such as active wallets, miner outflows, and on-chain transfers. Of these, the number of active wallet addresses provides the most insight, in terms of the number of interactions on Bitcoin via transfers.
"In January, more than 22.3 million unique addresses were active in the network sending or receiving $BTC – the highest monthly number in Bitcoin's history to date," tweeted Glassnode.
Ethereum's price hit new records last month.
The coin recorded the highest monthly close in history.
More institutional exposure is expected.
The second largest cryptocurrency by market cap not only rallied to an all-time high last month, but also had a number of other important achievements.
On the price front, investors saw the highest monthly close in history with the coin ending the month at $1,313, beating the previous record set in the summer of 2019, as well as the confirmation of the 20-month moving average above the 50-month moving average. The latter is a rather bullish pattern from the price performance perspective.
As Money Movers' data shows, Ethereum has outpaced Bitcoin in terms of the daily transferred value, reaching $19.1 billion per day—versus the latter's $9.78 billion.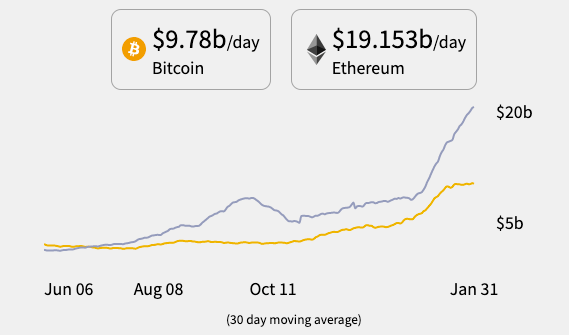 However, mining Ethereum is getting harder. As revealed by Glassnode earlier today, the cryptocurrency's mining difficulty has reached an all-time high of 4,745.167 TH. This means miners will need more resources to generate new coins.
Mark Cuban, the billionaire owner of the National Basketball Association's Dallas Mavericks, informed old-school investors that Reddit WallStreetBets (WSB) traders, in his mind "the store of value generation," are "kicking your ass."
In a blog post published Sunday, Cuban said after watching the situation with the WSB traders unfold he believes they are applying the principles of the crypto world to the stock market.
Last week, the financial world and beyond looked on as an army of ordinary online investors, the WSB group, took on the power of big institutions by pumping the price of U.S. video game retailer GameStop's (GME) stock to counter Wall Street hedge funds that were "shorting" or betting against it.
Cuban argues that for many old-school traders the idea that a crypto asset could be a store of value is crazy because it has no intrinsic value.
"To them, it is a digital representation of nothing, that crazy people are paying good money for. That is not the case," writes Cuban.
Blockchain technology, nonfungible tokens and smart contracts now allow any asset which can be represented digitally to act as a store of value, with provable scarcity and without many of the downsides of physical collectibles:
"This generation knows that a smart contract and the digital good it reflects or a CryptoAsset are a better investment than old school see, touch or feel uses."
XRP has crashed hard from a two-month high reached early Monday, with a planned community buying effort failing to yield desired results.
The cryptocurrency is trading near $0.42 at time of writing – down 40% from the high of $0.75 reached at around 11:10 UTC, according to CoinDesk 20 data.
A coordinated buying effort by some 200,000 members of the two-day-old Telegram group called "Buy & Hold XRP" at 08:30 a.m. ET was supposed to push the cryptocurrency to higher resistance levels. Instead, XRP pulled back from $0.75 to $0.60 ahead of the crowd buying and extended losses to $0.40 after 08:30 a.m. ET.
A Reddit post, which talked about a crowd-buying attack at 08:30 and how it could be successful, has now been removed by Ripple moderators. The Telegram group, however, is still active, where members are blaming exchange downtimes for the price drop.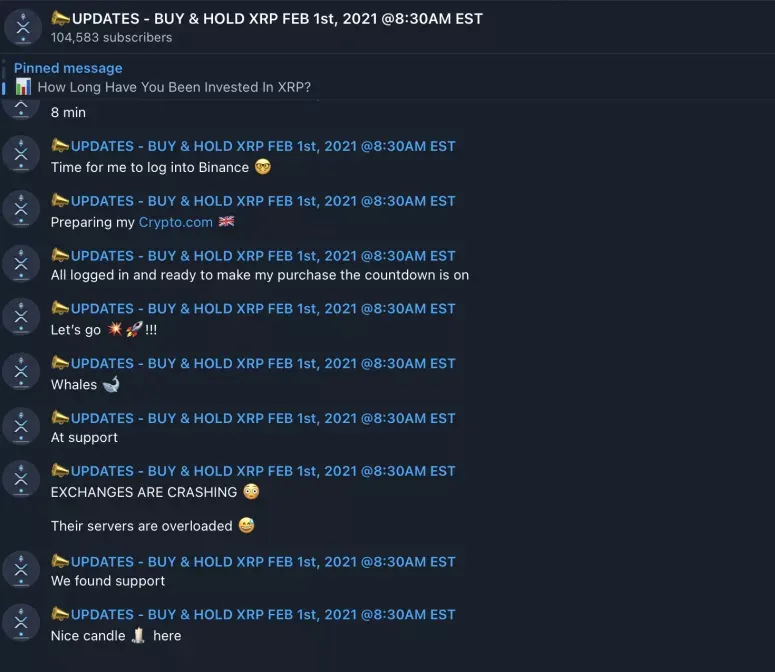 🗞 Daily Crypto Calendar, February, 1st💰
"The Hardening will be activated on block # 417,792 (around Feb, 1st). Please update your nodes! $erg"
"Alpha Homora v2's integrations with @CurveFinance, @BalancerLabs, @SushiSwap, & @UniswapProtocol on leveraged yield farming, and..."
"Start of the public swap offering for the eRLC token"
Bitpanda Ecosystem Token (BEST)
"If you meet all the requirements, you will receive at least 0.5% of your BEST holdings on the 1st day of the following month at 1 pm..."
"The voting for the xNAV privacy protocol upgrade starts!"
"The Flamingo team is proposing a series of changes to its asset flow to improve overall usability and asset interoperability."
➡️ Youtube
➡️ Twitter
➡️ Hive
➡️ Publish0x
➡️ UpTrennd
➡️ Read.cash
➡️ LBRY
➡️ Spotify
➡️ Be paid daily to browse with Brave Internet Browser
➡️ A secure and easy wallet to use: Atomic Wallet
➡️ Invest and Trade on Binance and get a % of fees back
➡️ Check out my video on Unstoppable Domains and get 10$ off a 40$ domain purchase
➡️ Get 25$ free by ordering a free Visa Card on Crypto.com using this link or using this code qs4ha45pvh