elcome to the Daily Crypto News: A complete News Review, Coin Calendar and Analysis. Enjoy!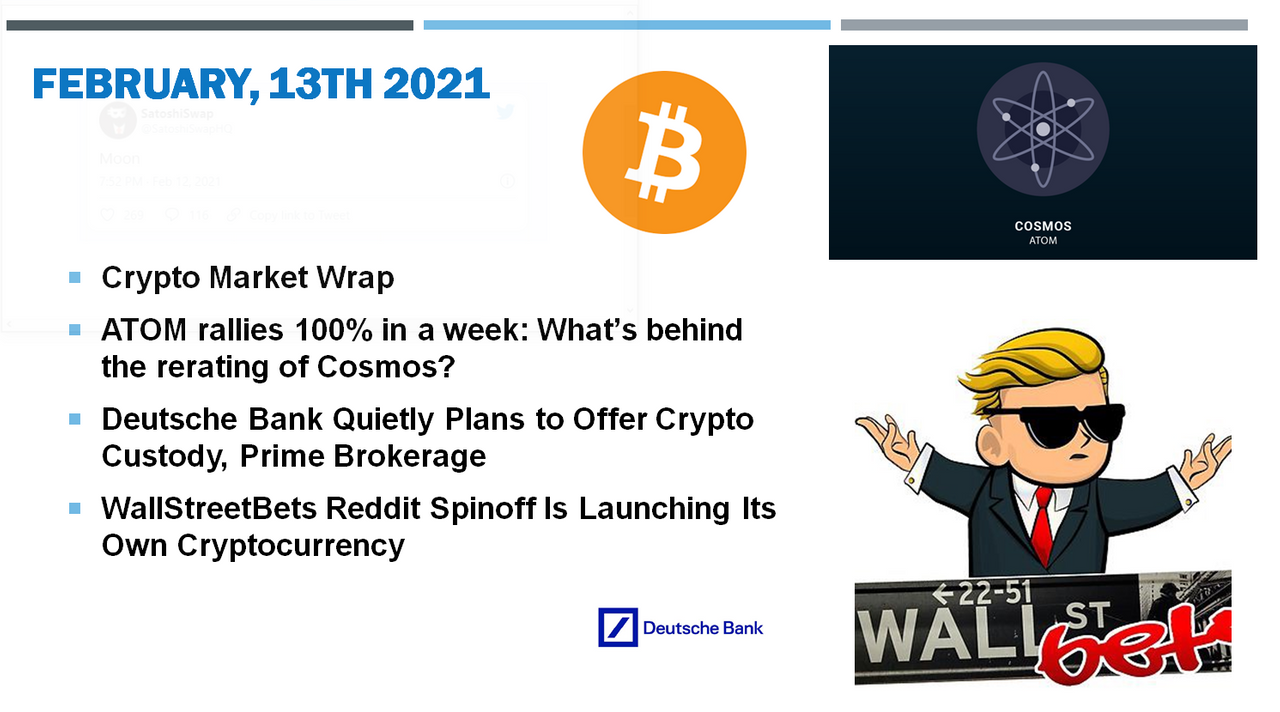 The price of bitcoin struggled to regain $49,000 Friday, continuing to bounce between $48,000 and $46,000 heading into the weekend. As bitcoin contemplated which way to go, ether made a new all-time high above $1,850.
Bitcoin (BTC) trading around $47,600 as of 21:00 UTC (4 p.m. ET). Slipping less than 1% over the previous 24 hours.
Bitcoin's 24-hour range: $46,286 to $48,925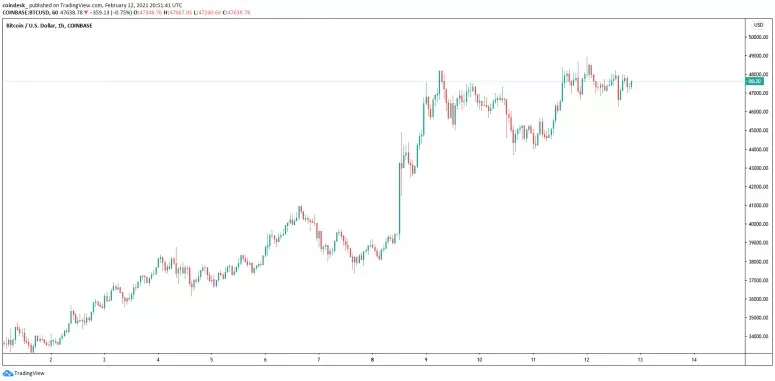 Much of bitcoin's choppy price action could be attributed to futures deleveraging as eager bulls piled into long trades expecting a swift breakout to $50,000 or higher. Funding rates for perpetual bitcoin futures have steadily increased through February, according to market data collected by Skew, with some funding rates reaching their highest levels in the past 12 months.
In the past 24 hours, over $330 million worth of bitcoin futures contracts were liquidated, according to market data from Bybt. Most of the liquidated positions were longs.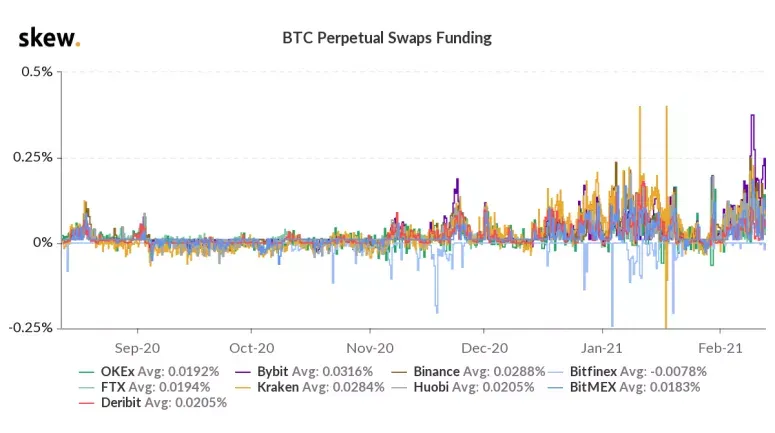 Ether leads the DeFi way
As it set new record highs above $1,850, other decentralized finance-related (DeFi) cryptocurrencies followed suit, with some even outperforming ether. The DeFi sector in aggregate rallied over 5% in the past 24 hours, according to Messari, led by Uniswap, yearn.finance and others, which gained by double-digit percentages.
Ether's fresh highs come the same week the CME launched its ether futures market, which some traders anticipated would be a bearish catalyst for the market. The expectations were almost exclusively pinned to the ominous timing of bitcoin's peak in 2017 near the launch of CME's bitcoin futures market. Yet, so far the bearish thesis has not played out.
ATOM, the native cryptocurrency of the Cosmos blockchain protocol, has rallied by over 100% in the past week.
Analysts are attributing the rally of ATOM to two major fundamental factors. First, in recent weeks, layer one blockchain protocols, like Avalanche (AVAX) and Polkadot (DOT) have gone through a major rerating.
Second, the utility of ATOM that enables holders of the cryptocurrency to earn through swap, gas, and transaction fees could make it more compelling for investors.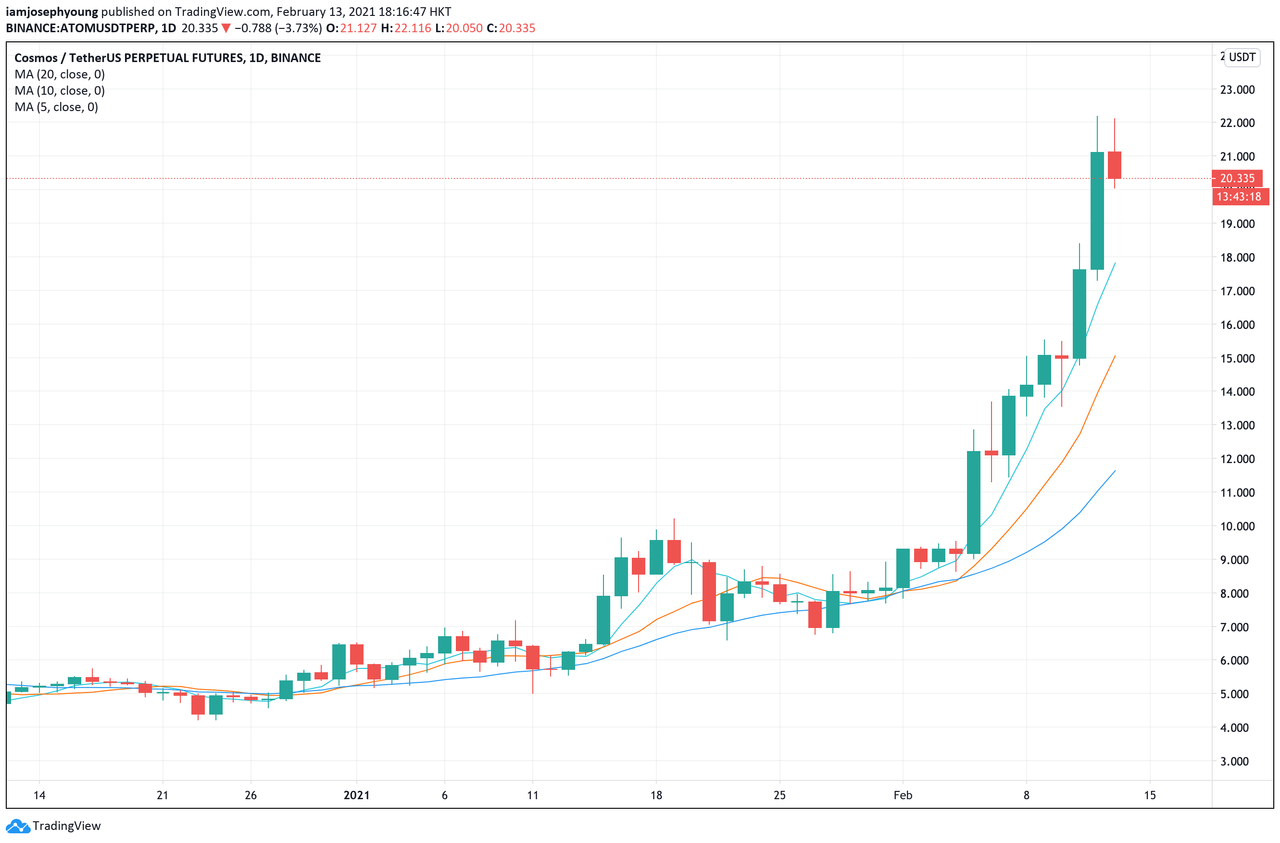 Projects on top of Cosmos valued higher than ATOM
Most notably, Terra and Binance Smart Chain are both based on the Cosmos blockchain. The valuation of the two blockchain projects alone are above $22 billion.
Technically, BNB is the native token of both Binance Smart Chain and the Binance ecosystem, but nonetheless, the valuation of the two projects alone surpass that of Cosmos.
A pseudonymous DeFi investor known as "SpiderCrypto" said ATOM is undervalued compared to other blockchains. The investor said:
"Also @cosmos $ATOM is undervalued relative to other blockchains. So many great projects using tendermint / cosmos and you don't even know anon. $10b marketcap and will explode like $avax."
"$ATOM holders will earn tx fees for packets that are routed through the hub. This includes all #data. Additionally atom holders will earn swap fees, gas fees & tx fees from the upcoming AMM. Furthermore earning from shared security. Once you realize what that means for ATOM."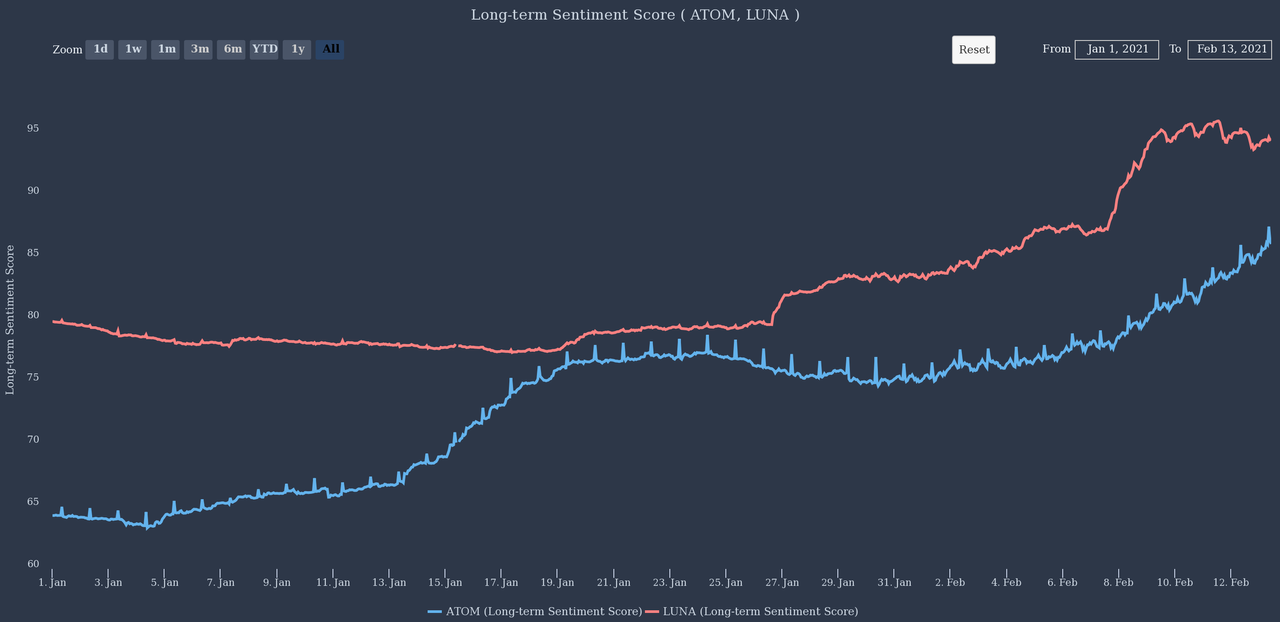 Deutsche Bank has joined the growing ranks of large financial institutions exploring cryptocurrency custody, with aspirations to offer high-touch services to hedge funds that invest in the asset class.
The Deutsche Bank Digital Asset Custody prototype aims to develop "a fully integrated custody platform for institutional clients and their digital assets providing seamless connectivity to the broader cryptocurrency ecosystem," according to a little-noticed report by the World Economic Forum, host of the annual gathering of muckety-mucks in Davos, Switzerland.
In a passage buried on page 23 of the December 2020 report, Germany's largest bank says it plans to create a trading and token issuance platform, bridging digital assets with traditional banking services, and managing the array of digital assets and fiat holdings in one easy-to-use platform.
Big banks are now announcing plans to enter crypto custody on an almost daily basis, with Bank of New York Mellon, the world's largest custodian bank, joining the party earlier this week.
U.S. banks were given some regulatory clarity thanks to last year's interpretation letters from the Office of the Comptroller of the Currency. In Germany, firms are queuing up to get their hands on special crypto custody licenses from the country's regulator, BaFIN.
SatoshiStreetBets is the cryptocurrency equivalent of the WallStreetBets subreddit.
A group moderator announced the group is creating its own token.
People can receive the token via airdrop, liquidity mining, or forum participation.
Subreddit group SatoshiStreetBets, which advertises itself as "the crypto version of WallStreetBets," is getting ready to launch its own cryptocurrency token to members.
SatoshiSwap (SAS) tokens, which will serve as utility governance tokens for the group, will go to members based on upvotes for their reddit posts. It will also be airdropped to users of the decentralized exchanges Sushiswap and Uniswap and be distributed to liquidity providers, according to a reddit post today.
The token launch is currently planned for a yet-to-be-determined date in February.
But, like its predecessor, it's only gotten serious traction relatively recently. In an email to Decrypt, a person identifying themselves as the founder of the SatoshiStreetBets subreddit said, "Our userbase has exploded to 300k users from 15k users in just a couple of weeks." As of publication, it's up to 313,000 members, and the Twitter account for the upcoming token has over 1,200 followers after tweeting for the first time today.
🗞 Daily Crypto Calendar, February, 13th💰

"The latest #Tezos upgrade proposal, Edo, has reached the quorum and will go live circa February 13 if the >80% approval holds."
"The @LabosNomades team has issued a critical patch to the tickets feature of the "Edo" upgrade. Bakers and nodes must upgrade..."
"Big announcement next week from @Blox_Staking, a new piece of technology for #eth2"
"#AskoLend and our new site are almost here, 2/13!"
"Aspromised, we're kicking off our 2nd Liquidity Mining Round for UniSwap on the HYVE — ETH pair."
"Be ready with your queries/Questions on 13th Feb, 5 PM GMT at t.me/devatoken"
"AnyTask enters NFT space, calls for artists and animators to join the trend"
"Let's take a look at the incredible week we've had..."


➡️ Youtube
➡️ Twitter
➡️ Hive
➡️ Publish0x
➡️ UpTrennd
➡️ Read.cash
➡️ LBRY
➡️ Spotify
➡️ Be paid daily to browse with Brave Internet Browser
➡️ A secure and easy wallet to use: Atomic Wallet
➡️ Invest and Trade on Binance and get a % of fees back
➡️ Check out my video on Unstoppable Domains and get 10$ off a 40$ domain purchase
➡️ Get 25$ free by ordering a free Visa Card on Crypto.com using this link or using this code qs4ha45pvh