Welcome to the Daily Crypto News: A complete News Review, Coin Calendar and Analysis.
Enjoy!
Today's Video is coming soon
Major markets are in the red today, including bitcoin. Ether options traders have favored calls over the past month.
*Bitcoin trading around $13,184 as of 20:00 UTC (4 p.m. ET). Slipping 3.6% over the previous 24 hours.
*Bitcoin's 24-hour range: $12,894-$13,831
*BTC below its 10-day and 50-day moving averages, a bearish signal for market technicians.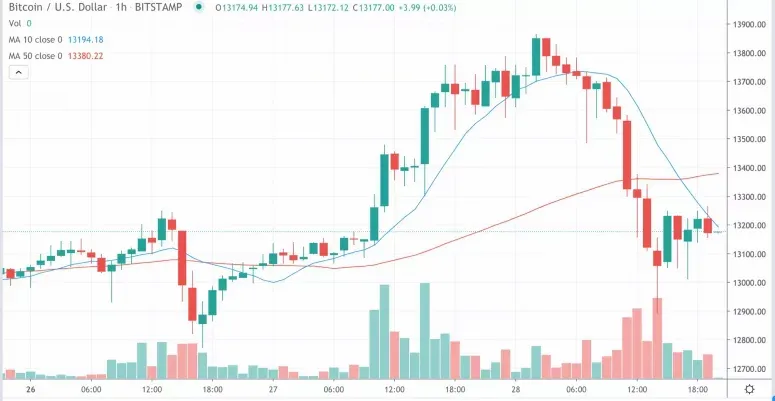 Katie Stockton, a technical analyst for research firm Fairlead Strategies, said Wednesday was a "risk-off" day where investors were shedding what they consider higher-risk assets, including cryptocurrencies. "Bitcoin is seeing a retracement of its strong up move as risk assets trade off sharply," Stockton told CoinDesk. Risk assets, which include global equities, slipped Wednesday.
Neil Van Huis, director of institutional trading at liquidity provider Blockfills, noted bitcoin's mining hashrate has dropped to levels not seen since June. Older, inefficient machines are being turned off, which he sees as a huge opportunity to invest in newer mining rigs at these price levels.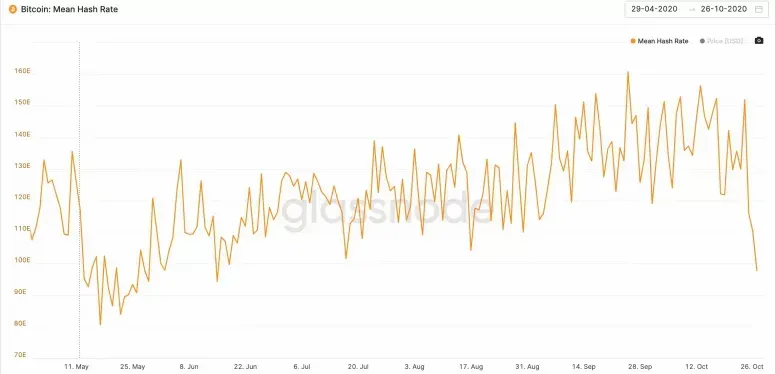 In the futures market, Denis Vinokourov, head of research at digital asset prime broker Bequant, noted the rise of institutional interest on CME, which surpassed $800 million in open interest Tuesday. "Futures contracts trading at a premium to spot prices even as the October CME expiry is fast approaching this Friday," he said.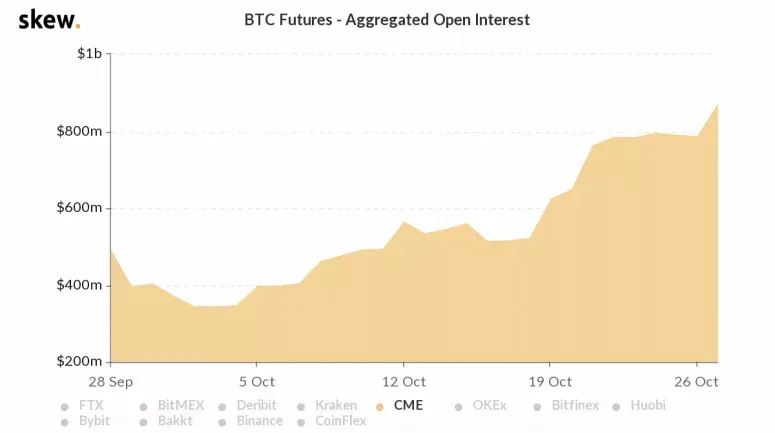 Ether options skew towards calls
The ether options market has been more favorable towards calls than puts recently. Derivatives exchange Deribit, which is by far the largest ether options venue, has seen 55% calls versus 44% puts the past month, according to data aggregator Genesis Volatility.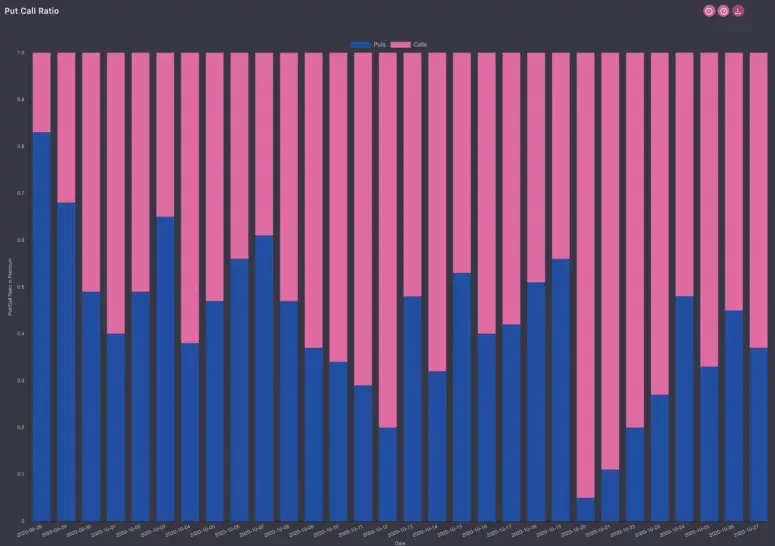 Coinbase is launching its Visa debit card in the U.S. early next year.
The card will be available in all states except Hawaii and comes with a new rewards feature – 4% back in stellar or 1% back in bitcoin .
Coinbase Card has been active in the U.K. and European Union since April 2019 and currently operates in 30 countries. The card's planned U.S. rollout comes on the heels of PayPal's entry to the cryptocurrency sector, with the fintech giant opening bitcoin payments to its network of 26 million merchants.
American customers will be able to manage their cards directly through their Coinbase accounts. Any cryptocurrencies that Coinbase supports in the U.S. (and that a user holds in their account) can be spent through the debit card.
"Industry trends illustrate increased consumer activity," Coinbase spokesperson Crystal Yang said in an emailed statement. "Now Coinbase is taking mainstream adoption of crypto one step further by introducing Coinbase Card in the U.S."
The Graph, a blockchain data provider, has raised $12 million selling GRT protocol tokens.
It expects to launch its mainnet data provider network within two months.
The Graph provides data to major DeFi customers, including Aave and 1inch.exchange
The Graph, a blockchain data company providing services for some of DeFi's most popular apps, has raised $12 million in a token sale that sold out in just over 24 hours.
The Graph Foundation announced today the successful sale of 400 million GRT tokens for $12 million in funding, performed entirely on-chain using The Graph's own technology. The sale represents 4% of the total GRT supply and included 4,500 participants across 90 countries.
BProtocol proposed a governance vote on the Maker protocol.
To make sure it passed, it used a flash loan to borrow the necessary MKR tokens.
Maker teams are making changes to avoid future governance attacks.
Want something fast in decentralized finance but don't want to wait for that whole decentralized governance thing? Just use a flash loan!
That's what BProtocol, founded behind the former CTO of Kyber, did, using a single transaction to push through its own proposal on the Maker protocol.
Flash loans allow DeFi users to take out large loans for a fraction of a percent, provided they can pay back the full amount during a single Ethereum block. They're typically used to take advantage of arbitrage opportunities, so that a trader can simultaneously buy a token at a low price and sell it elsewhere for a higher one.
Here's how it worked:
BProtocol used 50,000 ETH to borrow wrapped ETH from decentralized exchange dYdX. It put the wrapped ETH on Aave protocol to borrow $7 million in MKR governance tokens, which allow holders to vote on proposals affecting Maker's operations. It locked those tokens to vote for its proposal, then unlocked them to return the funds to AAVE and dYdX.
According to Maker, MKR locked in a voting contract "is only accessible with the wallet used to set up the voting contract." (Maker hasn't yet returned a Decrypt request for comment on the mechanics of the voting contract.)
🗞 Daily Crypto Calendar, October, 29th💰
Bitpanda Ecosystem Token (BEST)
BEST Token Burn
"AtomicDEX v0.3 Beta Launch On October 29"
Wabi CEO sharing updates and announcements.
'We'll discuss all this at our next town hall on #CKLabs! Oct. 29th | 9:00 AM ET"
"During the VYNDAO Beta, you can start to pledge / pawn VEX cryptocurrency to get USDV tokens."
"Submit questions on Twitter or Telegram. We'll collate them and answer live!," at 1 PM (UTC).
Last Updates
➡️ Be paid daily to browse with Brave Internet Browser
➡️ A secure and easy wallet to use: Atomic Wallet
➡️ Invest and Trade on Binance and get a % of fees back
➡️ Youtube
➡️ Twitter
➡️ Hive
➡️ Publish0x
➡️ UpTrennd
➡️ Read.cash
➡️ LBRY
➡️ Check out my video on Unstoppable Domains and get 10$ off a 40$ domain purchase
➡️ Get 50$ free by ordering a free Visa Card on Crypto.com using this link or using this code qs4ha45pvh